EvoEstate review 2023
Is EvoEstate a great platform for real estate crowdfunding? Find out in our EvoEstate review below:

Review summary:
EvoEstate is an excellent choice for P2P investors looking to invest in properties. With a single account, you will get access to deals from multiple real estate crowdfunding platforms. On the platform, you will probably get the best diversification of any real estate platform. Furthermore, you get access to a great secondary market as well as the possibility to use auto-invest. The main downside of EvoEstate is the short track record of the platform.
It's free to use the platform.
At P2PPlatforms.com, we strive to list only the absolute best companies in the P2P industry. Where appropriate, we also feature our partners. This doesn't influence our evaluations. All opinions are our own.
Introduction to our EvoEstate review
Are you considering investing via EvoEstate? Then read on. We've written this EvoEstate.com review to help investors determine if EvoEstate is the right choice for them.
Below you will find an overview of the things that we will discuss more in detail in this EvoEstate review. Simply click on the links to jump directly to the thing you want to know more about.
Learn about this in our EvoEstate review:
What is EvoEstate?
EvoEstate is a real estate aggregator from Europe. This means that investment opportunities are actually sourced from other real estate platforms. Currently, you will find projects from +16 project originators. Among others, these project originators include Rendity, NORDSTREET, Housers, HeavyFinance, and ReInvest24.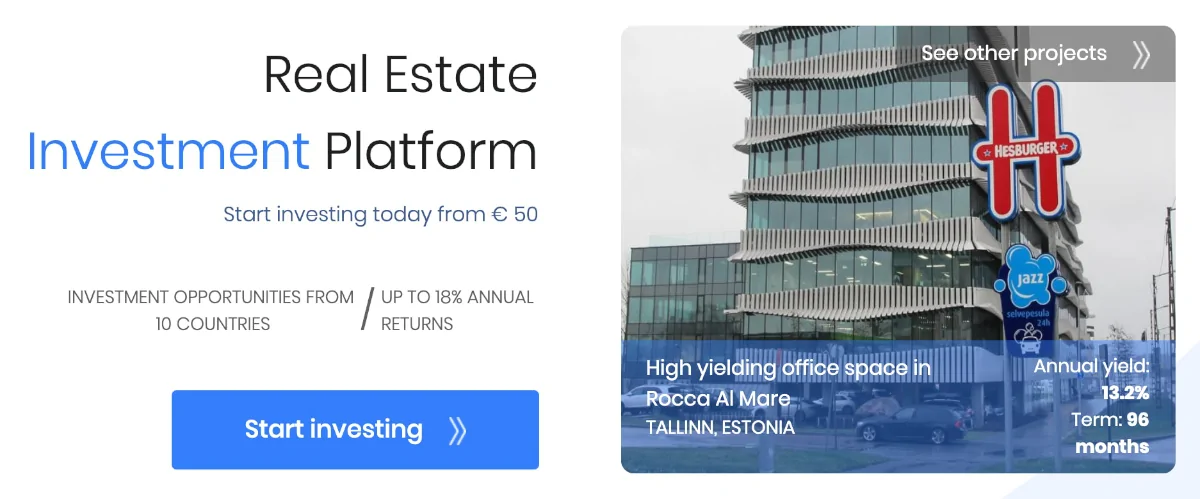 The company behind the platform, EVOESTATE OÜ, is based in Tallinn, Estonia. It was registered in February 2019 when the platform was launched.
About a year later, in early 2020, the company closed a €180,000 funding round and got backed by institutional investors like Startup Wise Guys – a startup accelerator that has also backed EstateGuru.
Since then, EvoEstate has continued to grow and more investors have joined the platform. Of the exited deals on the platform, investors have earned an annual return of 10.36%.
If you want to invest via EvoEstate, it is possible to start investing with only €100.
EvoEstate statistics:
| | |
| --- | --- |
| Founded: | 2019 |
| Loan Type: | Real Estate |
| Loan Period: | 6 – 120 Months |
| Loans Funded: | € 4.000.000 + |
| EvoEstate Users: | 6.500 + |
| Minimum Investment: | € 100 |
| Maximum Investment: | Unlimited |
| EvoEstate Interest Rate: | 10.36% |
| Loss of Investors' Money: | 0% |
How EvoEstate works:
The business model used by EvoEstate is two-sided. They both have to attract new projects to the platform as well as new investors in order to grow.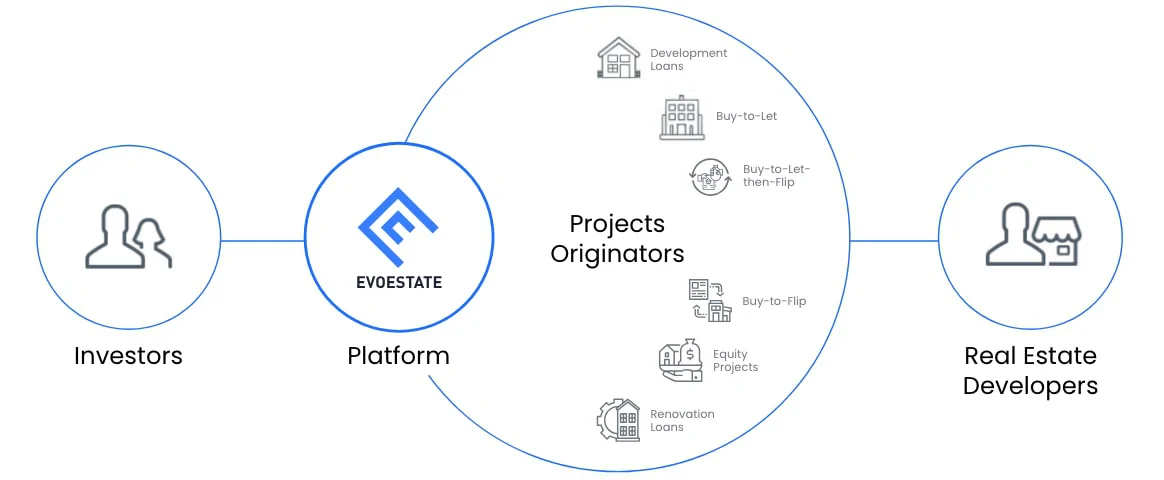 In the case of EvoEstate, the most important thing is that they are able to attract new projects to the platform to make the platform more attractive for investors. EvoEstate excels in this part, as they are simply connecting new projects from existing project originators. This means that they are in a position where they will probably be able to scale faster than competitors.
This is very similar to what investors have seen with a platform like Mintos, which has been able to scale to 100,000's investors in just a few years.
As you can see from the illustration above, EvoEstate is also dependent on investors. This is due to the fact that when an investment opportunity goes live on the platform (see current projects), the project originators will want to see EvoEstate be able to attract investments – otherwise, they would not have an interest in being on the platform.
EvoEstate has been able to scale both in terms of project originators and investors. Therefore, we expect to see them grow in the coming years.
Frequently asked questions:
Key features
We have already taken a look at some of the reasons why EvoEstate has become a popular choice among both project originators and investors. In the following part of our EvoEstate review, we take a closer look at some of the key features that make it easy to invest via the platform:
1. Invest where the owners invest
On most P2P platforms, you will never know whether or not the people behind it are actually using it themselves. This is not the case with EvoEstate. If you go to the projects list, you will immediately be met with an overview of some of the investments the founders of EvoEstate invest personal capital in:

It is great to see that the founders are actually trusting the projects with their own money, and it is our belief that this makes EvoEstate more aligned with the investors than some of the competitors. We would love to see more platform owners doing this.
If you go to EvoEstate's website, you will be able to see how much the co-founders, Audrius Visniauskas and Gustas Germanavičius are currently investing.
2. EvoEstate auto-invest
On EvoEstate, you will be able to find an auto-invest feature. By using this feature, you can put your investments on autopilot which means that you won't constantly have to check if new loans are available for investment on the platform. All you need to do is set up the EvoEstate auto-invest function one time.
To use their auto-invest feature, simply follow this process:
Log in to your account
Go to the auto-invest settings
From here you can make auto-invest rules to make EvoEstate automatically invest in the type of loans you desire for your investment portfolio: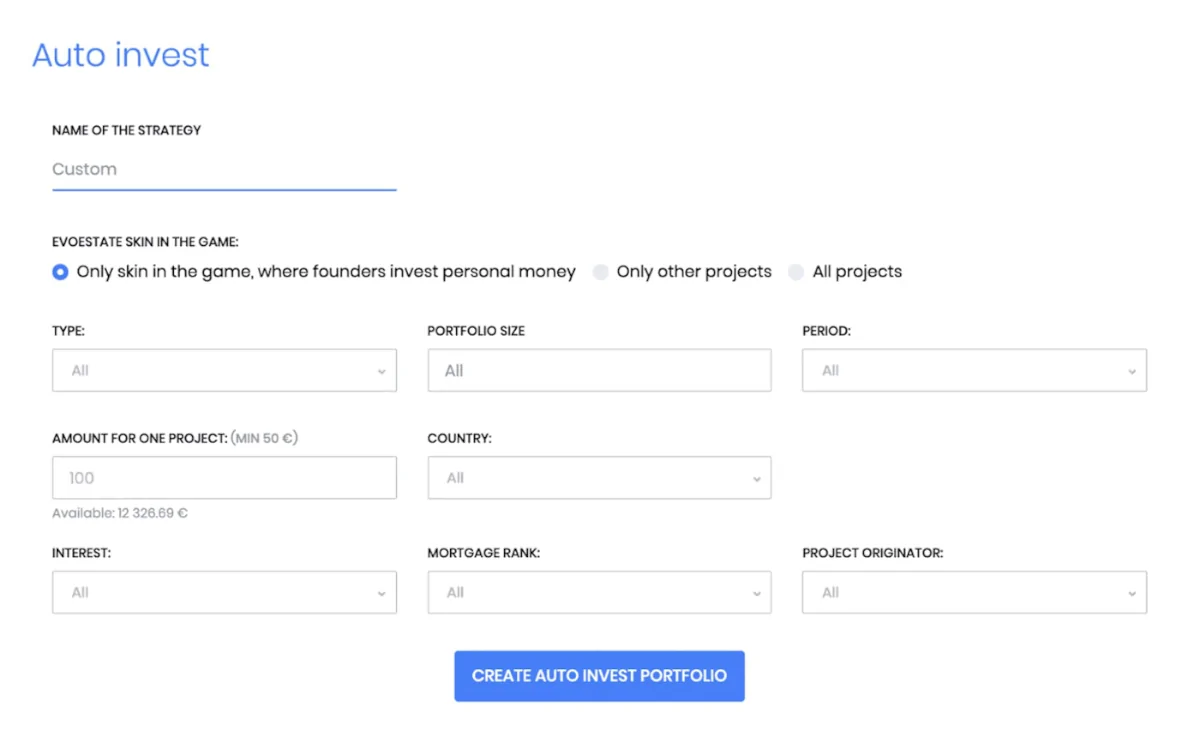 The main thing that differentiates the EvoEstate auto-invest functionality from other real estate crowdfunding platforms is the fact that you can choose to only invest where the founders invest personal money. EvoEstate has been the first mover with this feature, and we are currently not aware of any other platforms where you can do the same.
Another great thing about the EvoEstate auto-invest feature is the 24-hour cancellation feature. Essentially, the feature allows you to cancel the investments made by auto-invest in the first 24 hours. All you have to use it is to access your portfolio section and click cancel with the investments you no longer want. When you confirm, you no longer own the investment.
Otherwise, the auto-invest feature at EvoEstate is fairly similar to competing platforms. You will be able to make various settings to only invest in the right amount, in the right types of projects, with the right amount of interest, etc. – all according to your strategy.
3. Easy tax report on EvoEstate
Even though EvoEstate does not withhold taxes on your investments, they make handling your taxes fairly easy with their tax report.
In order to find your tax report on EvoEstate, you can simply go to your account. From here, you can generate a tax report in PDF format to handle your EvoEstate taxes.
You can then use the report to file your taxes with your local tax authorities.
4. EvoEstate secondary market
On EvoEstate you will find a secondary market where it is possible to trade investments with other investors. This feature makes it possible for you to sell your investments before maturity if you need the money ahead of time. You can also sometimes use the feature to buy projects at a discount (see current deals).
The EvoEstate secondary market is a very interesting feature in itself. Where if you were to invest in projects from some of the project originators you wouldn't actually be able to sell them again before maturity as not all of the project originators have a secondary market themselves.
However, if you invest in the same originator's project on EvoEstate, you can actually sell them to other investors on the platform. So basically you get the same project, but with more options on EvoEstate. This is a very clear benefit for EvoEstate investors.
5. EvoEstate bonus
EvoEstate offers a +0.5% bonus for 6 months for all new investors that gets referred by other investors to sign up on the platform.
To get the EvoEstate bonus with +0.5% on your investments for 6 months, all you have to do is click the green button below (you won't need an EvoEstate referral code or promo code to get the bonus):
Who can use EvoEstate?
Both individuals and organizations can invest via EvoEstate.
Individuals
If you want to invest as an individual, you must at least meet the following requirements:
Being at least 18 years old
Not being from the United States
Comply with KYC
If you live up to these requirements, then you can probably start investing via the platform.
Organizations
If you run a business, it is also possible to invest via EvoEstate. Once you have registered and verified your email, you must simply select "company" when creating your profile. From here, you will be able to make a business account.
If you decide to sign up as a company, you will have to upload the following documents:
Business extract from public registry
Beneficial ownership
Available countries
To our knowledge, it is possible to invest in EvoEstate projects from all countries in the world except the United States and a few other countries like North Korea.
How safe is EvoEstate?
To determine if EvoEstate is safe, we have taken a look at some of the potential upsides and downsides of investing via the platform in the following part of our EvoEstate review.
1. EvoEstate profitability
We haven't been able to find a financial report to verify whether or not EvoEstate is profitable. But EvoEstate is a very young company without much financial history. We hope to see some publicly available annual reports as the company matures.
2. Main risks
In the following, we go through some of the main risks of using EvoEstate that we have considered:
EvoEstate bankruptcy risk
EvoEstate doesn't manage assets themselves. All they do is facilitate real estate transactions. This means that contracts are signed directly between the borrower and the investor on the platform. Evoestate does also keep its own funds separated from those of the investors. If EvoEstate then should go bankrupt, you should still have access to your funds, and none of the investments should be included in the bankruptcy.
Financial turndown risk
If you choose to invest in real estate via EvoEstate, then you also take on risks related to real estate.
Therefore, a financial turndown in real estate could affect the investments on EvoEstate due to the fact that a real estate crash could cause a decline in property values.
Is EvoEstate safe?
How you use EvoEstate will greatly impact the overall safety of your investments. A lot of the investments are secured with collateral which will greatly reduce your risk. However, due to the fact that the project originates from other alternative investment platforms, we encourage you to also read up a bit about how the individual platform handles safety.
Our experience with EvoEstate
Of the many crowdlending platforms we have tried, EvoEstate is definitely among our favorites.
We really like how they have made it possible to invest with the founders of the platform. This really gives us confidence that they are doing good work to also provide the best investment experience for investors – their own return depends on it.
We also really like some of the innovative features such as the 24-hour cancellation option for all investments made by auto-invest. The overall user-friendliness of the platform is also very good, and we find the website to be very well designed.
In our opinion, the tax report on EvoEstate is also a great tool for actually getting to file taxes on investment profits.
EvoEstate reviews on Trustpilot
Trustpilot is a great place to learn what other investors think about EvoEstate. We have collected some relevant EvoEstate reviews from Trustpilot for you to take a closer look at: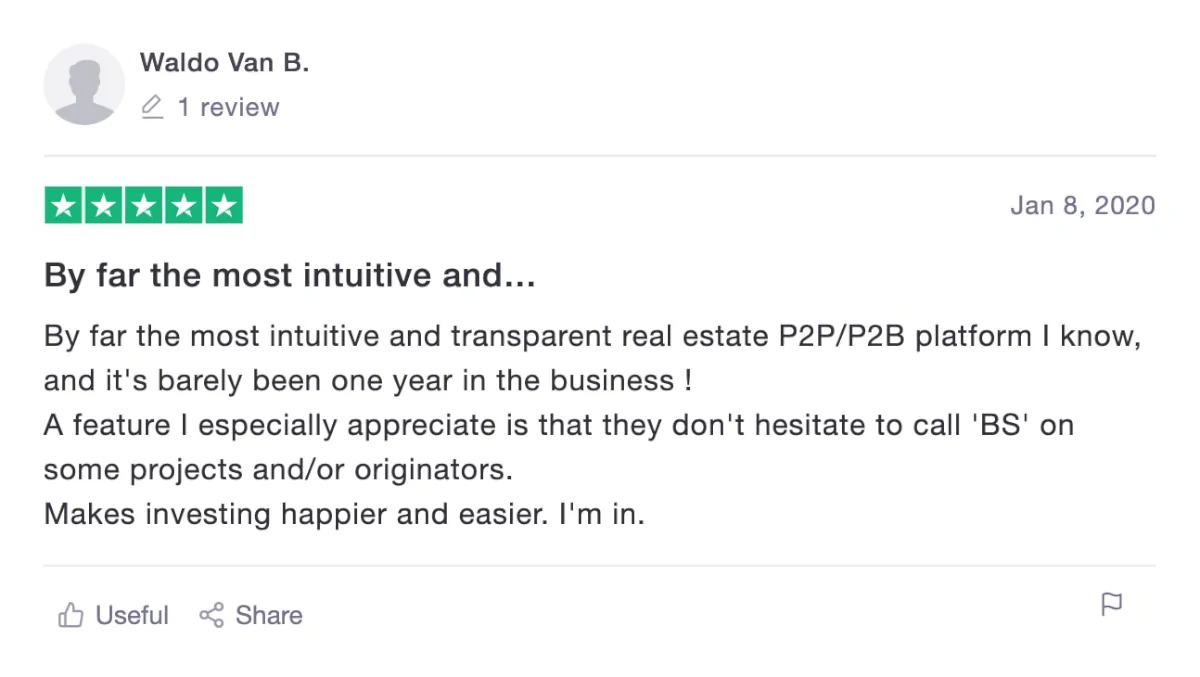 Best EvoEstate alternatives
Not sure EvoEstate is the right choice for you? Then there are also some good EvoEstate alternatives to consider. The following are some of our favorites:
Even if you choose to use EvoEstate, it may still be a good idea to take a closer look at some of the platforms above. By using multiple P2P lending platforms you minimize your overall platform risk. At the same time, you will have the opportunity to diversify your portfolio further.
EvoEstate vs EstateGuru
A lot of investors have asked about EvoEstate vs EstateGuru. So let's review where each platform excels:
In our opinion, EvoEstate suits the investors who want easy access to a large number of investment opportunities via only one platform.
On the other hand, EstateGuru suits more conservative investors that are looking for a time-tested platform and weight security dearly.
Investors could benefit from using both platforms, as EstateGuru is not listed on EvoEstate.
Conclusion of our EvoEstate review
EvoEstate is one of the very best options for investors to do real estate crowdfunding. They offer superior diversification options as they are aggregating investment opportunities from other platforms.
At the same time, you will also find features like auto-invest to make it passive to invest and a secondary market that makes it possible for you to make an early exit.
The platform is very popular among private investors and has received a warm welcome across the internet on forums, Trustpilot, Twitter, and more. EvoEstate is also backed by institutional investors.
The fact that EVOESTATE OÜ is backed by institutional investors does also give us confidence in knowing that it is a serious and ambitious P2P platform. We expect the platform to see huge growth over the coming years.
If we could only select one platform to use for real estate crowdfunding, EvoEstate would be our first choice – due to the diversification options.