PeerBerry review 2023
Is PeerBerry a great platform for P2P lending? Find out in our PeerBerry review below:

Review summary:
PeerBerry is an excellent and easy-to-use platform. The platform offers a competitive return that has attracted thousands of investors. However, one of the major cons is the lack of a secondary market, which makes it difficult to get out of an investment before the loan matures. However, this is offset by the fact that PeerBerry is owned by a profitable company and therefore has more financial ballast than many of the unprofitable platforms on the market.
It's free to use the platform.
At P2PPlatforms.com, we strive to list only the absolute best companies in the P2P industry. Where appropriate, we also feature our partners. This doesn't influence our evaluations. All opinions are our own.
Introduction to our PeerBerry review
Are you considering investing via PeerBerry? Then read on. We've written this PeerBerry.com review to help investors determine if PeerBerry is the right choice for them.
Below you will find an overview of the things that we will discuss more in detail in this PeerBerry review. Simply click on the links to jump directly to the thing you want to know more about.
Learn about this in our PeerBerry review:
What is PeerBerry?
PeerBerry is one of the best peer-to-peer lending platforms in Europe for short-term loans. They connect borrowers and investors from all over the world. The company is run by a team of experienced financial professionals with the goal of making online lending more accessible and efficient.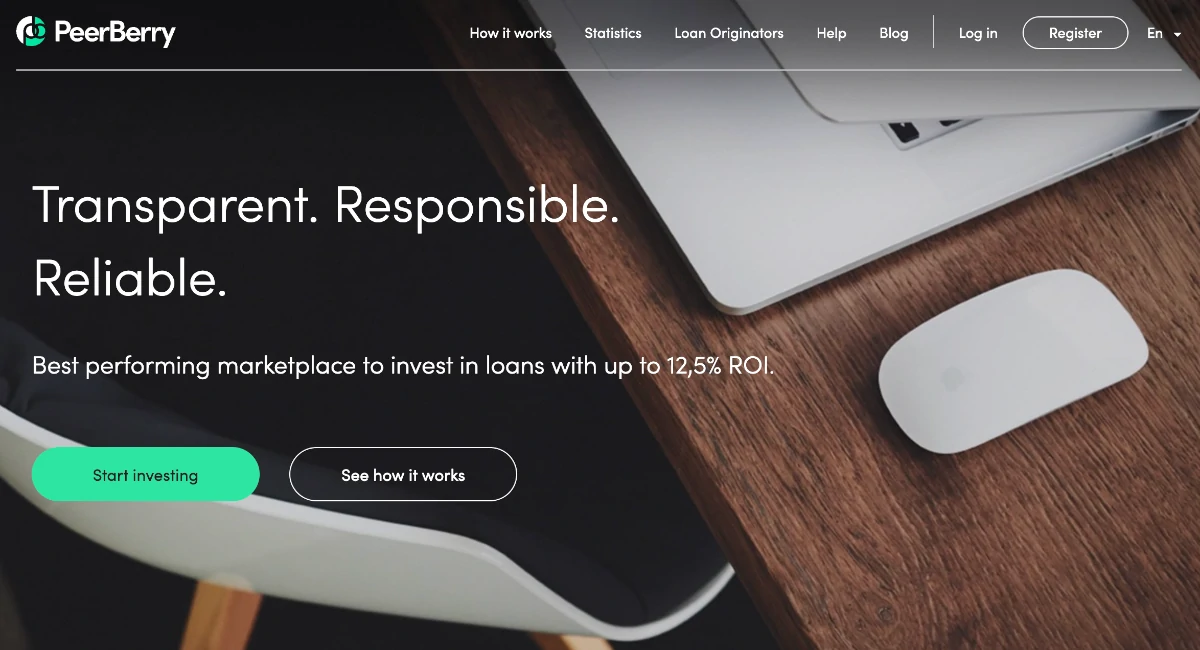 The crowdfunding platform was launched on November 1, 2017. PeerBerry is registered in Croatia, but the headquarters are based in Vilnius, Lithuania.
Today, PeerBerry is one of the leading platforms in the industry, offering a wide range of loans for both personal and business purposes. You can use PeerBerry to invest in a mix of different loan types, including personal loans, business loans, real estate, leasing, and more. The loans on the platform are primarily from Aventus Group and its subsidiaries.
For a few months in 2016, Aventus Group and its subsidiaries were actually using Mintos to allow P2P investors to invest in their loans. But they decided to get off Mintos to make their own platform instead. This decision resulted in PeerBerry.
Since the launch of PeerBerry, the platform has grown to have over 71,000 investors. Investors at PeerBerry earn an average return of 11.23% for their investments. This has resulted in over €23,000,000 in interest paid to PeerBerry's investors.
You can get started at https://peerberry.com/ with as little as €10.
PeerBerry statistics:
| | |
| --- | --- |
| Founded: | 2017 |
| Loan Type: | Consumer |
| Loan Period: | 1 – 60 Months |
| Loans Funded: | € 1.900.000.000 + |
| PeerBerry Users: | 71.000 + |
| Minimum Investment: | € 10 |
| Maximum Investment: | Unlimited |
| PeerBerry Interest Rate: | 11.23% |
How PeerBerry works
PeerBerry works by connecting loan originators to the platform. The loan originators then make already issued loans available for investment. Currently, these are mainly loans originating from Aventus Group and Gofingo.
By investing in the loans, the loan originators gain new capital. As a result, they can issue more loans and thereby grow their business further. In this way, a win-win situation is created between the loan originators and investors like you.
Key features
We have already taken a look at some of the reasons why PeerBerry has become a popular choice among investors. In the following, we take a closer look at some of the key features that make it easy to invest via the platform:
1. PeerBerry buyback guarantee
At PeerBerry, most loans are covered by a buyback guarantee. Basically, a buyback guarantee implies that the loan originator will have to buy back the loan from you in case the borrower is unable to pay off his debt.
At PeerBerry, the buyback guarantee comes into effect if the repayment of a loan is over 60 days delayed. On their website, you can see which loans are covered as well as which loans are not covered by the buyback guarantee.
If you want to invest very passively, you can also set the PeerBerry auto-invest to only invest in loans with a buyback guarantee.
2. PeerBerry auto-invest
At PeerBerry.com you will find a user-friendly auto-invest feature. By using it, you avoid having to manually select loans to invest in.
To use their auto-invest strategy, follow this process:
Log in to your account
Click "Auto Invest"
Click "Create new Auto Invest portfolio"
From here you can set up your PeerBerry auto-invest settings: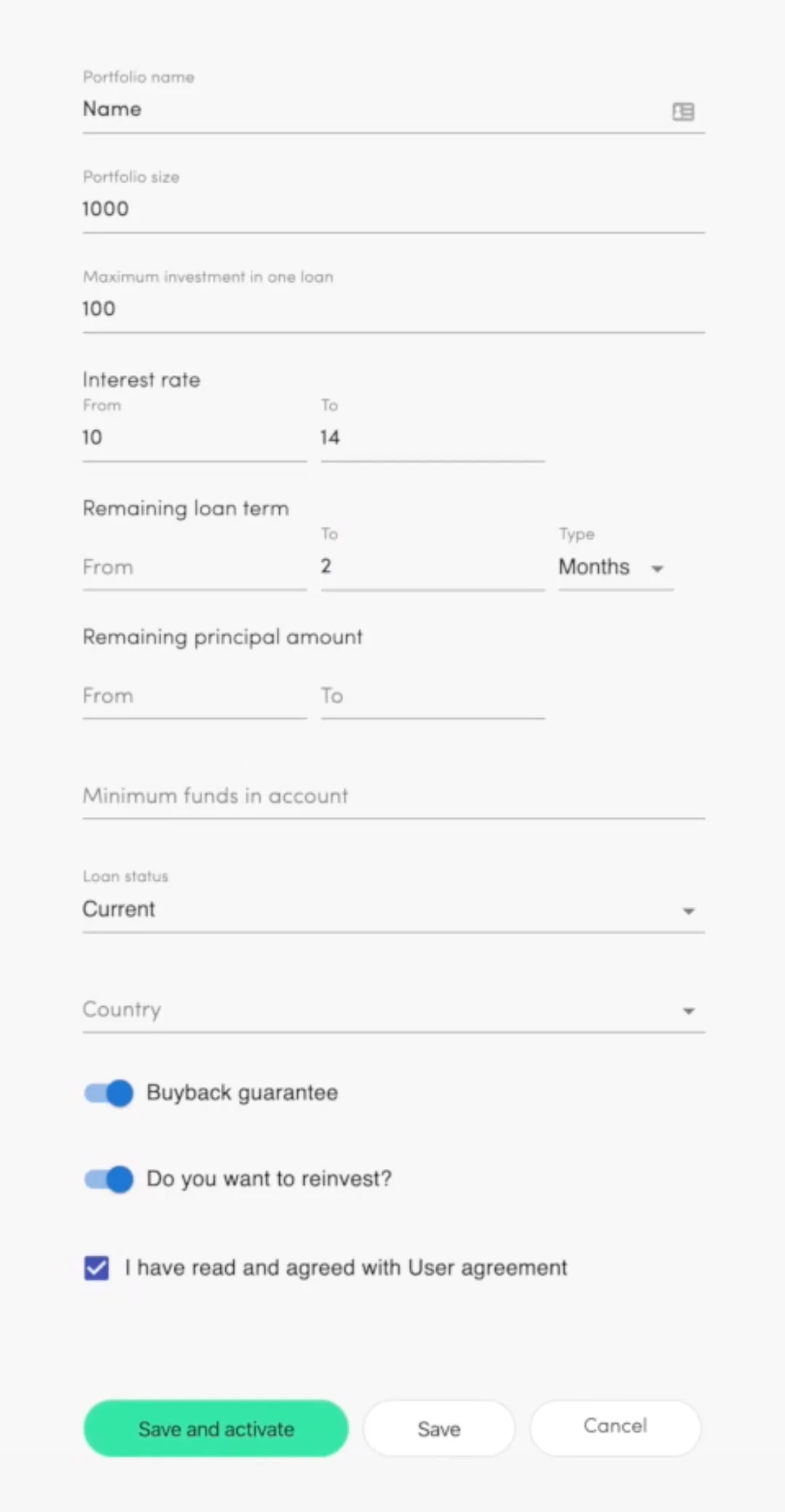 When setting up your PeerBerry auto-invest strategy, you can choose how much of your portfolio to invest and how much in each loan. You can also set limits on what interest rates you are interested in.
If you want to invest exclusively in loans in certain countries or from certain loan originators, then this can also be done.
Furthermore, you can choose to invest solely in loans with a buyback guarantee and the money will automatically be reinvested.
Just play around with the auto-invest feature a bit, and you will soon get the hang of how it works.
3. PeerBerry Loyalty Program
As one of the few Peer-to-Peer investment sites, PeerBerry has a Loyalty Program. This program rewards people who invest a lot of money for longer periods on the platform. Depending on how much money you have invested on the platform, you can earn a 0.5-1% extra return through the Loyalty Program.
To benefit from the PeerBerry Loyalty Program, you must meet the following requirements:
Have been a member of PeerBerry for more than 90 days
Having over €10,000 on the platform
Through the PeerBerry Loyalty program you can earn the following rewards:
Silver: When you invest a minimum of € 10,000 you will get + 0.5% on your investments.
Gold: When you invest a minimum of € 25,000 you will get + 0.75% on your investments.
Platinum: When you invest a minimum of € 40,000 you will get + 1% on your investments.
For example, let's say you are a platinum investor which means that you will earn + 1% on your investments. So investments that will usually yield 11% returns will give you 11% + 1%. So instead of getting an 11% return, you will get a 12% return. In other words, it is well worth it to have more money invested via PeerBerry.
4. PeerBerry tax report
As the taxation of the income for each investor on the platform depend on the legislation of the country where the investor is a tax resident, PeerBerry does not withhold any taxes for private investors. Instead, it is the investor who is fully responsible for filing the taxes.
PeerBerry makes it easy to handle your taxes on investment gains on the platform. If you go to your account you will easily be able to generate a PeerBerry tax report so you can file your taxes.
5. PeerBerry referral bonus
PeerBerry offers a 0.5% cashback bonus for new investors that gets referred to its platform.
We have received an affiliate link from PeerBerry, which means that you can get a 0.5% bonus for 3 months by using our refer-a-friend link.
All you have to do to get the PeerBerry cashback is to activate the bonus by clicking the button below (no referral code or promo code needed):
Who can use PeerBerry?
Both individuals and organizations can invest via PeerBerry.
Individuals
If you want to invest as an individual, you must at least meet the following requirements:
Being at least 18 years old
Having a bank with AML/CFT equivalent to the EU
If you live up to these requirements, then you can probably start investing via the platform.
Organizations
If you run an organization, you can also use PeerBerry for your investments. Upon signing up, simply select that you want to create an account for your company.
Apart from this, the sign-up process for a company is very similar to the sign-up process for individuals.
Available countries
PeerBerry is primarily targeted to Europe, as the loans are handled in Euro. Therefore, the vast majority of investors are also from Europe. However, we also know people from Saudi Arabia and Canada who are using the Peer-to-Peer lending platform. If you come from a country other than these, try contacting PeerBerry and find out if it's possible for you to use their platform. Alternatively, you can also find out if you can use PeerBerry by just trying to sign up on the platform.
How safe is PeerBerry?
To determine if PeerBerry is safe, we have taken a look at some of the potential upsides and downsides of investing with PeerBerry.
1. PeerBerry profitability
PeerBerry is owned by Aventus Group, a company that has been profitable since 2009. Since then, the group has experienced high growth and is today a quite solid company. Due to the financial strength of the group, PeerBerry should also be reasonably secure to invest through.
In 2018, PeerBerry earned a profit of €98,830. They managed to increase this number by 2.9 times to €284,550 in 2019. Overall, it seems like a quite healthy company.
2. Main risks
In the following, we go through some of the main risks of using PeerBerry that we have considered:
Loan default risk
When you invest in P2P loans, there is a risk that the borrower will not be able to repay his loan. In that case, your investment is usually lost.
However, most loans at PeerBerry have a buyback guarantee that can secure you against this type of event.
The best way to hedge against loan default risk is to invest in many different loans. In addition, it may be a good idea to choose loans with a buyback guarantee. You can see on their website, which loans are covered.
Loan originators risk
The loan originators also pose a risk to investors. If they are not in control of their finances, have poor management, or the like, then they run the risk of going bankrupt like any other business.
In PeerBerry's case, the loan originators are primarily subsidiary companies of Aventus Group. The group seeks, through IT solutions, that only the most qualified borrowers are allowed to borrow via their subsidiaries.
As Aventus Group is responsible for most of the entire supply chain, it is also in their best interest to minimize the loan originator risk.
One thing you should be aware of is that you will find two types of investment structures at PeerBerry; an indirect and a direct investment structure.
If you invest in loans from loan originators within the EU (Poland, Denmark, and the Czech Republic), there is a direct investment structure. This means that if the loan originator goes bankrupt, then you still have a claim against the borrower.
For loans outside the EU (Ukraine and Russia), you will instead find an indirect structure. In practice, this means that you have a claim against the loan originator itself instead of the borrower. So in the event that the loan originator goes bankrupt, you cannot claim your money directly from the borrower.
Due to the different investment structures, it is a good idea to consider which loan originators you want to invest through. Namely, there may be greater uncertainty in an indirect investment structure than with a direct one.
PeerBerry bankruptcy risk
As with any business, there is a risk of PeerBerry going bust. But since the platform is owned by Aventus Group which has been profitable since 2009, the likelihood of this happening is probably not that big.
Of course, the risk of bankruptcy will always be there. Therefore, you should also consider how this could affect your investments.
Financial turndown risk
As P2P investing is a newer thing in the investment world, it can be difficult to predict how a financial turndown would affect this form of investment. As a starting point, it is, therefore, a really bad idea to invest your entire investment portfolio in P2P investments.
Therefore, many investors also choose to diversify into more traditional forms of investment such as equities, bonds, and traditional real estate.
Since investing is an individual thing, we obviously do not know what will be best for you. But if you put together your investment portfolio, make sure that it reflects your knowledge of the investments in it, as well as your own risk appetite. If in doubt about how to do so, make sure to seek help from a professional investment planner.
Is PeerBerry safe?
Since PeerBerry is owned by a profitable group, investments at PeerBerry are probably less risky than at many of the unprofitable platforms.
However, we will probably be a little cautious about investing in loans outside the EU due to the indirect investment structure. Furthermore, other factors such as lack of knowledge about how a financial turndown will affect the P2P lending industry are also risk factors that are worth considering.
Our experience with PeerBerry
We are very positive about PeerBerry. Everything from their signup process to actually investing in their platform is truly easy.
It is easy to both deposit funds, and make a withdrawal from your account. Both can be done with your bank account. As most loans on PeerBerry are very short-term, it is possible to withdraw most funds within 30-60 days.
However, one of the only things that we are not that fond of is the lag of a secondary market. Due to that, one has to keep their investments until the loan matures.
There have been very few times during the platform's lifetime when investors have experienced a cash drag on PeerBerry. This means that there are very few times with no loans available for investment. The fact that your funds can be fully invested most of the time is very positive and yields better investment results.
Due to the lag of a secondary market, we actually prefer a platform like Mintos which has all the features of PeerBerry and more.
PeerBerry reviews on Trustpilot
Trustpilot is a great place to learn what other people think of PeerBerry. We have collected relevant PeerBerry reviews from Trustpilot for you to take a closer look at: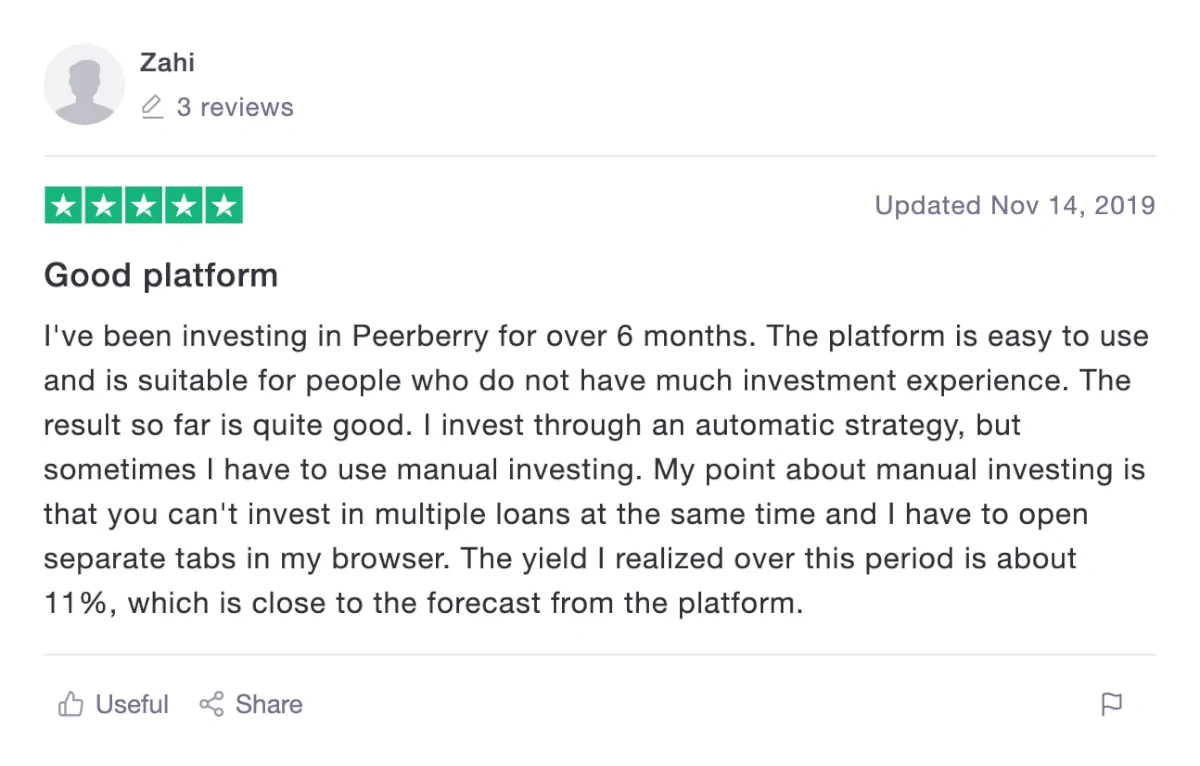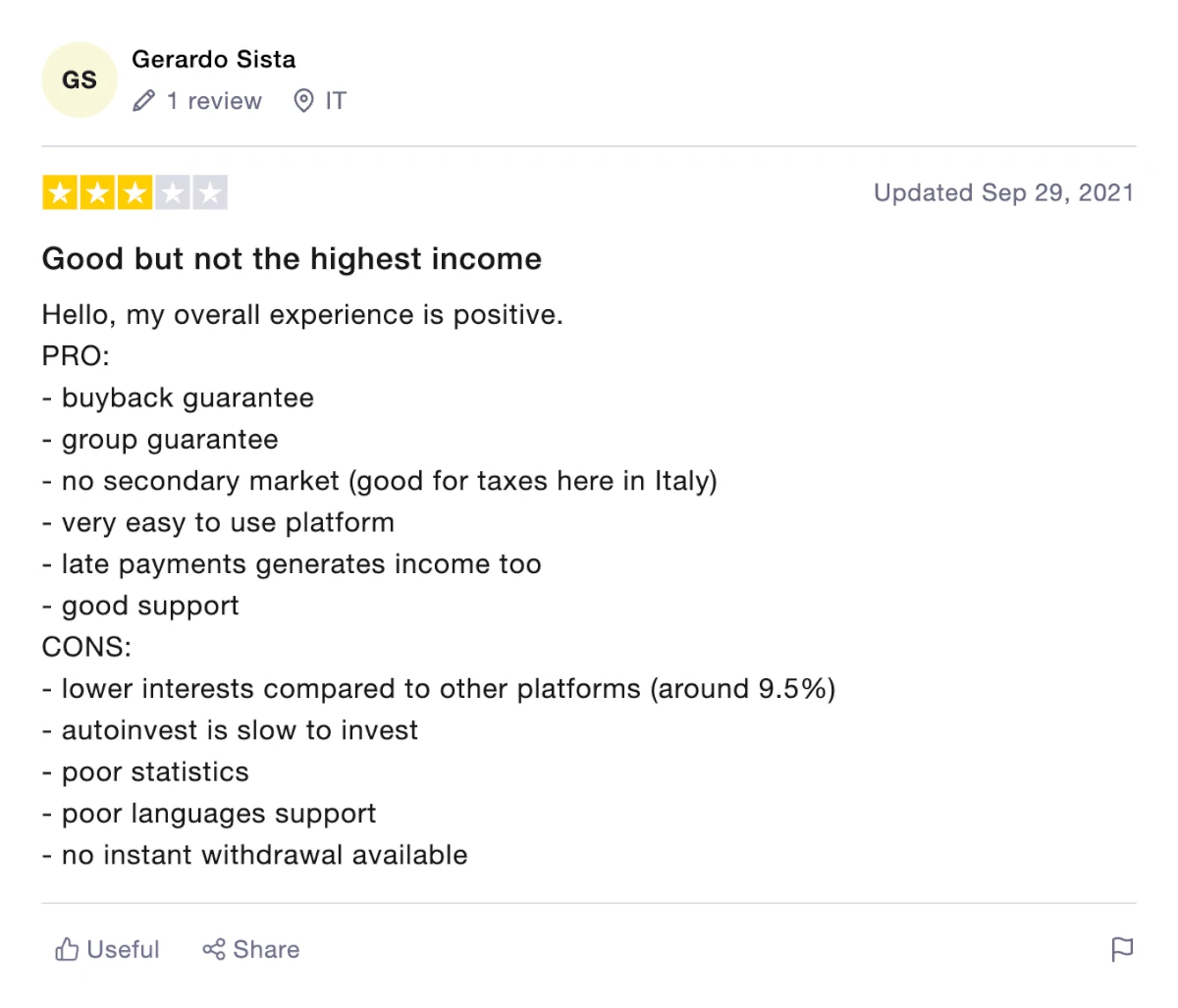 Best PeerBerry alternatives
Not sure PeerBerry is the right choice for you? Then there are also some good PeerBerry alternatives to consider. The following are some of our favorites:
Even if you use PeerBerry, it might actually be a good idea to take a closer look at some of the above platforms. By using multiple platforms, you can reduce your platform risk and diversify your portfolio further.
PeerBerry or Mintos
A lot of investors have asked whether they should choose PeerBerry or Mintos (the biggest crowdlending platform in Europe) as their first platform. In the following, we review what distinguishes PeerBerry from Mintos:
Both platforms can be excellent choices, but in recent years, more and more investors on forums, blogs, and social media like Reddit, YouTube, Twitter, and Facebook have started favoring PeerBerry over Mintos.
The main reason why investors would choose Mintos over PeerBerry is the fact that Mintos has a secondary market that makes early exit very easy. This feature is yet to come at PeerBerry.
At the same time, Mintos have more features, but the platform can also be more confusing at first.
Conclusion of our PeerBerry review
PeerBerry is an excellent platform with a user-friendly interface and high returns for its investors.
However, the lag of a secondary market is one of the biggest disadvantages in our opinion. This makes it difficult to get rid of your investments ahead of time. And since it is a feature that can be found on many other platforms, it may be an idea to check out some alternatives.
With that said, we actually understand that investors choose PeerBerry despite the lack of a secondary market. This is due to the fact that PeerBerry is a secure platform owned by a large and profitable company. They do also have high transparency regarding their platform.
PeerBerry FAQ