Lonvest Review 2023
Is Lonvest a good pick for P2P lending? Our in-depth Lonvest review unveils the pros and cons of the platform so you can learn if it's a good fit for you. Below is a concise summary of our Lonvest.com review. For a more detailed discussion of the platform's strengths and weaknesses, continue reading further down the page.

Review summary:
Lonvest is a user-friendly P2P lending platform that offers high returns at relatively low risk due to its buyback and group guarantee. The platform requires only €10 to start investing, making it accessible to both new and experienced P2P investors. However, it lacks regulatory oversight, has a short history, lacks early exit options, offers limited diversification, and may have potential conflicts of interest due to structural overlap with loan originators.
It's free to use the platform.
Outline of Lonvest review:
What is Lonvest?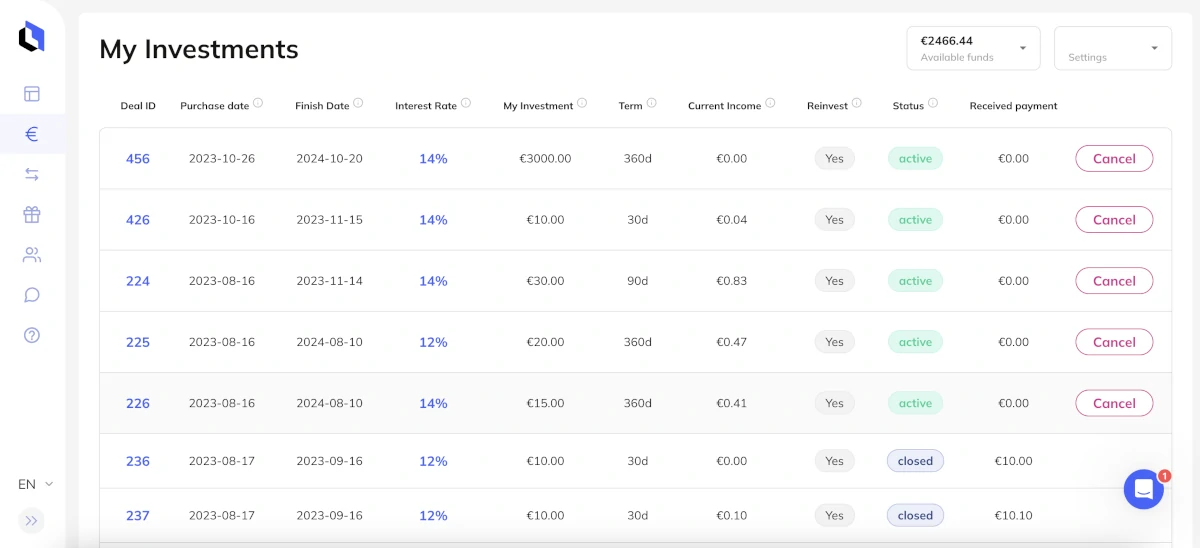 Lonvest is a P2P lending platform based in Zagreb, Croatia. It was launched in 2023 by the founder and CEO Roman Katerynchyk. He is also the co-founder of SpaceCrew Finance.
Lonvest allows investors from Europe to invest in short-term consumer loans from lending companies owned by SpaceCrew Finance. These companies include ClickCredit from Poland, OnCredit from Vietnam, and OnCredit from Sri Lanka.
The loans on Lonvest have an average annual return of 13.54% and are secured with a buyback guarantee and an additional group guarantee – two key features that will be explained later in our Lonvest review.
Since its launch in 2023, Lonvest has grown its investor base to over 300 investors who collectively have funded more than €370,000 in P2P loans from the loan originators on the platform.
With a minimum investment of €10, you can start investing at https://lonvest.com/.
Owners & Management
Lonvest is led by the founder and CEO Roman Katerynchyk.
Roman Katerynchyk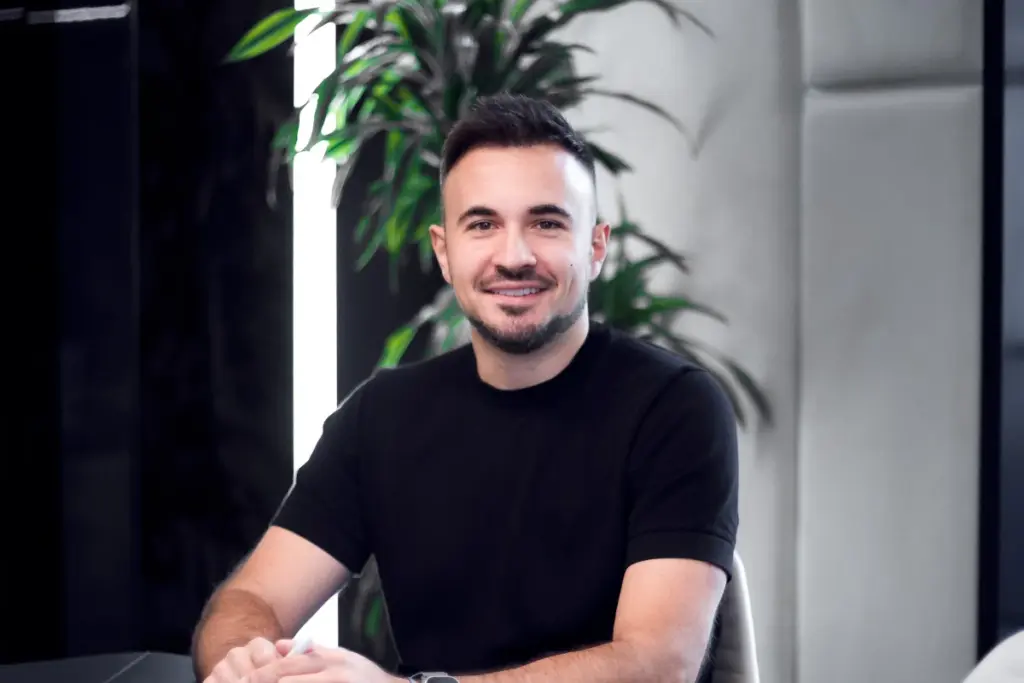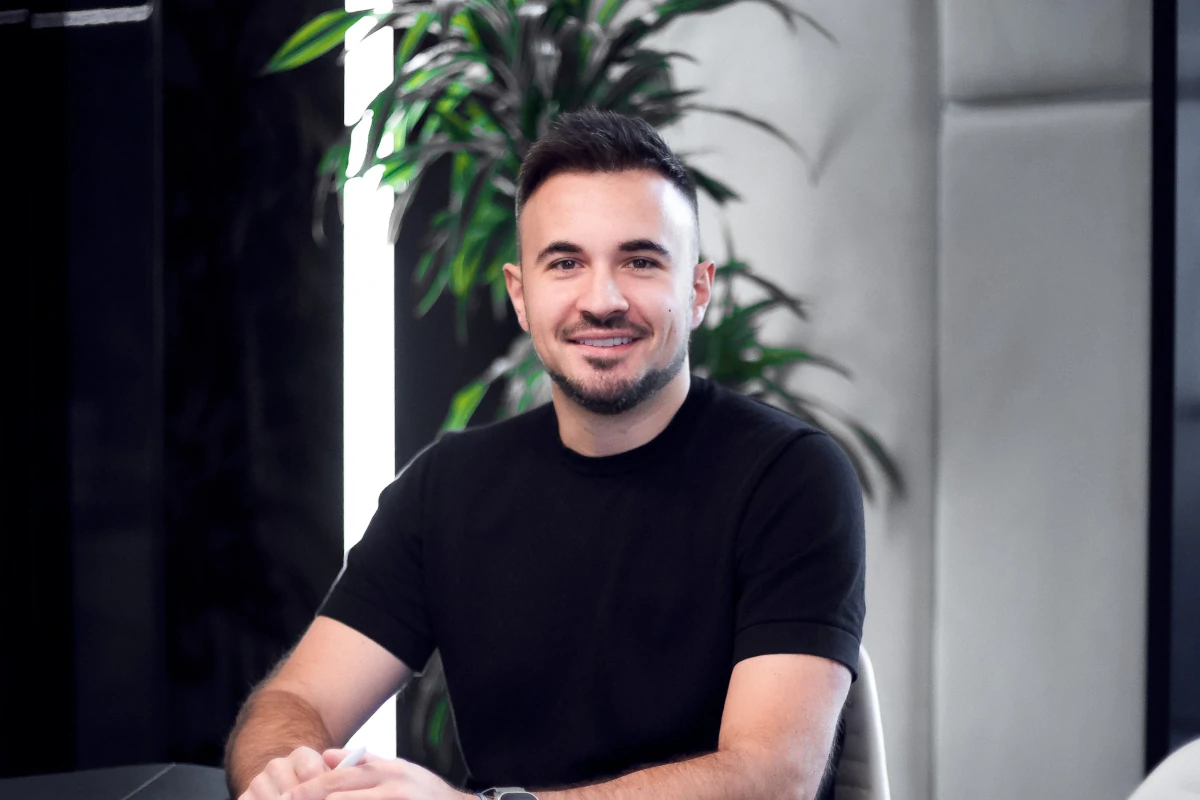 Roman Katerynchyk is the founder and CEO of Lonvest. He has years of experience in the lending industry having founded multiple lending brands including MyCredit, OnCredit, and CreditClick. These are also the lending companies you can find on Lonvest.
Both Lonvest and the lending companies are a part of SpaceCrew Finance, which is a finance group focused on lending.
Overview & Statistics
| | |
| --- | --- |
| Launched | 2023 |
| Investment Type | Consumer Loans |
| Investment Period | 1 – 12 Months |
| Total Volume | € 370,000 + |
| Number of Investors | 300 + |
| Minimum Investment | € 10 |
| Maximum Investment | Unlimited |
| Average Return | 13.54% |
User Requirements
To invest via Lonvest, you need to fulfill two requirements:
Age: You must be at least 18 years old.
Residency: You should live in the European Economic Area (EEA) or Switzerland.
If you don't meet these criteria and live outside of this region, you can consider Mintos as an alternative to Lonvest which operates internationally.
Lonvest only allows individuals to sign up on their platform, but an option to sign up as a company is planned in the near future.
Get +1% Cashback Bonus
Sign up using our exclusive referral link and receive an extra 1% cashback bonus on all your investments within the first 90 days. Don't miss out on this limited-time offer!
Advantages of Lonvest
High returns: Lonvest offers a high return on its platform of up to 15%. This is a quite high return compared to other P2P platforms.
No cash drag: There is currently no cash drag on Lonvest, which means that you won't run into problems getting all your funds 100% invested.
Low minimum investment: Lonvest has a low minimum investment of €10 which is pretty much the industry standard for platforms focused on short-term loans.
Great Trustpilot rating: Based on over 2 reviews, Lonvest has received a rating of 3.8/5 stars on Trustpilot.
Customer support: Lonvest offers reliable customer service. Support is readily available from 9:00-17:00 CET, Monday to Friday, which is convenient for most users. Queries are usually resolved efficiently which is confirmed by Lonvest reviews on Trustpilot.
Experienced management: A significant advantage of Lonvest is that it has experienced management that comes from the lending industry.
User-friendly platform: Lonvest's platform is very user-friendly and easy to figure out for both experienced P2P investors and beginners.
Buyback guarantee: Lonvest has a 60-day buyback guarantee which means that loan originators will have to buy back the loans that are late for more than 60 days.
Group guarantee: Your investments are also protected by a group guarantee on Lonvest. This can offer an extra layer of protection but doesn't mean that your investments are 100% safe.
Skin in the game: Loan originators on Lonvest are required to have skin in the game. For any loans, P2P investors should not make up more than 50% of the total loan amount.
Auto-invest: Lonvest has a tool to automate your investments on the platform.
Disadvantages of Lonvest
Unregulated: The platform is not regulated as this is not required for P2P lending platforms in Croatia.
No secondary market: There is currently no option for making an early exit on Lonvest. This could be due to the fact that the loans are short-term in nature.
Short track record: The platform has a short track record which can be a disadvantage because there is less data available to assess the company's performance, success rate, and risk level.
Limited diversification: Lonvest is only focusing on loan originators coming from the SpaceCrew Finance group. Although they offer geographical diversification, it doesn't allow you to diversify between lending groups. It is possible to counter this drawback by investing via multiple platforms.
Lag of transparency: While Lonvest might have a lot of internal transparency it could become better by making financial reports for Lonvest, loan originators, and the SpaceCrew Finance Group easily available on the website for investors.
Conflict of interest: The overlap in ownership of Lonvest and the lending companies creates a conflict of interest where Lonvest would probably side with loan originators before investors.
No manual investments: It is only possible to invest using auto-invest. This is a minor disadvantage as most investors are using auto-invest for short-term loans.
No mobile app: There is currently no mobile app for investing, but you can access the platform from your browser on your phone.
Overview of Key Features
| | |
| --- | --- |
| Manual investing | No |
| Automatic investing | Yes |
| Buyback guarantee | Yes |
| Other guarantee | Group Guarantee |
| Mobile app | No |
| Tax report | No (planned December 2023) |
| Early exit | No |
Here is a breakdown of all the key features of Lonvest for you to examine:
1. Auto-invest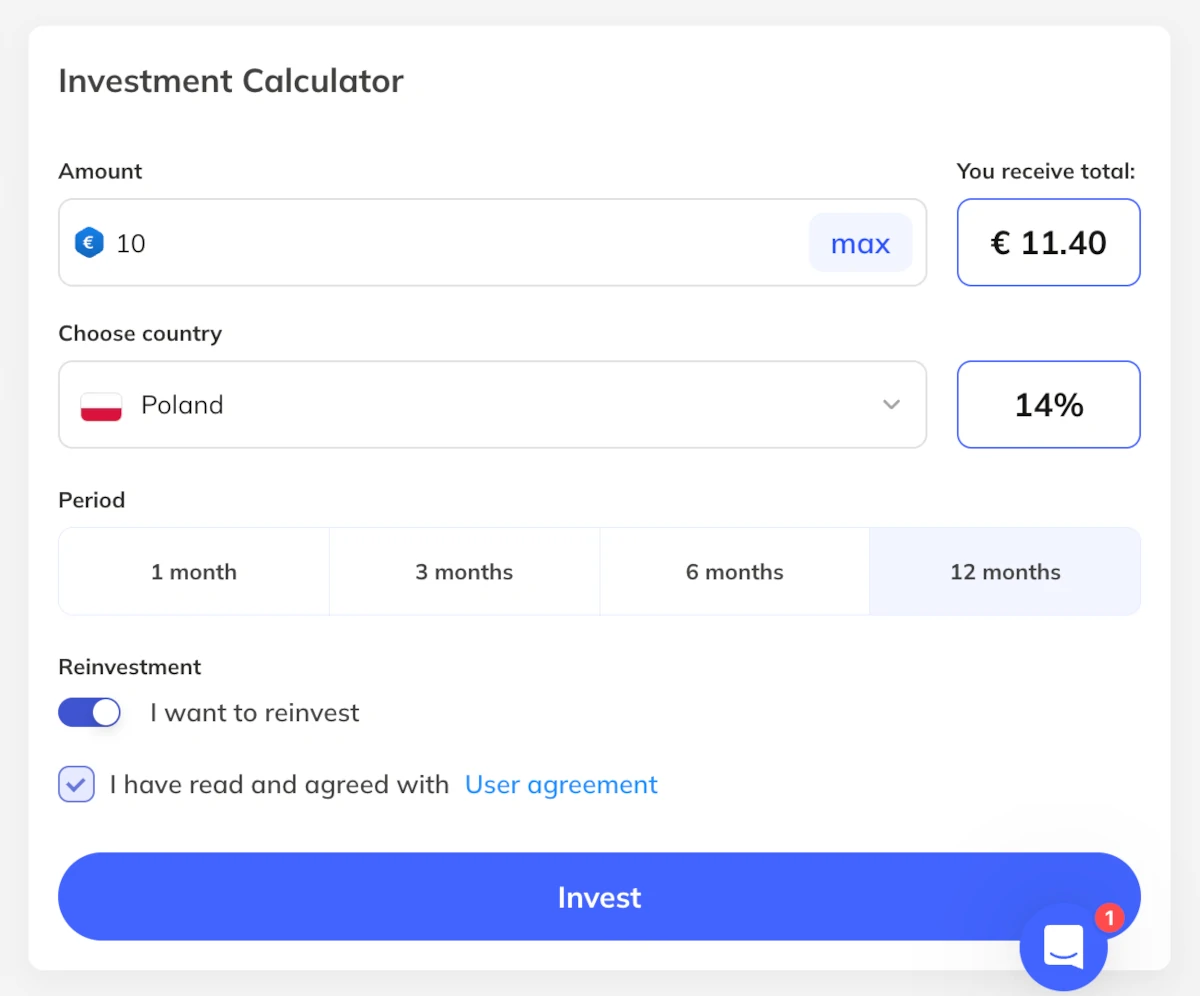 Lonvest offers a unique auto-invest tool that streamlines your investment process by automating it. This tool is conveniently located on the user dashboard for easy access. Here's a step-by-step guide on how to utilize it:
Decide on an investment amount
Select a country for the investment
Choose the duration of the investment
Decide whether to reinvest automatically or not
While the auto-invest tool is simpler to use compared to similar tools on other platforms, it works instantly once activated. However, it does have a few limitations. It doesn't offer the flexibility to determine the specific amount you want to invest in each loan, nor does it allow you to choose specific loan originators and instead focus on geography. Additionally, there is an investment cap of €5,000 for loans in each country using the auto-invest tool.
2. Buyback Guarantee
Lonvest provides an added layer of protection to its investors, with a buyback guarantee offered on every loan available on the platform. This implies that if a borrower defaults on their payments for over 60 days, the loan originators are obligated to buy back the loan.
Importantly, the guarantee includes both the initial loan amount and any accrued interest, providing an extra measure of security for our investors. This guarantee is particularly useful given the standard default rate in short-term lending, which typically ranges from 12-22% depending on the investment strategy.
It is important for investors to note that a buyback guarantee is only as solid as the ones making the guarantee. If the loan originators become unable to fulfill the buyback guarantee, it is no longer useful for investors.
This is why Lonvest makes regular reviews of the loan originators. The evaluations cover their financial status, the quality of their loan portfolio, and their internal processes. But here you will find a potential conflict of interest as both loan originators and Lonvest are owned by the same lending group.
3. Group Guarantee
In addition to the buyback guarantee, each loan is protected by a group guarantee. This means that if a specific lender is unable to fulfill their buyback obligation, other companies in the group will have to cover the debts.
---
Analysis of Lonvest Fee Structure
| Fee type | Cost |
| --- | --- |
| Deposit fee | Free of charge |
| Investment fee | Free of charge |
| Inactivity fee | Free of charge |
| Selling fee | No option for selling |
| Withdrawal fee | Free of charge |
It is free to use Lonvest as they have no fees for investors. In terms of fees, this keeps them competitive as most similar platforms like PeerBerry and Esketit also don't have any fees.
But even though Lonvest is currently free to use, you should be aware that the platform reserves the right to deduct service fees from investors in its terms and conditions. This means that it is possible that Lonvest will introduce fees for investors in the future.
Evaluation of Lonvest's Platform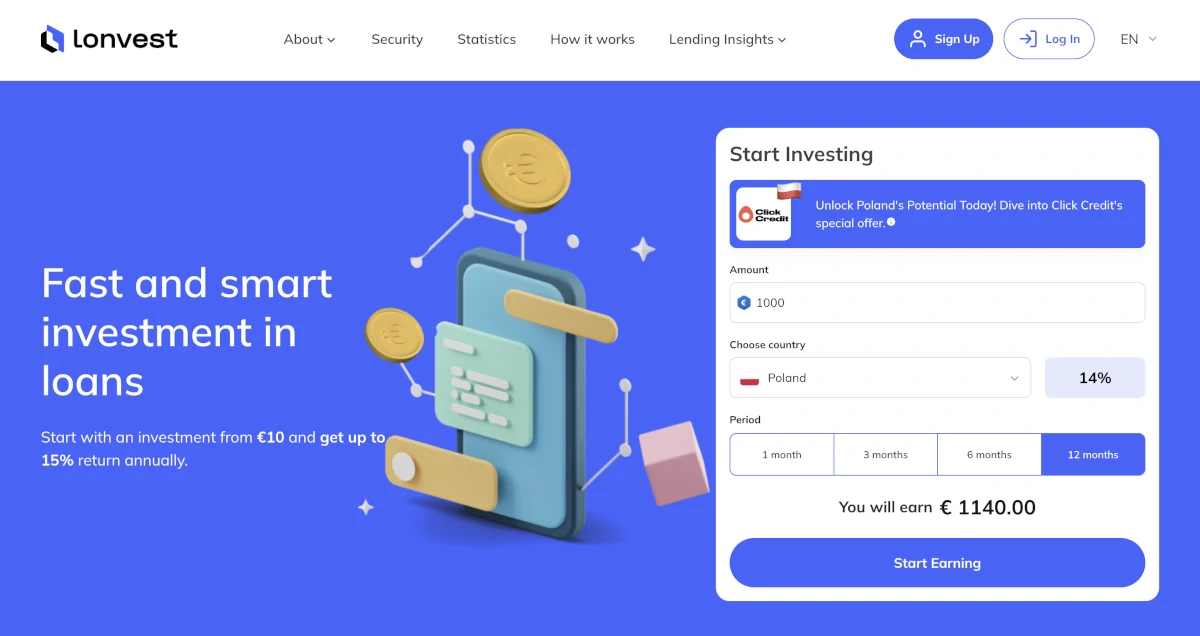 Lonvest has an easy-to-use platform with an intuitive registration process that can be completed very quickly. The customer support is also excellent.
Registration process
The registration process for Lonvest is very easy and intuitive. Here is the step-by-step process you need to follow:
Click "Sign Up".
Make an account with your e-mail and password.
Verify your e-mail address.
Verify your identity and complete the KYC process.
Deposit funds to your account.
Start investing.
The KYC process takes around 5 minutes to complete. Your identity is automatically reviewed using Veriff, which is an AI-powered identification software.
Deposits & Withdrawals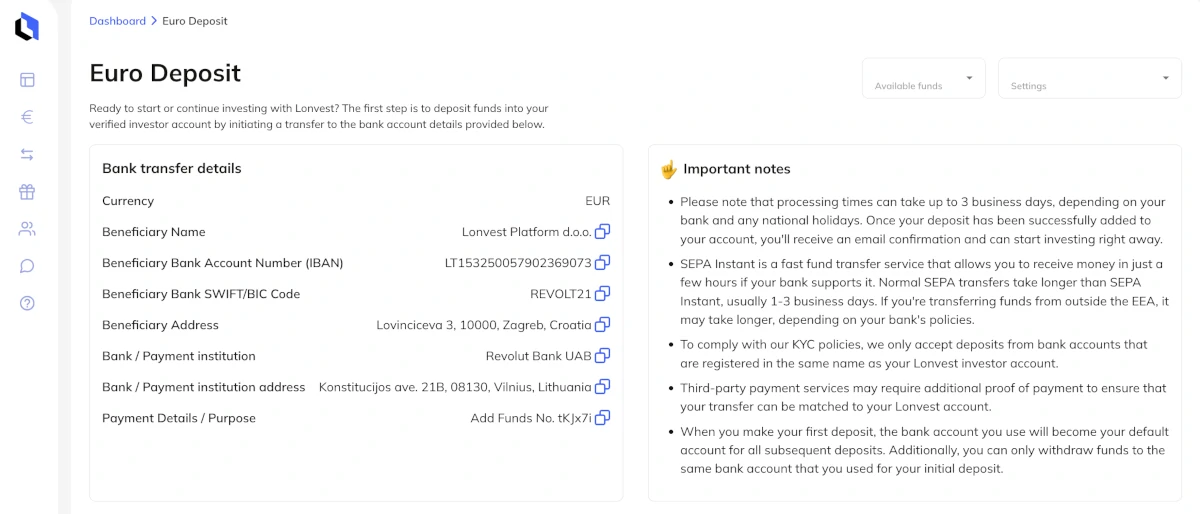 The platform only accepts Euro deposits with SEPA Instant. The funds will typically be in your account within 1-3 business days. This works very similarly to other platforms.
Withdrawals are generally processed very fast on Lonvest and you should expect to have your funds within a few days as well.
Usability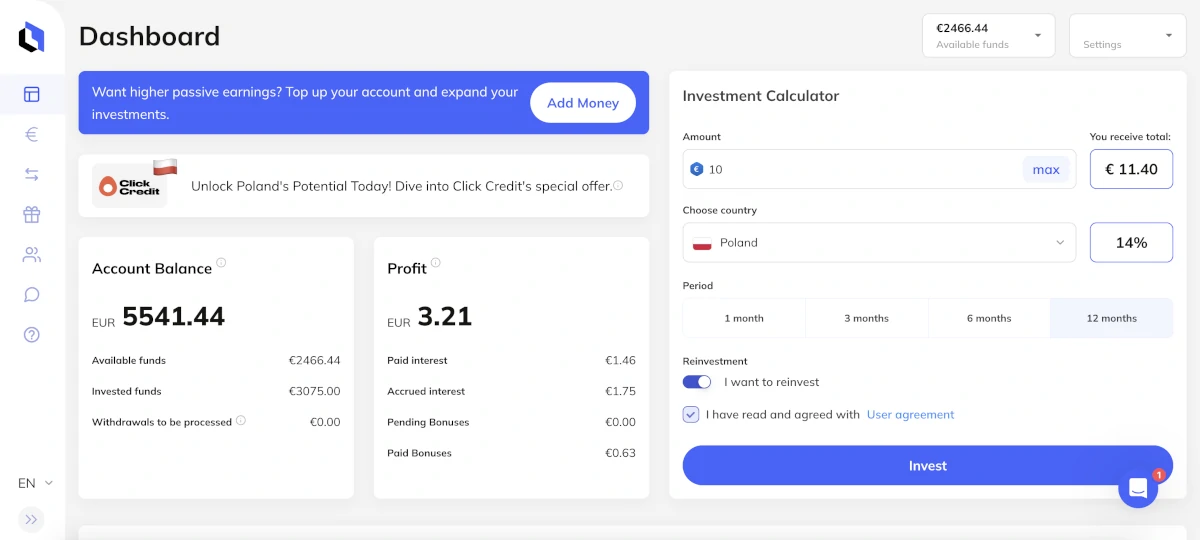 The Lonvest platform is both user-friendly and easy to use. You can click the navigation on the left-hand side to navigate the platform.
From the main dashboard, you can check your account balance and profits. You can also set up automatic investments directly from the dashboard.
Investments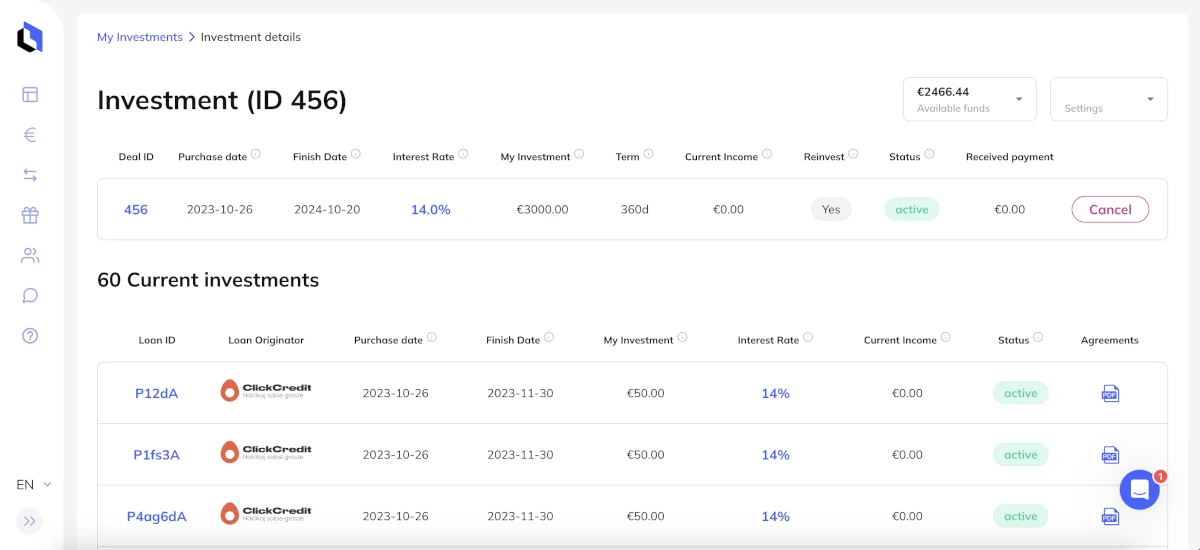 Using your investor login, you can easily access an overview of your investments on Lonvest. This includes:
Loan ID
Loan originator
Purchase date
Finish date
Investment amount
Interest rate
Current income
Status
Loan agreement
Customer Support
You can reach out to Lonvest by sending them an e-mail at [email protected] or sending a message in the Intercom chat on the website. Lonvest's customer support is available from 9:00-17:00 CET, Monday to Friday, which allows for easy communication and assistance during regular business hours.
Our experience with Lonvest's customer support has been excellent. They have proven to be very responsive and helpful in addressing our inquiries. A Lonvest review on Trustpilot has also confirmed swift customer support to resolve a problem regarding 2FA.
---
Risk & Return Assessment
While P2P lending offers the potential for attractive returns, is not without associated risks. In this section of our Lonvest review, we delve into the risk and return profile of the P2P lending platform.
These risks include but are not limited to:
Default risk: If borrowers fail to meet their repayment obligations.
Loan originator risk: If a lending company goes bust
Platform risk: If the platform itself goes bust.
It is crucial to understand these risks as they have a direct impact on the potential return on investment. So let's have a look at the risk and return of Lonvest:
Potential Return

Investing in Lonvest offers an average return of 13.54%, which is quite attractive. However, it's important to note that this return can vary depending on the specific investment opportunities available on the platform.
When comparing Lonvest to other platforms, PeerBerry and Robocash are worth mentioning. PeerBerry offers an average return of around 11-12%, while Robocash provides an average return of around 12-14%. These figures give Lonvest a slight edge in terms of returns, but it's important to consider that each platform may have different risk profiles and investment models.
Lonvest offers a 1% cashback for investors in the first 90 days, which adds to the overall return for investors. This bonus enhances the attractiveness of investing with Lonvest and can provide an extra incentive to potential investors (Click here to activate the bonus).
Lonvest's relatively short track record suggests that more time is needed to determine whether the high returns can be maintained consistently in the long term, and if they can weather different market conditions.
Lonvest Loyalty Bonus
Lonvest is planning to introduce a Loyalty Bonus in the near future according to our interview with the CEO Roman Katerynchyk. This could potentially enhance your return in the future.
Getting up to 15% return plus bonuses definitely has its risks. You may not get your money back if the loan isn't repaid. Let's see how the platform is trying to protect investors from such risks:
Risk Mitigation
Here are the risk mitigation strategies offered by Lonvest:
Due Diligence: At Lonvest, there is a rigorous due diligence process that includes an in-depth analysis of every loan application. This process not only evaluates the borrower's financial history, credit score, and current financial standing, but also includes an affordability check, verification and validation of documents, and an AI-driven scoring model for risk assessment. The final review is then conducted by an expert team, which ensures that only the loans with the highest potential for timely repayment make it to the platform. This rigorous analysis and selection process greatly mitigates the risk of default.
Buyback Guarantee: Lonvest offers a buyback guarantee on every loan available on the platform. If a borrower defaults on their payments for over 60 days, the loan originators are obligated to buy back the loan. This guarantee includes both the initial loan amount and any accrued interest. It serves as an additional layer of protection for investors, ensuring they get their investment back even if the borrower can't make timely payments.
Group Guarantee: Each loan on the Lonvest platform is also protected by a group guarantee. This means that if a specific lender is unable to fulfill their buyback obligations, other companies within the group will step in to cover the debts. This multi-tiered guarantee system provides an additional layer of security, ensuring that investors are protected even if a loan originator faces unforeseen challenges.
Even though Lonvest has these risk mitigation strategies in place, investors should be aware that no investment is risk-free.
Regulation
Lonvest is not regulated by a licensing authority as it operates in the Croatian jurisdiction where a formal license is not required for P2P lending platforms. Not being regulated is also the case for other popular Croatian platforms like Robocash and PeerBerry.
Even though Lonvest is not required to be regulated, they have it planned according to our interview with the CEO Roman Katerynchyk.
Profitability
Figuring out if the new P2P lending platform, Lonvest, is profitable can be hard because there's no past data to look at. To know if it's making money, we need to see how it has done over time in terms of earning money, managing costs, and overall financial performance. Without this data, it's hard to tell if it's profitable.
Lonvest's profits will depend on how much it spends at first. Setting up a P2P lending platform needs money for things like technology, infrastructure, advertising, and meeting legal requirements. These expenses might be higher than the income at first, making it hard to tell if it's profitable until there's a consistent flow of income.
Is Lonvest Safe?
Lonvest is a relatively safe platform for peer-to-peer lending, given its risk mitigation strategies which include a rigorous due diligence process, a buyback guarantee, and a group guarantee. However, it's important to note that investing in P2P lending does carry risks, including the risk of defaults and liquidity risk. While Lonvest offers a range of mechanisms designed to protect investors, no investment is complete without risk.
As Lonvest operates in the Croatian jurisdiction where a formal license is not required for P2P lending platforms, meaning it is not regulated by a licensing authority, it can be perceived as a bit riskier. They do, however, have plans to seek regulation according to the CEO.
In terms of safety, it is a plus that Lonvest is part of a larger lending group with a long track record and this adds to the platform's credibility.
Potential Red Flags 🚩
At the moment we have not noticed any potential red flags.
Have you noticed anything we have not? Please contact us here.
---
Best Lonvest Alternatives
Not sure Lonvest is the right choice for you? There are several other Lonvest alternatives to consider that might suit your needs better. Here are some of our favorites:
PeerBerry: This platform is also based in Croatia and is focused on short-term loans. It has a strong reputation and a longer track record than Lonvest.
Robocash: This platform focuses on loans from Asia with a bit longer duration than Lonvest.
Esketit: This platform is also focused on short-term loans but in different countries than Lonvest. It has been one of the fastest-growing platforms in recent years.
You can find more Lonvest alternatives in this overview of the best P2P lending platforms.
---
Lonvest Review Summary
Lonvest is a promising P2P lending platform with a blend of strengths and weaknesses. Its high returns, no cash drag, a user-friendly interface are notable strengths. It also has a buyback and group guarantee that makes it highly appealing for investors seeking high returns at a relatively low risk. The auto-invest feature facilitates the investment process and manages your portfolio and you can get started with only €10, making it suitable for both newbies and seasoned P2P investors.
However, the lack of regulation, short track record, absence of a secondary market for early exits, and limited diversification options are worth taking into consideration. The structural overlap between Lonvest and its loan originators may also create a conflict of interest that could favor originators in a contentious situation.
In conclusion, while Lonvest offers compelling advantages, potential investors should carefully weigh these against the identified limitations and risks before committing their funds. You should always back your decisions up with your own research
Get +1% Cashback Bonus
Sign up using our exclusive referral link and receive an extra 1% cashback bonus on all your investments within the first 90 days. Don't miss out on this limited-time offer!