VIAINVEST review 2023
Is VIAINVEST a great platform for P2P lending? Find out in our VIAINVEST review below:

Review summary:
VIAINVEST is a good P2P lending platform for investing in consumer loans. The platform is fairly safe with a buyback guarantee on loans. In comparison to other platforms, the return on VIAINVEST is also acceptable. But you should be aware that the platform's percentage of non-performing loans is quite high, which is a risk even though the platform has a buyback guarantee.
It's free to use the platform.
At P2PPlatforms.com, we strive to list only the absolute best companies in the P2P industry. Where appropriate, we also feature our partners. This doesn't influence our evaluations. All opinions are our own.
Introduction to our VIAINVEST review
Are you considering investing via VIAINVEST? Then read on. We've written this Viainvest.com review to help investors determine if VIAINVEST is the right choice for them.
Below you will find an overview of the things that we will discuss more in detail in this VIAINVEST review. Simply click on the links to jump directly to the thing you want to know more about.
Learn about this in our VIAINVEST review:
What is VIAINVEST?
VIAINVEST is a P2P lending platform that enables investors to invest in loans from VIA SMS Group and its subsidiaries.
On VIAINVEST, you can invest in both consumer and commercial loans. The loans are secured with a buyback guarantee – a key feature that will be explained later in this review.
Like the loan originators on the platform, VIAINVEST is owned by VIA SMS Group. VIAINVEST was launched in 2016.
Since its launch, VIAINVEST has become a popular P2P lending platform. Today, you will find over 35,893 investors on the platform that earn an average annual return of 13.00%.
With as little as €10, you can open an account and start investing at https://viainvest.com/.
VIAINVEST statistics:
| | |
| --- | --- |
| Founded: | 2016 |
| Loan Type: | Consumer |
| Loan Period: | 1 – 24 Months |
| Loans Funded: | € 374,084,889 + |
| VIAINVEST Users: | 35,893 + |
| Minimum Investment: | € 10 |
| Maximum Investment: | Unlimited |
| VIAINVEST Interest Rate: | 13.00% |
How VIAINVEST works
The VIAINVEST marketplace connects private European investors with various loan originators that have already issued loans.
Using the platform, investors can invest in the claim rights issued by subsidiaries of the VIA SMS Group.
Loan originators benefit from increased liquidity when VIAINVEST users invest in claim rights on the marketplace. This allows lending organizations to make more loans and expand their operations. In return, investors earn a yield on their investments.
The current loan originators on VIAINVEST are:
SIA VIA SMS
VIA SMS Group
VIACONTO MINICREDIT, S.L.
VIA SMS s.r.o.
VIA SMS PL Sp. z o.o.
ViaConto Sweden AB
IFN VIACONTO MINICREDIT S.A.
The above-mentioned loan originators are mostly just VIA SMS Group's companies in different countries.
Frequently asked questions:
Key features
We have already taken a look at some of the reasons why VIAINVEST has become a popular choice among investors. In the following, we take a closer look at some of the key features that make it easy to invest via the P2P lending platform:
1. VIAINVEST buyback guarantee
VIAINVEST offers a 30-day BuyBack obligation for loans marked with a Buyback Guarantee icon.
If the borrower fails to make payments on time for 30 days or defaults on the loan, the lending business is required to buy back the claim right from the investor.
As an investor, you should be aware that a buyback guarantee is only a guarantee that is valid as long as the issuer of the guarantee can keep the promise.
2. VIAINVEST auto-invest
Most investors prefer not to spend their time manually selecting loans. Here, the VIAINVEST auto-invest feature comes in handy.
To use the VIAINVEST auto-invest tool, do the following:
Sign up at https://viainvest.com/
Log in to your account
Select auto-invest
Decide how you want to invest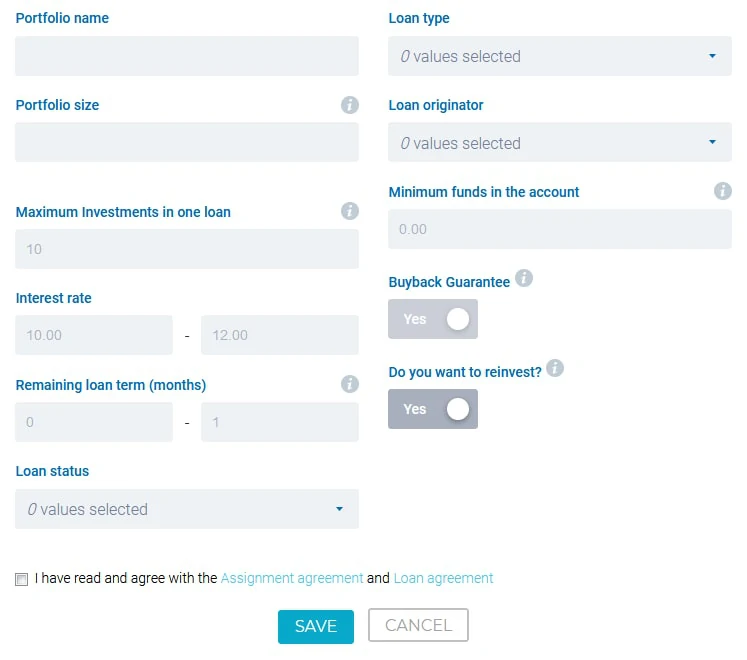 The benefit of using the auto-invest tool is that you get full control of which investments you get, nearly as if you were manually selecting.
4. VIAINVEST app for iOS and Android
VIAINVEST has launched an app that allows investors to check their portfolios and invest while on the go:
Who can use VIAINVEST?
Learn more about the requirements for investing on VIAINVEST.
Requirements
Individuals wanting to invest via VIAINVEST are required to:
Be at least 18 years old
Be a tax resident in the EU or Switzerland
If you meet the requirements above, you can probably start investing via the platform.
Available countries
VIAINVEST is available to investors who live in the European Economic Area (European Union, Iceland, Liechtenstein, and Norway).
If you are looking for a similar platform that is available outside of Europe, you should check out Lendermarket or Bondster.
How safe is VIAINVEST?
To determine if VIAINVEST is safe, we have taken a look at some of the potential upsides and downsides of investing with VIAINVEST.
1. VIAINVEST profitability
VIAINVEST is owned by VIA SMS Group, which is a group of companies operating in the lending sector.
VIA SMS Group has been profitable for extended periods of time. But during COVID-19, the platform became unprofitable. This is probably due to a tough and unpredictable business environment.
2. Main risks
In the following, we go through some of the main risks of using VIAINVEST that we have considered:
Loan default risk
When you invest in loans on crowdlending platforms, there is a risk that the borrower will not be able to repay his loan. In that case, your investment is usually lost.
Some of the loans on the VIAINVEST marketplace have a buyback guarantee that secures you against this type of event.
The best way to secure yourself against the loan default risk is to invest in many different loans that are secured by the VIAINVEST buyback guarantee.
Loan originators risk
The loan originators also pose a risk to investors. If they are not in control of their finances, have poor management, or the like, then they run the risk of going bankrupt like any other business. This can mean that they end up being unable to exercise their buyback guarantee.
VIAINVEST bankruptcy risk
As with any business, there is a risk of VIAINVEST going bankrupt.
The platform follows the best practices in the P2P lending industry, which means that your investments should still be yours even if VIAINVEST goes bankrupt.
Financial turndown risk
As P2P investing is a newer thing in the investment world, it can be difficult to predict how a financial turndown would affect this form of investment. As a starting point, it is, therefore, a really bad idea to invest your entire investment portfolio in P2P investments.
Therefore, many investors also choose to diversify into more traditional forms of investment such as equities, bonds, and traditional real estate.
Since investing is an individual thing, we obviously do not know what will be best for you. But if you put together your investment portfolio, make sure that it reflects your knowledge of the investments in it, as well as your own risk appetite. If in doubt about how to do so, make sure to seek help from a professional investment planner.
Is VIAINVEST safe?
VIAINVEST has added a buyback guarantee on loans to keep investors safe. But this guarantee is only good as long as they have funds to buy it with. If VIAINVEST goes out of business, the buyback guarantee is worthless.
Other factors, such as a lack of knowledge about how a financial turndown will affect the P2P lending platforms, are also risk factors that are worth considering if you wonder how safe VIAINVEST is.
Our experience with VIAINVEST
VIAINVEST is a great platform that is suitable for both novice and expert investors.
The website is simple to use, and there is nothing about VIAINVEST that is overly complicated. The design could be both better and worse.
We like the fact that the platform is run by a lending group with years of experience in the industry.
VIAINVEST reviews on Trustpilot
Trustpilot is a great place to learn what other people think of VIAINVEST. We have collected some relevant VIAINVEST reviews from Trustpilot for you to take a closer look at: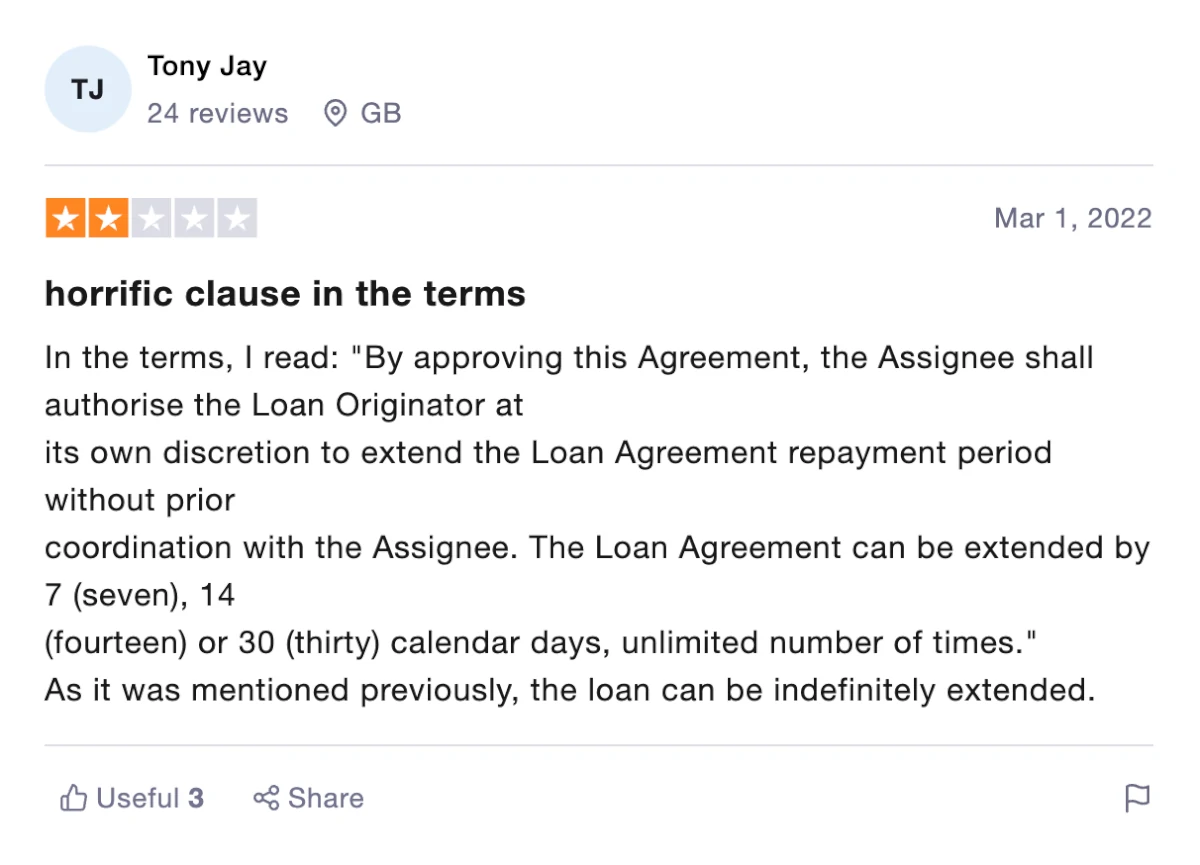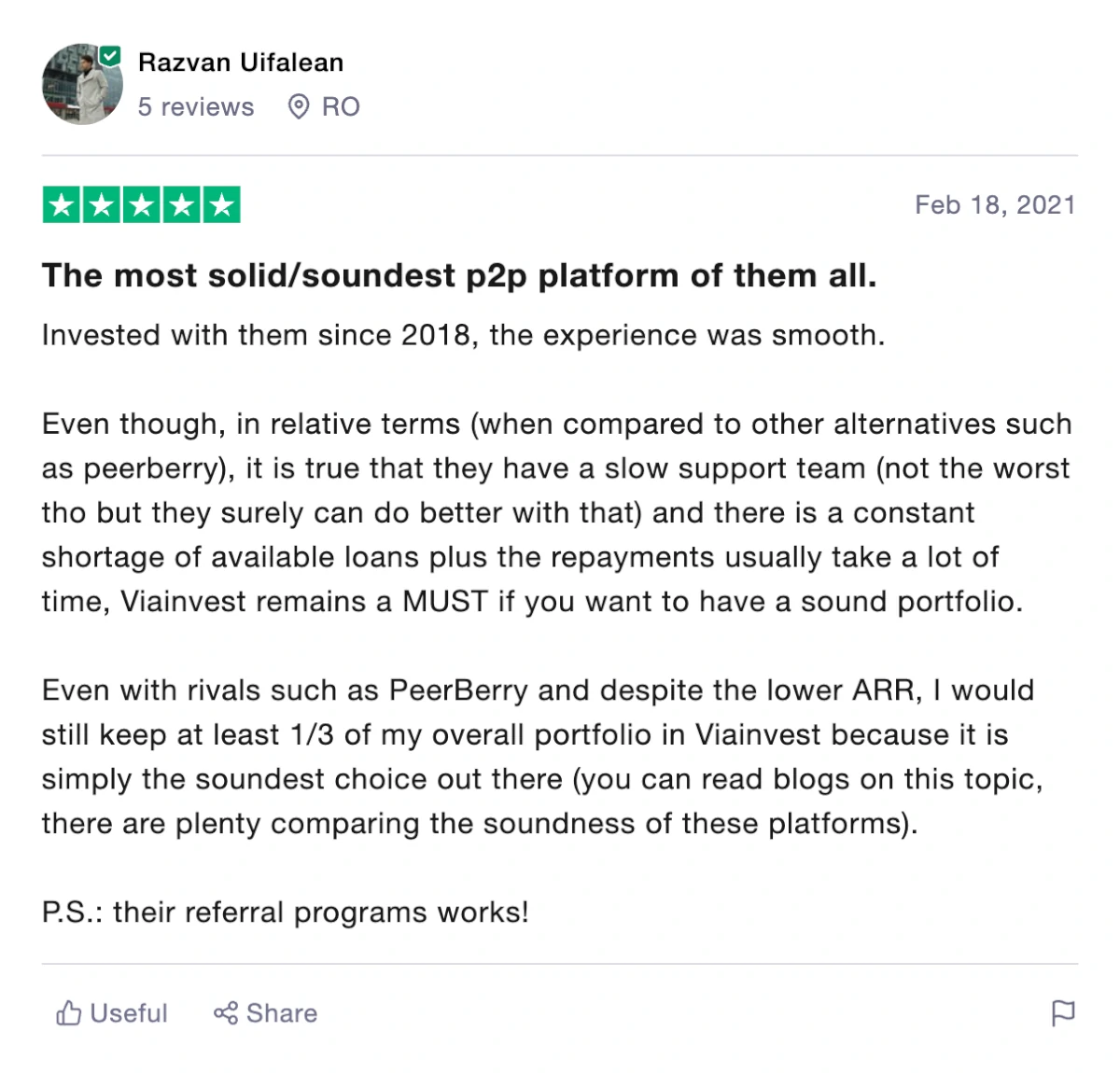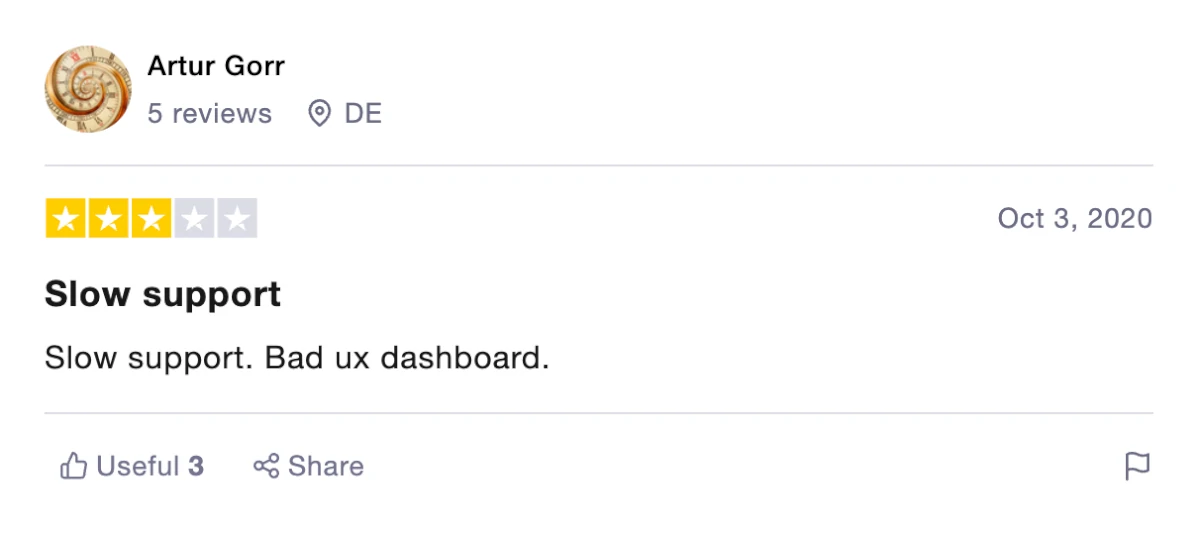 Best VIAINVEST alternatives
Not sure VIAINVEST is the right choice for you? Then there are also some good VIAINVEST alternatives to consider. The following are some of our favorites:
Even if you use VIAINVEST, it might actually be a good idea to take a closer look at some of the above platforms. By using multiple platforms, you can reduce your platform risk and diversify your portfolio further.
Conclusion of our VIAINVEST review
VIAINVEST is a great P2P lending platform that allows you to invest in consumer loans from multiple loan originators.
The platform is quite easy to use and has great features such as the VIAINVEST auto-invest tool for automating your investments. However the platform is lagging in having a secondary market for early exits.
The return on VIAINVEST is approximately 11%. This return is slightly lower when compared to services such as Swaper and Esketit.
During COVID-19, VIA SMS Group, the corporation behind VIAINVEST, has been in and out of profitability. But the group appears to be in a good position overall.
Investors during research on VIAINVEST should know that the platform has a significant percentage of non-performing loans. This means that your investments will be reliant on the buyback guarantee.
In terms of the VIAINVEST buyback guarantee, you must wait 120 days after making the investment to manually initiate a buyback. You can leave after 120 days if you choose. After 120 days, you can make an early exit from a specific loan at VIAINVEST by selecting the "Initialize Buyback" option on your loan profile.
Overall, VIAINVEST is a fine P2P lending platform for both beginners and more experienced P2P investors.