Maclear Review 2023
Is Maclear a safe and reliable choice for P2P lending? Our in-depth Maclear review aims to clarify the platform's strengths and weaknesses, assisting you in deciding if it aligns with your financial objectives. Below is a concise summary of our Maclear.ch review. For a more detailed discussion of the platform's advantages and disadvantages, continue reading further down the page.

Review summary:
Maclear is a very promising and regulated Swiss platform. It offers high returns of up to 15% and a user-friendly interface. It doesn't withhold taxes and offers a loyalty bonus for large investments. However, it charges a high withdrawal fee and has limited investment diversification. Additionally, its short track record and lack of certain features like auto-invest and a secondary market may be seen as drawbacks.
It's free to use the platform.
Outline of Maclear review:
What is Maclear?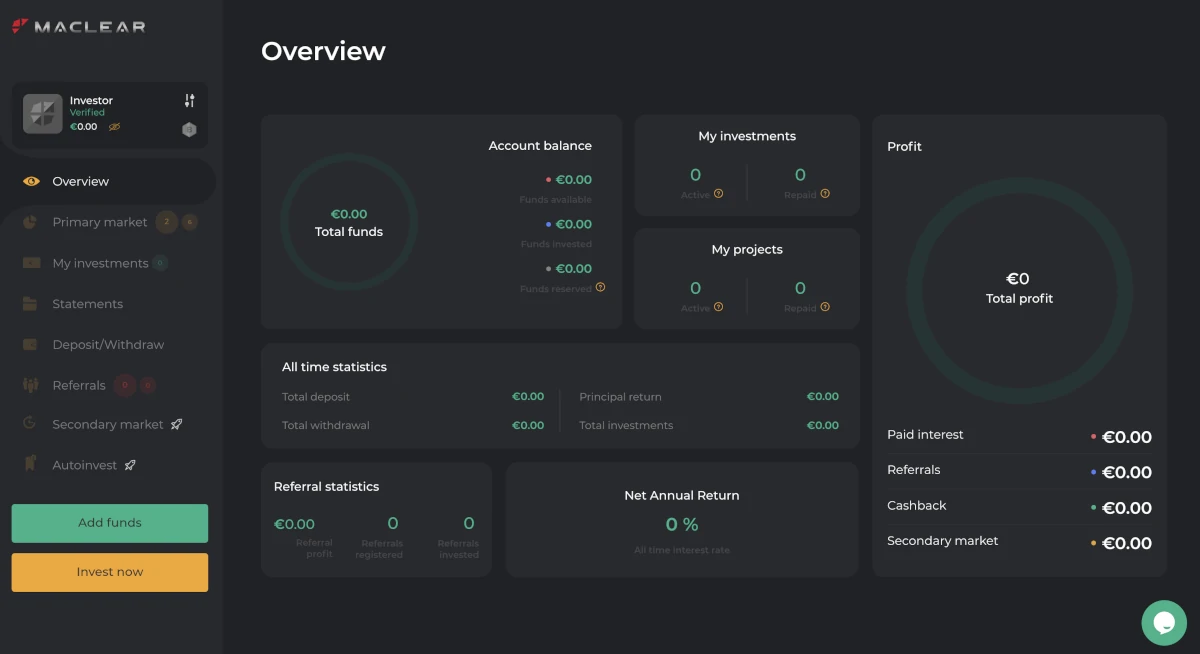 Maclear is a crowdlending platform based in Zürich, Switzerland. It was launched in 2023 by the co-founders Denis Ustjev and Aleksandr Nikitin.
Investors can fund loans for small and medium-sized companies on the platforms and earn a high return of up to 15%. The loans are protected by collateral and a Provision Fund.
Maclear is a small but very promising platform that could and probably will gain a decent amount of market share over the coming years.
Owners & Management
Maclear is led by the co-founders Denis Ustjev and Aleksandr Nikitin. Both of the co-founders bring a wealth of knowledge and experience to the management team of Maclear. Their backgrounds in finance, banking, and consulting provide a solid foundation for the company's operations and decision-making processes. With their expertise, Maclear is well-equipped to navigate the financial technology industry and drive the growth and success of the company.
Denis Ustjev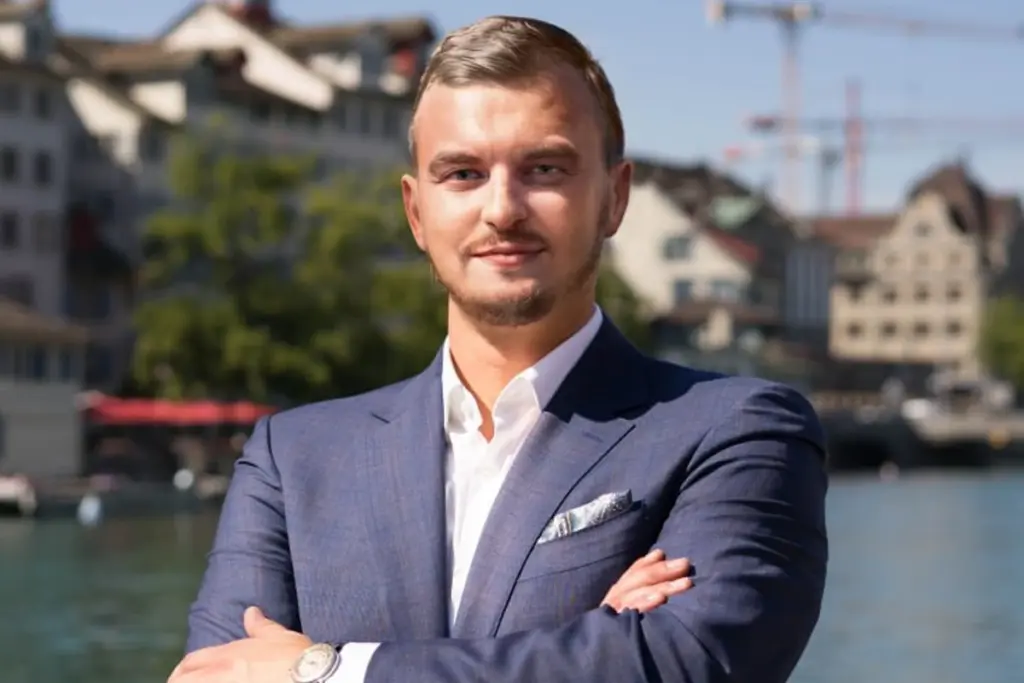 Denis Ustjev, the CEO and co-founder, has extensive experience in business consulting, capital investment, and management of business loans. He also has a background in the banking sector, having worked in senior management roles in multinational companies. This experience brings valuable expertise to Maclear in terms of strategic planning, financial management, and risk assessment.
Aleksandr Nikitin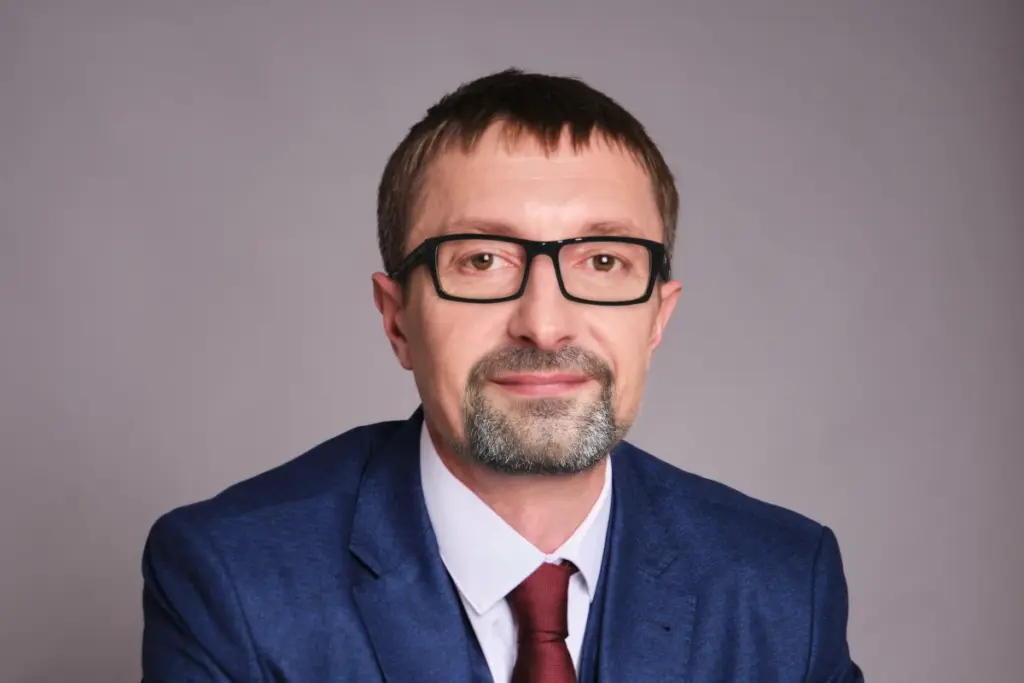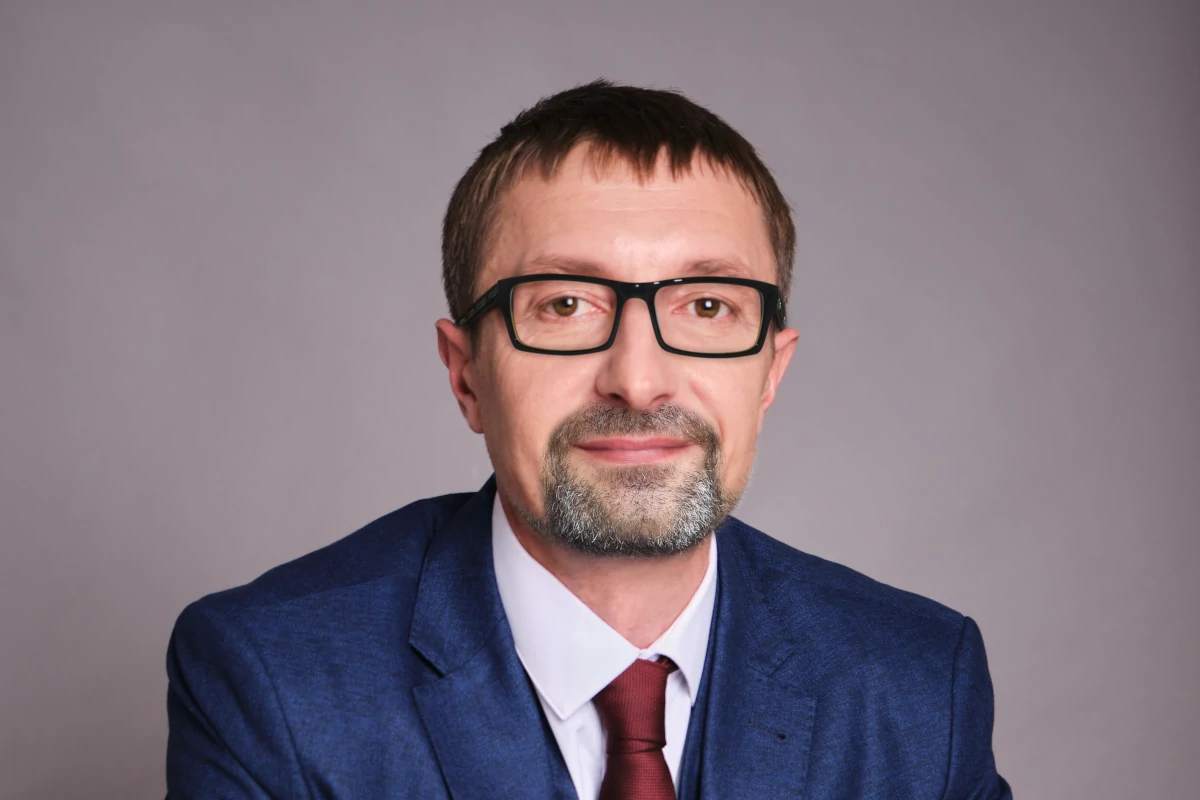 Aleksandr Nikitin, the CFO and co-founder of Maclear, also has a strong background in finance and business. He actively contributes to the company's development, using his practical knowledge and skills gained from previous foreign trade and industrial projects. As the CFO, he is responsible for financial reporting and accounting and plays a crucial role in project selection and risk assessment within the company.
Overview & Statistics
| | |
| --- | --- |
| Launched | 2023 |
| Investment Type | Business Loans |
| Investment Period | 12 Months |
| Total Volume | € 150,000 + |
| Number of Investors | 300 + |
| Minimum Investment | € 50 |
| Maximum Investment | Unlimited |
| Average Return | 14.60% |
User Requirements
To invest via Maclear, you need to fulfill two requirements:
Age: You must be at least 18 years old.
Residency: You should live in Switzerland or the European Economic Area (EEA).
If you don't meet these criteria and live outside of this region, you can consider Reinvest24 as a great alternative to Maclear which operates internationally.
Maclear allows both individuals and companies to sign up on their platform.
Get +1.5% Cashback Bonus
Sign up using our exclusive referral link and receive an extra 1.5% cashback bonus on all your investments within the first 90 days. Don't miss out on this limited-time offer!
Advantages of Maclear
Regulated: The platform is regulated in Switzerland, which has a regulatory framework that is very similar to the EU regulation.
High returns: Maclear offers a high return on its platform of up to 15%. This is a quite competitive return when compared to a lot of other P2P platforms.
No cash drag: There is currently no cash drag on the platform, which means that you won't run into problems getting all your funds 100% invested.
Provision fund: Your investments are protected by the provision fund on Maclear. This can offer some extra protection but doesn't mean that your investments are 100% safe.
Excellent Trustpilot rating: Based on over 20 reviews, Maclear has received a rating of 4.5/5 stars on Trustpilot. This makes Maclear one of the best-rated crowdlending platforms in Europe.
Not withholding tax: Since Maclear is based in Switzerland, the platform is not withholding taxes. This can improve your liquidity, and flexibility while making it easier to do your taxes, which gives Maclear an edge compared to platforms in EU countries that need to withhold tax for their customers.
User-friendly platform: Maclear's platform is highly user-friendly. Its clean, simple interface makes navigation easy even for first-time users. This results in a smooth and hassle-free investment process.
Loyalty bonus: The platform incentivizes large investments. If you invest over €5,000 via Maclear you can earn a loyalty bonus of 0.5-2% depending on your loyalty tier. This is especially a benefit for large investors.
Customer service: Maclear offers responsive and reliable customer service. Support is readily available from 10:00-17:00 CET, Monday to Friday, which is convenient for most users. Queries are usually resolved efficiently which is confirmed by numerous positive Maclear reviews on Trustpilot.
Experienced management: A significant advantage of Maclear is its experienced management team. With solid backgrounds in business and finance, co-founders Denis Ustjev and Aleksandr Nikitin bring invaluable skills to the platform, fostering trust in the company's ability to effectively manage risk and steer toward success.
Low minimum investment: The minimum investment is €50 which is fairly competitive compared to similar platforms. This is a benefit since it allows for better diversification.
Disadvantages of Maclear
High withdrawal fee: Unlike many other platforms, you will find a quite high withdrawal fee of 0.5% of the amount you decide to withdraw. The withdrawal fee has a minimum of €2.
Limited diversification: As a platform that is just starting out, you will only find a few projects on Maclear compared to larger platforms like EstateGuru and Reinvest24. You can counter this disadvantage by investing via multiple platforms.
Short track record: The platform has a short track record which can be a disadvantage because there is less data available to assess the company's performance, success rate, and risk level.
Lag of transparency: Maclear lags transparency in terms of the size of the Provision Fund, which can make it hard for investors to gauge how well-insured their investments are.
No auto-invest feature: There is currently no option for automatic investments on Maclear. However, this is a planned feature in the pipeline.
No secondary market: There is currently no option for making an early exit on Maclear. This is a feature in Maclear's pipeline.
No mobile app: There is currently no mobile app for investing on the go. This is a feature on its way according to Maclear.
Overview of Key Features
| | |
| --- | --- |
| Manual investing | Yes |
| Automatic investing | No (Auto-invest coming soon) |
| Buyback guarantee | No |
| Other guarantee | Provision fund |
| Mobile app | No (Coming soon) |
| Tax report | Yes |
| Early exit | No (Secondary market coming soon) |
Here is a breakdown of all the key features of Maclear for you to examine:
1. Provision Fund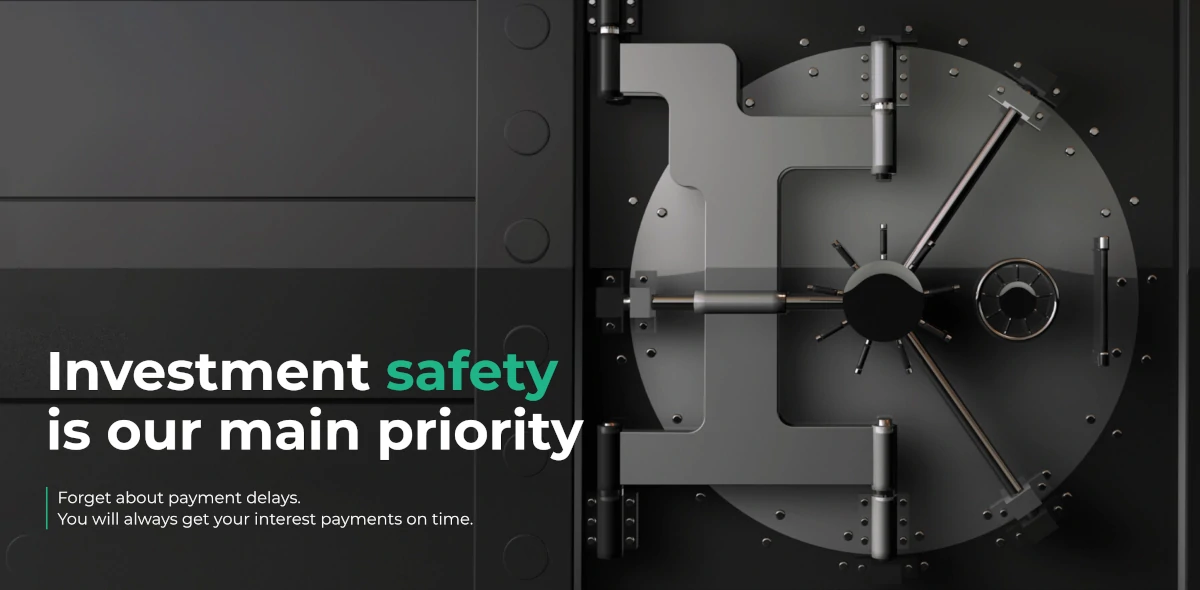 The Provision Fund is a key feature of Maclear designed to protect investors from borrower default or delayed payments.
The fund is filled using Maclear's own funds earned from the services provided to customers and commissions earned from successfully funded projects. For every project that gets funded on the Maclear platform, 2% of the funds go into the Provision Fund. Additionally, all commissions earned by Maclear from transactions on the secondary market also get added to the fund.
In the event that a borrower defaults or delays their scheduled interest payments for more than 3 days, Maclear will utilize the Provision Fund to ensure that investors still receive their principal and interest payments. The fund will cover the payments until the borrower resumes payment or the borrower's debts are collected through legal proceedings and forced sale of the project's assets.
The Provision Fund serves as a safety net for investors, significantly reducing their investment risks and guaranteeing their returns even in the event of borrower default.
However, investors should be aware that the Provision Fund is not 100% safe. If the fund is needed for more projects than there are funds available for, your investments will no longer be covered.
5. Tax Report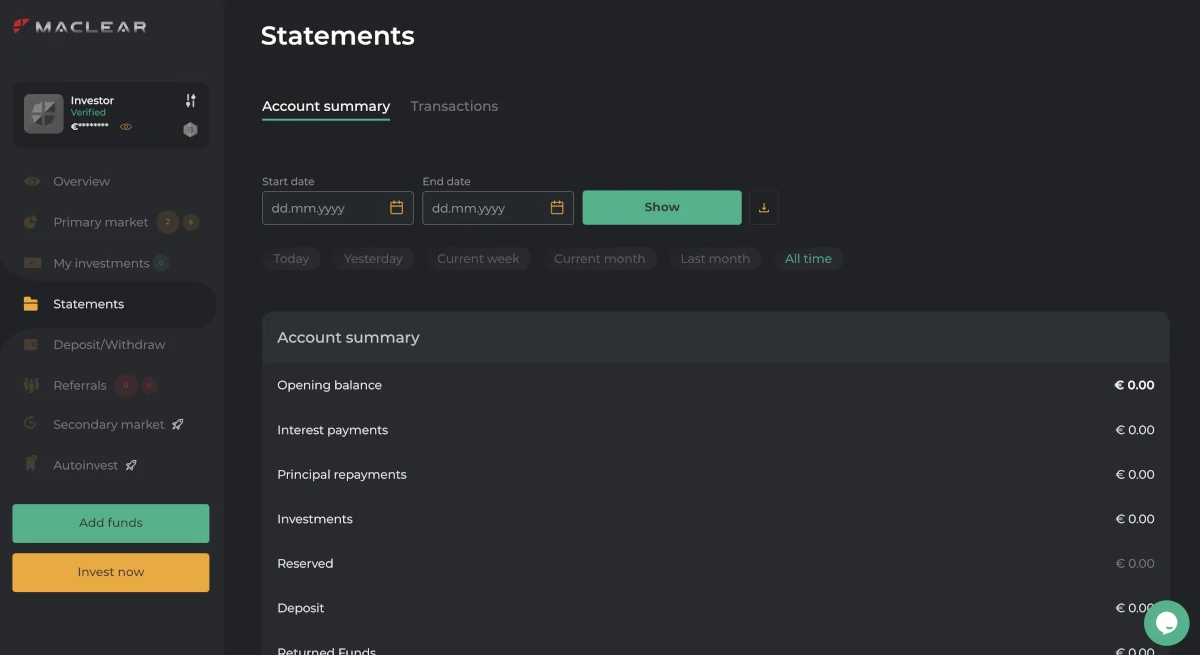 On Maclear, you have easy access to a tax report. To access this you just need to click statements in the menu on the left-hand side. From here you can download an account statement for a selected period.
Maclear is in Switzerland, so they do not withhold your tax money. This can help improve your liquidity and flexibility. It can also make doing your taxes simpler. This is a plus point for Maclear because a lot of platforms in EU countries have to withhold tax for their users.
---
Analysis of Maclear Fee Structure
| Fee type | Cost |
| --- | --- |
| Deposit fee | Free of charge |
| Investment fee | Free of charge |
| Inactivity fee | Free of charge |
| Selling fee | No option for selling |
| Withdrawal fee | 0.5% of total value (€2 minimum) |
Using Maclear for investing is free of charge, but if you decide to withdraw your funds, you will encounter a significant withdrawal fee of 0.5%. This fee has a minimum of €2, so if you withdraw less than €400, the fee will represent a higher percentage of your withdrawal. The fee makes the platform less attractive cost-wise for high-networth investors.
It is important to note that only a small number of other P2P platforms charge a withdrawal fee. If this fee is a deal breaker for you, you may want to consider an alternative with zero fees such as Debitum, which has a slightly different business model.
You should also be aware that platforms with a business model similar to Maclear are more inclined to have higher fees than other types of platforms.
---
Evaluation of Maclear's Platform
Maclear has an easy-to-use platform with an intuitive registration process that can be completed very quickly. The customer support is also excellent.
Registration process
The registration process for Maclear is very easy and intuitive. Here is the step-by-step process you need to follow:
Click "Registration".
Make an account with your e-mail and password.
Verify your e-mail address.
Verify your identity and complete the KYC process.
Deposit funds to your account.
Start investing.
The KYC process takes around 5 minutes to complete. It is reviewed automatically using Sumsub, which means that you can start investing faster.
During the KYC process, you will be asked to take a picture of your identification document which is often a passport, national ID, or residence permit. You will also need to take a selfie. It can be done on either desktop or mobile. It is even easy to switch to another device during the process using a QR code if you need to use your mobile for the camera.
One small thing that we noticed was that we had to reload the website at the end of the registration process before it redirected to the platform. Otherwise, everything else went very smoothly.
Deposits & Withdrawals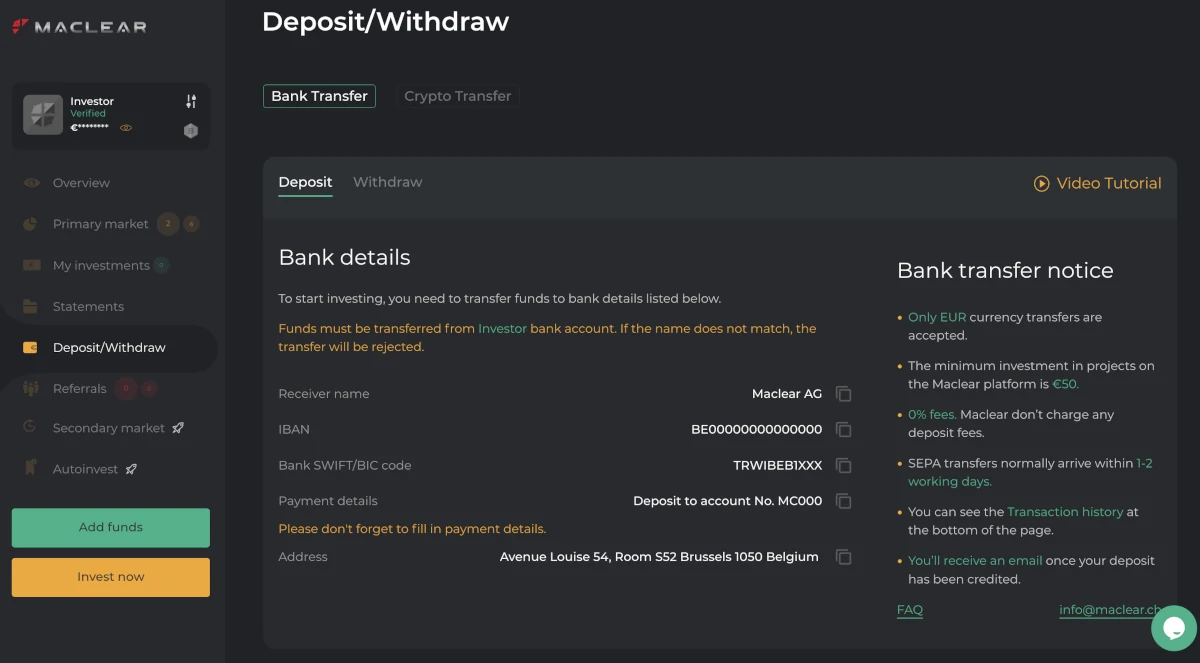 The platform only accepts deposits in EUR and the funds will typically be on your account within 1-2 working days. But it seems like crypto transfers are planned since there is a tab for crypto transfers that is not yet available.
Be aware that Maclear has a withdrawal fee of 0.5%, which can make withdrawals expensive for larger investors.
Usability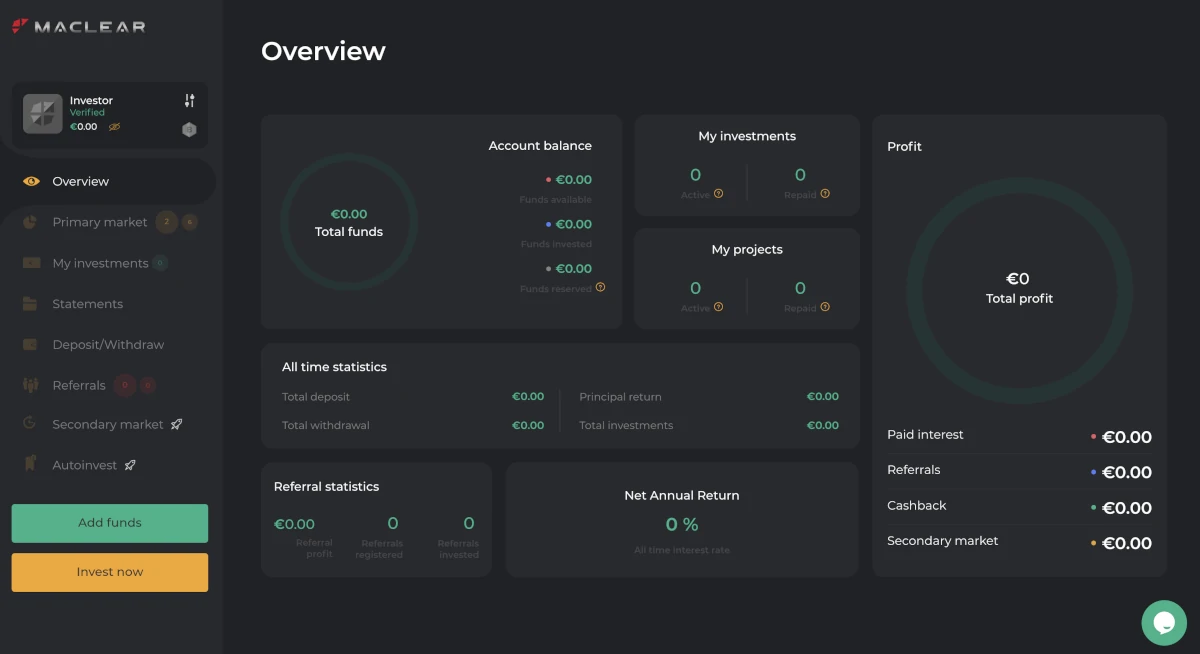 The Maclear platform is very user-friendly and easy to use. By simply clicking on the items in the menu on the left-hand side you will quickly be able to find what you are looking for on Maclear.
Projects
The projects are well-described in an easy-to-understand manner. The descriptions include:
Information about the borrower
Project idea
Key facts
Market overview
Executive summary
Key financials
Collateral and guarantees
Customer Support
You can reach out to Maclear by sending them an e-mail at [email protected] or sending a message in the chat on the website. Maclear's customer support is available from 10:00-17:00 CET, Monday to Friday, which allows for easy communication and assistance during regular business hours.
Our experience with Maclear's customer support has been excellent. They have proven to be very responsive and helpful in addressing our inquiries and concerns. Numerous Maclear reviews on Trustpilot have also confirmed the excellent customer support.
---
Risk & Return Assessment
While P2P lending offers the potential for attractive returns, is not without associated risks. In this section of our Maclear review, we delve into the risk and return profile of the P2P lending platform.
These risks include but are not limited to:
Default risk: If borrowers fail to meet their repayment obligations.
Platform risk: If the platform itself goes bust.
It is crucial to understand these risks as they have a direct impact on the potential return on investment. So let's have a look at the risk and return of Maclear:
Potential Return
Investing in Maclear offers an attractive return of up to 15%, depending on the project. However, it's important to note that their track record is relatively short, which limits the amount of data available to assess the stability of this return.
When compared with other platforms, Maclear's returns are quite high but not unusual for this type of platform. For instance, a platform like Reinvest24 offers a return of around 14-15%, while Max Crowdfund offers a return of around 10-11%. However, it's important to note that these comparisons are based on different types of investment models and risk profiles.
Despite the high returns, it's crucial to keep in mind that every investment comes with a degree of risk. Maclear's relatively short track record suggests that more time is needed to determine whether the high returns can be maintained consistently in the long term, and if they can weather different market conditions.
Maclear also has a lot of different bonuses on its platform to incentivize investors including a 1.5% cashback for new investors and a loyalty bonus of up to 2% for big investors, which could further add to the return.
Maclear Loyalty Bonus
Maclear offers up to a +2% loyalty bonus for investors who invest over €5,000 on the platform. The bonus structure is as follows:
Beta: Invest more than €5,000 and receive an additional 0.5% in return on your investments.
Beta Plus: Invest more than €15,000 and receive an additional 1% in return on your investments.
Alpha: Invest more than €40,000 and receive an additional 1.5% in return on your investments.
Alpha Plus: Invest more than €75,000 and receive an additional 2% in return on your investments.
Getting up to 15% return plus bonuses definitely has its risks. You may not get your money back if the loan isn't repaid. Let's see how the platform is trying to protect investors from such risks:
Risk Mitigation
Here are the risk mitigation strategies offered by Maclear:
Due Diligence: The due diligence process at Maclear helps mitigate risks by thoroughly vetting potential borrowing projects. The borrower must provide extensive legal and financial data about their business, including a detailed business plan and a financial model with complete legal, economic, and marketing analysis. The potential project then undergoes a multi-level verification process, including compliance checks, due diligence, and risk assessments. This rigorous process ensures that only credible and viable projects appear on the platform, significantly reducing the risk of default for investors.
Collateral: Collateral at Maclear refers to the tangible or intangible assets that a borrower pledges when they take out a loan in order to guarantee repayment. What type of collateral is used and an estimated value of the collateral is shown in the project description on the website. In the event the borrower fails to repay the loan, the pledged collateral is repossessed and sold to repay the outstanding debt. By securing loans with collateral, Maclear reduces the risk for investors and improves the likelihood of investment recovery in the event of a default.
Provision Fund: The Provision Fund at Maclear serves as a safety net for investors by protecting them against borrower default or delayed payments. In case a borrower is unable to make their scheduled interest payments for more than 3 days, the Provision Fund is used to cover the investors' principal and interest payments. This significantly reduces investment risks and ensures investors receive their returns, even in the face of borrower default.
Even though Maclear has these risk mitigation strategies in place, investors should be aware that no investment is risk-free.
Regulation
Maclear is a regulated platform. Maclear's regulatory framework is highly robust, particularly given its compliance with Swiss law, one of the most stringent jurisdictions worldwide. The platform is supervised by the SRO (Self-Regulated Organisation), an authority recognized by the Swiss Financial Market Supervisory Authority (FINMA) for monitoring financial intermediaries and enforcing compliance with Anti-Money Laundering (AML) regulations.
Being a member of PolyReg Services GmbH SRO, Maclear AG not only has significant regulatory oversight but also adheres to the highest standards of practice in the P2P lending sector. This additional layer of regulatory compliance ensures that all interactions on the platform are secure, transparent, and within the bounds of Swiss law.
Maclear was also successfully audited by Grant Thornton in April 2023 which is another testament to Maclear's commitment to maintaining a high level of regulatory compliance. The audit affirmed Maclear's readiness for crowdlending activities and strict compliance with Swiss AMLA rules.
Profitability
Determining the profitability of Maclear, a new P2P lending platform, is challenging due to the lack of historical data. To accurately determine profitability, platforms need a substantial track record of operation to assess revenue generation, cost optimization, and financial performance. Without this period of operation, it's challenging to analyze profitability effectively.
Maclear's profitability depends on the costs it incurs during its initial phase. Developing and launching a P2P lending platform requires investments in technology, infrastructure, marketing, and regulatory compliance. These costs may initially outweigh the revenue generated, making it difficult to determine profitability until a sustainable revenue stream is established.
Is Maclear Safe?
Maclear is a safe platform for investment. It operates under a robust regulatory framework and is supervised by the Swiss SRO. It adheres to strict Swiss laws and guidelines and has been successfully audited by renowned firm Grant Thornton, indicating its compliance with regulatory norms. Also, Maclear has a Provision Fund designed to protect investor's returns in cases of borrower default or delay in payment. However, investors should note that while these safeguards are in place, no investment can be 100% risk-free.
Potential Red Flags 🚩
At the moment we have not noticed any potential red flags.
Have you noticed anything we have not? Please contact us here.
---
Best Maclear Alternatives
Not sure Maclear is the right choice for you? There are several other Maclear alternatives to consider that might suit your needs better. Here are some of our favorites:
Debitum: This platform is also focused on business loans but with a slightly different business model. A reason to choose Debitum over Maclear is the fact that Debitum doesn't have any fees for investors.
EstateGuru: This platform is also focused on real estate loans. A reason to choose EstateGuru over Maclear is its longer track record and popularity among investors.
Reinvest24: This platform is focused on equity crowdfunding in real estate projects. A reason to pick this platform over is its longer and stronger track record.
In Maclear reviews on Trustpilot, the platform has also been compared to Hive5 and Bondora. Here the user has preferred Maclear over both of the two other platforms.
You can find more Maclear alternatives in this overview of the best P2P lending platforms.
---
Maclear Review Summary
Maclear is a great and very promising platform. It is regulated in Switzerland and offers several advantages such as high returns of up to 15%, no cash drag, a provision fund for investment protection, excellent customer service, and a user-friendly interface. It also scores high in Trustpilot ratings and does not withhold taxes, offering more liquidity and flexibility to its users. A loyalty bonus is offered for investments over €5,000 and its minimum investment is competitively low at €50.
However, there are some drawbacks to the platform. It charges a high withdrawal fee of 0.5% and offers limited diversification due to its relatively young status in the market. Maclear's short track record and lack of transparency regarding the size of its provision fund may be a concern for some investors. Additionally, the platform currently does not offer an auto-invest feature or a secondary market for early exits – although these features are reportedly in the pipeline.
Get +1.5% Cashback Bonus
Sign up using our exclusive referral link and receive an extra 1.5% cashback bonus on all your investments within the first 90 days. Don't miss out on this limited-time offer!