Hive5 review 2023
Do you want to know if Hive5 is a reliable P2P lending platform? This detailed Hive5 review delves into the platform's advantages and disadvantages to help you decide if Hive5 is the right choice for your financial goals.

Review summary:
Hive5 is an excellent P2P lending platform for investing in short-term and BNPL loans. One of the founders owns one of the loan originators on the platform, Ruptela, which is a huge GPS tracking company with over 200 employees. This brings a lot of credibility to Hive5. The average return on loans on Hive5 is high at 15.15% and all loans are protected by a buyback obligation. Loans from Ruptela are also protected by collateral. One of the primary downsides is the missing ability to make an early exit, but since a lot of loans are short-term this might not be a problem. Apart from this, the Hive5 has all the expected features including an auto-invest tool. The platform also has one of the most streamlined registration and KYC processes that only took 3 minutes to complete in our test. Hive5 already has a positive reputation, as reflected in its great Trustpilot reviews, and its track record is expected to grow stronger in the coming years.
It's free to use the platform.
At P2PPlatforms.com, we strive to list only the absolute best companies in the P2P industry. Where appropriate, we also feature our partners. This doesn't influence our evaluations. All opinions are our own.
Introduction to our Hive5 review
Are you considering investing via Hive5? Then read on. We've written this hive5.co review to help you and other investors determine if Hive5 is the right choice.
Below you will find an overview of the things that we will discuss more in detail in this Hive5 review. Simply click on the links to jump directly to the thing you want to know more about.
Learn about this in our Hive5 review:
What is Hive5?
Hive5 is a rapidly growing P2P lending marketplace for investing in loans. The loans found on Hive5 include BNPL, business, and short-term loans. Hive5 is incorporated in Croatia and was launched by the Hive Finance group in 2022.
The P2P platform has quickly gained popularity among private investors, high-worth individuals, and well-known companies from all over Europe who view it as a reliable investment marketplace.
The platform's success can be attributed to its two beneficial shareholders, Ričardas Vandzinskas and Andrius Rupšys, who bring a wealth of knowledge and expertise to the company.
Vandzinskas has over 15 years of experience in corporate governance and risk management, while Rupšys is the founder of a well-known international company, Ruptela, which specializes in GPS tracking devices.
The loans on Hive5 are characterized by having high risk and high reward. To mitigate the default risk, Hive5 has a Buyback Obligation on loans. This means that the loan originator will buy back the loan plus accrued interest if payments are more than 60 days late. This feature will be explained in-depth later in this review.
Since its launch, Hive5 has been one of the fastest-growing P2P lending platforms in Europe. Today, you will find over 3,513 investors on the platform who earn an average annual return of 15.15%.
With as little as €10, you can open an account and start investing at https://hive5.co/.
Hive5 statistics:
| | |
| --- | --- |
| Founded: | 2022 |
| Loan Type: | Short-term and BNPL |
| Loan Period: | 0 – 21 Months |
| Loans Funded: | € 15.900.000 + |
| Hive5 Users: | 3.513 + |
| Minimum Investment: | € 10 |
| Maximum Investment: | Unlimited |
| Hive5 Interest Rate: | 15.15% |
How Hive5 works
The Hive5 marketplace operates as a P2P platform that links private European investors with various lending businesses.
Through the platform, investors have the opportunity to invest in portions of loans (claim rights) provided by these lending companies.
When Hive5 users invest in claim rights on the marketplace, the loan originators get more liquidity. This makes it possible for lending companies to issue more loans and grow their business further.
The current loan originators on Hive5 are:
Ruptela is owned by the founders of Hive5. But Hive5 is also connecting with other loan originators to make a diverse investment offering.
Frequently asked questions:
Key features
We have already taken a look at some of the reasons why Hive5 has become a popular choice among investors. In the following, you can learn about the key features that make it easy to invest via the platform:
1. Hive5 buyback obligation
Hive5 offers a 60-day buyback obligation for all its loans:

The Hive5 buyback obligation is a guarantee provided by the loan originator, ensuring that if a borrower's loan repayments are delayed by more than 60 days, the loan originator will buy back the loan in full, along with the accrued interest.
This feature is designed to offer an additional layer of security to investors, minimizing the potential loss from late payments or defaults. The buyback guarantee reduces the risk of potential loss due to late payments or loan defaults, as the loan originator is responsible for covering the amount in case of such incidents.
As an investor, you should be aware that a buyback obligation is only as strong as the financial stability of the loan originator. If a loan originator faces financial difficulties or goes bankrupt, the buyback guarantee may not hold, directly affecting the investors.
This means that it is essential for investors to conduct proper research and due diligence on loan originators to ensure they are financially stable and reliable, even when there is a buyback guarantee in place.
Despite the buyback obligation, it is also crucial for investors to diversify their investments across various loan originators and asset classes in order to mitigate potential risks.
2. Hive5 Double Shield Guarantee
If you go to the marketplace for loans on Hive5, you will be met with a banner advertising promoting a double shield guarantee: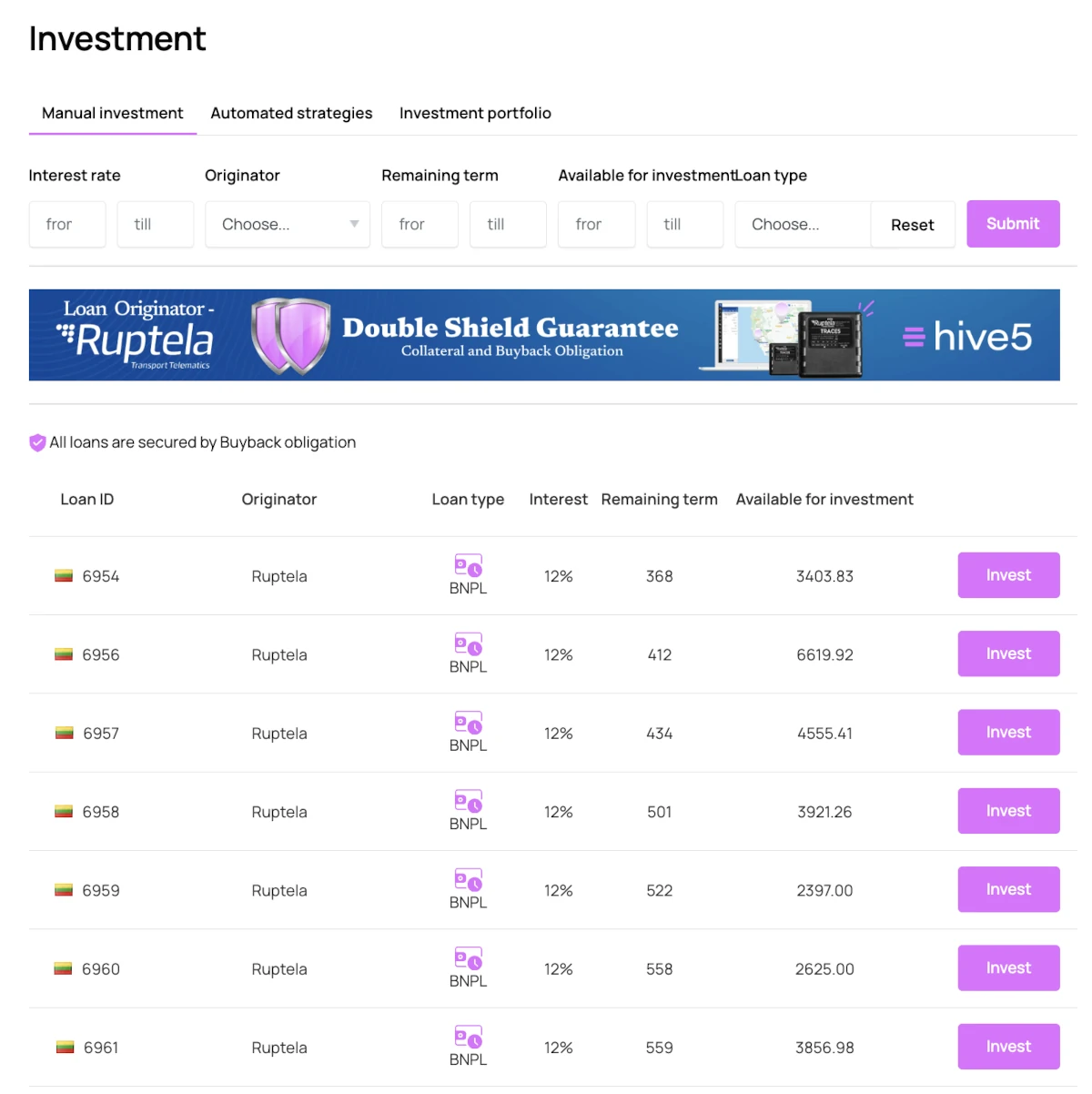 The double shield guarantee refers to a dual layer of protection provided to investors who invest in BNPL (buy now, pay later) loans originated by Ruptela in Lithuania – the company that is also owned by the founders of the Hive5 P2P marketplace. This guarantee is designed to minimize the risk of losing money in case of a default and provide an additional layer of security.
The two layers of protection in the double shield guarantee are:
Buyback guarantee: If a borrower is unable to repay the loan or if the loan is delayed for 60 days, the loan originator will buy back the loan from the investor. This ensures investors receive their invested amount along with the interest accrued up to that point.
Collateral: Apart from the buyback guarantee, the loans are secured with collateral, in this case, GPS Fleet tracking devices. These devices are pledged at a higher value than the loan amount, meaning that in case of default, the collateral can be liquidated to repay the loan to the investor.
For investors, this double shield guarantee means that their investments are more secure, thanks to the buyback guarantee and collateral protection. This reduces the risk of losing money due to defaults or delays in loan repayments.
While the double shield guarantee helps to mitigate the risk, there's no 100% guarantee that the borrower will repay their loan or that the collateral value will cover the entire debt. In this case, Ruptela has a strong reputation and is an internationally recognized company, but it's always vital for investors to do their due diligence. Guarantees are newer a substitute for a well-diversified investment portfolio.
3. Hive5 auto-invest
While it is possible to invest manually in loans on Hive5, most investors prefer not to use time manually selecting loans. Here the Hive5 automatic investment strategy comes in handy.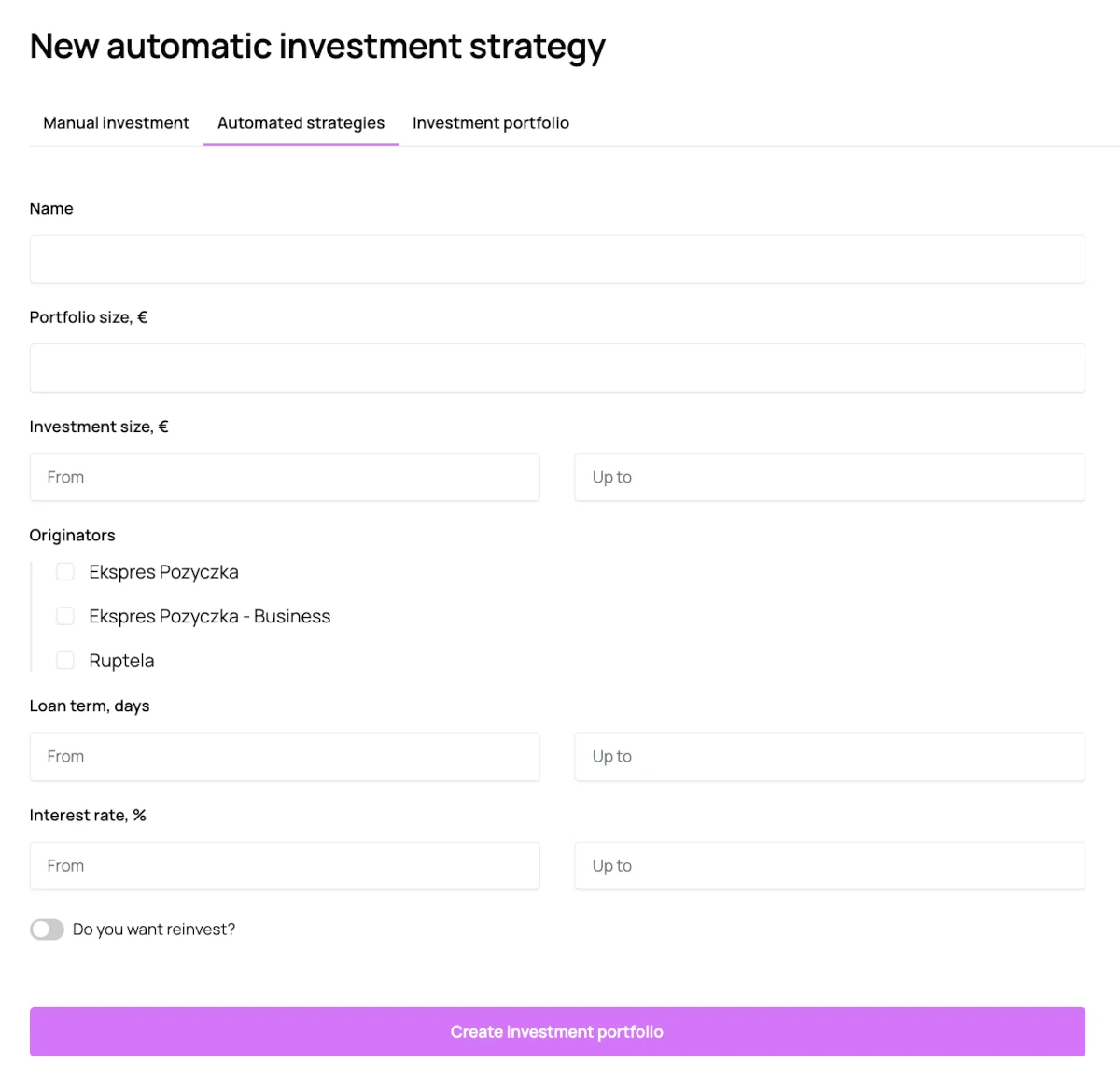 To use the Hive5 auto-invest tool, do the following:
Sign up at https://hive5.co/
Log in to your account
Click "Investment" in the top navigation
Select "Automated strategies"
Decide how you want to invest
The automated investment strategy on Hive5 is really easy to set up. You can select between loan originators, how much you want to invest in each P2P loan, the loan term, and your preferred interest rate.
For most investors, it is a good idea to turn reinvest on, as it makes it possible to automate your investments completely.
4. Hive5 referral bonus
Hive5 is offering a 0.5% cashback bonus for new investors who join the platform through a referral.
We have partnered with Hive5, and by using our refer-a-friend link, you can enjoy this 0.5% bonus for the first 3 months.
To claim your Hive5 cashback, simply click the button below to activate the bonus (no need for a referral code or promo code):
Who can use Hive5?
Individuals aged 18 and older with an active account at a payment or credit institution (or its branch) within the EU, and who have citizenship of a country not listed as a high-risk third country, are eligible to register and invest on the Hive5 platform.
If you can meet the requirements above, then you can probably start investing via the platform. To participate, simply register on the website and complete the identity verification process.
The verification process requires a passport or ID. If you have your document at hand it only takes 2 minutes to complete and you can start using the P2P lending platform right away.
Can companies invest?
Yes, companies can invest. During the registration process, select "Company" in the second step and enter the company's information. Be aware that additional documents will be required to verify the legal entity's account, such as:
An extract from the business register, which should indicate the company's registration number, legal address, and beneficial owners.
A document confirming the authority to represent the company (unless it is mentioned in the extract from the business register).
A copy of the company representative's identification document.
Available countries
Hive5 is available to all investors who are not registered as a country marked as a high-risk third country. This means Hive5 is available in most countries across the world.
How safe is Hive5?
To determine if Hive5 is safe, we have taken a look at some of the potential upsides and downsides of investing with Hive5.
1. Hive5 profitability
As Hive5 is a relatively new company with a limited history, there are no publicly accessible annual reports available to confirm the platform's profitability at this time.
2. Main risks
In the following, we go through some of the main risks of using Hive5 that we have considered:
Loan default risk
The loan default risk in P2P lending refers to the possibility that a borrower might not be able to meet their repayment obligations, causing a loss to investors who have funded the loan. This can result from various factors, such as financial difficulties, job loss, or unexpected expenses.
Hive5 helps protect investors against this default risk by having a buyback obligation on all loans. In this arrangement, if a loan payment is delayed by more than 60 days, the loan originator is required to repurchase the loan in full, along with any accrued interest.
This mechanism provides a safety net for investors, as the loan originator assumes responsibility for the defaulted loan, thereby mitigating the risk borne by investors.
Loan originators risk
Loan originator risk refers to the potential risk of the loan originator not being able to fulfill its obligations to the investors. This risk arises from factors such as financial instability, operational errors or failures, potential insolvency or bankruptcy of the loan originator, inadequate underwriting policies, or any other issues that could hinder the performance of the loans.
Investors can protect themselves from loan originator risk when investing on platforms like Hive5 by doing thorough research on the loan originators listed on the platform, focusing on their financial performance, underwriting policies, skin in the game, and historical default rates. This will help determine the risk associated with each loan originator.
Investors can also diversify their investments among loan originators. This helps to spread the risk and reduce the impact of an individual loan originator's failure on the overall investment portfolio.
Hive5 bankruptcy risk
The platform risk refers to the potential challenges and vulnerabilities that investors may face when using a P2P lending platform. These risks may include the platform's financial stability, regulatory compliance, security measures, and overall management. If a P2P lending platform like Hive5 goes bankrupt, it might create uncertainties for both investors and borrowers.
In case Hive5 goes bankrupt, the platform should have a contingency plan in place to ensure the protection of investors' funds and maintain loan contracts. This plan would typically involve a third party stepping in to manage the existing loans and return funds to investors when borrowers make repayments.
However, during the transition period, there might be delays in repayments or updates on the loan status. Investors should always be aware of the platform risk and diversify their investments across multiple platforms to minimize losses in case of bankruptcy.
Economic turndown risk
Economic turndown risk is the probability that an economic downturn or a decline in the financial circumstances of borrowers will affect the performance of investments. In the context of a P2P lending platform like Hive5, it refers to the likelihood that borrowers may default on their loans or the platform itself could struggle during periods such as recessions or market crashes.
This risk affects investors on P2P lending platforms primarily in two ways. First, when borrowers default on their loans, investors may lose all or part of their invested principal. This can lead to losses in their portfolios as well as reduced returns on their investments. Second, during economic downturns or periods of financial stress, the number of borrowers who qualify for loans may decrease, and the overall quality of borrowers may decline. This can result in reduced lending options for investors on the platform leading to potentially lower returns.
Investors should carefully consider the financial turndown risk when investing via a P2P lending platform like Hive5 and perform their own due diligence on the platform's lending criteria, underwriting process, default rates, and past performance during economic downturns. Additionally, diversification across multiple loans, industries, and platforms can help mitigate the impact of this risk on an investor's portfolio.
Is Hive5 safe?
Hive5 has put in place mechanisms to ensure a certain level of security for investors. Among other things, they have implemented a buyback obligation for all loans and a double shield guarantee for BNPL (Buy Now, Pay Later) investments sourced from Ruptela.
However, the platform cannot guarantee total safety or prevent potential losses. No investment is entirely risk-free, and Hive5, like other crowdlending platforms, still carries risks associated with borrower defaults, loan originators, and economic downturns.
As an investor, it is important to undertake your own thorough research and due diligence before you invest, understand the risks involved, and consider diversifying your investment portfolio to spread out the risks further. Remember that guarantees provided by the platform are not a substitute for portfolio diversification.
Our experience with Hive5
Based on our test of the Hive5 P2P lending platform, we had a positive experience. The platform's user-friendly interface and easy navigation make it stand out among other platforms. The sign-up and KYC process was simple and only took around 3 minutes. Hive5 also offers various features and tools, such as auto-invest that make investment straightforward.
Additionally, the fact that it is owned by the same owners as some of the loan originators contributes to the platform's credibility. In our opinion, Hive5 is suitable for both beginners and more experienced investors. However, it's essential to keep in mind the risks associated with P2P investing.
Hive5 reviews on Trustpilot
Trustpilot is a great place to learn what other people think of Hive5. We have collected some relevant Hive5 reviews from Trustpilot for you to take a closer look at: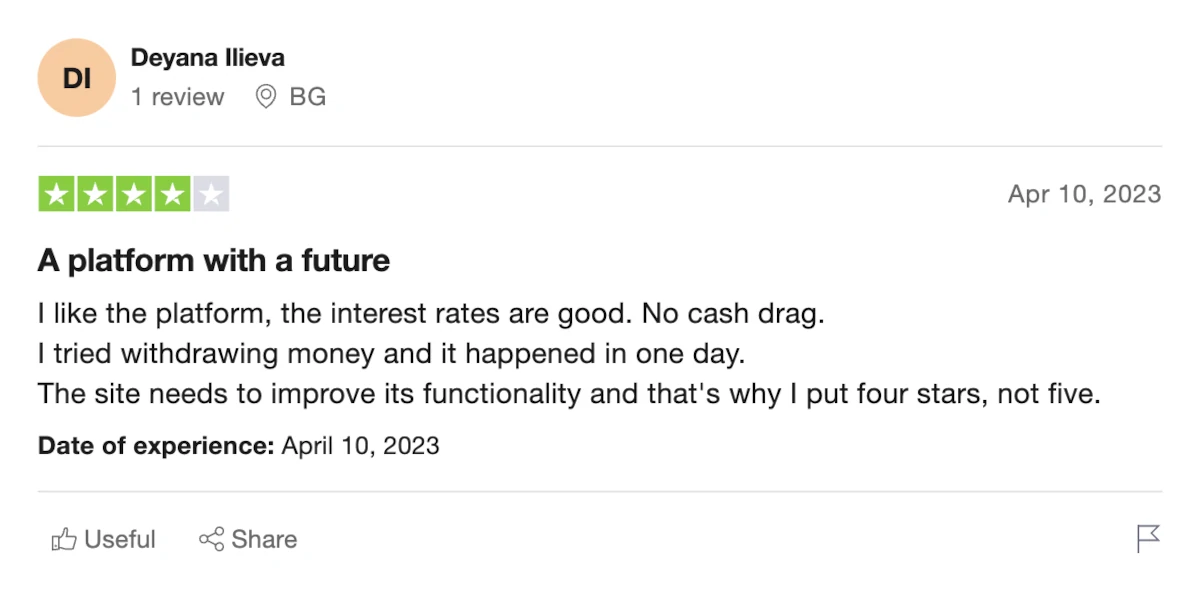 Best Hive5 alternatives
Not sure Hive5 is the right choice for you? Then there are also some good Hive5 alternatives to consider. The following are some of our favorites:
Even if you use Hive5, it might actually be a good idea to take a closer look at some of the above platforms. By using multiple platforms, you can reduce your platform risk and diversify your portfolio further.
Conclusion of our Hive5 review
Hive5 is a fast-growing P2P lending platform that aims to make investing in the lending market accessible to everyone. With seasoned management and a close connection to one of the main loan originators, the platform is in a position to provide high returns to its investors.
Hive5 offers investment options like Buy Now, Pay Later (BNPL) loans and a seamless auto-invest feature. This allows investors to diversify their portfolios while enjoying the platform's ease of use.
When testing the platform, it was nice to experience seamless registration and KYC processes that took just 3 minutes.
Though the platform is relatively new and has a limited number of loan originators, it is primarily focused on short-term loans which reduces the need for a secondary market for early exit. But still, it would have been nice with an option for an early exit.
Hive5 already has a positive reputation, as reflected in its great Trustpilot reviews, and its track record is expected to grow stronger. Therefore, considering its experienced management and a host of features that make it both accessible and user-friendly, Hive5 is an excellent choice for investors seeking growth opportunities in the P2P lending space.