Robocash review 2023
Is Robocash a great platform for P2P lending? Find out in our Robocash review below:

Review summary:
Robocash is one of the very best P2P lending platforms for short-term lending. The platform is owned and run by Robocash Group which is a lending group with around 10 years of experience. Robocash is fairly safe with a buyback guarantee on loans. Robocash is also one of the most highly rated platforms on Trustpilot in the entire P2P industry.
It's free to use the platform.
At P2PPlatforms.com, we strive to list only the absolute best companies in the P2P industry. Where appropriate, we also feature our partners. This doesn't influence our evaluations. All opinions are our own.
Introduction to our Robocash review
Are you considering investing via Robocash? Then read on. We've written this Robocash.com review to help investors determine if Robocash is the right choice for them.
Below you will find an overview of the things that we will discuss more in detail in this Robocash review. Simply click on the links to jump directly to the thing you want to know more about.
Learn about this in our Robocash review:
What is Robocash?
Robocash is a peer-to-peer lending platform that focuses on short-term payday loans.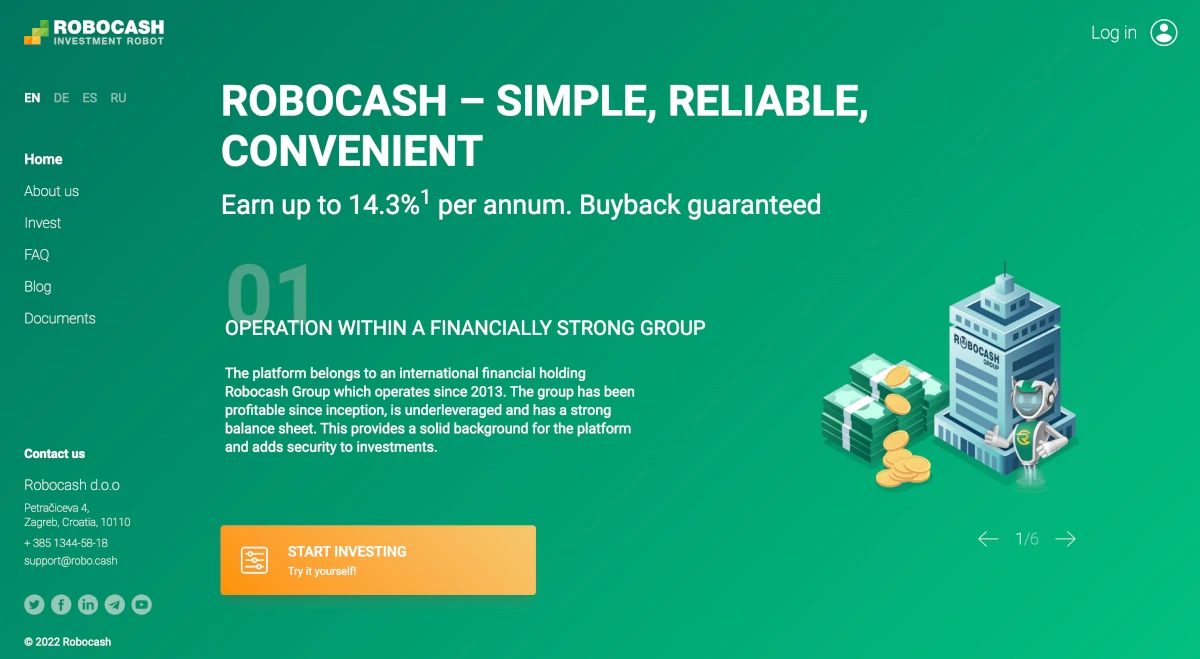 Although Robocash is based in Croatia, the loans originate from lending companies in Spain, Kazakhstan, Sri Lanka, Singapore, and the Philippines.
The loans are secured with a buyback guarantee – a key feature that will be explained later in this review.
Robocash is a subsidiary of Robocash Group, which was founded in 2013. The Robocash investment platform was launched in 2017.
Since its launch, Robocash has been one of the fastest-growing P2P lending platforms. Today, you will find over 34,098 investors on the platform that earn an average annual return of 10.00%.
You can open an account and begin investing with as little as €10 by visiting https://robo.cash/.
Robocash statistics:
| | |
| --- | --- |
| Founded: | 2017 |
| Loan Type: | Consumer |
| Loan Period: | 1 – 12 Months |
| Loans Funded: | € 650,000,000 + |
| Robocash Users: | 34,098 + |
| Minimum Investment: | € 10 |
| Maximum Investment: | Unlimited |
| Robocash Interest Rate: | 10.00% |
How Robocash works:
Robocash, as the name implies, functions similarly to a robot.
Robocash's auto-invest option allows you to invest in P2P loans. This means that when you have surplus funds in your account, the platform will invest in new loans.
In this way, you can easily put your investments on autopilot.
Frequently asked questions:
Key features
We have already taken a look at some of the reasons why Robocash has become a popular choice among investors. In the following, we take a closer look at some of the key features that make it easy to invest via the platform:
1. Robocash buyback guarantee
Robocash offers a 30-day buyback guarantee to its investors. If a loan is delayed for more than 30 days, the loan originator must step in and buy the debt back from the investor.
The investor is compensated for both the initial investment and the interest earned during the holding period when the loan is repaid.
The Robocash buyback guarantee is not completely secure and is meaningless if the loan originator is unable to repurchase the investments.
This means that you should carefully examine the financial position of the loan originators in whom you intend to invest through Robocash.
2. Robocash auto-invest
The Robocash auto-invest tool is a neat feature for saving time on manually selecting loans.
To use the Robocash auto-invest tool, do the following:
Sign up at https://robo.cash/
Log in to your account
Go to "Invest"
Set up your auto-invest portfolio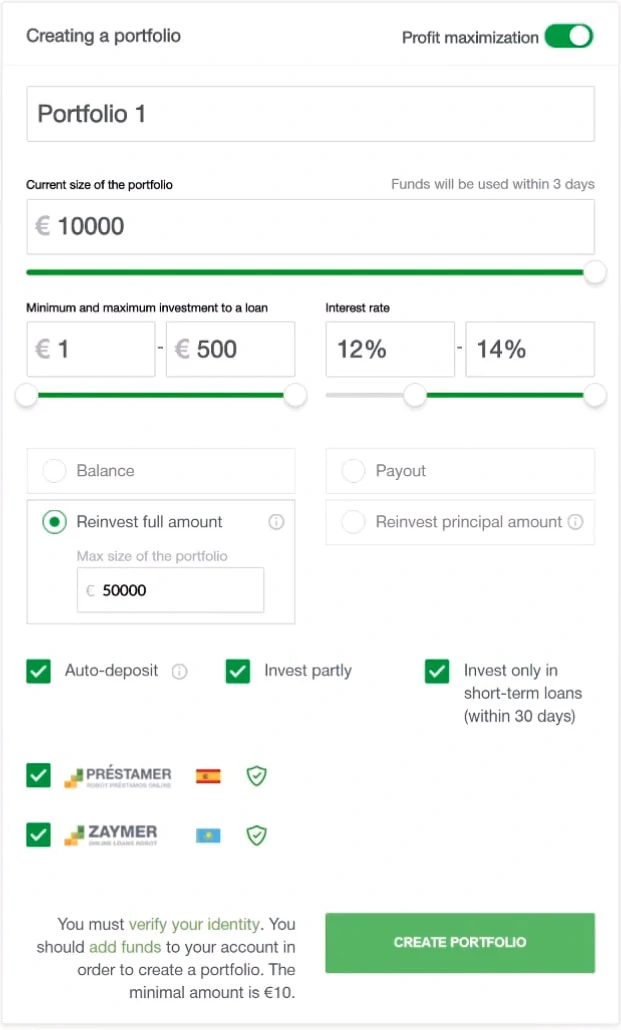 You must enter the name of your auto-invest strategy as well as the amount you wish to invest in it.
Then there are a few parameters you can tweak. You can, for example, choose how much you want to invest in a single loan and what interest rate you desire.
Furthermore, you have complete control over how your money is invested. Should the return be kept as low as possible? Do you wish to reinvest the entire sum? Do you only want to invest in 30-day loans? Is there a loan originator you'd like to see removed?
All of this and more is possible with Robocash's auto-invest.
3. Robocash secondary market
Robocash opened a secondary market in 2020. This feature enables investors to sell long-term loans in order to withdraw funds ahead of schedule.
To sell a loan on the Robocash secondary market, you must have owned it for at least 6 months.
If no one buys your loan on the secondary market within 14 days, Robocash will buy it from you on day 15.
Loans having a maturity of at least one year can be purchased and sold without additional fees for either the buyer or seller.
4. Robocash income options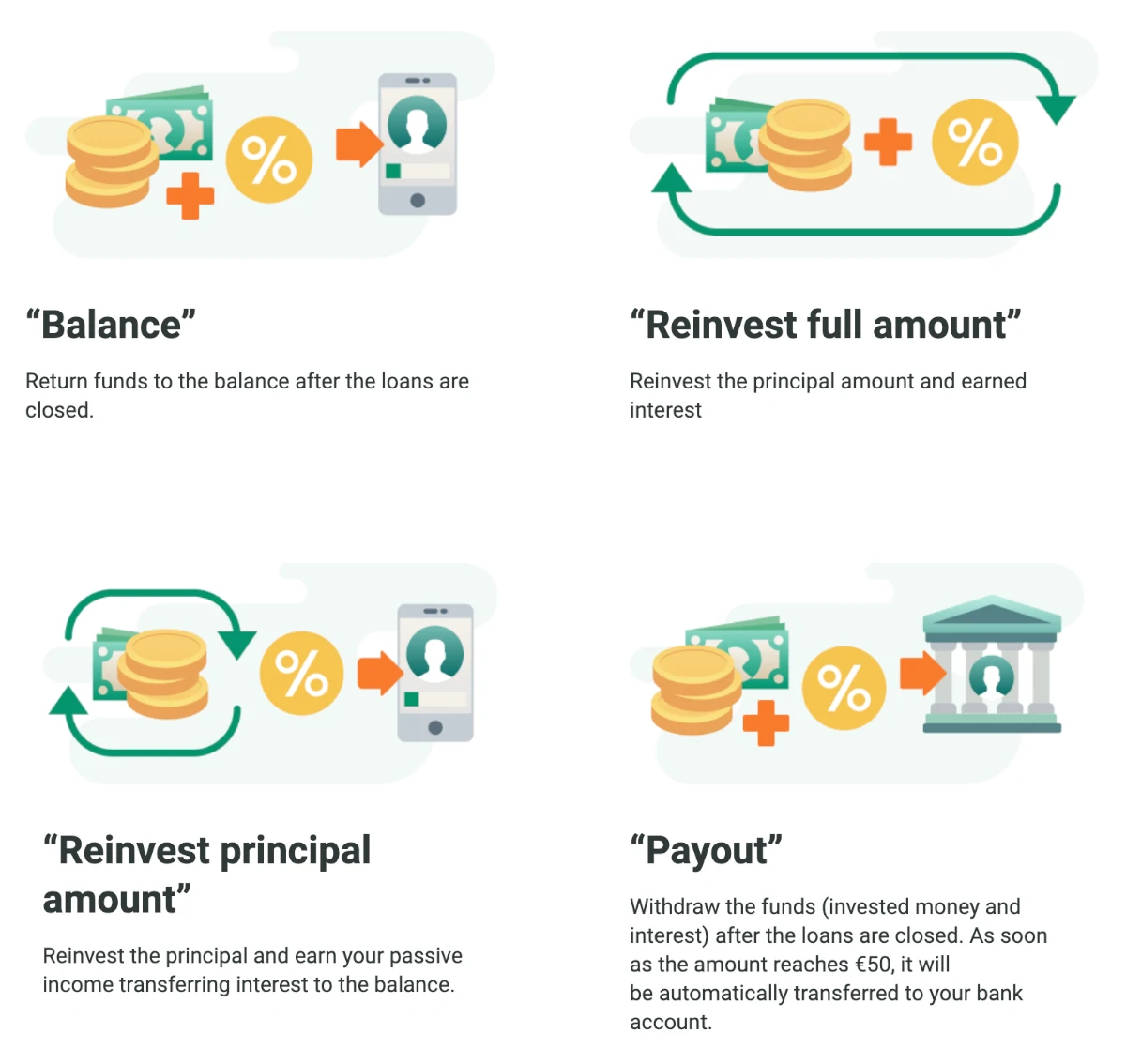 5. Robocash loyalty program
Robocash has a loyalty scheme in place to encourage investors to invest more. The loyalty program began in 2020 and will continue till further notice.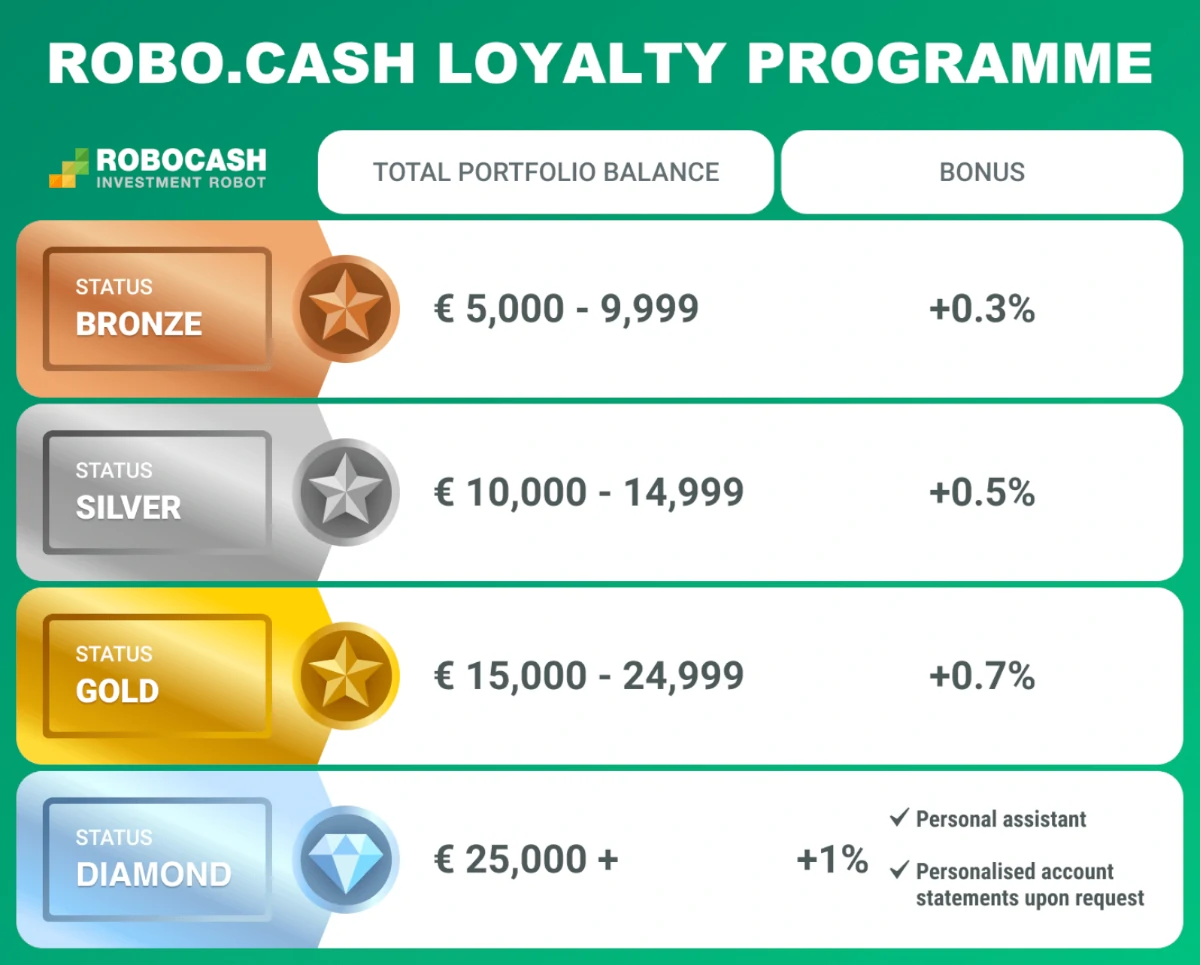 Investors who participate in the Robocash loyalty program can earn more based on how much they invest.
Bronze: Invest €5,000 in Robocash and receive a 0.3% investment bonus.
Silver: Invest €10,000 in Robocash and receive a 0.5% investment bonus.
Gold: Invest €15,000 in Robocash and receive a 0.7% bonus.
Diamond: Invest €25,000 in Robocash and receive a 1.0% investment bonus.
Platinum: Invest €50,000 in Robocash and receive a 1.3% investment bonus.
You may also increase your earnings by recommending friends to the platform. When you sign up, you will be given a Robocash referral code that you can share with your friends. If you have friends on the platform, you can also ask them for a referral code.
Who can use Robocash?
Only private persons can invest via Robocash.
Individuals
Individuals wanting to invest via Robocash are required to:
Be at least 18 years old
Bank account in the EU
If you can meet the requirements above, then you can probably start investing via the platform.
Companies
If you own a company, you can't invest via Robocash.
Available countries
Robocash is available to investors that live in the European Union and Switzerland.
If you are looking for a similar platform that is available outside of Europe, you should check out Lendermarket or Bondster.
How safe is Robocash?
To determine if Robocash is safe, we have taken a look at some of the potential upsides and downsides of investing with Robocash.
1. Robocash profitability
Robocash is a subsidiary of the Robocash Group, which owns a range of companies in the financial sector.
According to recent financial statements, Robocash Group has been profitable for several years.
The fact that Robocash is part of a larger group offers both advantages and disadvantages.
The key advantage is that the Robocash platform does not need to be profitable to survive.
However, if other assets in the group become unprofitable, it may have an impact on the Robocash platform.
2. Main risks
In the following, we go through some of the main risks of using Robocash that we have considered:
Loan default risk
When you invest in loans on crowdlending platforms, there is a risk that the borrower will not be able to repay his loan. In that case, your investment is usually lost.
Loans on the Robocash marketplace have a buyback guarantee that secures you against this type of event.
The best way to secure yourself against the loan default risk is to invest in many different loans that are secured by the Robocash buyback guarantee.
Loan originators risk
The loan originators also pose a risk to investors. If they are not in control of their finances, have poor management, or the like, then they run the risk of going bankrupt like any other business. This can mean that they end up being unable to exercise their buyback guarantee.
Robocash bankruptcy risk
Robocash, like every other business, has the risk of going bankrupt. Because the platform adheres to the best practices in the P2P lending industry, your investments should remain effective even if Robocash goes bankrupt.
Financial turndown risk
Because peer-to-peer investing is a newer phenomenon in the investment industry, it can be difficult to foresee how a financial downturn will influence this type of investment. As a starting point, investing your entire investment portfolio in P2P investments is a terrible idea.
As a result, many investors seek to diversify into more traditional investment vehicles such as shares, bonds, and traditional real estate.
We clearly do not know what is best for you because investing is a personal decision. However, when putting together your investment portfolio, make sure that it reflects your understanding of the items in it, as well as your personal risk tolerance.
Is Robocash safe?
Robocash seems fairly safe for investors as they are part of a profitable group of companies.
Robocash has done a lot to make investors as safe as possible. They do this with a buyback guarantee on loans.
Other factors such as lack of knowledge about how a financial turndown will affect the P2P lending industry are also risk factors that are worth considering when determining how safe Robocash is.
Our experience with Robocash
Robocash is a user-friendly platform that is suitable for both novice and experienced investors.
The website is simple to use, and there is nothing about Robocash that is overly complicated.
We also enjoy the fact that the platform is run by a lending organization with about ten years of industry experience.
Robocash reviews on Trustpilot
Trustpilot is a great place to learn what other people think of Robocash. We have collected some relevant Robocash reviews from Trustpilot for you to take a closer look at: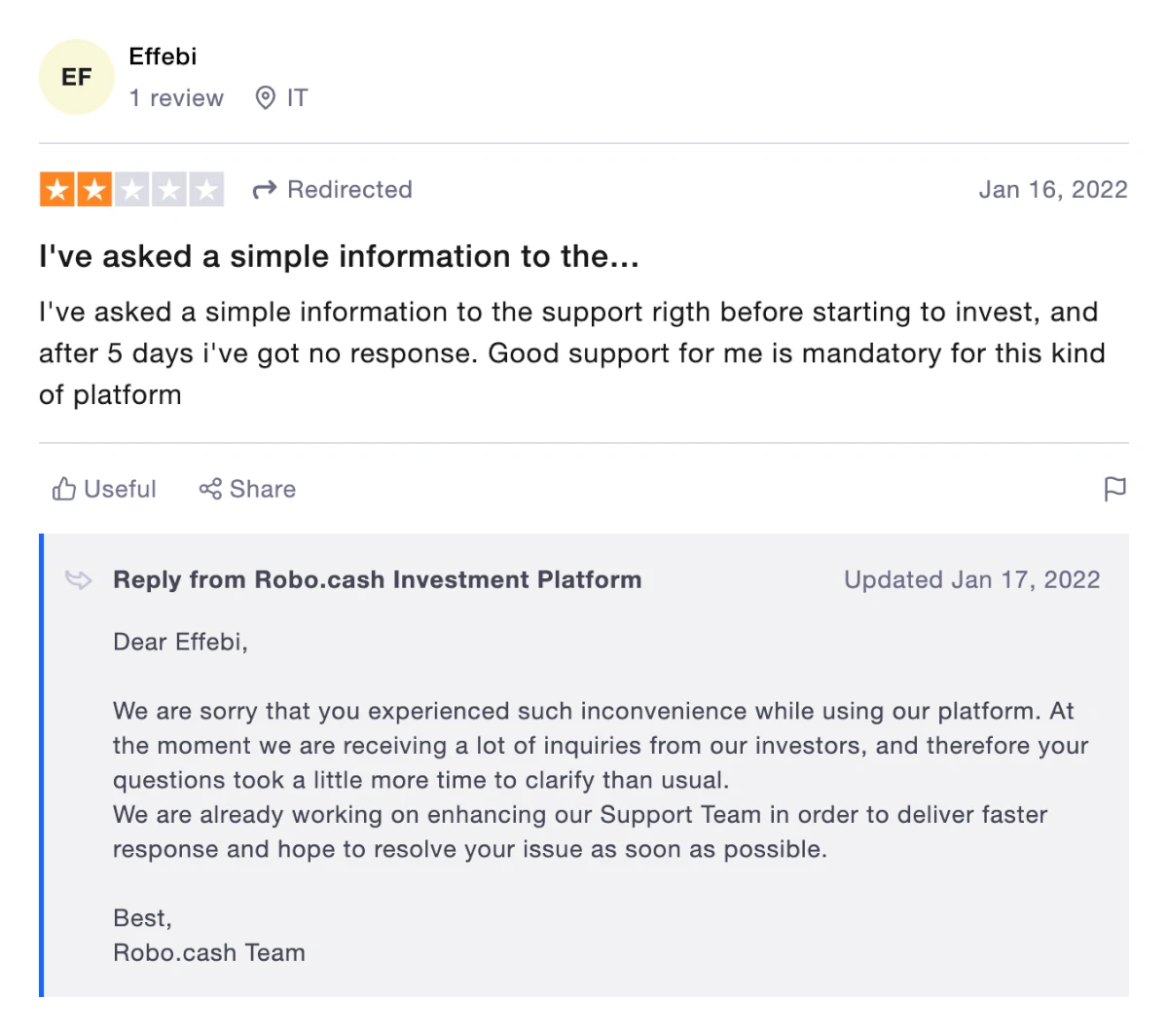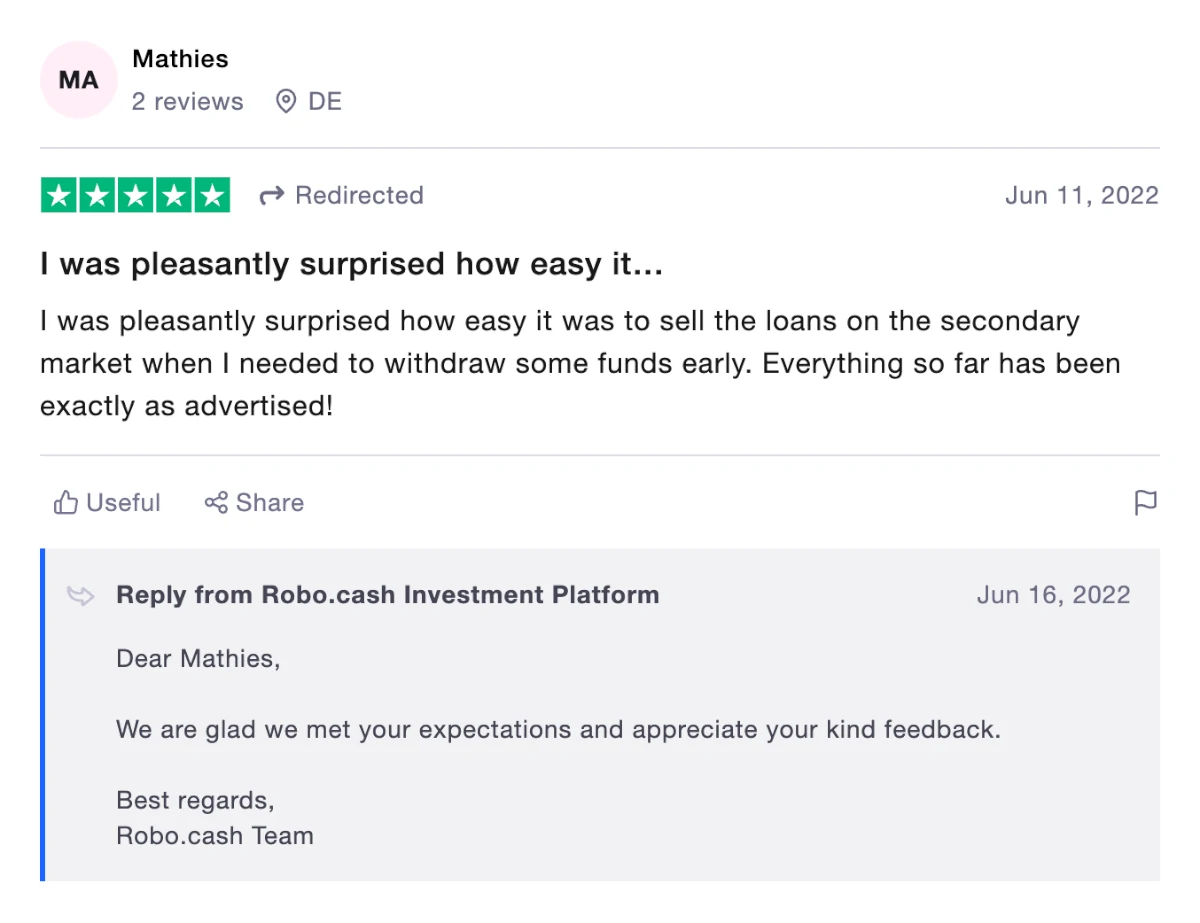 Best Robocash alternatives
Not sure Robocash is the right choice for you? Then there are also some good Robocash alternatives to consider. The following are some of our favorites:
Even if you use Robocash, it might actually be a good idea to take a closer look at some of the above platforms. By using multiple platforms, you can reduce your platform risk and diversify your portfolio further.
Conclusion of our Robocash review
Robocash is currently one of the very best picks for investing in short-term consumer lending.
Among other things, this is due to the fact that Robocash is owned by a profitable group of companies with around a decade of experience in the financial sector.
The platform is also very user-friendly and has all the necessary features, such as auto-invest for automating your investments and a secondary market for making an early exit.
Robocash is protecting investors with a buyback guarantee on loans. This means that your investments will be bought back if the borrower can't repay.
Robocash is one of the most highly rated P2P lending companies on Trustpilot. The platform has received an excellent rating.
Overall, Robocash is an excellent choice as a P2P lending platform for both beginners and more experienced P2P investors.