CrowdedHero review 2023
Is CrowdedHero a good platform for equity crowdfunding? Find out in this CrowdedHero review:

Review summary:
CrowdedHero is a great platform for investors to gain exposure to early-stage companies. The platform has a wide variety of projects, ranging from tech startups to construction projects, and offers investors the chance to get in on the ground floor of some of the most exciting companies. It also has a unique revenue-sharing structure that allows investors to gain a share of the profits of the companies they invest in.
It's free to use the platform.
At P2PPlatforms.com, we strive to list only the absolute best companies in the P2P industry. Where appropriate, we also feature our partners. This doesn't influence our evaluations. All opinions are our own.
Introduction to our CrowdedHero review
Are you considering investing via the CrowdedHero equity crowdfunding platform? Then read on. We've written this CrowdedHero.com review to help investors determine if CrowdedHero is the right choice for them.
Below you will find an overview of the things that we will discuss more in detail in this CrowdedHero review. Simply click on the links to jump directly to the thing you want to know more about.
Learn about this in our CrowdedHero review:
What is CrowdedHero?
CrowdedHero is an equity crowdfunding platform that provides investors with access to a global marketplace of growing, non-listed companies and the opportunity to invest in them for a potential return of 16-20% per year.
The business processes on CrowdedHero are fully compliant with the European crowdfunding regulation. Among other things, this requires due diligence checks, Anti Money Laundering (AML), and Know Your Customer (KYC) checks. The platform has applied for several licenses and is affiliated with the Latvian Crowdfunding Association and the Latvian Business Angels Network.
The investment scope for your investments on CrowdedHero is around 5 years.
Check out this short explainer video from CrowdedHero:
CrowdedHero was registered in 2019, and the equity crowdfunding platform has continued to grow ever since.
Currently, the investors have trusted the platform with over €180.000 in combined money deposits.
With as little as €100, you can open an account and start investing at https://crowdedhero.com/.
The minimum investment and return vary for each project. CrowdedHero expects a 16-20% return for investors.
CrowdedHero statistics:
| | |
| --- | --- |
| Founded: | 2019 |
| Investment Type: | Business |
| Investment Period: | Varies |
| Investments Funded: | € 180.000 + |
| CrowdedHero Users: | Unknown |
| Minimum Investment: | € 100 |
| Maximum Investment: | Unlimited |
| CrowdedHero Interest Rate: | 16 – 20% |
How CrowdedHero works:
CrowdedHero has a two-sided business model. On the one hand, they have investors. And on the other hand, they have a range of companies that are seeking funds for expanding their business. They do this by issuing shares.
When you invest in projects on CrowdedHero, you will receive regular dividends. And when the company is sold. you will receive profit from selling your shares.
On CrowdedHero, you will find two main ways of investing in companies. The first is a direct investment and the other is an indirect investment using a Special Purpose Vehicle (SPV).
Here is an illustration of the direct investment structure: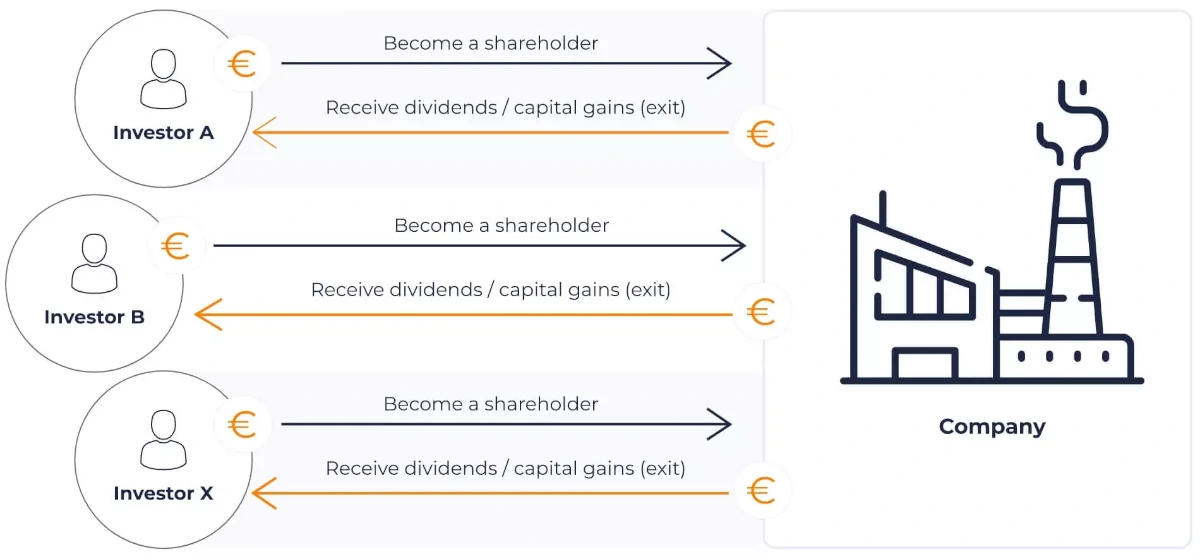 Here is an illustration of the indirect investment structure using an SPV:

Frequently asked questions:
Key features
We have already taken a look at some of the reasons why CrowdedHero has become a popular choice among investors. In the following, we take a closer look at some of the key features that make it easy to invest via the platform:
1. CrowdedHero secondary market (coming soon)
CrowdedHero has a secondary market that allows investors to buy and sell shares of companies that are listed on the platform.
The secondary market is expected to launch in Q2 2023.
Having a secondary market is one of the most normal ways for international Peer-to-Peer lending platforms to let their investors exit investments.
Who can use CrowdedHero?
Both individuals and companies can invest via CrowdedHero.
Individuals
If you want to invest as an individual, you must at least meet the following requirements:
Being at least 18 years old
KYC documents and necessary additional information must be submitted
Select if you are a non-sophisticated investor or a sophisticated investor
Non-sophisticated investors must pass a knowledge test and simulate their ability to bear any losses.
If you live up to these requirements, then you can start investing via the platform.
Companies
If you want to invest on behalf of a business, this is also possible on CrowdedHero.
When you sign up, you must simply register as a "legal person".
Available countries
CrowdedHero is a global platform for investing in equity crowdfunding projects. Investors from some countries might be excluded from the platform. Investors from the United States can not invest due to regulatory reasons.
How safe is CrowdedHero?
To determine if CrowdedHero is safe, we have taken a look at some of the potential upsides and downsides of investing with CrowdedHero.
When you consider the safety of CrowdedHero, we don't recommend that you rely solely on information found in our CrowdedHero review as this is only based on our research. We always recommend that you also do your own research before investing any money.
1. CrowdedHero profitability
CrowdedHero is a new equity crowdfunding company, and as such, there is little financial data available about the company. The company is still in its early stages and has not yet had time to accumulate a large amount of operational or financial data. Without this data, it is difficult for investors to assess the company's potential for financial success.
2. Main risks
In the following part of this CrowdedHero review, we go through some of the main risks of using CrowdedHero:
Project default risk
The project default risk for an equity crowdfunding platform is the risk that the businesses that the platform is investing in will enter default, causing the investors to lose money. This risk is especially high for smaller businesses and those with higher levels of risk, such as start-ups.
Additionally, the project default risk could be increased if the platform does not have proper due diligence in place to evaluate businesses before making investments.
It is important to remember that investing in equity crowdfunding is an individual decision, and investors should make sure that they understand the risks associated with investing in any project. They should also ensure that the project fits their desired risk/reward profile and that they are comfortable with the potential losses that could occur if the project fails.
CrowdedHero bankruptcy risk
Of course, there is also a risk of CrowdedHero going bankrupt. Like many other equity crowdfunding platforms in Europe, CrowdedHero has also created a procedure for what should happen in this case.
In the event of CrowdedHero OÜ going out of business, the team will work with third parties and appointed representatives to ensure a smooth exit and minimize losses for affected clients.
To reduce the risk of losses, it is recommended that investments are diversified across various asset classes and multiple crowdfunding marketplaces.
Financial turndown risk
A financial downturn can have a significant impact on equity crowdfunding investors. During a financial turndown, businesses often struggle to make payments on their debts, and this can lead to a drop in the value of their equity. This means that the investors who have purchased shares in the businesses through equity crowdfunding may experience a decrease in the value of their investments. Additionally, businesses may decrease or even cease operations altogether, resulting in the investors not receiving any return on their investments.
In addition to the potential loss of value of their investments, investors may also be at risk of losing their money if the company they invested in goes bankrupt. This is because equity crowdfunding investments are considered to be unsecured, meaning that investors will not be able to claim back their money in the event of the company's failure.
Due to this risk, investors may need to look for alternative investment opportunities, such as traditional stocks and bonds, in order to diversify their portfolios.
Is CrowdedHero safe?
CrowdedHero is a peer-to-peer crowdfunding platform that allows individuals to invest in a variety of projects. It is important to note that CrowdedHero is not a bank, and as such, is not subject to the same regulatory requirements as banks.
On the upside, CrowdedHero does offer a number of measures to help protect investors. These include a comprehensive vetting process for projects, a comprehensive due diligence process, and an experienced team of professionals who manage the platform. Additionally, CrowdedHero provides investors with the ability to diversify their investment portfolios and the ability to withdraw their investments at any time.
On the downside, CrowdedHero does not offer any guarantees or insurance policies to protect investors. This means that investors are taking on the risk of potential losses with their investments. Additionally, CrowdedHero does not have a fully-developed legal framework in place, which can make it difficult to resolve any disputes that may arise.
Overall, while CrowdedHero is not fully regulated and does not offer any guarantees, the measures that are in place to protect investors provide a level of security that makes it a safe platform to invest on. We recommend that all potential investors carefully review the risks associated with investing in CrowdedHero before investing any money.
Our experience with CrowdedHero
The user experience on CrowdedHero is quite simple and straightforward. To get started, users must create an account and provide some basic information such as name, address, and contact details. After that, users can choose the companies they want to invest in and determine how much money they want to commit.
Once the investment is complete, users can monitor their investment portfolio in real time. Investors can view the performance of their investments and make adjustments as necessary. The platform also provides users with detailed reports so that they can make informed decisions about their investments.
Overall, the user experience on CrowdedHero is quite positive. The platform is easy to use and provides users with all the information they need to make informed decisions. Additionally, the platform is secure, and investors can rest assured that their investments are safe. For those looking to invest in companies without having to go through traditional channels, CrowdedHero is a great option.
CrowdedHero reviews on Trustpilot
As CrowdedHero is a new P2B investment platform, there are not any CrowdedHero reviews on Trustpilot.
Best CrowdedHero alternatives
If you're uncertain about whether CrowdedHero is the right choice for you after reading this review, there are several excellent alternatives to consider. These are some of the best:
Debitum (highly rated P2B lending platform)
ReInvest24 (highly rated real estate crowdfunding platform)
Mintos (largest P2P lending platform in Europe)
It may be beneficial to consider utilizing multiple crowdfunding platforms, including CrowdedHero, in order to reduce platform risk and expand the breadth of your portfolio.
Conclusion of our CrowdedHero review
CrowdedHero offers an exciting opportunity for investors looking to get in on the ground floor of the world of equity crowdfunding. Its user-friendly platform makes it easy to browse and select investments, and its reliable customer service team is always available to answer questions.
With low fees and a great selection of companies to choose from, CrowdedHero is an ideal platform for those who want to diversify their investments and take advantage of the potential for high returns offered by equity crowdfunding.
With CrowdedHero, investors can have the peace of mind that comes with investing in a trusted platform, and the potential for great returns.
CrowdedHero's expected return on the platform is around 16-20%.