AxiaFunder Review 2022
Is AxiaFunder a great platform for litigation crowdfunding? Find out in our AxiaFunder review below:

Review summary:
AxiaFunder is probably the single best litigation crowdfunding platform right now. On the platform, you can invest in cases that have yielded an average return of 48%. Currently, AxiaFunder has won more cases than expected, which means that performance will probably be lower in the future at around 20-30% return (as advertised on the website). The asset is by its nature uncorrelated to the broader market, which makes it an attractive opportunity for diversification in one's investment portfolio. AxiaFunder is highly rated in Trustpilot reviews.
It's free to use the platform.
Last updated: July 2, 2022
At P2PPlatforms.com, we strive to list only the absolute best companies in the P2P industry. Where appropriate, we do also feature our partners. However, this doesn't influence our evaluations. All opinions are our own.
Introduction to our AxiaFunder review
Are you considering investing via AxiaFunder? Then read on. We've written this AxiaFunder.com review to help investors determine if AxiaFunder is the right choice for them.
Below you will find an overview of the things that we will discuss more in detail in this AxiaFunder review. Simply click on the links to jump to the thing you want to know more about.
Learn about this in our AxiaFunder review:
What is AxiaFunder?
AxiaFunder is a litigation crowdfunding platform that makes it possible for investors to invest in different types of cases with a potential for a high return.
The lawsuits you can invest in are all from the United Kingdom. But it's possible to invest from most of the world, excluding North America.
AxiaFunder was founded in December 2016 in the UK. The platform was launched in January 2019. Since then, the platform has continued to grow in terms of investors and cases won.
Currently, there are over 1,100 investors on the platform that have enjoyed an average return of 48.00% from 7 won and 0 lost cases. But keep in mind that the expected long-term return advertised by AxiaFunder is around 20-30%.
With as little as £500, you can open an account and start investing on https://www.axiafunder.com/.
AxiaFunder statistics:
| | |
| --- | --- |
| Founded: | 2016 |
| Loan Type: | Litigation |
| Loan Period: | 2 – 36 Months |
| Loans Funded: | £ 2.800.000 + |
| AxiaFunder Users: | 1.100 + |
| Minimum Investment: | £ 500 |
| Maximum Investment: | Unlimited |
| AxiaFunder Interest Rate: | 48.00% |
How AxiaFunder works:
AxiaFunder works by letting investors crowdfund cases that would otherwise not be pursued due to the lack of funds or similar reasons. These can be cases types like:
Professional negligence
Breach of contract
Insurance claim
Shareholder dispute
Litigation crowdfunding can help level the playing field for justice and let claimants with a strong case, but too little funds have an opportunity to pursue a case.
If the case wins, the investors that have invested in the case get a share of the proceeds. If not, the funds will be lost.
All the cases that you can find on AxiaFunder have been screened by lawyers that are typically willing to risk their own fee on a win.
Frequently asked questions:
Key features
We have already taken a look at some of the reasons why AxiaFunder has become a popular choice among investors. In the following, we take a closer look at some of the key features that make it great to invest via the litigation crowdfunding platform:
1. AxiaFunder secondary market
One of the most important features is the AxiaFunder secondary market. The feature was added in September 2021.
The AxiaFunder secondary market allows you to sell loans to other litigation finance investors before a case is settled. This is especially useful if you need the money for other investments. Or if you just want to withdraw your funds.
In order to use sell a loan on the secondary market, you can follow this process:
Log in to your account
Select "Secondary Market" in the navigation
Click "Add a listing"
You can now select what you wish to sell
If you wish to buy from the secondary market, simply go to the available holdings page and indicate that you want to purchase the loan. You need to be accepted by the seller.
Sellers on the secondary market will have to pay a fee of 2.5% of the purchasing price. The fee for buyers is 3%.
The minimum transaction on the AxiaFunder secondary market is £1,000.
Who can use AxiaFunder?
Both individuals and companies can invest via AxiaFunder.
Individuals
If you want to invest as an individual, you must at least meet the following requirements:
Be at least 18 years old
Not living in Canada or the US
If you live up to these requirements, you can create an account at https://www.axiafunder.com/.
Companies
You can invest in cases on AxiaFunder via your company by doing the following:
Log in to your account
Select "Account" in the navigation menu
Choose "Investor readiness"
Complete the risk questionnaire
Indicate that you want to invest as an "Organisation / Institution"
Available countries
AxiaFunder is available in all countries except Canada and the US.
Suppose you are a citizen or resident in the United States or Canada. In that case, AxiaFunder needs to investigate whether it's possible to obtain an exemption that can allow you to invest under current regulations.
You can contact them about this via e-mail at [email protected].
How to invest on AxiaFunder
In the following video tutorial from AxiaFunder, you can learn how to invest via the platform:
How safe is AxiaFunder?
To determine if AxiaFunder is safe, we have taken a look at some of the potential upsides and downsides of investing via the litigation platform.
1. AxiaFunder profitability
AxiaFunder came out with a loss of £384,786 for 2020.
This compares to a loss of £227,917 in 2019 and a £143,039 loss in 2018.
But according to P2P Finance News, this is due to the fact that the company has aggressively invested in growth. AxiaFunder plans to reach profitability in 2022.
2. Main risks
In the following, we go through some of the main risks of using AxiaFunder that we have considered:
Case loss
The main risk you are running when investing via AxiaFunder is that the case is lost. Here you will end up losing your invested funds. This is expected to happen on that platform.
To make investors as safe as possible, the AxiaFunder has the following criteria for new cases on the platform:
The case listed are already screened by lawyers that are typically willing to risk their own fee on the case
The case requires less than £1,000,000 in funding
The case is secured by insurance that protects the investors against costs if the case losses
The case has an award that is at least 5 times bigger than the cost to litigate
Of every 20 cases reviewed, AxiaFunder expects to only select one for funding on the platform.
Is AxiaFunder safe?
AxiaFunder seems like a safe platform for litigation crowdfunding. The platform has a high win/loss rate, which is a good sign for investors.
But when you invest on the platform, you risk losing all of your invested funds in a particular court case, if the case is lost.
Our experience with AxiaFunder
AxiaFunder is in our experience a good platform for litigation crowdfunding.
The team behind the platform seems very experienced and has done a good job at selecting cases. This has resulted in a lot of wins on the platform, which has yielded a super high average annual return.
AxiaFunder reviews on Trustpilot
Trustpilot is a great place to learn what other people think of AxiaFunder. We have collected some relevant AxiaFunder reviews from Trustpilot for you to take a closer look at: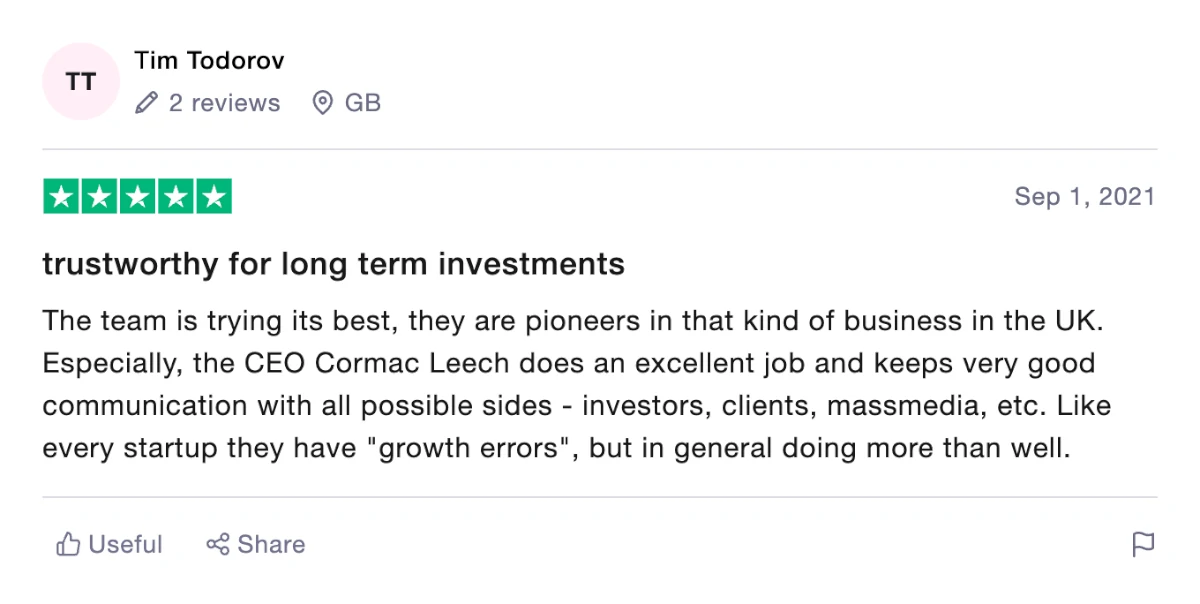 Best AxiaFunder alternatives
Not sure AxiaFunder is the right choice for you after reading our review? Then there are also some good AxiaFunder alternatives to consider. The following are some of our favorites:
Even if you use AxiaFunder, it might actually be a good idea to take a closer look at some of the above platforms. By using multiple platforms, you can reduce your platform risk and diversify your portfolio further.
Conclusion of our AxiaFunder review
AxiaFunder is probably the single best litigation crowdfunding platform right now.
Currently, there have been 8 wins and 0 losses on the platform, resulting in a 33-94% return for investors. While it is not expected that this win rate can continue, it indicates that AxiaFunder has a good process for selecting cases for investment.
AxiaFunder is also highly rated on Trustpilot, where most reviews are positive.
The most negative thing about AxiaFunder is the fact that if you lose on a case, your money will be lost. Furthermore, there are not a lot of statistics to get an idea of what the long-term return will be. This is advertised to be around 20-30% by AxiaFunder.