Nibble Finance Review 2023
Is Nibble Finance a great platform for P2P lending? Find out in our Nibble Finance review below:

Review summary:
Nibble Finance is a new P2P lending platform from 2020 that focuses on consumer loans. The platform is easy to use with its predefined auto-invest strategies and simple interface. Investors considering the platform should be aware that the platform only has loans from the IT Smart Finance group, which means that the platform in itself is not ideal for diversification. With that said, IT Smart Finance is profitable and you can invest in loans with a buyback guarantee using the platform's Classic Strategy. The few investors that have reviewed Nibble Finance on Trustpilot are positive about it.
It's free to use the platform.
Last updated: January 1, 2023
At P2PPlatforms.com, we strive to list only the absolute best companies in the P2P industry. Where appropriate, we also feature our partners. This doesn't influence our evaluations. All opinions are our own.
Introduction to our Nibble Finance review
Are you considering investing via Nibble Finance? Then read on. We've written this nibble.finance review to help investors determine if Nibble Finance is the right choice for them.
Below you will find an overview of the things that we will discuss more in detail in this Nibble review. Simply click on the links to jump directly to the thing you want to know more about.
Learn about this in our Nibble Finance review:
What is Nibble Finance?
Nibble Finance is a P2P lending platform that is owned by the financial conglomerate IT Smart Finance. The company behind Nibble Finance is from Tallinn, Estonia but is operated from Barcelona, Spain.
On the crowdfunding platform, you can invest in consumer loans that originate from Joymoney – a brand also owned by IT Smart Finance.
Joymoney is currently active in Russia and Spain, which means that these are the geographic areas where the loans on the platform are from.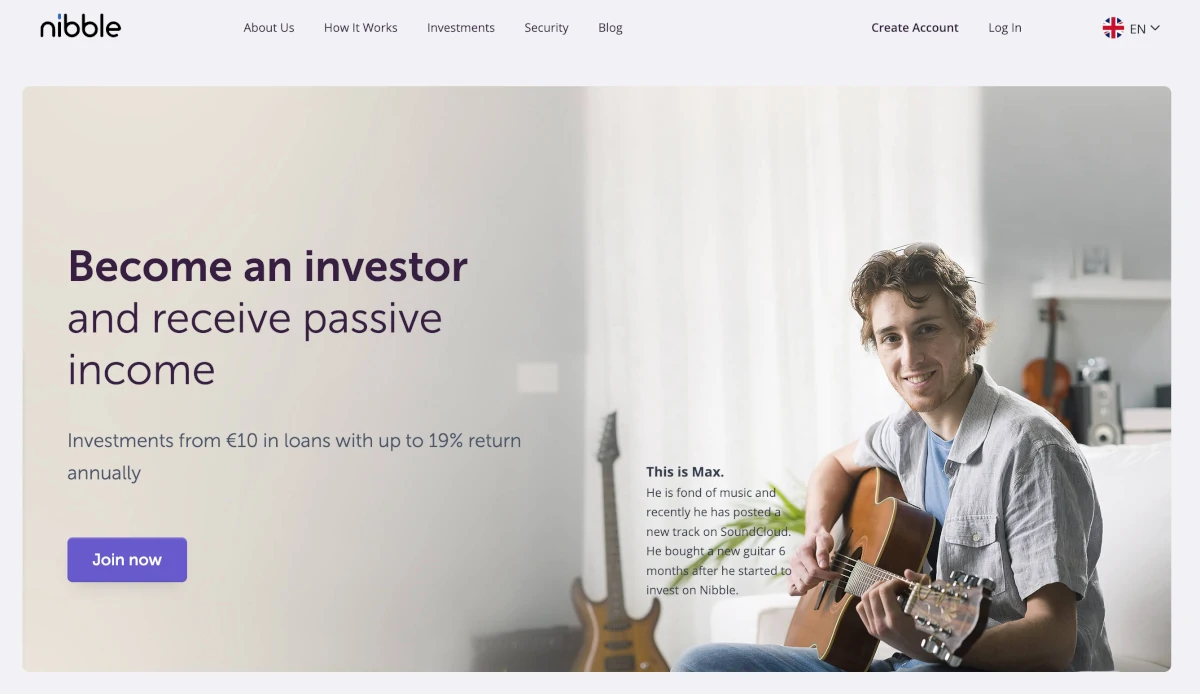 Nibble Finance launched in 2020, which means that the platform is still a startup. But still, the little over 6,000 investors on the crowdlending platform are currently earning a return of around 14.50%.
With as little as €100, you can start investing on the platform at https://nibble.finance/.
Nibble Finance statistics:
| | |
| --- | --- |
| Founded: | 2020 |
| Loan Type: | Consumer |
| Loan Period: | 1 – 60 Months |
| Loans Funded: | € 1.500.000 + |
| Nibble Users: | 6.000 + |
| Minimum Investment: | € 100 |
| Maximum Investment: | Unlimited |
| Nibble Interest Rate: | 14.50% |
How Nibble Finance works:
The whole process starts when a consumer takes a loan via one of the loan originators in either Spain or Russia. Here the customers' financial situation and creditworthiness are determined. If the borrower is suitable for credit, a loan is issued by Joymoney.
To be able to gain more liquidity to issue more loans, Joymoney then turns to Nibble Finance where investors can invest in shares of the loans at a lower interest rate than what Joymoney received.
When investors invest in the loans Joymoney can now issue more loans and expand the business further.
This creates a win-win situation between investors and the loan company.
Frequently asked questions:
Key features
In the following, we take a closer look at some of the key features that make it easy to invest your capital via Nibble Finance:
1. Nibble Finance auto-invest strategies
One of the things that make Nibble Finance really easy to start investing with is its auto-invest strategies. Using one of these predefined strategies, you can invest in P2P loans that fit within your chosen strategy and earn passive income.
To get started with Nibble Finance auto-invest strategies, follow this process:
Log in at https://nibble.finance/
Add funds to your account
Choose your auto-invest strategy
Once you have signed up and gone through the verification process, it only takes a few moments to set up the auto-invest functionality on your account.
You can choose between the following 3 strategies:
Classic Strategy (used by 22% of investors)
Balanced Strategy (used by 65% of investors)
Special Strategy (used by 13% of investors)
Classic Strategy:
The Classic Strategy is for investors looking for the most secure Nibble investment option. Here you are investing in some of the safest loans on the platform. The loans in this strategy are also covered by the Nibble Finance buyback guarantee.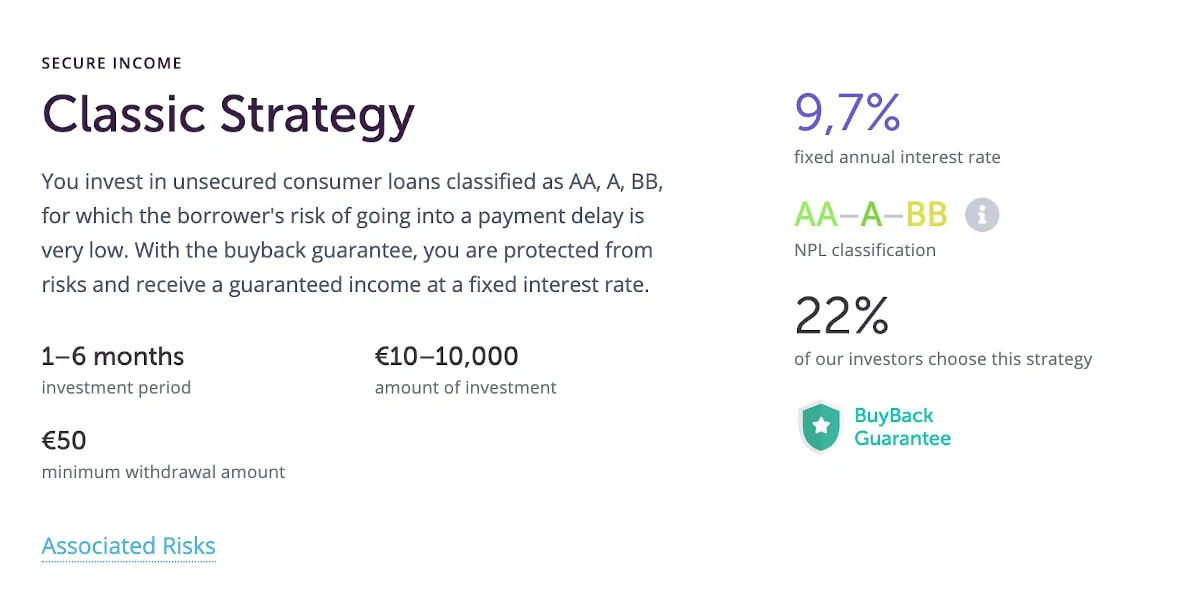 Balanced Strategy:
The most popular strategy on the platform is the Balanced Strategy. This investment strategy involves a bit more risk than the Classic Strategy as the loans are not as safe.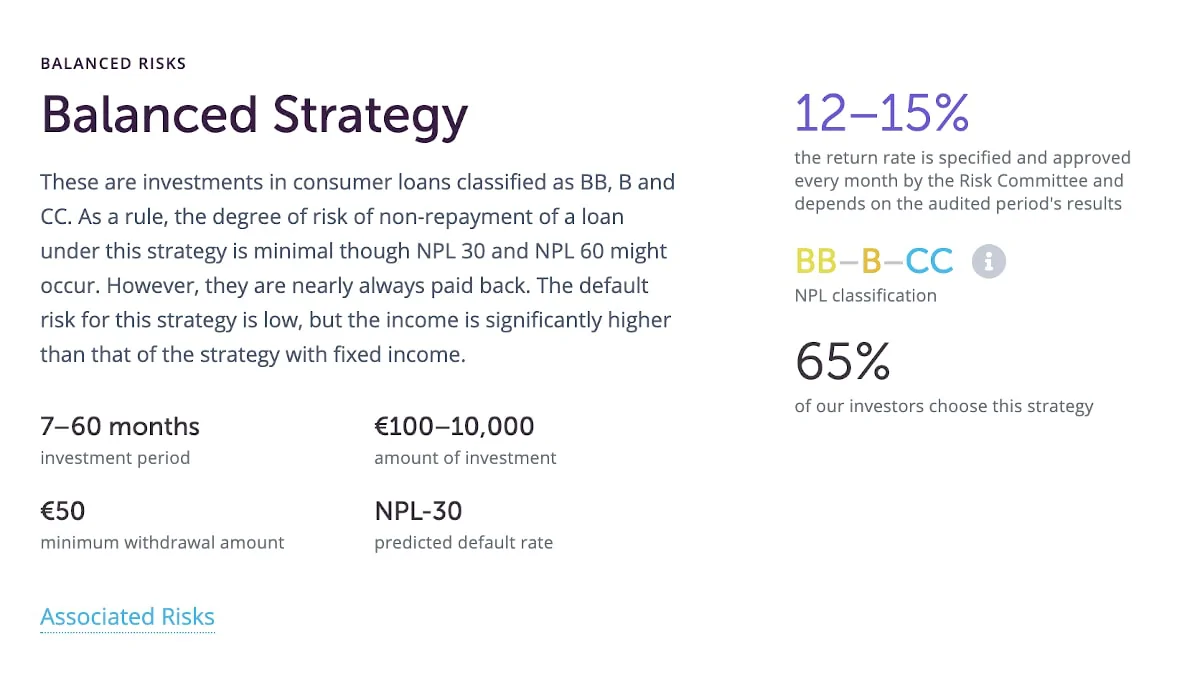 Special Strategy:
If you are looking for a high return rate and can tolerate a bit more risk, the Special Strategy is also an option to consider. With this investment strategy, you are getting the riskiest P2P loans on the platform.
2. Nibble Finance buyback guarantee
The loans in the Classic Strategy on Nibble Finance come with a 60-day buyback guarantee.
This is basically the lender's obligation to buy back the loan from the investor if the loan is not repaid or has been extended for more than 60 days.
3. Early exit
Nibble Finance doesn't have a secondary market but allows investors to terminate the agreement early. If the investor decides to terminate the agreement, the platform will start looking for another investor to take over the portfolio.
If the investor isn't found within 30 days, Nibble Finance pays out the number of funds invested as well as accrued interest on day 31. Nibble Finance charges a 3% commission for this.
Who can use Nibble Finance?
Both individuals and companies can invest via the Nibble P2P lending platform.
Individuals
If you want to invest as an individual, you must at least meet the following requirements:
Being at least 18 years old
Provide a copy of your identification documents
Have a bank account in the European Economic Area (EU, Switzerland, Norway, and Liechtenstein)
Be a resident or have citizenship in the European Economic Area
If you live up to these requirements, then you can start investing on the platform at https://nibble.finance/.
If you don't have a bank account in Europe, Nibble Finance might still accept you as an investor, but this will require an additional personal AML check. Each case will be considered individually.
Companies
Companies can also invest via Nibble Finance. To do so, they must sign up as a legal entity in the sign-up process.
How safe is Nibble Finance?
To determine if Nibble Finance is safe, we have taken a look at some of the potential upsides and downsides of investing with Nibble Finance.
1. Nibble Finance profitability
Nibble Finance is owned by IT Smart Finance, which has been profitable for multiple years. You can find the annual reports from IT Smart Finance here.
2. Main risks
In the following, we go through some of the main risks of using Nibble Finance that we have considered:
Loan default risk
When you invest in P2P loans, there is a risk that the borrower will not be able to repay his loan. In that case, your investment is usually lost.
However, some of the loans at Nibble Finance have a buyback guarantee that can secure you against this type of event.
Nibble Finance bankruptcy risk
The company behind the platform itself also poses a risk for investors. In the event that IT Smart Finance, the company that owns Nibble Finance, goes bankrupt, you can potentially struggle with getting out of the investments and getting your money back.
But as IT Smart Finance is a profitable company, bankruptcy doesn't seem very likely at the moment.
Financial turndown risk
As P2P investing is a newer thing in the investment world, it can be difficult to predict how a financial turndown would affect this form of investment. As a starting point, it is, therefore, a really bad idea to invest your entire investment portfolio in P2P investments.
Therefore, many investors also choose to diversify into more traditional forms of investment such as equities, bonds, and traditional real estate.
Since investing is an individual thing, we obviously do not know what will be best for you. But if you put together your investment portfolio, make sure that it reflects your knowledge of the investments in it, as well as your own risk appetite. If in doubt about how to do so, make sure to seek help from a professional investment planner.
Is Nibble Finance safe?
Despite being a new European startup, Nibble Finance is owned by a fairly stable financial conglomerate, which makes Nibble Finance seem quite safe.
Other factors such as lack of knowledge about how a financial turndown will affect the P2P lending industry are also risk factors that are worth considering.
Nibble Finance reviews on Trustpilot
Trustpilot is a great place to learn what other people think of Nibble Finance. We have collected some relevant Nibble Finance reviews from Trustpilot for you to take a closer look at:
Best Nibble Finance alternatives
Not sure Nibble Finance is the right choice for you? Then there are also some good Nibble Finance alternatives to consider. The following are some of our favorites:
Even if you use Nibble Finance, it might actually be a good idea to take a closer look at some of the above platforms. By using multiple platforms, you can reduce your platform risk and diversify your portfolio further.
Conclusion of our Nibble Finance review
Nibble Finance is a promising new P2P lending platform where investors can invest in Spanish and Russian loans from Joymoney. The platform is a product of IT Smart Finance, which is a profitable Spanish finance company.
On Trustpilot, you will only be able to find positive reviews about Nibble Finance. But you should keep in mind that the platform is still very new, which means that it still hasn't had many investors review it yet.
The platform has some easy-to-use strategies which make it very uncomplicated to invest via the platform.
The main downside of Nibble Finance is the fact that the platform is very new and only has loans from IT Smart Finance companies.