EstateGuru review 2023
Is EstateGuru a great platform for real estate crowdfunding? Find out in our EstateGuru review below:

Review summary:
EstateGuru is currently one of the best real estate lending platforms with a great track record going back to 2014. They only have a very few loan defaults, but no loss of capital (due to the use of collateral). The company behind the platform became profitable in 2018. Looking at the downside, you can only fully use the auto-invest feature if you plan to invest a minimum of €250 per loan. If you at a later point wish to exit the platform, you can do so by reselling loans on the EstateGuru secondary market. However, doing so will cost you a 3% fee. The platform is best for larger investors.
It's free to use the platform.
At P2PPlatforms.com, we strive to list only the absolute best companies in the P2P industry. Where appropriate, we also feature our partners. This doesn't influence our evaluations. All opinions are our own.
Introduction to our EstateGuru review
Are you considering investing via EstateGuru? Then read on. We've written this EstateGuru.co review to help investors determine if EstateGuru is the right choice for them.
Below you will find an overview of the things that we will discuss more in detail in this EstateGuru review. Simply click on the links to jump directly to the thing you want to know more about.
Learn about this in our EstateGuru review:
What is EstateGuru?
EstateGuru is a real estate crowdfunding platform that enables people to invest in properties across Europe.
The real estate crowdfunding platform has a team of experienced professionals who carefully assess each loan request before it is listed on the EstateGuru marketplace. Once a loan is funded, the company provides ongoing support to borrowers to ensure that the project is completed on time and within budget.
EstateGuru is a convenient and efficient way to invest in real estate without having to buy or manage properties yourself. The platform offers competitive returns and low minimum investment amounts, making it an ideal way to diversify your investment portfolio.
Here are some examples of the loans on the EstateGuru platform: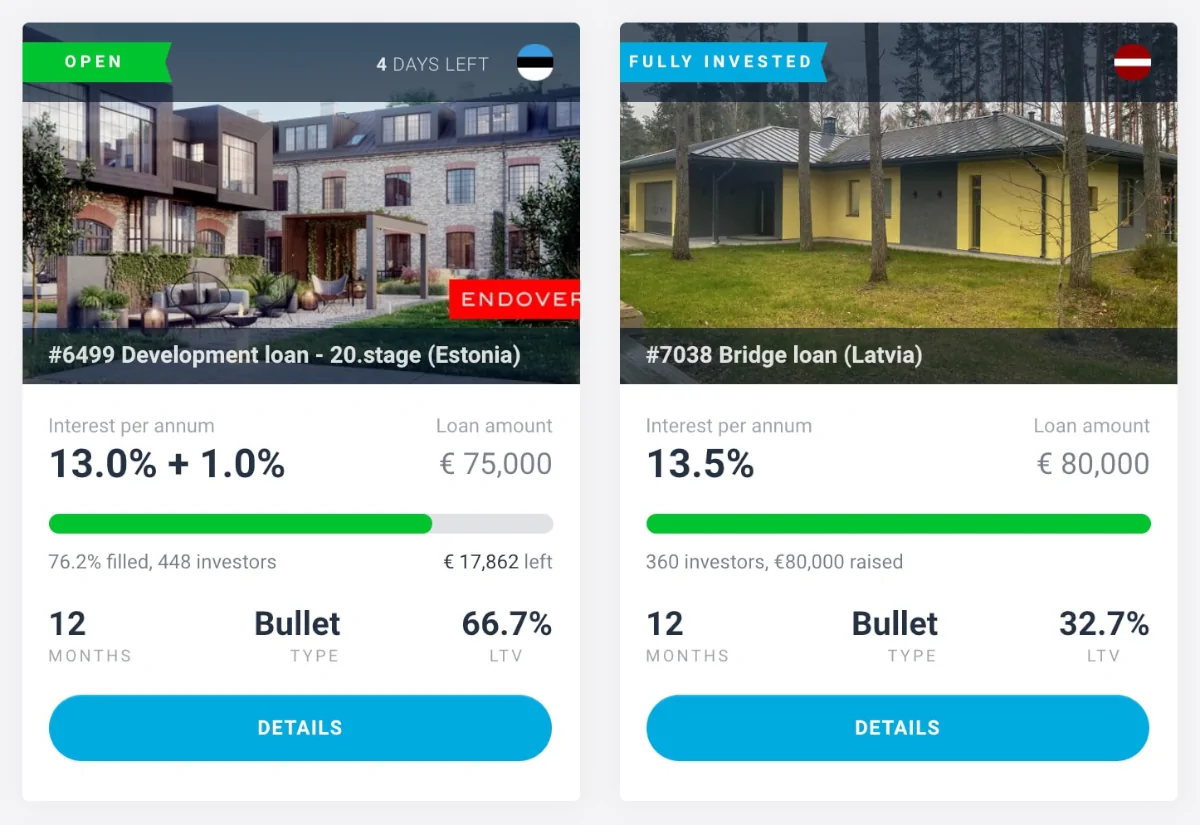 The company, EstateGuru OÜ, was founded in 2013 and is headquartered in Tallinn, Estonia. It was founded then by Marek Pärtel, and about a year later, the platform launched in the autumn of 2014.
Since then, an ever-increasing number of investors have decided to join the platform to invest in properties. At present, more than 158,653 investors have registered on the platform and received an average return of 10.56%.
In 2020, EstateGuru ran an equity fundraising campaign on Seedrs, where they raised €925,734 at a valuation of €28,824,215 from 1,093 investors. The crowdfunding campaign was very successful and got overfunded by 261%. This goes to show that EstateGuru is a very legitimate business.
It is possible for investors to start investing on the platform with as little as €50.
EstateGuru statistics:
| | |
| --- | --- |
| Founded: | 2014 |
| Loan Type: | Real Estate |
| Loan Period: | 1 – 36 Months |
| Loans Funded: | € 733.344.000 + |
| EstateGuru Users: | 158.653 + |
| Minimum Investment: | € 50 |
| Maximum Investment: | Unlimited |
| EstateGuru Interest Rate: | 10.56% |
| Loss of Investors' Money: | 0% |
EstateGuru fees:
EstateGuru has a few different fees that are worth considering before investing via the platform. Here are the fees for investors:
3% fee for selling loans via the secondary market.
€1 withdrawal fee for withdrawing funds from your EstateGuru account.
An inactive account fee is charged after 12 months for accounts with no investment activity. If your account balance is €0, no fee is charged.
EstateGuru is one of the platforms with the most fees for investors. Check out PeerBerry or Lendermarket if you are looking for a platform with fewer fees.
How EstateGuru works:
EstateGuru has a two-sided marketplace platform.
On one side, they are attracting real estate projects that need funding. They then offer them loans with a loan-to-value (LTV) of up to 75%. This means that if a project owner wants to borrow €750.000, they should be able to offer a collateral object value of €1.000.000. However, the typical loan on the platform is much lower than the LTV of 75%.
It is possible for EstateGuru to provide this funding up to five times faster than if the project owner went to traditional financial institutions. At the same time, EstateGuru is able to offer loans up to 50% cheaper than other alternatives to traditional financial institutions.
EstateGuru offers three categories of loans:
Development loans: Development loans are used to finance the construction or refurbishment of a property.
Bridge loans: Bridge loans are short-term loans that are used to finance the purchase of a property before long-term funding is secured.
Business loans: Business loans are used to raise funds for ongoing costs, expansion, the purchase of equipment or goods, or to pay off pending debts like taxes and administrative fees.
The loans fit into one of these 3 types of loans:
Bullet
Full bullet
Annuity
EstateGuru charges the project owners 3-4% of the total loan amount. Furthermore, they will have to pay a 0-2% administration fee on an annual basis.
Before any project is added to the platform, it has to pass a due diligence process performed by the EstateGuru team.
On the other side, EstateGuru also has to attract a sufficient number of investors to the platform. The investors then get the opportunity to invest in the projects listed on the website.
No investment fee applies to investors on EstateGuru.
Frequently asked questions:
Key features
We have already taken a look at some of the reasons why EstateGuru has become a popular choice among both project owners and investors. In the following part of our EstateGuru review, we take a closer look at some of the key features that make it easy to invest via the platform:
1. EstateGuru auto-invest
On EstateGuru, you will be able to find an auto-invest feature. By using this feature, you can put your investments completely on autopilot and you won't constantly have to check if new loans are available for investment on the platform. All you need to do is set up the EstateGuru auto-invest function one time.
To use their auto-invest tool, follow this process:
Log in to your account
Click "Auto Invest"
From here you can make auto-invest rules to make EstateGuru automatically invest in the type of loans you desire for your investment portfolio:
If you plan to invest less than €250 in each loan, you won't be able to use the advanced settings (the dark area on the screenshot above). So if you are a small investor, with a tiny investment portfolio, the EstateGuru auto-invest feature might not actually be that great for you.
However, if you plan to invest over €250 in each loan, you can make settings according to your desired level of risk. Especially loan-to-value (LTV) is worth taking a look at. As a rule of thumb, the lower the LTV, the lower the risk.
Using the EstateGuru auto-invest settings can be a really good idea due to the fact that the loans on EstateGuru typically are funded very quickly.
2. EstateGuru secondary market
In October 2019, EstateGuru enabled investors to use a secondary market on its platform. You can use this feature to either resell loans or buy loans from other investors that wish to resell their loans.
The EstateGuru secondary market is great if you want to sell your loans before maturity if you want more liquidity or if you find better investment opportunities somewhere else.
However, if you consider reselling your investments on the secondary market, you should be aware that there is a 3% fee for doing so. It is also only possible to sell investments that are fully funded and are over 30 days old. For buying, there is no fee.
3. EstateGuru Premium
In September 2018, EstateGuru Premium was introduced to the platform. If you invest more than €100,000 on the platform, it is possible for you to join this "club". You will get an invitation from EstateGuru when your account exceeds €100,000.
Some of the benefits of being a member of EstateGuru premium are:
Getting pre-notified about upcoming loans
Possibility of marking interest in loans before they are published
A personal EstateGuru contact
Free Trustly deposits
Invitations to EstateGuru events
Bonus offers for larger investments
If you want access to these large investor benefits, you'll have to deposit at least €100,000 to invest at EstateGuru after you open an account on the platform.
4. Investments secured with collateral
One of the best things about investing via Estateguru is the fact that all loans on their platform are secured with collateral. Moreover, thorough due diligence is conducted before an asset is made available for funding on the platform. However, EstateGuru does not guarantee your loans.
The collateral with which the loans are secured can be things such as land or an apartment. If the borrower then can't repay their loan, EstateGuru will make sure that the collateral is sold, and most of your investment should then be recovered.
5. EstateGuru tax report
The interest that you receive from borrowers is gross income. This means that EstateGuru does not deduct any tax from your investments.
In order to file your taxes to your local tax authorities, you can download your transaction data as a tax report on EstateGuru. Your transactions can be exported as PDF, Excel, or a CSV-file.
6. EstateGuru bonus of 0.5%
EstateGuru offers an investment bonus of 0.5% for the first 3 months for new investors that get referred by current investors on the platform.
We have included our referral links from the platform on this page. So if you sign up with one of the links from this page, you can get the bonus.
Simply click the button below to get the EstateGuru cashback bonus (no referral code or promo code needed):
Who can use EstateGuru?
Both individuals and organizations can invest via EstateGuru.
Individuals
If you want to invest as an individual, you must at least meet the following requirements:
Being at least 18 years old
Having a bank account in countries in the European Economic Area or Switzerland
Answer the EstateGuru appropriateness questionnaire
Going through certain KYC procedures
If you live up to these requirements, then you can start investing via the platform.
Organizations
It is also possible to start investing with EstateGuru if you run a company. When you are filling out the registration form, you should just click "select this if you represent a company". From here, it should be straightforward to sign up as a company on the platform.
Available countries
It is possible to invest via EstateGuru in the vast majority of countries in the world. Today, you will find investors from over 100 countries like the UK, Germany, Latvia, Portugal, and Finland. As some countries are restricted due to different laws and procedures, it can be a good idea to contact EstateGuru if you want to know if and how you can become an investor on the platform – you can use the chat on the website.
How safe is EstateGuru?
To determine if EstateGuru is safe, we have looked at some of the potential upsides and downsides of investing on the platform in the following part of our EstateGuru review.
1. EstateGuru OÜ profitability
EstateGuru OÜ is very transparent about its financials and you are able to find its annual reports on the website. By looking at the annual report for 2018, we found that EstateGuru made a profit for the year of €109,259. This contributes positively to the safety of the platform as there is less risk of a profitable business going bankrupt. This also reduces the platform risk.
It is also far from all crowdinvesting platforms that are profitable. But here EstateGuru is ahead of the competition.
You can see the latest public financial information about EstateGuru OÜ via Bisnode Credit Reports.
2. Main risks
In the following, we go through some of the main risks of using EstateGuru that we have considered when making this EstateGuru review:
EstateGuru bankruptcy risk
Of course, there is a risk of EstateGuru going bankrupt. Like many other P2P platforms, EstateGuru has also created a procedure for what should happen in this case:
If EstateGuru goes bankrupt, then the agreements between borrowers and investors will still be valid. This is due to the fact that EstateGuru is a facilitator of investments and not an asset manager. The agreements made on the platform will be transferred to another capable management company that will manage the interests and investments of participants on the platform. EstateGuru has also secured investors by keeping their funds separate from the company's own assets.
Financial turndown risk
If you choose to invest in real estate via EstateGuru, then you also take on risks related to real estate.
A financial turndown in real estate could affect the investments on EstateGuru as a real estate crash could cause a decline in property values. This will probably cause more defaults on the platform.
Is EstateGuru safe?
As EstateGuru is a profitable company, there is less risk than on many of the unprofitable P2P platforms.
Moreover, due diligence on the projects is also conducted by EstateGuru before they are listed on the platform. However, if you choose to invest via EstateGuru, you should include the possibility of a real estate crash in your consideration as it will probably affect the return of your investments.
Overall, we believe that EstateGuru is a great platform with serious projects and decent management.
Is EstateGuru regulated?
EstateGuru is a regulated crowdfunding platform. It has obtained applicable regulations in the countries in which it operates. Here are the obtained licenses:
United Kingdom: FCA Crowdfunding license (obtained in 2019)
Lithuania: Crowdfunding license (obtained in 2019)
Finland: Crowdfunding license (obtained in 2020)
Germany: EstateGuru is in the process of obtaining a license
EstateGuru also operates in Estonia and Latvia. In these countries, no regulations apply to crowdlending.
Our experience with EstateGuru
Of the many real estate crowdfunding platforms we have tested, EstateGuru is one of the most transparent ones. The fact that we were easily able to find annual reports about the company was a big plus in our book.
When it comes to investing, we think that EstateGuru has the essential features. However, we have experienced that it sometimes can be a bit difficult to get all funds invested on the platform, as there is a limited amount of projects.
For smaller investors, the fact that you have to invest €250 per loan when using auto-invest to unlock the advanced settings like deciding on a maximum loan-to-value (LTV) didn't make much sense to us. However, for larger investors, the feature is really great.
EstateGuru reviews on Trustpilot
Trustpilot is a great place to learn what other people think of EstateGuru. We have collected some bad, some average, and some good EstateGuru reviews from Trustpilot for you to take a closer look at: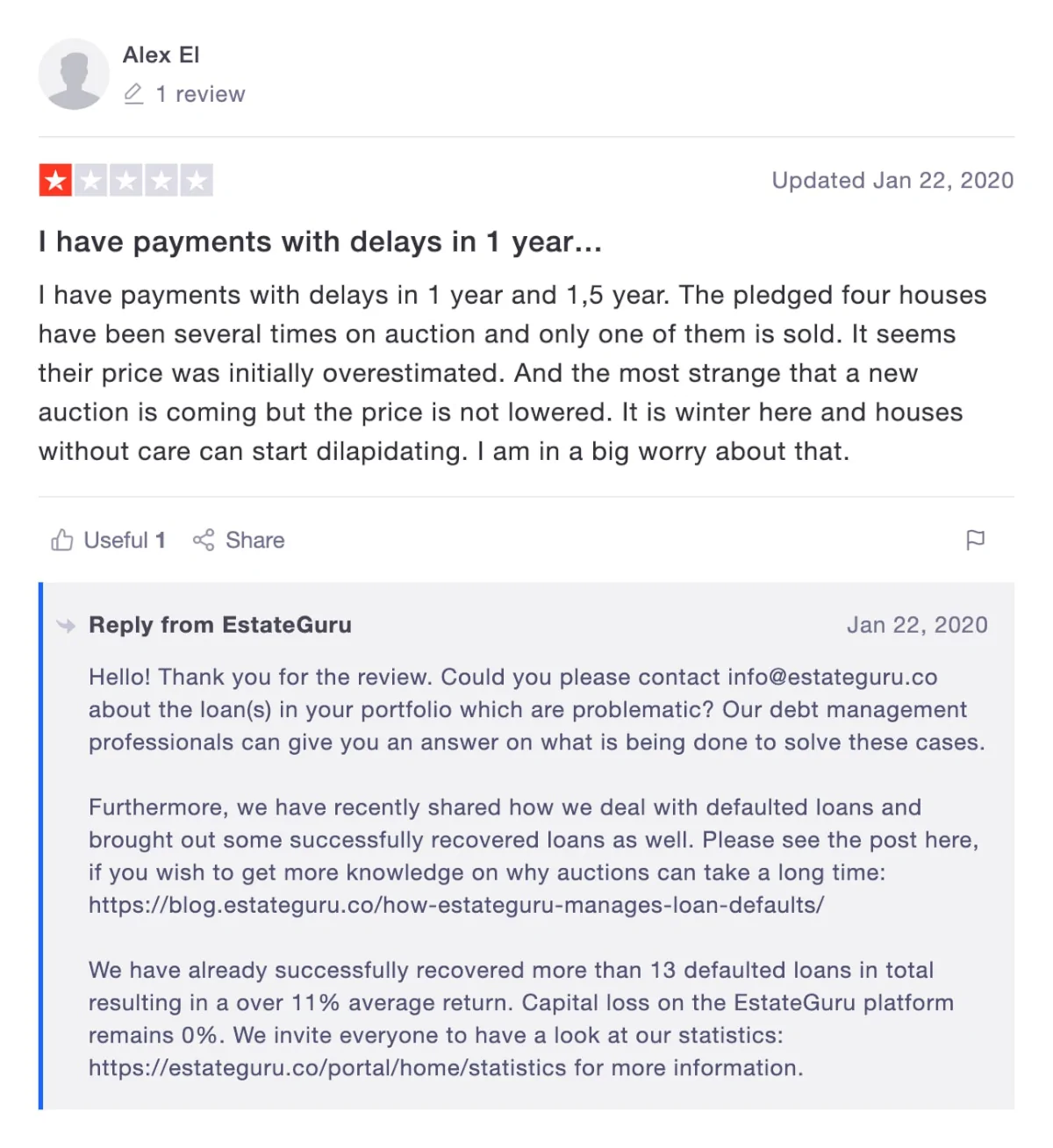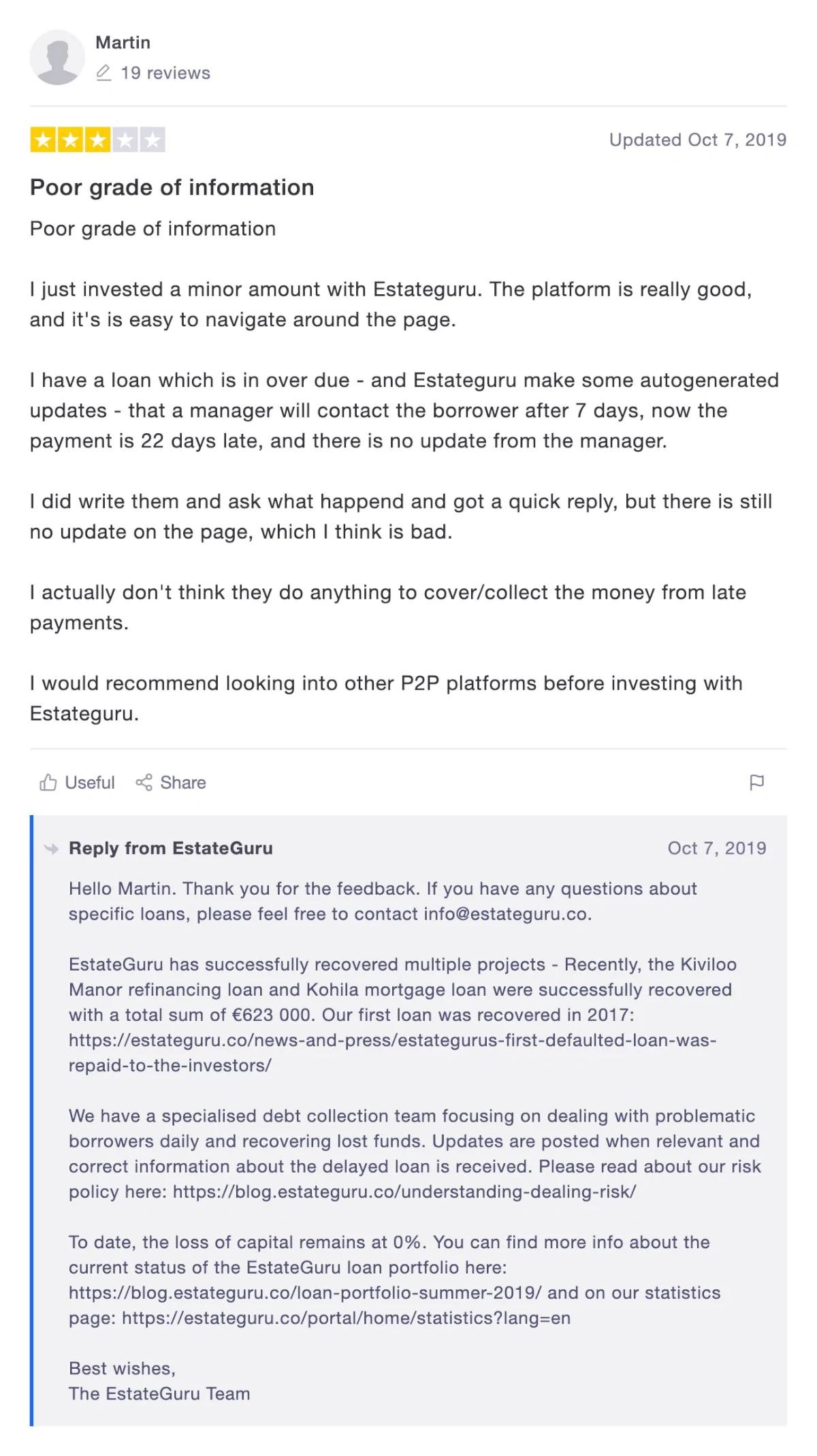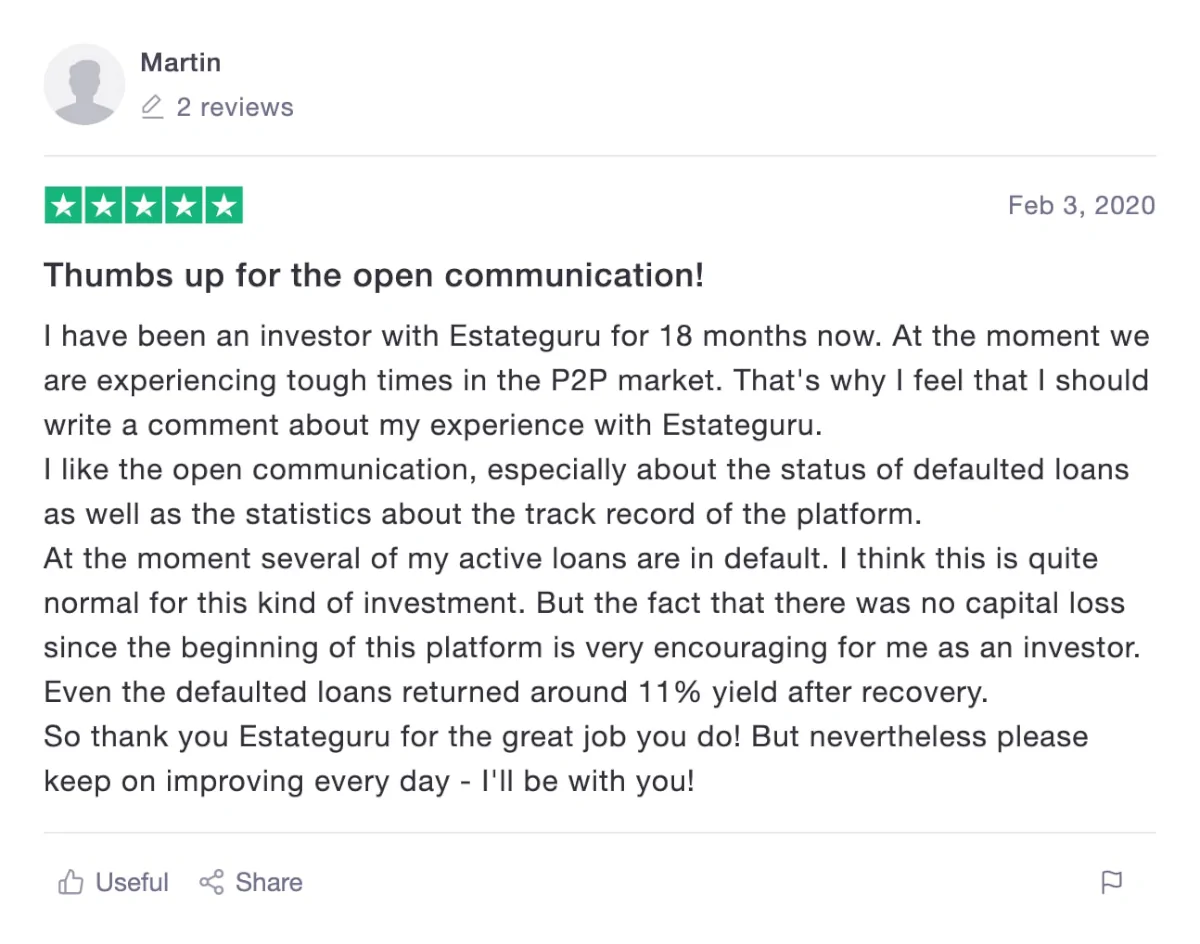 Best EstateGuru alternatives
Not sure EstateGuru is the right choice for you? Then there are also some good EstateGuru alternatives to consider. The following are some of our favorites:
Even if you choose to use EstateGuru, it may still be a good idea to take a closer look at some of the platforms above. By using multiple platforms you minimize your overall platform risk. At the same time, you will have the opportunity to diversify your portfolio further.
EstateGuru vs Crowdestate
Investors often ask how EstateGuru compares to one of its closest competitors Crowdestate. Generally, the two platforms are much alike. But there are some areas where each platform is slightly better.
EstateGuru has the most popular platform with the most investors of the two. It has a lower minimum investment than Crowdestate which makes it easier to diversify your portfolio with even small amounts of capital. The project descriptions also tend to be a bit more structured on EstateGuru's P2P platform, which is great if you want to invest manually.
Crowdestate is superior when it comes to the yield of your investments. Here you should remember that increased reward often follows increased risk. At the same time, they tend to offer loans with longer durations than EstateGuru.
EstateGuru vs Mintos
Many investors also want to know if they should select EstateGuru or Mintos. Choosing between the two is like choosing between pears and apples.
EstateGuru is focused on real estate projects that are secured by collateral. Mintos is mostly focused on consumer loans like payday loans, car loans, etc.
Which platform you should choose, depend on what you want exposure to in your portfolio.
Conclusion of our EstateGuru review
In conclusion to our EstateGuru review, we think that EstateGuru is one of the best platforms in the market when it comes to real estate projects. They have been in the market for a long time, and have managed to turn into a profitable company. They are very transparent about the projects on their platform and offer great features like auto-invest and a secondary market.
EstateGuru also nurtures the big and most influential investors on the platform. Among other things, they offer benefits for investors with over €100,000 on the platform like bonuses for larger investments and invitations to EstateGuru events.
All the investments are secured with collateral, which is great for investors. They are also open about the fact that they expect defaults, but that the collateral oftentimes will protect the investors anyways.
With that said, EstateGuru is definitely one of our favorite real estate crowdfunding platforms.