Crowdestate review 2023
Is Crowdestate a great platform for real estate crowdfunding? Find out in our Crowdestate review below:

Review summary:
For investors from most countries, Crowdestate is a decent platform for real estate crowdfunding. They offer a very high return while having a long track record of no defaults. At the same time, they are very transparent and offer a lot of information about the projects featured on their website. Crowdestate's auto-invest feature makes it easy to invest, while their secondary market makes it possible to exit an investment ahead of time – which we don't think you will.
It's free to use the platform.
At P2PPlatforms.com, we strive to list only the absolute best companies in the P2P industry. Where appropriate, we also feature our partners. This doesn't influence our evaluations. All opinions are our own.
Introduction to our Crowdestate review
Are you considering investing via Crowdestate? Then read on. We've written this Crowdestate.eu review to help investors determine if Crowdestate is the right choice for them.
Below you will find an overview of the things that we will discuss more in detail in this Crowdestate review. Simply click on the links to jump directly to the thing you want to know more about.
Learn about this in our Crowdestate review:
What is Crowdestate?
Crowdestate is a crowdfunding platform that allows you to invest in real estate investment opportunities across Europe. In addition, you can also find corporate investment opportunities and short-term mortgage loans with a duration of up to 5 years on the platform.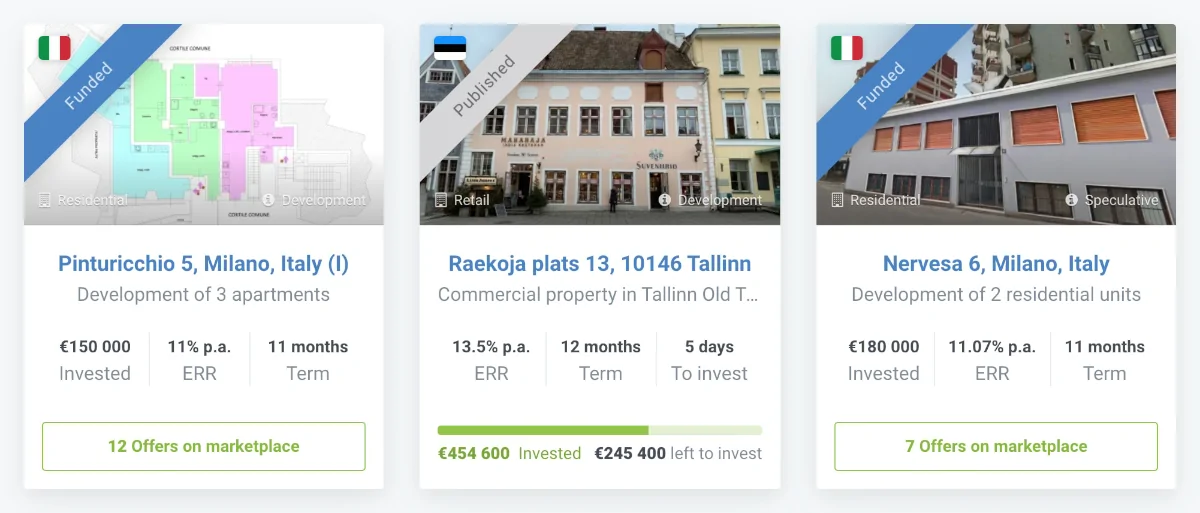 The company behind Crowdestate is located in Estonia. It was founded in 2014, and since its launch, an increasing number of investors have decided to join the platform.
More than 65,000 investors have registered on the platform, receiving an average return of 9.42%.
It is possible for investors to start investing on the platform with as little as €100.
Crowdestate statistics:
| | |
| --- | --- |
| Founded: | 2014 |
| Loan Type: | Real Estate |
| Loan Period: | 1 – 48 Months |
| Loans Funded: | € 125.000.000 + |
| Crowdestate Users: | 65.000 + |
| Minimum Investment: | € 100 |
| Maximum Investment: | Unlimited |
| Crowdestate Interest Rate: | 9.42% |
| Loss of Investors' Money: | 0% |
How Crowdestate works:
Crowdestate has a two-sided business model. On the one hand, their job is to attract various real estate projects to their platform that need funding. On the other hand, Crowdestate should also attract enough investors who want to invest in the projects they attract to their platform.
Crowdestate manages to find plenty of pre-market real estate investment opportunities through its local real estate developers network. Afterward, Crowdestate performs in-depth due diligence on the investment opportunities. Of the reviewed opportunities, only about 5% of the cases make their way to Crowdestate.eu.
Here, you and other investors will have the opportunity to invest in the projects listed on their website.
Once a crowdfunding campaign is fully funded, the company receives the money and can then get started on its project.
From here, the money must be repaid by the companies to the investors according to the terms and conditions of the loan.
Once the money has been repaid, a win-win situation has been created for both investors and projects at Crowdestate.
Frequently asked questions:
Key features
We have already taken a look at some of the reasons why Crowdestate has become a popular choice among investors. In the following, we take a closer look at some of the key features that make it easy to invest via the platform:
1. Crowdestate auto-invest
In November 2017, Crowdestate introduced an auto-invest feature to its platform. This made it possible to invest in loans on their platform without constantly having to check for new loans. You can do so based on a set of criteria you decide.
To use their auto-invest strategy, follow this process:
Log in to your account
Go to "Autoinvest"
From here you can make Autoinvest rules to make Crowdestate automatically invest in the types of loan which you desire: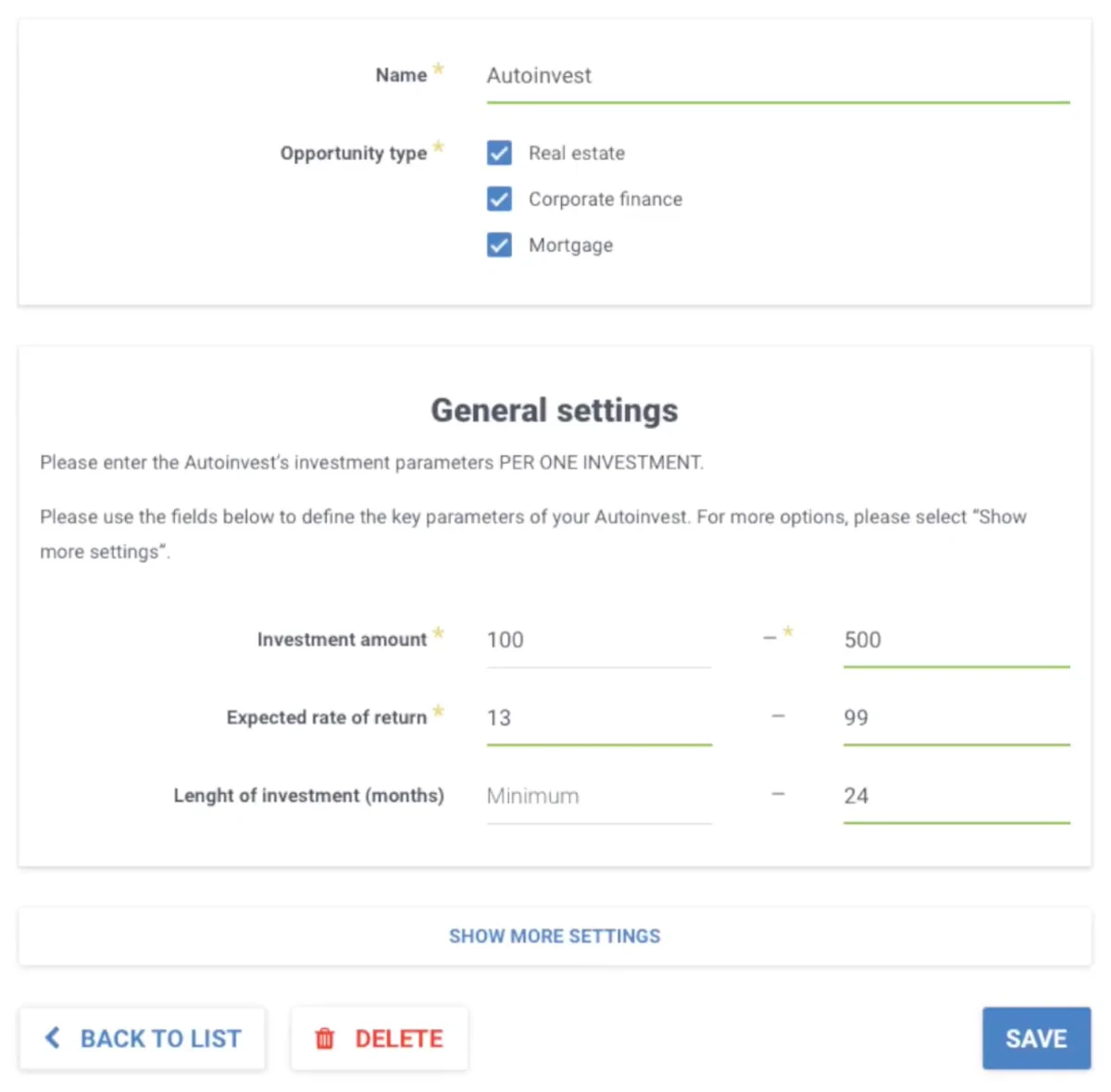 Here you can automatically select projects based on an investment amount per loan and expected rate of return. At the same time, you can specify which types of opportunities you want to invest in as well as the length of the investments.
Using the auto-invest feature is especially neat due to the fact that the loans are typically funded very quickly on Crowdestate.
2. Crowdestate secondary market
In April 2018, Crowdestate enabled a secondary market on its platform. This allowed investors on the platform to sell an investment ahead of time in case this became necessary.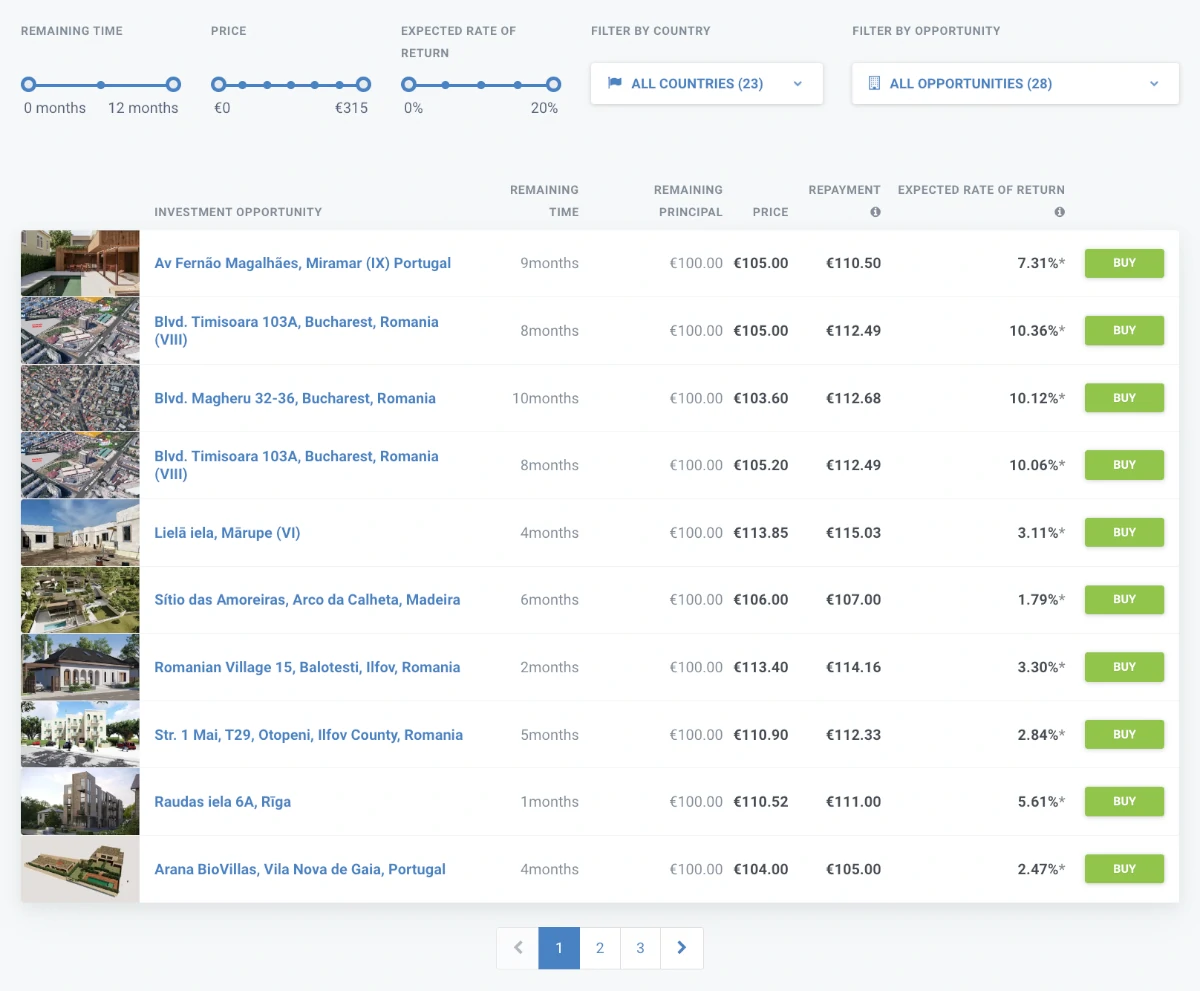 In the Crowdestate secondary market, you can also sometimes buy discounted investments, which can increase your overall return.
Primarily, however, the secondary market is a good idea if you want to sell your investments ahead of time if you lack liquidity, or if you just find better investment opportunities elsewhere.
Who can use Crowdestate?
Both individuals and organizations can invest via Crowdestate.
Individuals
If you want to invest as an individual, you must at least meet the following requirements:
Being at least 18 years old
Getting your identity verified by Crowdestate
Being from one of the available countries (check availability)
If you live up to these requirements, then you can start investing via the platform.
Organizations
If you run a business, investing with Crowdestate is also possible. However, there are some other procedures for creating an account for a business than for a private individual. Therefore, it might also be a good idea to contact Crowdestate to find out more about the options – they are usually really good at answering.
Available countries
It is possible to invest via Crowdestate in the vast majority of countries in the world. However, the company has chosen to exclude the 49 countries below to avoid extensive reporting requirements and streamline its KYC procedures. Therefore, investing via Crowdestate is not possible in the following countries:
Afghanistan, American Samoa, Bosnia and Herzegovina, Guam, Guyana, Iraq, Laos RDV, Syria, Uganda, Vanuatu, Iran, Democratic People's Republic of Korea (DPRK), The Bahamas, Botswana, Ethiopia, Ghana, Pakistan, Samoa, Serbia, Sri Lanka, Trinidad and Tobago, Tunisia, Yemen, Belarus, Burundi, Central African Republic, China, Democratic Republic of Congo, Egypt, Eritrea, Guinea, Guinea-Bissau, Haiti, Lebanon, Libya, Maldives, Mali, Moldova, Montenegro, Myanmar (Burma), Russia, Somalia, South Sudan, Sudan, Ukraine, Venezuela, Zimbabwe, US Virgin Islands, and the USA.
If you are not from one of the above countries then you should easily be able to sign up and start investing. Otherwise, we recommend that you check out other P2P investment platforms.
How safe is Crowdestate?
To determine if Crowdestate is safe, we have taken a look at some of the potential upsides and downsides of investing with Crowdestate.
1. Crowdestate OÜ profitability
Crowdestate OÜ is a profitable company that in 2018 could present a net profit of €493,192. This contributes positively to the safety of the platform as there is less risk of a profitable business going bankrupt. This also reduces the platform risk.
According to the annual report of 2019, Crowdestate managed to make a profit of €464,107.
It is also far from all crowdinvesting platforms that are profitable. But here Crowdestate is ahead of the competition.
2. Main risks
In the following, we go through some of the main risks of using Crowdestate that we have considered:
Crowdestate bankruptcy risk
Of course, there is also a risk of Crowdestate going bankrupt. Like many other crowdlending platforms, Crowdestate has also created a procedure for what should happen in this case:
If Crowdestate goes bankrupt, then the agreements between borrowers and investors will still be valid. These agreements will be transferred to another capable management company that will manage the interests and investments of participants on the platform. Crowdestate has also secured investors by keeping their funds separate from the company's own assets.
Financial turndown risk
If you choose to invest in real estate via Crowdestate, then you also take on risks related to real estate.
Therefore, a financial turndown in real estate could affect the investments at Crowdestate. A real estate crash could cause a decline in property values.
As Crowdestate states on its website, a real estate crisis might cause the need to prolong the investment and continue to lease it out until prices have recovered.
Is Crowdestate safe?
As Crowdestate is a profitable company, there is less risk than on many of the unprofitable alternative investment platforms.
Moreover, due diligence on the projects is also conducted by Crowdestate before they are listed on the platform. However, if you choose to invest via Crowdestate, you should include the possibility of a real estate crash in your consideration as it will probably affect the return of your investments.
Overall, we believe that Crowdestate is a great platform with serious projects and decent management.
Our experience with Crowdestate
Of the real estate crowdfunding sites we have tried, Crowdestate has some of the most extensive information regarding the projects on its platform.
We particularly like that it is possible to see a SWOT analysis, rating, capital structure, repayment schedule, and more by clicking on the individual projects.
Furthermore, we really like that it is possible to see and participate in a Q&A around individual projects.
However, many of these features appear only when you have logged in on the platform. But you don't have to deposit any funds to see the features. Therefore, you can easily sign up to see why we like them so much.
Crowdestate reviews on Trustpilot
Trustpilot is a great place to learn what other people think of Crowdestate. We have collected some poor and great reviews from Trustpilot for you to take a closer look at: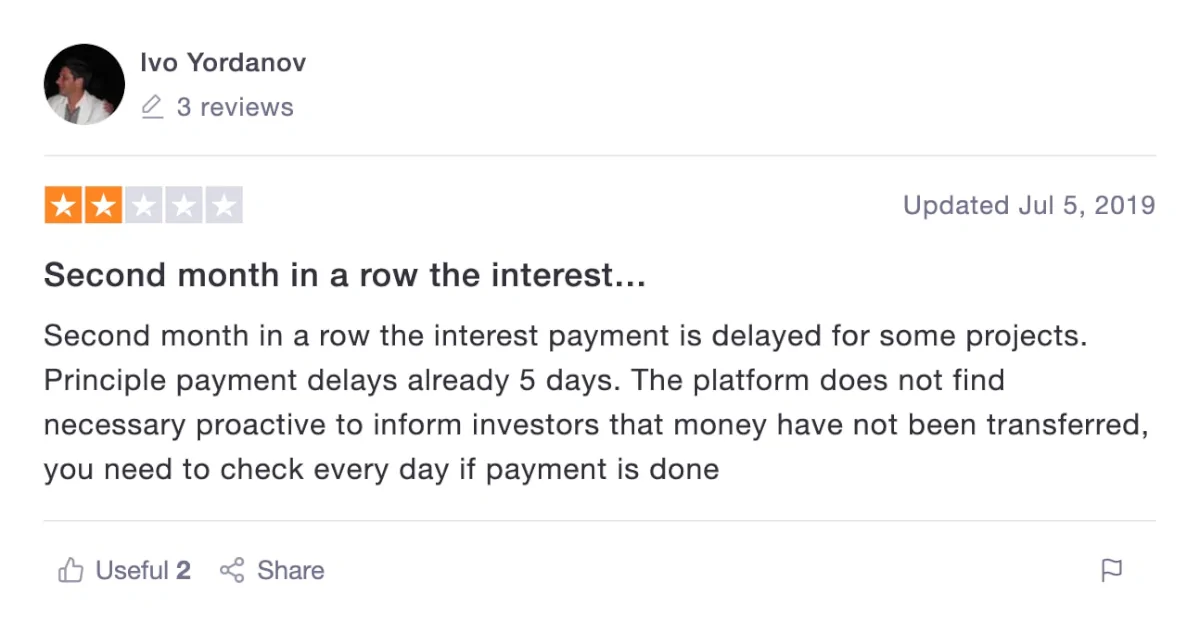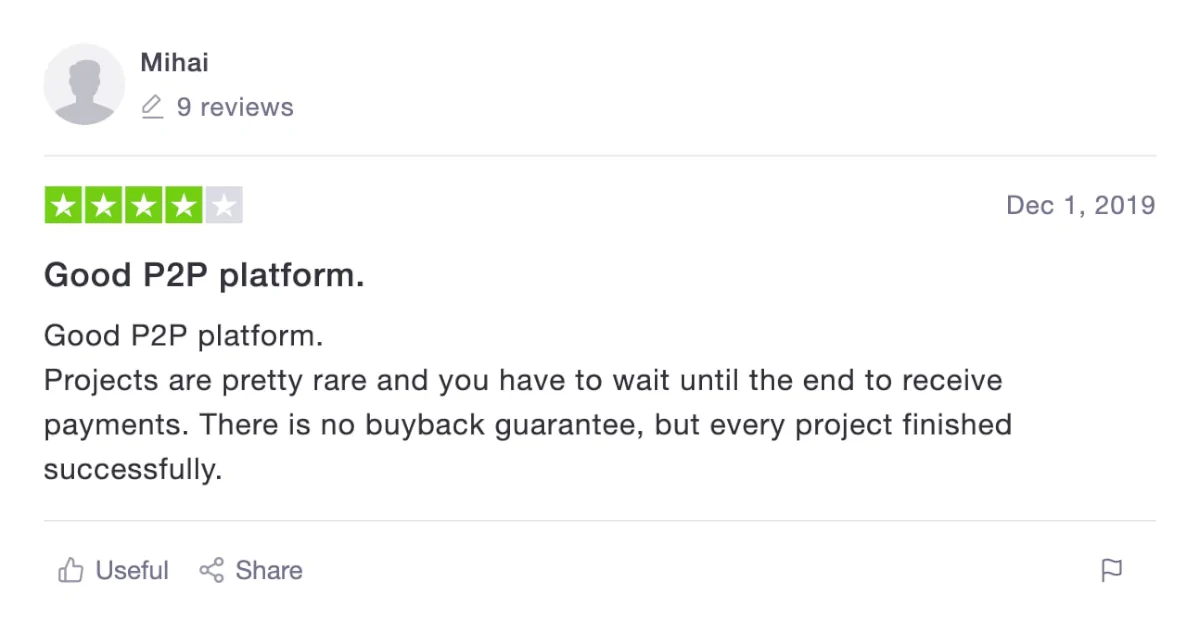 Best Crowdestate alternatives
Not sure Crowdestate is the right choice for you? Then there are also some good Crowdestate alternatives to consider. The following are some of our favorites:
Even if you choose to use Crowdestate, it may still be a good idea to take a closer look at some of the platforms above. By using multiple platforms you minimize your overall platform risk. At the same time, you will have the opportunity to diversify your portfolio further.
Crowdestate vs EstateGuru
The comparison most investors ask about is Crowdestate vs EstateGuru. In the following, we go over what differentiates the two platforms.
Crowdestate has historically had the largest return. But the minimum investment on the platform is also higher at €100 vs €50.
On the other hand, EstateGuru has the most users and is the most popular choice for investors. They also have more structured descriptions of their projects than Crowdestate.
Conclusion of our Crowdestate review
Crowdestate is a decent platform when it comes to real estate projects. They are very transparent about the projects on their platform and offer great features like the auto-invest and secondary market.
However, due to the fact that Crowdestate almost exclusively features real estate projects on its platform, for many investors, it would make sense to supplement it with a platform focused on consumer loans such as PeerBerry. This would be a great way to diversify your investments further.
With that said, Crowdestate is still worth checking out if you want to do real estate crowdfunding.