Rendity review 2023
Is Rendity a great platform for real estate crowdfunding? Find out in our Rendity review below:

Review summary:
Rendity is one of the best crowdfunding platforms for investing in real estate projects in Germany and Austria. There are no fees for making investments on the platform, but once you have made the investments you can't sell them again on a secondary market. Compared to other platforms, the average annual return of Rendity is low at around 6–7%, but this does reflect the relatively low risk of the platform. If you are looking for a regulated real estate crowdfunding platform with exposure to Germany and Austria, Rendity is the best option.
It's free to use the platform.
At P2PPlatforms.com, we strive to list only the absolute best companies in the P2P industry. Where appropriate, we also feature our partners. This doesn't influence our evaluations. All opinions are our own.
Introduction to our Rendity review
Are you considering investing via Rendity? Then read on. We've written this Rendity.com review to help investors determine if Rendity is the right choice for them.
Below you will find an overview of the things we will discuss more in detail in this Rendity review. Simply click on the links to jump directly to the thing you want to know more about.
Learn about this in our Rendity review:
What is Rendity?
Rendity is a crowdfunding platform focused on residential and commercial real estate in Austria and Germany. The company makes real estate investing more accessible, efficient, and transparent.
Rendity offers a curated selection of high-quality real estate investment opportunities, as well as the tools and information needed to make informed investment decisions, and allows its investors to build wealth through property investing in Austria and Germany.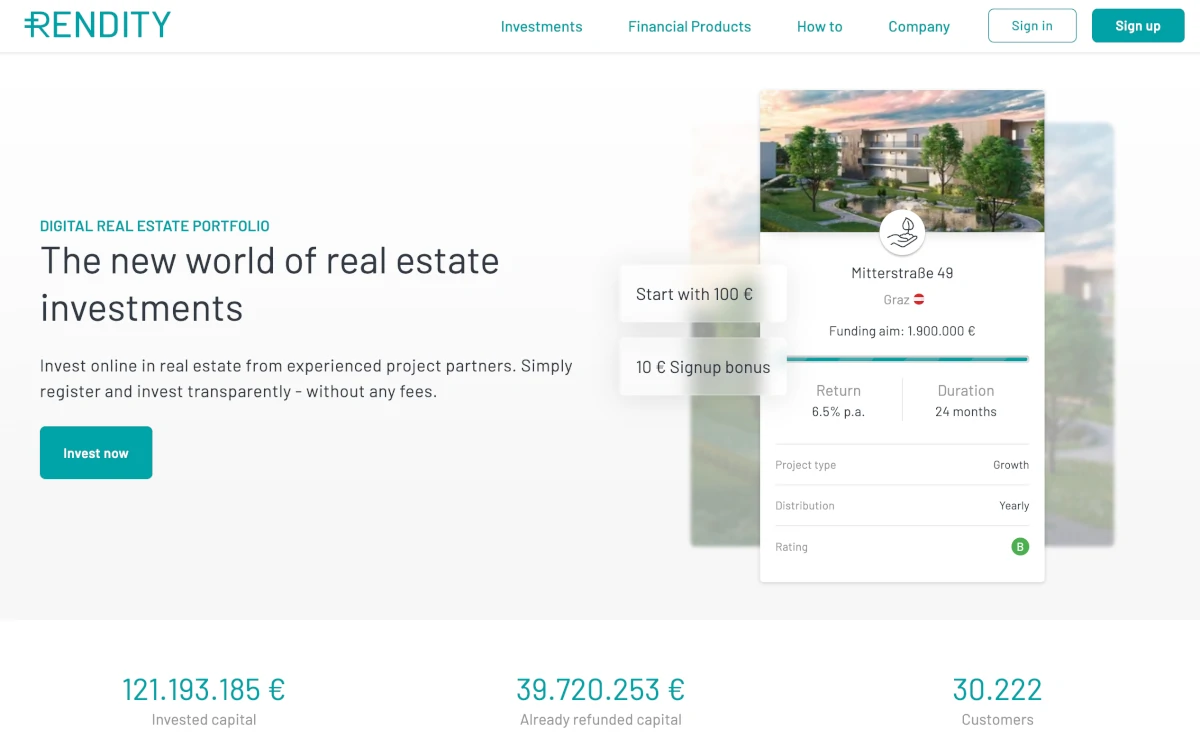 Rendity was co-founded by Lukas Müller, Paul Brezina, and Tobias Leodolter. The platform launched in 2015.
Since its launch, the platform's investors have already financed 203 projects. The percentage return per year is around 6.52%.
With as little as €500, you can open an account and start investing at https://rendity.com/.
Rendity statistics:
| | |
| --- | --- |
| Founded: | 2015 |
| Investment Type: | Real Estate |
| Investment Period: | 12-48 Months |
| Investments Funded: | € 51,870,000 + |
| Rendity Users: | 30.000 + |
| Minimum Investment: | € 500 |
| Maximum Investment: | Unlimited |
| Rendity Interest Rate: | 6.52% |
| Loss of Investors' Money: | 0% |
How Rendity works:
Like most other real estate crowdfunding platforms, Rendity must both identify relevant projects for its platform and attract investors to fund these projects.
On the platform itself, borrowers can apply for loans from €500,000 to €10,000,000 with a term of 12-48 months.
If a borrower is accepted, investors are able to invest in a project as soon as it is made available on Rendity (see current projects). You will get an interest rate from the loan itself if you buy a stake in it.
Frequently asked questions:
Key features
We have already taken a look at some of the reasons why Rendity has become a popular choice among both project originators and investors.
In the following part of our Rendity review, we take a closer look at some of the key features that make it nice to invest via the real estate crowdfunding platform:
1. Rendity robo-invest
The Rendity robo-invest tool can assist you in developing an investment strategy if you are unsure of how to invest on the platform.
You can get suggestions on which products to utilize on Rendity by providing some information about your current situation and your investment ambitions. At the time of writing, the outcome will either be Rendity Income or Rendity Growth.
The feature can be tried out on Rendity's website.
2. Rendity app
Rendity has a mobile app that makes it possible to check your investments in all places. The Rendity app is both available for iOS and Android.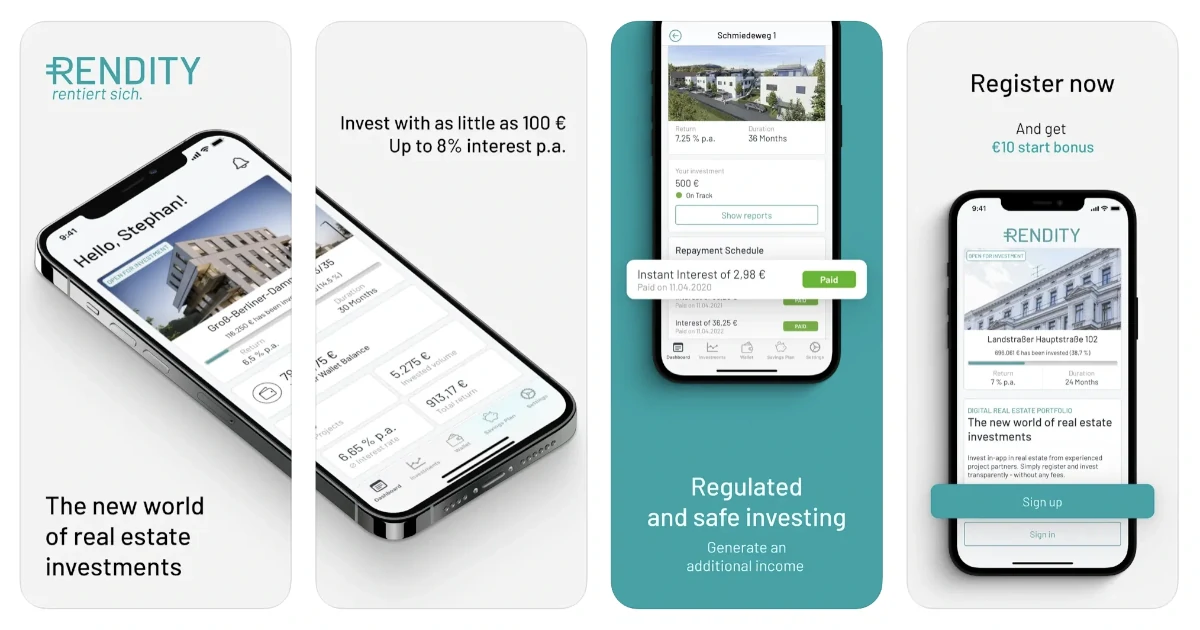 3. Rendity rating
On Rendity you can see a rating for each project.
Rendity ratings range from A to E, with E being the highest risk and A representing the lowest risk.
An A-rating will be gained if the total number of points adds up to 6–8, a B-rating will be obtained if the total number of points adds up to 9–11, and so on and so forth. This scoring system is used to decide the Rendity rating.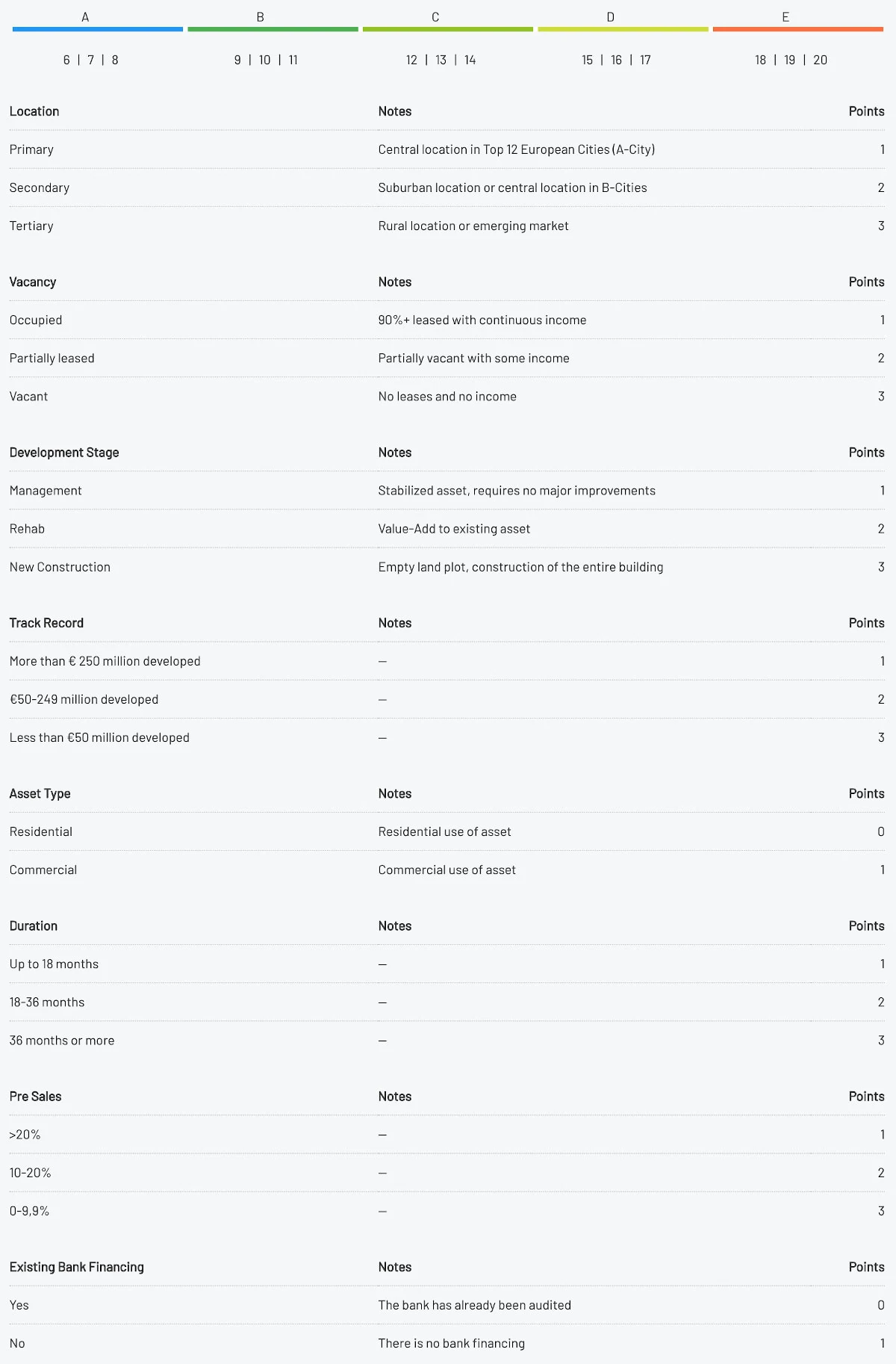 You must keep in mind that the Rendity rating is merely indicative and based on the grading scale displayed above. The scoring methodology differs significantly from the ratings provided by rating organizations like Moody's. The rating given to a project doesn't always indicate how risky it is in comparison to other projects.
4. Rendity bonus
When you create an account on Rendity, you will get a sign-up bonus of €10. The bonus doesn't require a promo code.
Please be aware that Rendity often changes this bonus, which means that it can be changed in the meantime. Previously, the bonus has been 100 euros and 25 euros.
Who can use Rendity?
Both individuals and companies can use Rendity.
Individuals
If you want to invest as an individual, you must at least meet the following requirements:
Be at least 18 years old

Have a valid bank account in the EU
If you live up to these requirements, then you can probably start investing via the platform.
Companies
You can also invest with Rendity if you own a company. To do so, you can simply click "Company" during the sign-up process.
Available countries
It is only possible to invest via Rendity if you are a citizen of a European country.
If you live outside of the EU and want to invest in real estate crowdfunding, you should check out Max Crowdfund, Profitus, or Bulkestate instead.
How safe is Rendity?
To determine if Rendity is safe, we have taken a look at some of the potential upsides and downsides of investing via the platform in the following part of our Rendity review.
1. Rendity profitability
Rendity doesn't publish financial reports to verify the profitability of the company. This means that the profitability of the platform is unknown.
2. Main risks
In the following, we go through some of the main risks of using Rendity that we have considered. Keep in mind that you should always do your own research before investing:
Loan default risk
With the properties on Rendity, there is a risk that the borrower can't repay the loan and default. To protect investors against this risk, all loans on Rendity are protected by a mortgage.
Rendity bankruptcy risk
The risk of any company going bankrupt is always present. This is also the case with Rendity.
In the unlikely event that Rendity becomes insolvent, your investments should still be safe as you have a claim against the borrower.
Financial turndown risk
Whenever you choose to invest in real estate, you take on risks related to real estate. This is also the case with Rendity.
Therefore, a financial turndown in real estate could affect your investments at Rendity due to the fact that a real estate crash could cause a decline in property values.
Is Rendity safe?
Rendity seems safe, being a regulated platform with deposit insurance of up to €100,000, having low-risk projects, and a team with a lot of experience.
The projects themselves are also from countries with relatively low risk.
Our experience with Rendity
Our overall impression of Rendity is excellent. However, the platform's return is on the low end when compared to rival platforms.
The team experience, security, and user-friendliness of the real estate crowdfunding website are excellent.
On the Rendity platform, the risk and return, in our opinion, are fairly balanced.
Right now, there are no issues with the platform.
Rendity reviews on Trustpilot
Trustpilot is a great place to learn what other investors think about Rendity. We have collected some relevant Rendity reviews from Trustpilot for you to take a closer look at: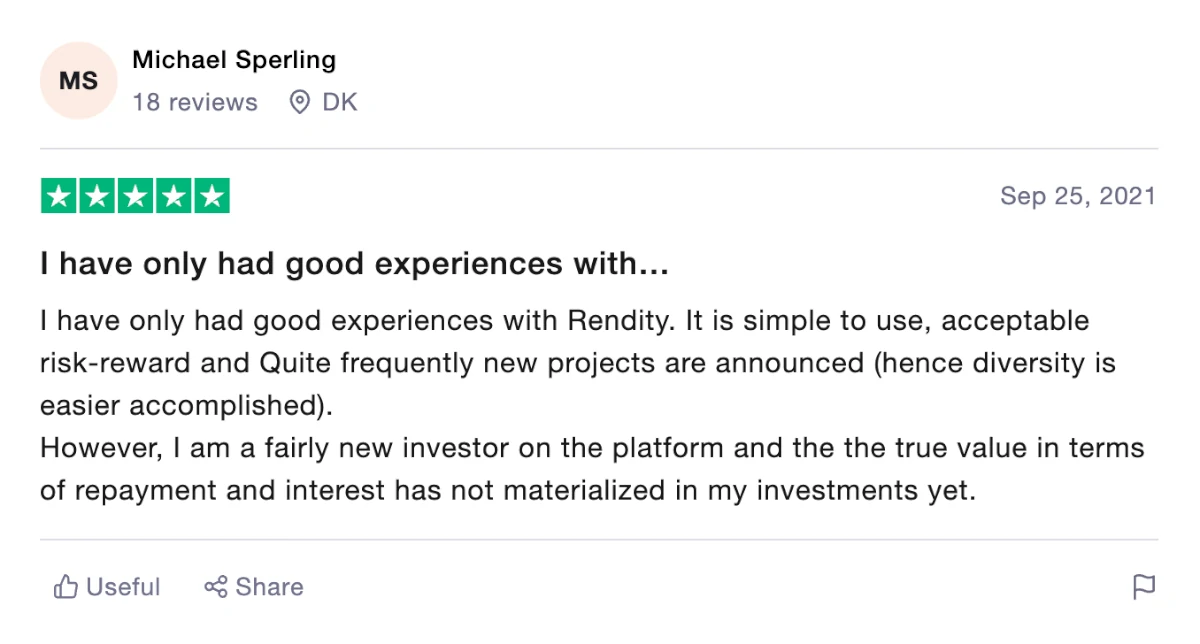 Best Rendity alternatives
Not sure Rendity is the right choice for you? Then there are also some good Rendity alternatives to consider. The following are some of our favorites:
Even if you use Rendity, it might actually be a good idea to take a closer look at some of the above platforms. By using more than one of the best P2P lending platforms in Europe, you can reduce your platform risk and diversify your portfolio further.
Conclusion of our Rendity review
Rendity is probably the best crowdfunding platform for investing in German and Austrian real estate right now.
The platform is regulated and allows you to invest in low-risk projects. The average annual return on the Rendity is relatively low at around 6-7%, but this does reflect the type of investments you are getting into.
Compared to other platforms, Rendity has a high minimum investment of €500.
Due to bad investor sentiment in Trustpilot reviews, you should probably only choose Rendity if you specifically want to invest in real estate in Germany or Austria. Otherwise, you should strongly consider more popular platforms like ReInvest24, Profitus, and EstateGuru.