Bondster review 2023
Is Bondster a great platform for P2P lending? Find out in our Bondster review below:

Review summary:
Bondster is a good platform for investors looking to invest in multiple loan types. The platform is easy to use. It is possible to invest via Bondster with just €5. If you do not want to spend time manually picking loans, you can use auto-invest instead – then you can automatically invest based on the criteria you choose. Of the drawbacks, Bondster has a fee for selling on the secondary market.
It's free to use the platform.
At P2PPlatforms.com, we strive to list only the absolute best companies in the P2P industry. Where appropriate, we also feature our partners. This doesn't influence our evaluations. All opinions are our own.
Introduction to our Bondster review
Are you considering investing via Bondster? Then read on. We've written this Bondster.com review to help investors determine if Bondster is the right choice for them.
Below you will find an overview of the things that we will discuss more in detail in this Bondster review. Simply click on the links to jump directly to the thing you want to know more about.
Learn about this in our Bondster review:
What is Bondster?
Bondster is a Peer-to-Peer lending platform that makes it possible for investors around the world to invest in different types of loans from multiple countries.
The loans are mainly personal loans (the two big pies in the illustration below), but you will also be able to find mortgage and business loans on Bondster: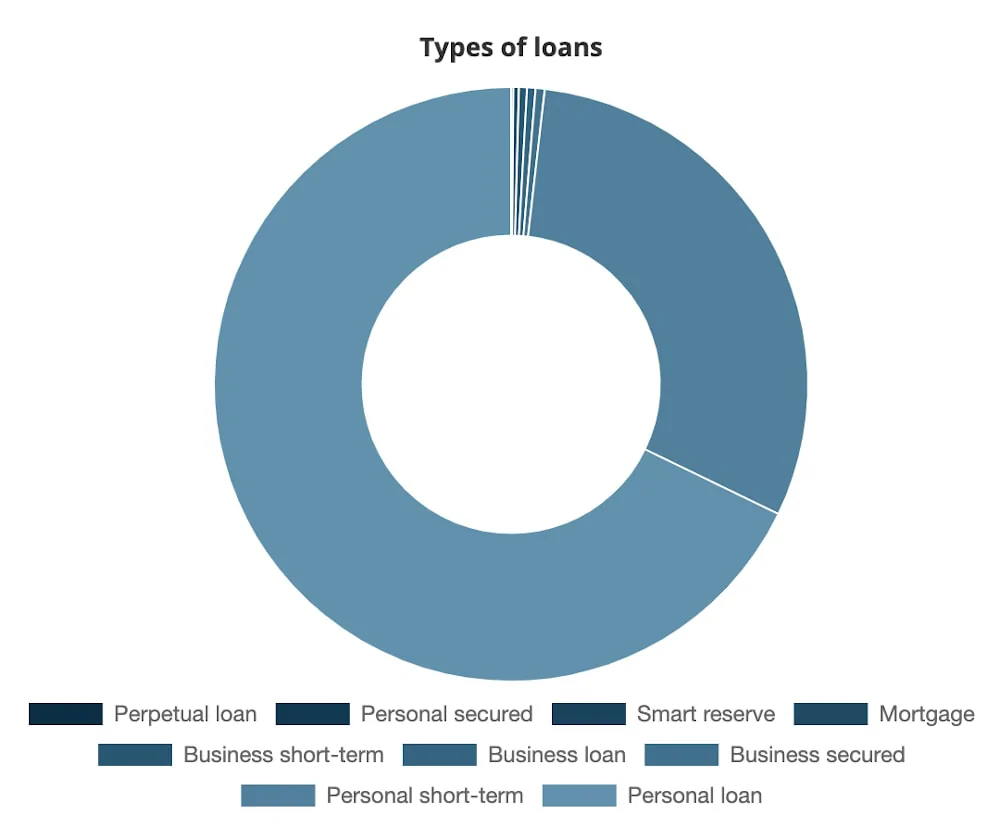 A lot of the loans on the platform are secured by either real estate or a loan provider buyback guarantee – a feature that will be explained later in this review.
Bondster was launched in 2017, and since then, a very large amount of loans have been funded on the platform:

At the time being, over 18,549 investors are investing via Bondster and have earned over 7.5 million euros in combined interest.
With as little as €5, you can open an account and start earning interest on https://www.bondster.com/.
Currently, you can get a 1% registration bonus on your investments on Bondster. All you have to do is click on one of the links from this site to theirs and start investing within 90 days. If you invest €10,000, you will get €100.
Types of loans: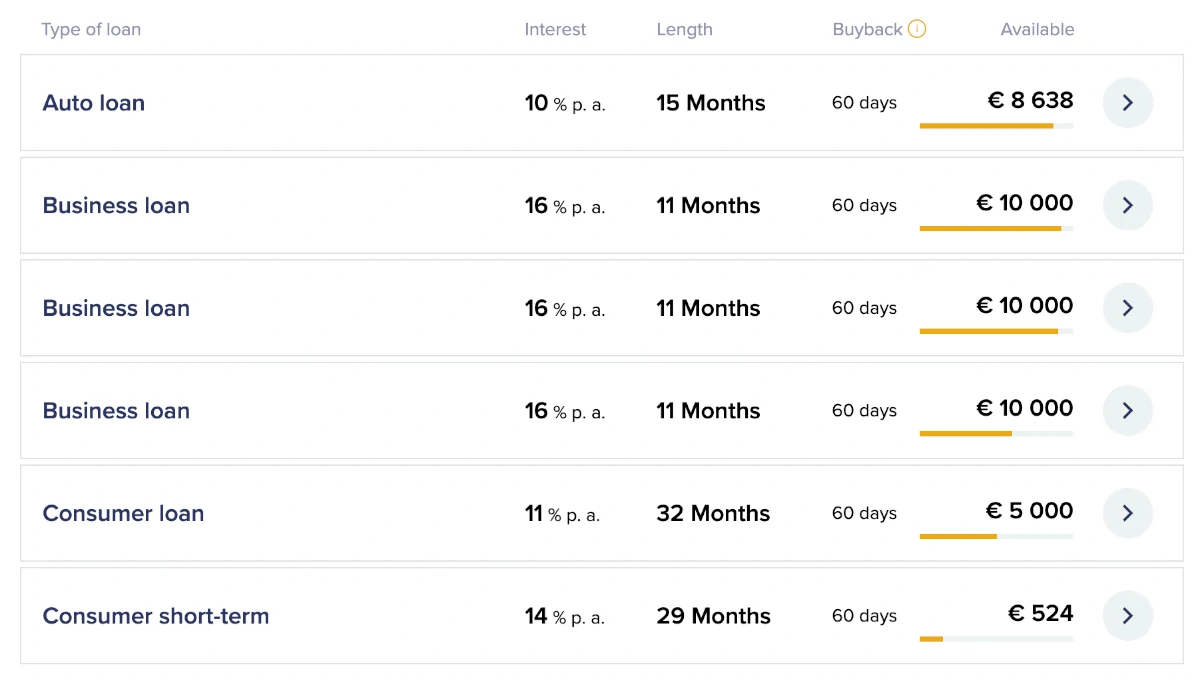 Bondster statistics:
| | |
| --- | --- |
| Founded: | 2017 |
| Loan Type: | Consumer |
| Loan Period: | 1 – 12 Months |
| Loans Funded: | € 171,600,000 + |
| Bondster Users: | 18,549 + |
| Minimum Investment: | € 5 |
| Maximum Investment: | Unlimited |
| Bondster Interest Rate: | 13.50% |
How Bondster works:
In the following, it's illustrated how Bondster works: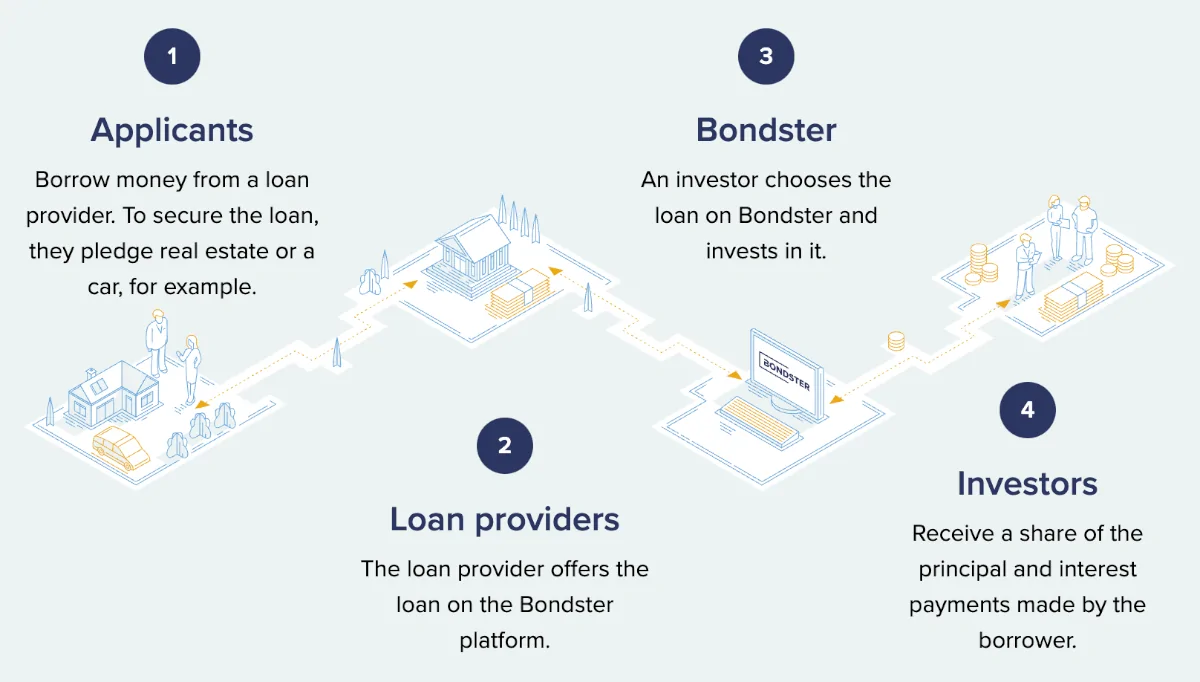 The overall journey of the investments on Bondster follows the following process.
First, a loan applicant applies for a loan from a loan provider. If the loan is accepted, the loan provider will grant the loan to the applicant with the company's own money.
Now the loan provider turns to Bondster to get the loan published for investment. From here, investors like you can invest in the loans and make a profit.
To make sure that the loan originator is still making money, the loans are offered at a lower rate than what the company is making on it.
When the loan is fully funded on Bondster, the loan provider now has more money to issue more loans.
In this way, a win-win situation is made between the lending company and the investors on Bondster.
Bondster fees: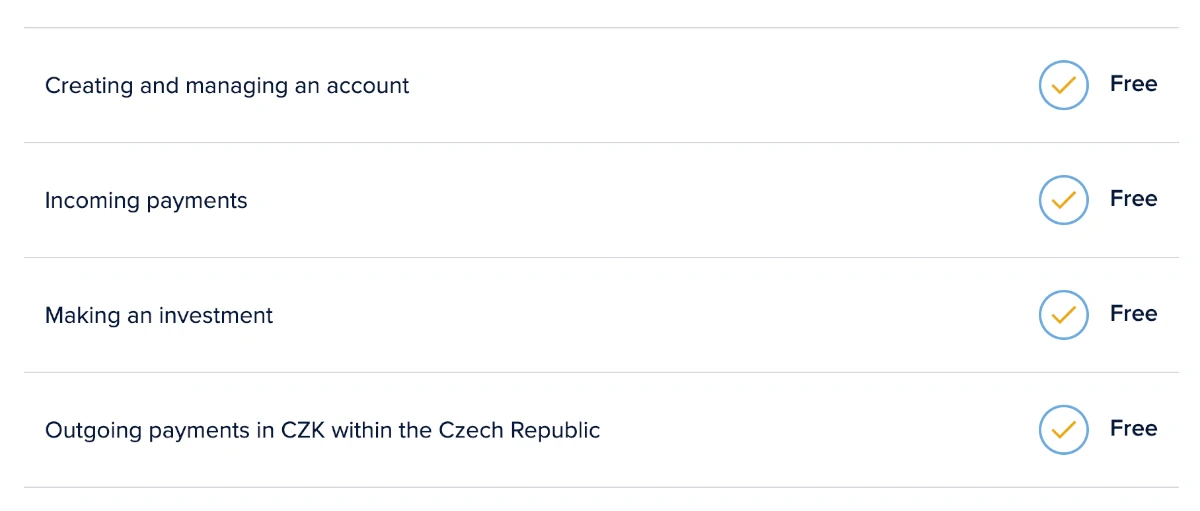 Frequently asked questions:
Key features
We have already taken a look at some of the reasons why Bondster has become a popular choice among investors. In the following, we take a closer look at some of the key features that make it great to invest via the platform:
1. Bondster buyback guarantee
99,7% of the loans at Bondster come with a buyback guarantee.
Simply put, the buyback guarantee is a guarantee to the investors that they will be compensated if a loan can't be repaid.
This compensation is made by the loan providers and not Bondster itself. So if a borrower can't repay their loan, the loan provider that has issued it in the first place will have to compensate you.
The compensation is for the amount you have invested in the loan and for the interest you would have earned in the period you had the loan.
When the buyback guarantee is activated depends on which loan provider the loan is from.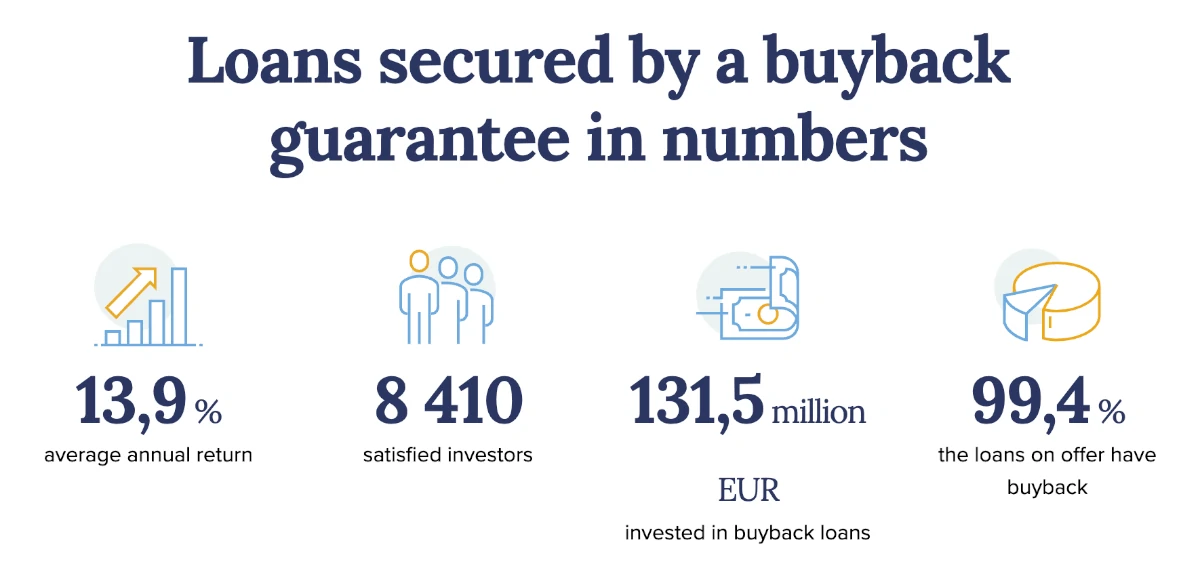 A thing you should know about buyback guarantees is the fact that they are only as solid as the ones behind them. This means that if the loan provider goes out of business, you probably won't be compensated as there is no one to buy back the delayed loans.
Therefore, you should never invest all your funds in a single loan – diversification is key.
2. Bondster secondary market
In 2021, Bondster launched its secondary market – a place where investors can trade their loans with each other.
There is a 0.5% fee for selling loans on the secondary market. Buying is on the other hand completely free of charge.
3. Bondster auto-invest
Like a lot of other P2P platforms, Bondster offers an auto-invest feature that makes it possible for you to put your loan investments on autopilot.
Basically, you simply set up some criteria that suit your investment goal. Then you make the auto-investor invest in loans on Bondster that fit the criteria you have decided upon.
The auto-invest feature on Bondster is very good – even compared to what you will be able to find at many of the best P2P lending platforms in Europe.
For example, you can make the auto-investor invest a specific percent of your portfolio in loans from each loan provider.
If you want to know more about auto-investing, you can find more information on Bondster's website.
4. Bondster risk ratings
Bondster has some risk ratings on its platform. The risk ratings follow this table: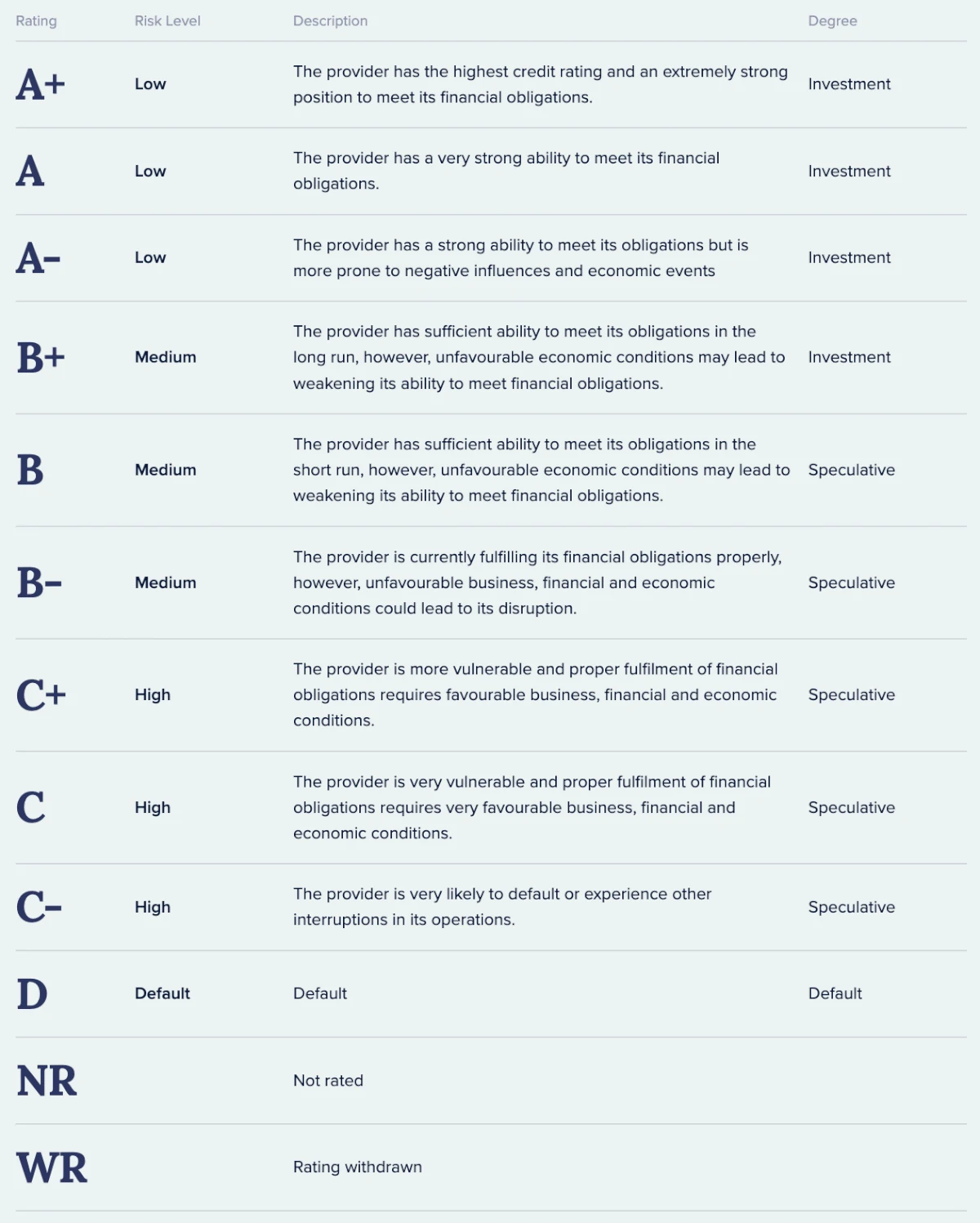 5. Cashback bonus of 1% for new investors
If you register with the button below, you will receive an additional 1% cashback bonus from the investments you hold on Bondster in the first 90 days after registering.
You will only get the bonus on the funds you put into your account and not the reinvested amount. So if you choose to invest €1,000 on Bondster, you will get an additional €10 on your account, if you sign up via our affiliate link.
To take advantage of the promotion, all you need to do is click the button below before you sign up on Bondster (No promo code needed):
Who can use Bondster?
Both individuals and companies can invest via the Bondster P2P platform.
Individuals
If you want to invest as a private person, you must at least meet the following requirements:
Be at least 18 years old
Have a bank account in the European Economic Area (EEA)
If you live up to these requirements, you can create an account at https://www.bondster.com/.
Companies
If you want to invest with your company, you can also do so on Bondster. All you have to do in order to create an account for your business is to select "Legal entity" when signing up.
From here, you will simply have to follow the sign-up process. If you are in doubt about anything, you can just reach out to the support team. You can find the information here.
Available countries
Investing via Bondster is possible from all over the world. By the end of 2019, Bondster had investors from over 73 countries – including the United States, Australia, Russia, China, and the United Kingdom.
You can see which countries Bondster had investors from at the end of 2019 marked in red below: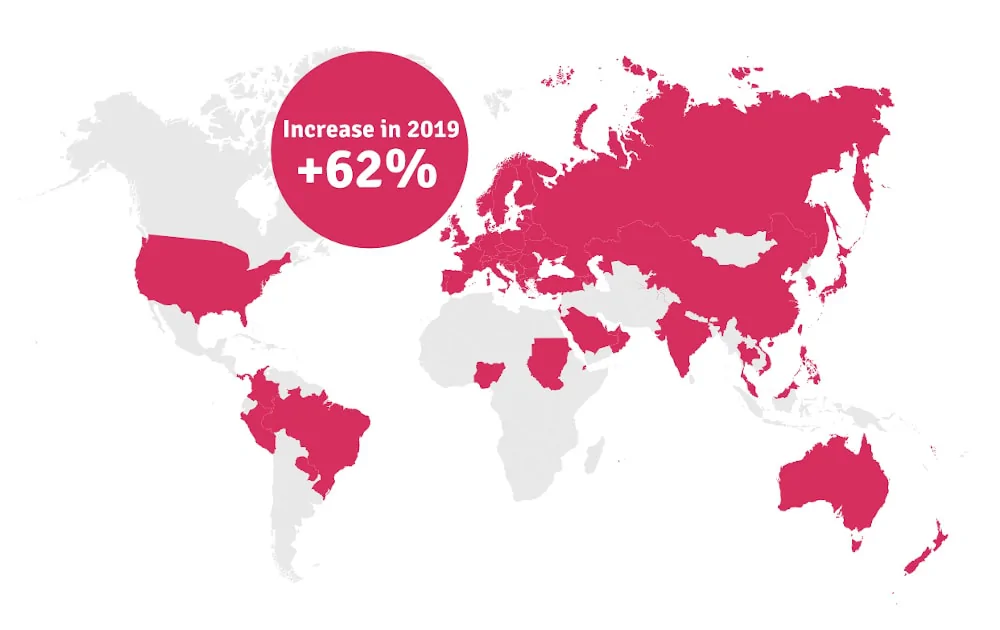 However, even though your country might not be marked in red, it should still be possible for you to sign up and invest at Bondster.
How safe is Bondster?
To determine if Bondster is safe, we have taken a look at some of the potential upsides and downsides of investing via the platform.
1. Bondster profitability
Unfortunately, we haven't been able to find a financial report that can confirm whether or not Bondster Marketplace s.r.o. is a profitable company. In the future, it would be great to see the annual reports publicly available on the website.
2. Main risks
In the following, we go through some of the main risks of using Bondster that we have considered:
Loan default risk
When you invest in loans on crowdlending platforms, there is a risk that the borrower will not be able to repay his loan. In that case, your investment is usually lost.
At Bondster, you can invest in loans with a buyback guarantee and other types of collateral to protect you against the loan default risk.
If you invest in loans with a buyback guarantee, the loan provider is required to buy back the loan if it becomes overdue by a specific amount.
A thing you must be aware of with the buyback guarantee is that it is dependent on the solvency of the loan provider. So if the loan provider goes bankrupt, the guarantee could be useless.
Loan originator risk
On Bondster you will be able to find a decent amount of loan providers:
The loan providers on Bondster pose a risk to investors. If they are not in control of their finances, have poor management, or the like, then they run the risk of going bankrupt like any other business.
On Bondster's website, you are able to find different documents about each loan provider – including financial statements.
Unfortunately, not all loan providers have their financial statements available on Bondster.
Of the loan providers with financial statements available, most of them have been profitable for longer periods, which is a positive sign for investors at Bondster.
Financial turndown risk
As P2P investing is a newer thing in the investment world, it can be difficult to predict how a financial turndown would affect this form of investment. As a starting point, it is, therefore, a really bad idea to invest your entire investment portfolio in P2P investments.
Therefore, many investors also choose to diversify into more traditional forms of investment such as equities, bonds, and traditional real estate.
Since investing is an individual thing, we obviously do not know what will be best for you. But if you put together your investment portfolio, make sure that it reflects your knowledge of the investments in it, as well as your own risk appetite. If in doubt about how to do so, make sure to seek help from a professional investment planner.
Is Bondster safe?
The company behind the platform, Bondster Marketplace s.r.o., is owned by CEP Invest – a larger investment company with 9 companies in its portfolio.
This is a positive indication of the safety of the platform. However, the fact that little information about the financial status of Bondster is provided still poses a bit of uncertainty.
Other factors such as lack of knowledge about how a financial turndown will affect the P2P lending industry are also risk factors that are worth considering.
Our experience with Bondster
Bondster is a great candidate for investors looking to do P2P investing.
The auto-invest feature's diversification option differentiates itself from most other platforms as it makes it possible to select how many percent of the portfolio one would like to invest in loans from each individual loan provider – a feature some investors might know from Mintos.
We also like the fact that the company keeps investors updated on the news part of its website as well as on social media.
Bondster reviews on Trustpilot
Trustpilot is a great place to learn what other people think of Bondster. We have collected some different Bondster reviews from Trustpilot for you to take a closer look at: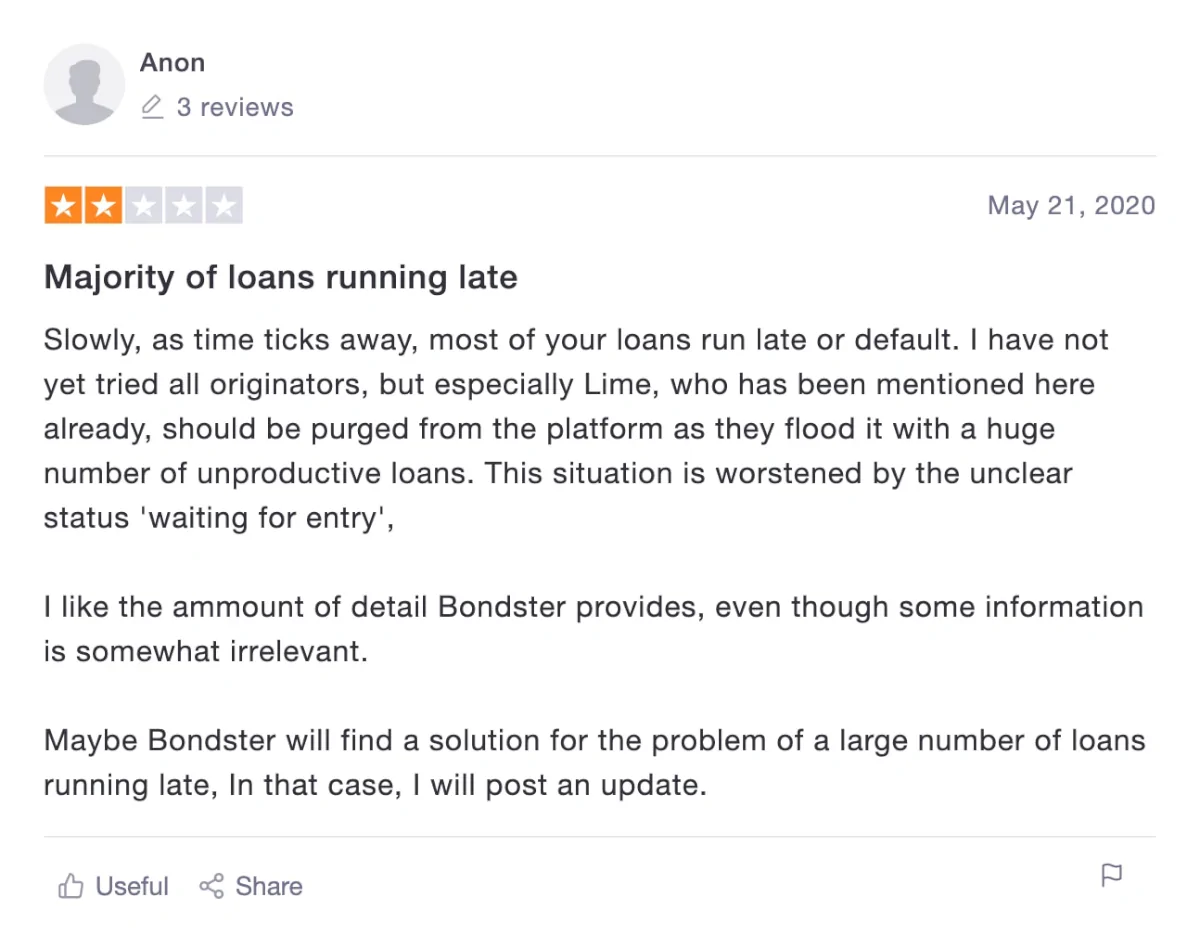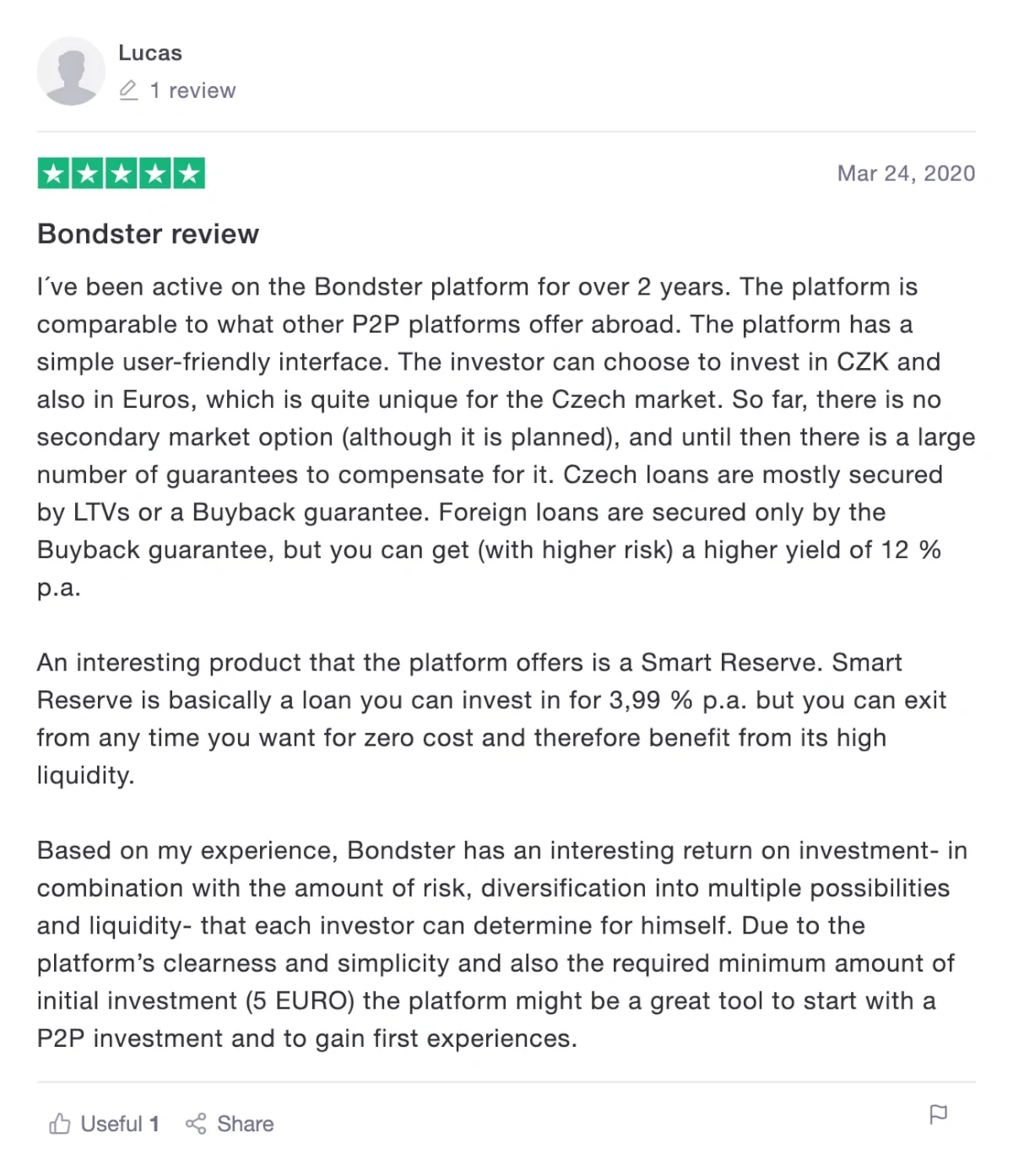 Best Bondster alternatives
Not sure Bondster is the right choice for you? Then there are also some good Bondster alternatives to consider. The following are some of our favorites:
Even if you use Bondster, it might be a good idea to take a closer look at some of the above platforms. You can reduce your platform risk and diversify your portfolio by using multiple platforms.
Bondster vs Mintos
While Bondster and Mintos are both available internationally, Mintos has a bit more features and a more time-tested platform.
With that said, Bondster is a good alternative for investors who like Mintos, but are looking to invest via similar platforms, that are not based in the Baltic region.
Bondster vs Zonky
Bondster and Zonky are fundamentally different. While Bondster offers loans via loan originators from multiple countries like the Czech Republic, Russia, Poland, and Bulgaria, Zonky is self-originating its loans.
On Bondster, you can invest with both Czech Crowns and Euros. The international platform is mainly targeting investors in Europe.
On the other hand, Zonky is only focused on the Czech Republic and Slovakia and the website is not even available in English.
The return is also higher on Bondster than on Zonky. So for the majority of investors, it would make the most sense to invest via Bondster.
Conclusion of our Bondster review
Bondster is an excellent P2P platform that has experienced tremendous growth in investors and loans over the past few years.
Even though Bondster claims to have multiple types of loans, the platform is most useful if you want to invest in personal loans as those account for over 90% of the loans on the platform.
Most of the loans are secured by buyback guarantees that work a bit differently depending on which loan provider you invest in loans from.
Overall, the platform is excellent and has some decent features and if you sign up with the link below, you will even be able to get a 1% cashback bonus on your investments within the first 90 days (reinvestments excluded).