ReInvest24 review 2023
Is ReInvest24 a great platform for real estate crowdfunding? Find out in our ReInvest24 review below:

Review summary:
ReInvest24 is one of the best real estate crowdfunding platforms right now. All investments are secured with a mortgage. The investment opportunities offered on ReInvest24 are carefully selected by their analyst team, who have experience going back to 2005. The average annual return of ReInvest24 is very high compared to other platforms. The primary downside of the platform is the fact that you can't set up automatic investments. ReInvest24 is available for investors across the world and is one of the top-rated platforms on Trustpilot.
It's free to use the platform.
At P2PPlatforms.com, we strive to list only the absolute best companies in the P2P industry. Where appropriate, we also feature our partners. This doesn't influence our evaluations. All opinions are our own.
Introduction to our ReInvest24 review
Are you considering investing via ReInvest24? Then read on. We've written this ReInvest24.com review to help investors determine if ReInvest24 is the right choice for them.
Below you will find an overview of the things that we will discuss more in detail in this ReInvest24 review. Simply click on the links to jump directly to the thing you want to know more about.
Learn about this in our ReInvest24 review:
What is ReInvest24?
ReInvest24 is a real estate investment platform from Europe that enables you to invest in different real estate crowdfunding opportunities.
The platform provides investment opportunities for development projects, real estate-backed loans, rental projects, and business loans. Reinvest24 operates in five markets which is Estonia, Latvia, Moldova, Germany, and Spain. The projects have a duration range of 1-36 months.
The real estate crowdfunding platform has a team of very experienced professionals who carefully assess each loan request before it is listed on the ReInvest24 marketplace.
ReInvest24 is a convenient and efficient way to invest in real estate without having to buy or manage properties yourself. The platform offers competitive returns and low minimum investment amounts, making it an ideal way to diversify your investment portfolio.
Here are some examples of the projects on the ReInvest24 platform: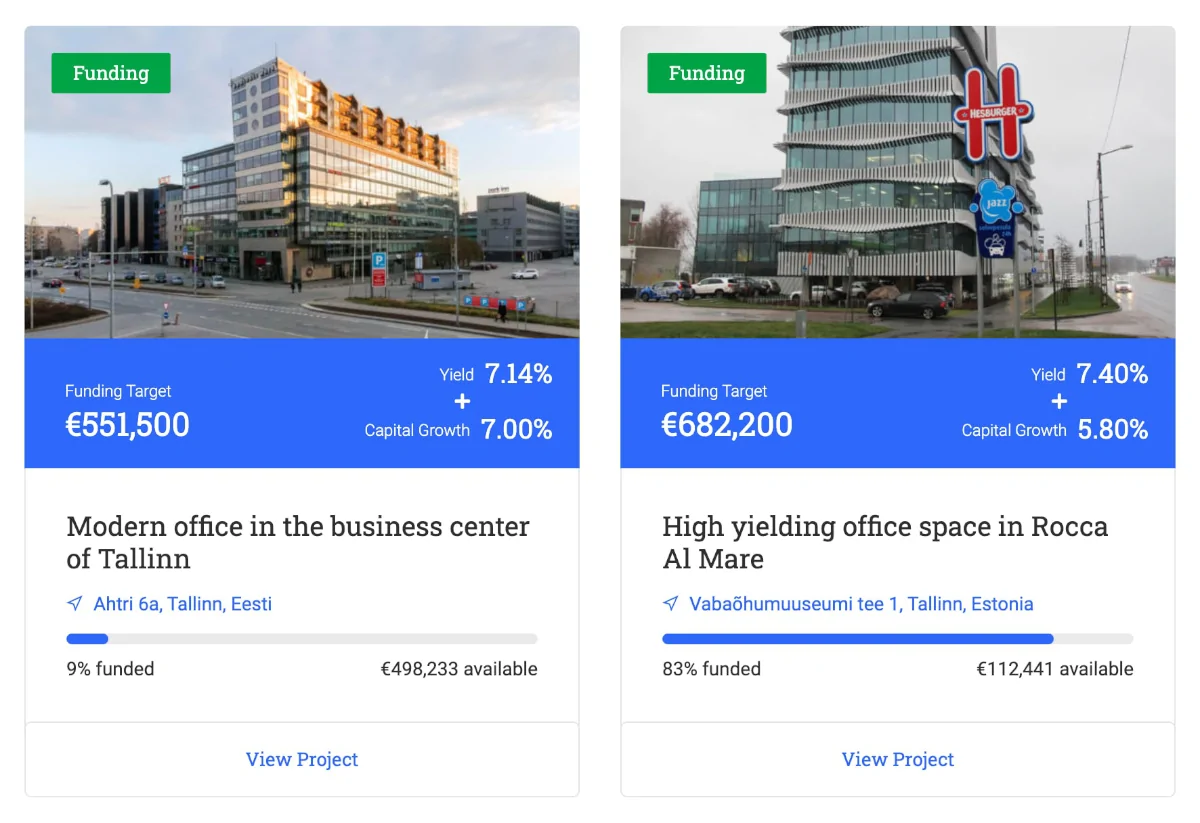 The company behind ReInvest24 is based in Tallinn, Estonia. It was founded in 2017 by CEO Tanel Orro – a former leader in the asset management department of the Estonian bank LHV.
In 2018, the platform was launched. Since then, an ever-increasing number of investors have joined the platform.
At the time of writing the average return on the platform is around 14.94%.
Investors can start investing on the platform with as little as €100.
ReInvest24 statistics:
| | |
| --- | --- |
| Founded: | 2018 |
| Loan Type: | Real Estate |
| Loan Period: | 6 – 36 Months |
| Loans Funded: | € 40.422.000 + |
| ReInvest24 Users: | 28.590 + |
| Minimum Investment: | € 100 |
| Maximum Investment: | Unlimited |
| ReInvest24 Interest Rate: | 14.94% |
| Loss of Investors' Money: | 0% |
ReInvest24 fees:
ReInvest24 has a few different fees that are worth considering before investing via the platform. Here are the fees for investors:
1% success fee from the amount initially invested. Once the property is sold and the principal, which represents your investment, is returned to you, this fee is collected.
€2 withdrawal fee for withdrawing funds from your ReInvest24 account. The withdrawal fee is the same no matter how much you withdraw. There are no deposit fees on ReInvest24.
If you are looking for a platform without fees for investors, check out Lendermarket or Swaper.
How ReInvest24 works:
ReInvest24 has a two-sided business model. On one side, ReInvest24 has to find suitable projects for its platform. On the other side, they have to find investors to invest in these projects.
To assess whether or not a project is good, their analyst team conducts a thorough due diligence check of every offered property before it's put up for funding on the platform. Among other things, they look into valuations, plans, and estimates and make any necessary legal agreements.
When a project goes live on the platform, investors can then invest in it (see current projects). If you decide to buy a project, you will receive shares that represent your ownership of the given project. These shares give you the right to the capital growth and yield of the project they represent. This works a lot like if you are buying shares in a company. You will automatically receive dividends according to the shares you own. ReInvest24 used to charge a 2% investment commission when you invest in any project, but in Q3 2020 they lowered their commission to 1%, and in Q4 2021 the fee was removed altogether. This results in a higher return for the investors.
Let's look at an investment example:
You invest in a Reinvest24 property at 10.000 EUR with an 8.8% Net Yield. The share price is 0.1 EUR and there is a monthly profit distribution. Here the investment looks as the following:
Investment: 10,000 EUR
Net Rental income: 880 EUR per year
Property Growth for 2 years: 1,025 EUR
Reinvest24 Commission: 200 EUR
Total NET Earnings: 2,585 EUR / 24 months
IRR: 13.9 %
ReInvest24 has allied itself with seasoned real estate experts from Tina Kinnisvarabüroo to help the company with everything from selecting property development projects to everyday property management.
Frequently asked questions:
Key features
In the following part of this review of ReInvest24, we take a closer look at some of the key features and advantages there are of using the P2P platform:
1. Sell shares on the ReInvest24 secondary market
In November 2020, the platform introduced the ReInvest24 secondary market. This feature made it possible for investors to sell shares before they were planned. This means that your cash is not as bound to the platform as it would otherwise be.
To sell a project on the secondary market, simply login to your account and go to "My Investments". From here, you can easily sell your investments by hitting the sell button of a particular project.
You will then end up with a screen like this, where you can choose how many shares you would like to sell and at what price: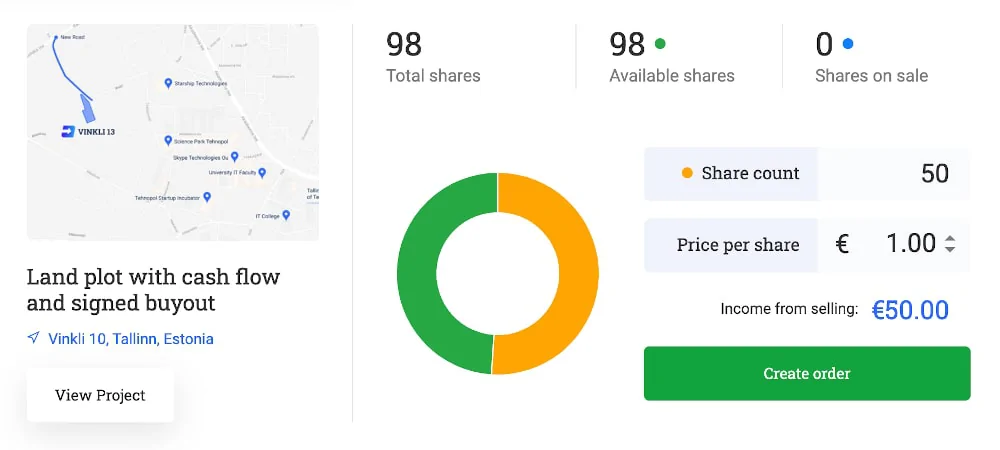 On the secondary market, there is a 1% fee for the buyer and 0% for the seller.
2. Monitor investments via live stream
Reinvest24 has live-stream cameras for Moldovan projects. This feature is unique for Reinvest24 and can provide peace of mind that the projects are moving forward. You can access the live cameras from the "Insider Updates" of an individual project.
The live stream offers a great experience for investors, allowing them to observe the progress of their projects at any time and from anywhere. It is an excellent way to stay up to date with the progress of Moldovan projects, without having to leave your house.
Who can use ReInvest24?
Both individuals and organizations can invest via ReInvest24.
Individuals
If you want to invest as an individual, you must at least meet the following requirements:
Being at least 18 years old
Not having your active legal capacity restricted
If you live up to these requirements, then you can probably start investing via the platform.
Organizations
If you run a business, it is also possible to invest via ReInvest24. Once you have signed up on the platform, you must simply go to your account and select "add business account". From here, you will be able to make a business account: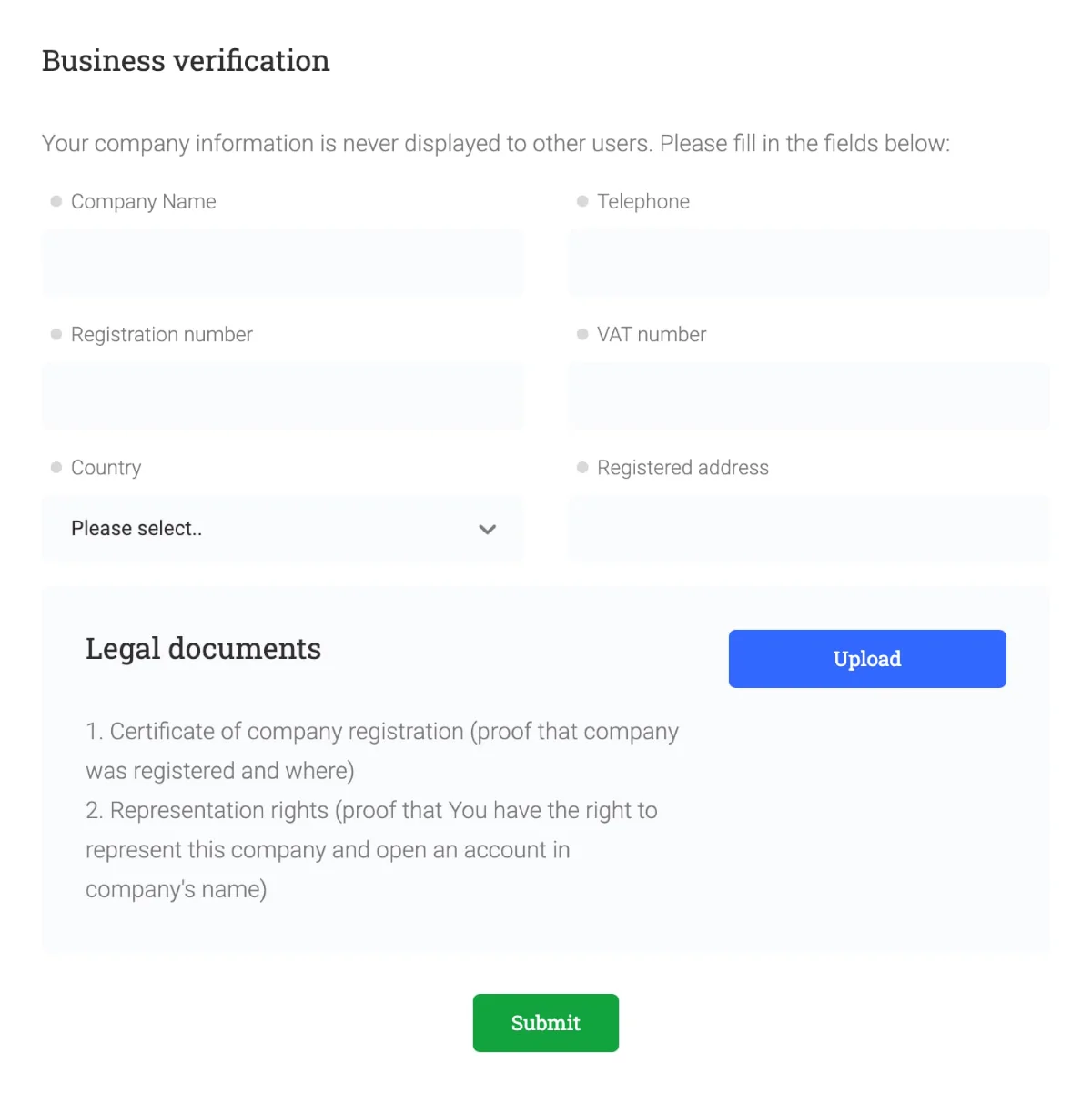 Available countries
ReInvest24 is a platform that makes it possible to invest in most countries in the world. Among others, we know about investors on the platform from:
Lithuania, South Africa, Romania, Lesotho, Bulgaria, Canada, Estonia, Netherlands, United Kingdom, United Arab Emirates, Nigeria, Greece, Bosnia and Herzegovina, Taiwan, Dominican Republic, Italy, Ireland, Germany, Kuwait, Malaysia, Slovakia, and Rwanda.
If you are from one of the countries above, it should be fairly straightforward to sign up and invest via ReInvest24.
However, if you are not from one of the above countries, chances are that you can sign up and invest anyways.
If you are in doubt as to whether or not you can invest via the platform, you can always contact the support team at ReInvest24 via the contact options on the website.
How safe is ReInvest24?
To determine if ReInvest24 is safe, we have looked at some of the potential upsides and downsides of investing on the platform in the following part of our ReInvest24 review.
1. ReInvest24 profitability
According to ReInvest24's annual report for 2018, the company became profitable in the first year of operation with a net profit of €6,710.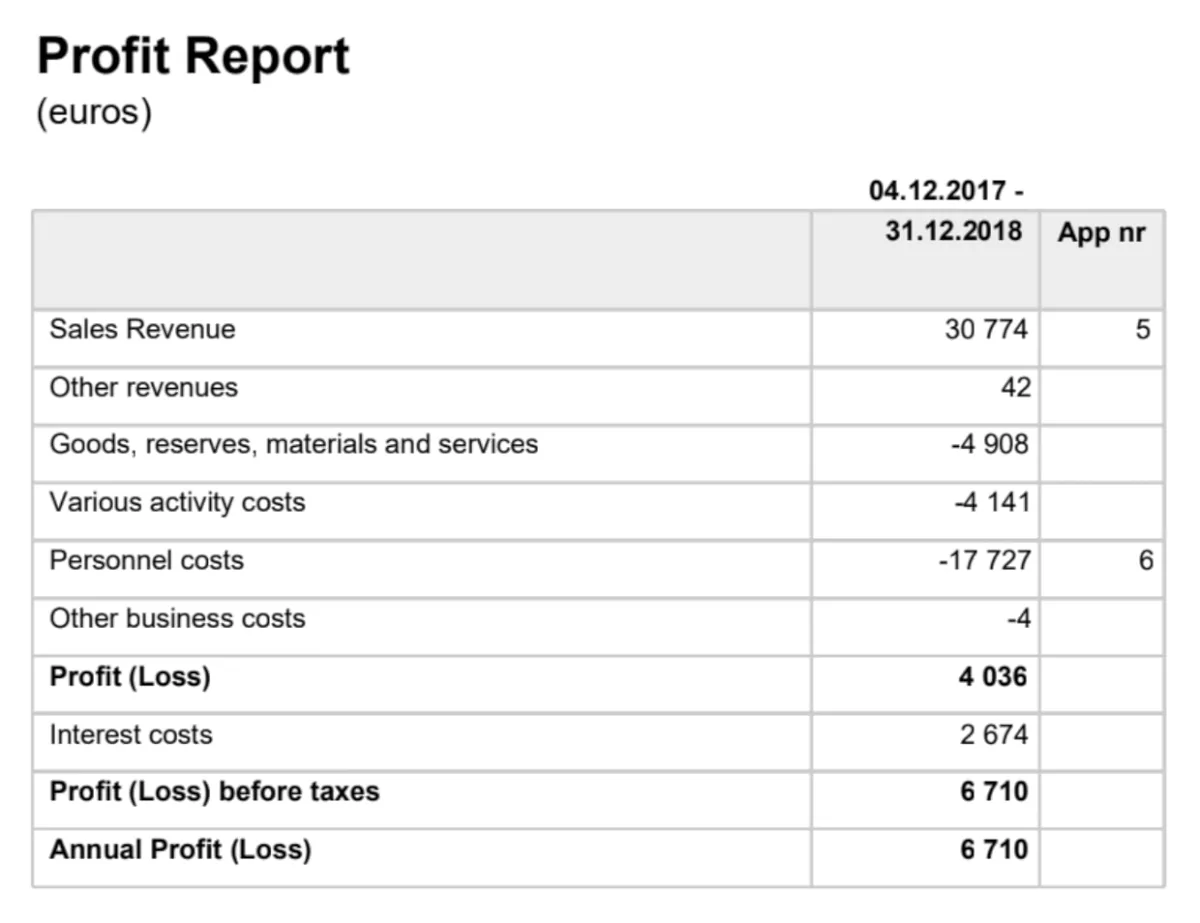 This contributes positively to the safety of the platform as there is less risk of a profitable business going bankrupt. This also reduces the platform risk.
It is also far from all crowdinvesting platforms that are profitable. But here ReInvest24 OÜ is already ahead of the competition.
A small bonus wishes on our part is that they would make their annual reports even more accessible on their website. We think the company could benefit from this, as a lot of investors prefer platforms with full transparency.
2. Main risks
In the following, we go through some of the main risks of using ReInvest24 that we have considered:
ReInvest24 OÜ bankruptcy risk
Of course, there is a risk of ReInvest24 OÜ going bankrupt. Like many other P2P platforms, ReInvest24 has also safeguarded investors if that should happen.
The company set up a Special Purpose Vehicle (SPV) for each investment on the platform. This is a form of a subsidiary company that owns the property titles, and whose responsibilities include the maintenance of the properties and managing tenants. If ReInvest24 then goes bankrupt, it should not affect the properties on the platform.
Financial turndown risk
If you choose to invest in real estate via ReInvest24, then you also take on risks related to real estate.
Therefore, a financial turndown in real estate could affect the investments on ReInvest24 since a real estate crash could cause a decline in property values.
Is ReInvest24 safe?
Investments on ReInvest24 are secured by mortgages held by collateral agents in favor of the investors. Furthermore, thorough due diligence is also conducted by ReInvest24's analyst team before any projects are listed on the platform. The analyst team has experience in the industry since 2005.
Our biggest fear with using the platform is how a downturn in real estate would affect the individual investment on the platform. Overall, we believe that ReInvest24 is a good P2P platform with serious projects and excellent management that can navigate such a situation.
Our experience with ReInvest24
Of the many real estate crowdfunding platforms from Europe we have tried, we believe that ReInvest24 is one of a kind. They have some carefully selected projects featured on their platform which are quite easy to all one's money invested in.
We tried to invest a chunk of money on the platform and were quite pleased with the communication that follows an investment. For example, each month we get an email about dividend payments: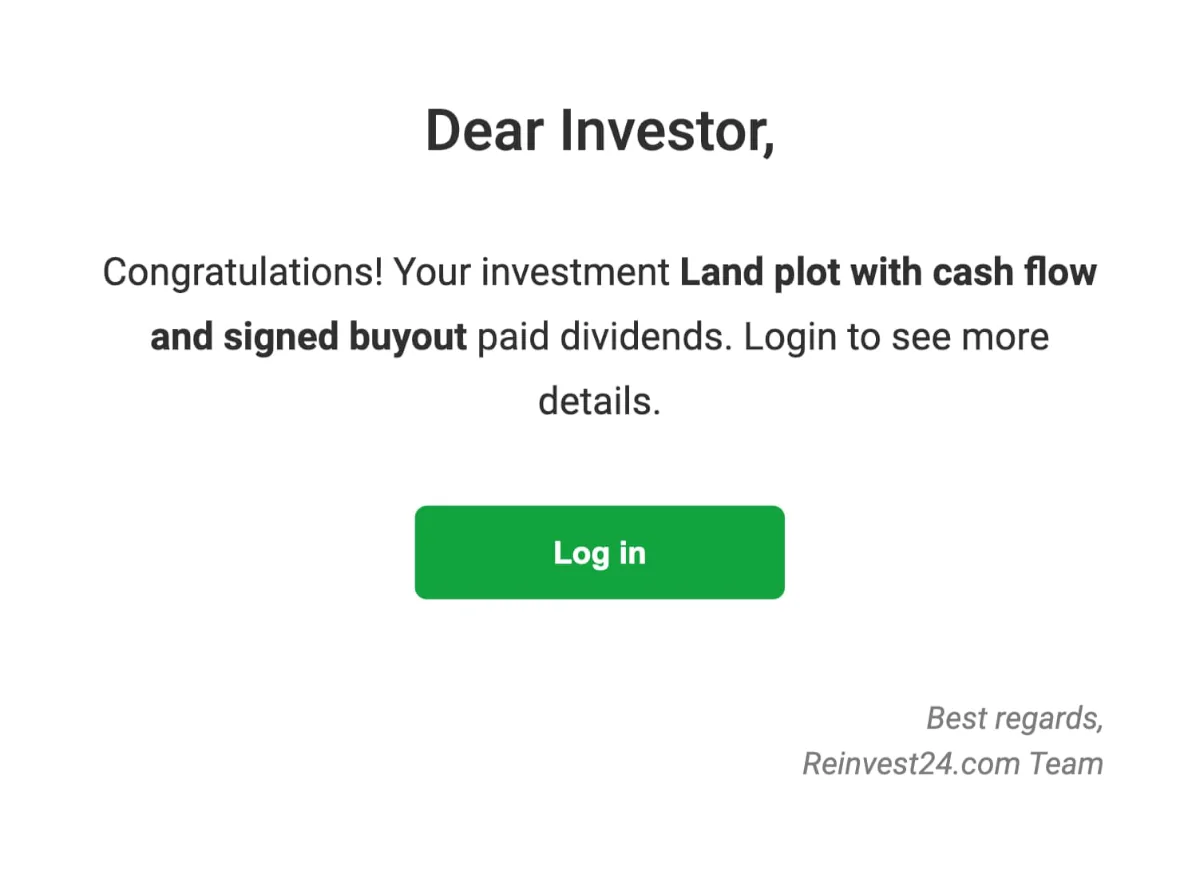 When we go to our profile it is also easy to find an income report.
Even though they don't offer an auto-invest feature, we still have faith in the management of the company. However, as they grow in popularity, we hope that they will be able to feature more projects for investors to be able to get diversified further on the platform.
ReInvest24 reviews on Trustpilot
Trustpilot is a great place to learn what other people think of ReInvest24. We have collected some good and bad ReInvest24 reviews from Trustpilot for you to take a closer look at: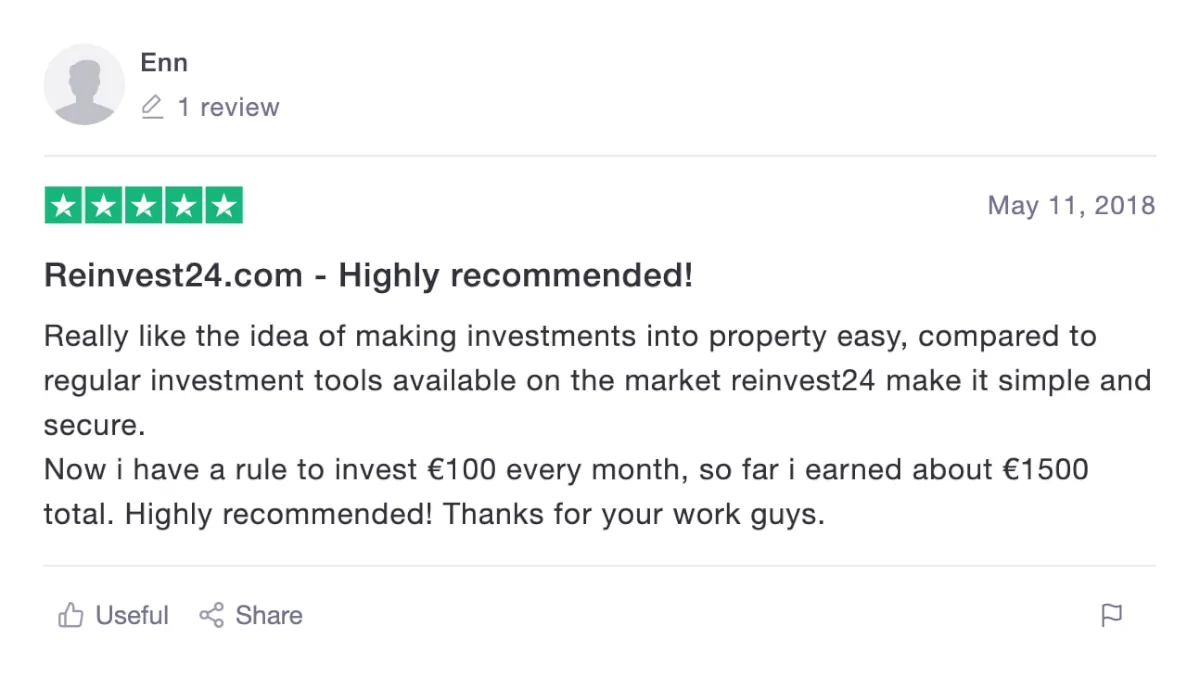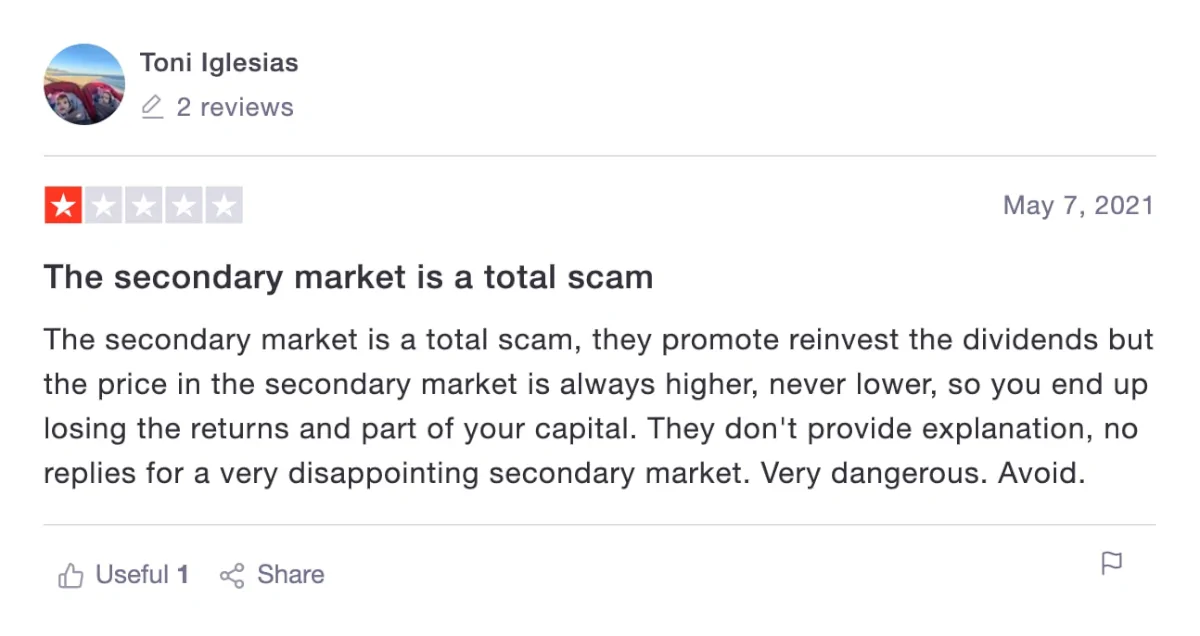 Best ReInvest24 alternatives
Not sure ReInvest24 is the right choice for you? Then there are also some good ReInvest24 alternatives to consider. The following are some of our favorites:
Even if you choose to use ReInvest24, it may still be a good idea to take a closer look at some of the platforms above.
By using multiple platforms you minimize your overall platform risk. At the same time, you will have the opportunity to diversify your portfolio further.
ReInvest24 vs EstateGuru
A lot of private investors ask whether they should go with ReInvest24 or EstateGuru for their real estate portfolio.
If you also wonder which to choose when it comes to ReInvest24 vs EstateGuru, then you would want to choose the platform that suits your investment needs the most.
ReInvest24 is a very secure platform that is good for smaller investors that want to invest in a few high-quality projects.
EstateGuru, on the other hand, is probably better for investors who have a large amount of money to invest. This is due to the fact that EstateGuru has more different investment opportunities than ReInvest24.
But as going for many investment projects can impact the overall quality of each project, ReInvest24 is probably the best option for very small investors.
Conclusion of our ReInvest24 review
ReInvest24 is an excellent platform for real estate crowdfunding. They have an experienced team of analysts that go over the projects before they are made available to investors. You will also be able to find a competitive return on the platform.
This is probably also why ReInvest24 has been well received by the P2P community on Trustpilot, blogs, forums, and social media like Facebook and YouTube.
For some investors, it can be a disadvantage that ReInvest24 only has a few projects on its platform. But some of the platforms that are trying to post more projects for investment then lag on due diligence. Therefore, we quite like the fact that ReInvest24 is a small platform that takes the time to do its due diligence well.
ReInvest24 is currently one of the top-rated platforms on Trustpilot with mostly excellent reviews.
One of the things we think is missing is an auto-investment feature. Otherwise, we like ReInvest24 and look forward to seeing how the platform will grow over the coming years.