TWINO review 2023
Is TWINO a great platform for P2P lending? Find out in our TWINO review below:

Review summary:
TWINO has an excellent and time-proven platform. The company itself became profitable in 2018, and it is among the biggest of its kind in Europe. The platform offers many great features such as a free secondary market, BuyBack and Payment Guarantee, auto-invest, and much more. The two biggest drawbacks of the platform are the fact that they are only offering loans from their own group and are only available to European investors.
It's free to use the platform.
At P2PPlatforms.com, we strive to list only the absolute best companies in the P2P industry. Where appropriate, we also feature our partners. This doesn't influence our evaluations. All opinions are our own.
Introduction to our TWINO review
Are you considering investing via TWINO? Then read on. We've written this Twino.eu review to help investors determine if TWINO is the right choice for them.
Below you will find an overview of the things that we will discuss more in detail in this TWINO review. Simply click on the links to jump directly to the thing you want to know more about.
Learn about this in our TWINO review:
What is TWINO?
TWINO is a European P2P lending platform that enables investors to invest in consumer loans and the real estate industry.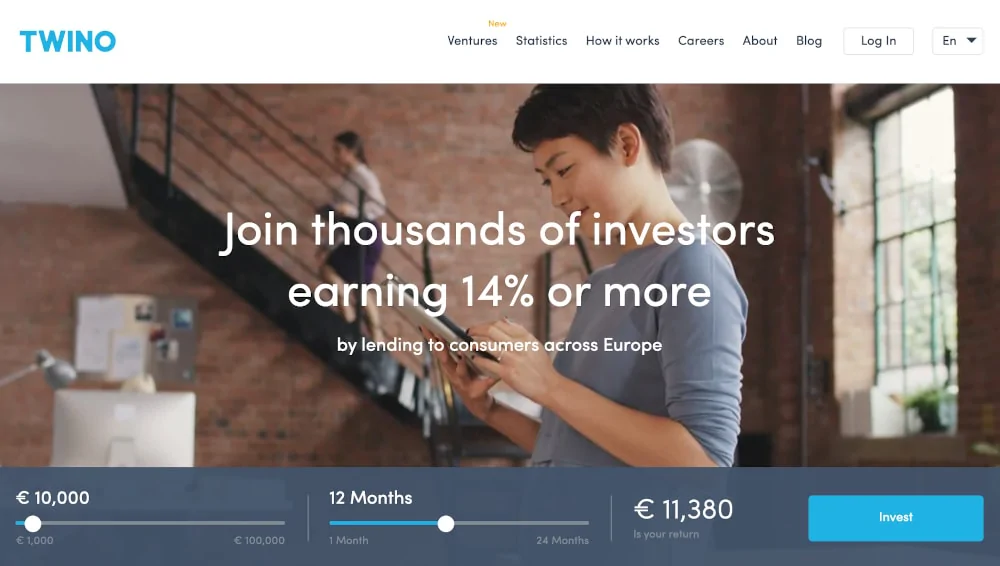 TWINO is based in Riga, Latvia and the platform was launched in 2015. However, the company has experience with the lending industry going back to 2009.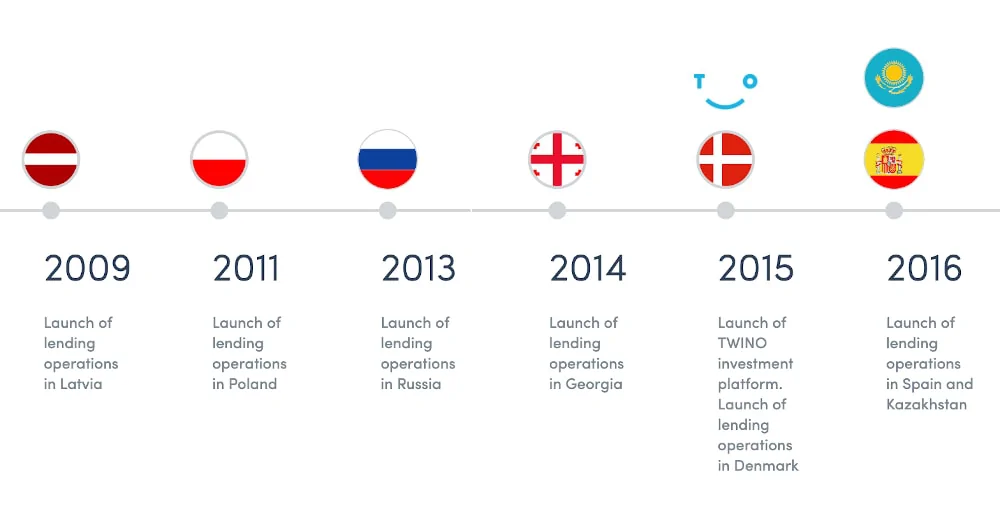 Since the launch of the investment platform, TWINO has seen rapid growth as more investors have started to pay attention to the P2P lending industry. Currently, the platform has over 28,000 active investors from all across Europe.
The investors are earning an average return of around 10.37%.
With a minimum investment of just €10, you can join the platform.
TWINO statistics:
| | |
| --- | --- |
| Founded: | 2015 |
| Loan Type: | Consumer |
| Loan Period: | 1 – 60 Months |
| Loans Funded: | € 990.000.000 + |
| TWINO Users: | 28.000 + |
| Minimum Investment: | € 10 |
| Maximum Investment: | Unlimited |
| TWINO Interest Rate: | 10.37% |
How TWINO works:
TWINO has diversified its product offering to include both consumer loans and real estate. These two products work in very different ways. Therefore we'll explain both one at a time:
How the consumer loan part of the TWINO work:
TWINO started out as a platform for consumer loans. With the consumer loan product, they connect investors that want to put capital to work with borrowers that seek to loan money.
After a lending company has issued a loan to the borrower, the loan is posted on Twino.eu for investment.
Simply put, the lending company is benefitting from this by offering you the loan at a lower rate than what they are getting themselves. By doing this, the lending companies are still making a profit on the loans they issue. But now they have more money to expand their business further.
The loans you can invest in on the platform are issued by lending companies owned by TWINO Group.
How the real estate part of the TWINO work:
5 years after the launch of the platform, TWINO Ventures was introduced. This made it possible for investors to also invest in real estate on the platform.
The real estate investment opportunities on TWINO are generally found via this method:
The TWINO Venture team finds a suitable real estate project
The real estate project is evaluated
A loan is issued with the real estate itself as collateral
You can then invest in the pre-funded loan
The offering is very similar to those of other real estate crowdfunding platforms. However, by using TWINO instead of a dedicated real estate platform, you have the opportunity to also diversify with consumer loans.
We'll go more into detail about how Ventures work later in this TWINO review.
The team
TWINO is not shy about who's behind the platform. If you go to the website, you will easily be able to find multiple places, where team members are showcased with names, job titles, etc.
The daily operations of the company and its subsidiaries take place from offices in Latvia (Riga), Poland (Warszawa), Kazakhstan (Almaty), Georgia (Tbilisi), and Russia (Moscow and Voronezh).
In the following you can see a picture of some of the team members of TWINO (there are actually more than 400):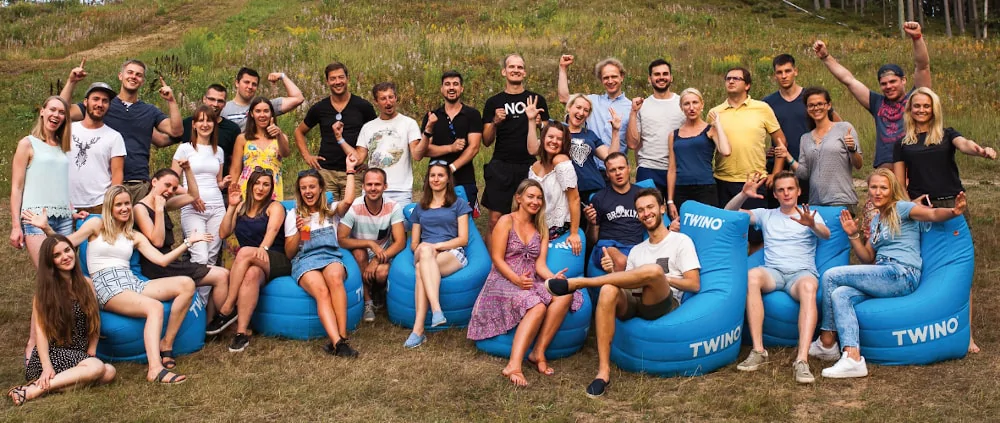 We like the fact that they are actually showcasing the team. This gives a better idea of the actual size of the platform and confidence in the fact that it's a great company to both invest in and work with.
Frequently asked questions:
Key features
We have already taken a look at some of the reasons why TWINO has become a popular choice among investors. In the following, we take a closer look at some of the key features that make it easy to invest via the platform:
1. TWINO BuyBack Guarantee
A lot of the loans on the platform are secured with the TWINO BuyBack Guarantee – if they are this is made very clear on the platform.
This guarantee is made in order to protect you against loan defaults. In the case that a borrower gets more than 60 days late on the repayment schedule, TWINO will buy back the investment with both the invested principal and the accrued interest.
A thing that you have to keep in mind when you hear about buyback guarantees is the fact that the guarantee is only as solid as the one behind it. So if TWINO starts struggling, the loan might not get bought back. More on the financial health of TWINO later.
2. TWINO Payment Guarantee
On the platform, you will at some point get acquainted with the TWINO Payment Guarantee. Under this investor protection scheme, TWINO compensates both for the invested principal and the accrued interest like with the BuyBack Guarantee.
However, the thing that distinguishes the Payment Guarantee from the BuyBack Guarantee is that you won't have to wait 60 days for it to kick in. As soon as a borrower might not pay, TWINO steps in and pays it to you instead.
A thing you should consider with this guarantee is whether or not you think it is necessary. Because typically, you will earn less interest on loans with the Payment Guarantee than on those without.
Guarantees simply cost money.
3. TWINO Ventures
In 2020, TWINO Ventures was introduced. This made it possible to invest in real estate loans on the platform.
The first project, Hoffmann Rezidence, was a real estate investment opportunity made possible by a strategic partnership with IVANOVS INVESTMENTS.

The investment was offered with a special TWINO Guarantee and was quickly fully funded.
The people in the Ventures department of TWINO are all experienced in real estate (learn more about them on the website). You can see some of them here:

4. TWINO secondary market
On TWINO you have the option to sell your loans to other investors before they mature. This can be done without any fees or discounts.
The TWINO secondary market feature is an excellent feature that makes it convenient to exit the platform if you don't want to use it anymore or if you find better investment opportunities elsewhere.
If the loan has a BuyBack or a Payment Guarantee, you will still receive the interest in the period you have the loan. However, if you resell a Ventures loan, you will only receive the invested principal.
So if you are in doubt about if you want to sell your investments before they mature, you should definitely consider only investing in loans with BuyBack or Payment Guarantee.
Defaulted loans can't be sold to other investors.
5. TWINO app
Another neat feature is the TWINO mobile application. On the app, you can easily get an overview of your investments: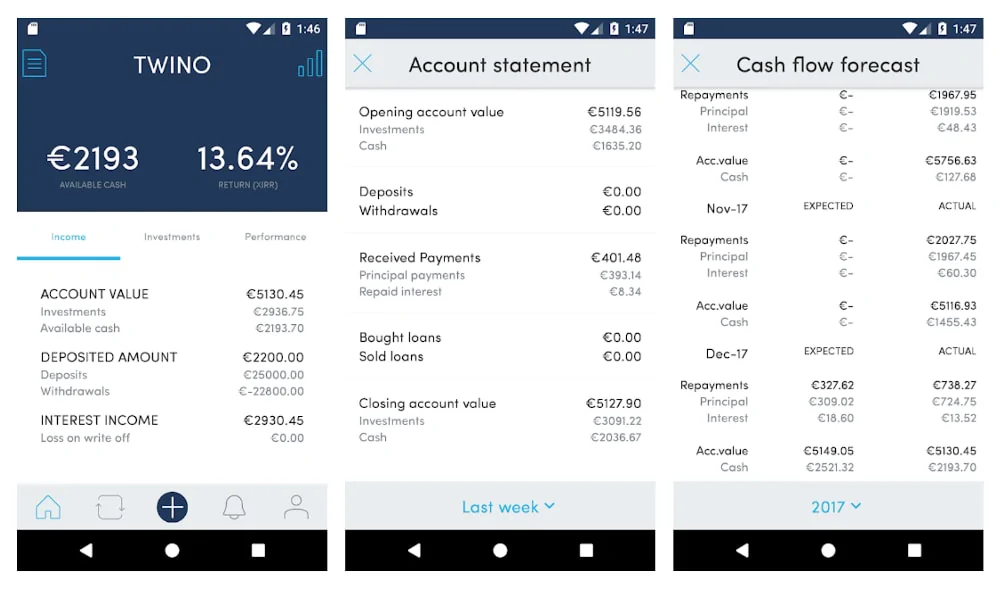 Among other things, you can do the following:
Check your investment performance
Update auto-invest portfolios
See a cash flow forecast
Check your account statement
Contact support
The app is available for Android and iOS.
6. TWINO auto-invest
Like a lot of other platforms, TWINO offers an auto-invest feature that makes it possible for you to put your loan investments on autopilot.
To use the auto-invest tool, simply follow this process:
Log in to your account
Go to auto-invest portfolios
From here, you can create an auto-invest portfolio that suits your investment goals. You can make set up criteria for this portfolio to make it invest just like you want it to: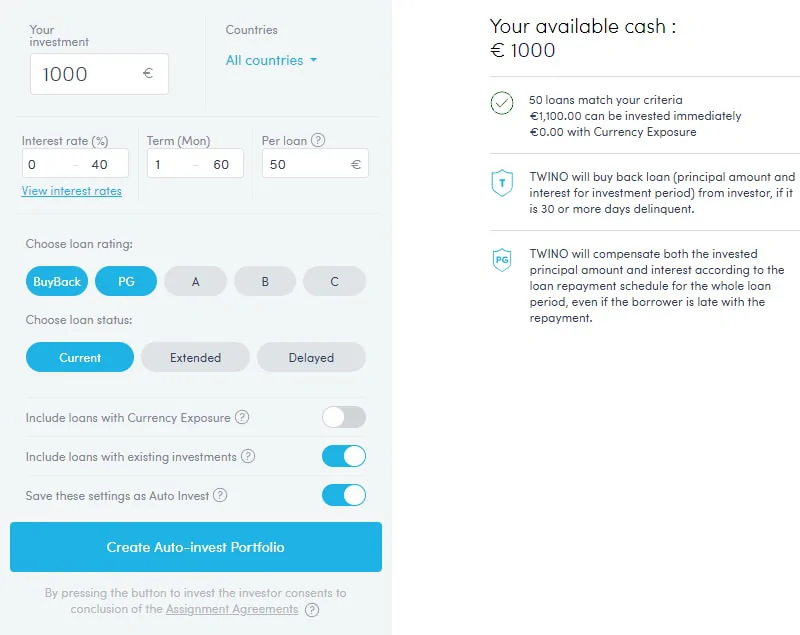 Many of the criteria are pretty much self-explanatory. However, when you are going to choose the loan rating, you should be aware that those with rating A, B, and C are without any guarantees.
If you want to know more about auto-investing, you can find more information on TWINO's website here.
7. TWINO refer-a-friend bonus
TWINO offers a refer-a-friend bonus. This means that if you refer people to the platform via your promo code, both you and your friend can get a referral bonus.
This is a neat way to earn a little extra money if you like the platform.
Who can use TWINO?
Both individuals and organizations can invest via TWINO.
Individuals
If you want to invest as an individual, you must at least meet the following requirements:
Being at least 18 years old
Being a citizen of the European Economic Area
If you live up to these requirements, then you can start investing via the platform.
Organizations
If you run a company, you can also invest via TWINO. All you have to do in order to create an account for your business is to select "Company" when signing up.
If you are in doubt of anything with regards to registering as a company, you can just reach out to the support team. You can find the information here.
Available countries
Currently, it is only possible to invest via TWINO if you are a citizen of the European Economic Area (EAA). If you live outside of the EAA, you might want to take a look at these P2P lending platforms.
How safe is TWINO?
To determine if TWINO is safe, we have taken a look at some of the potential upsides and downsides of investing via the platform.
1. TWINO profitability
After reporting a €9,858,000 loss in 2017, TWINO's profitability turned on a table in 2018. Here, the SIA TWINO was able to report a profit of €8,740,000.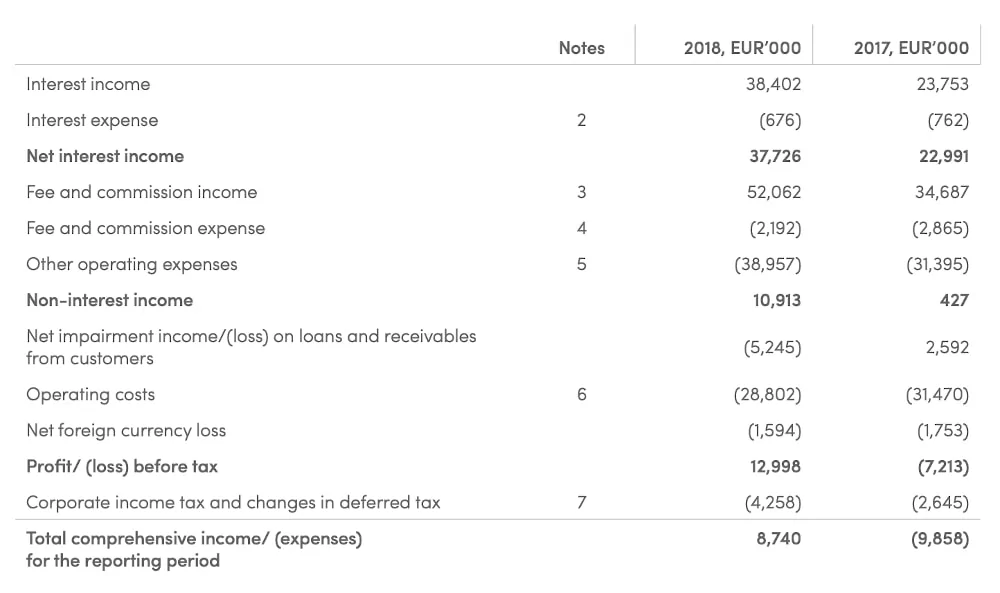 As it is far from all P2P lending companies that are profitable, it is great to see that TWINO has managed to reach profitability.
The fact that TWINO is a profitable company means that the platform risk is greatly reduced compared to other unprofitable platforms.
You can find the latest financial reports here.
2. Main risks
In the following, we go through some of the main risks of using TWINO that we have considered:
Loan default risk
When you invest in P2P loans, there is a risk that the borrower will not be able to repay his loan. In that case, your investment is usually lost.
However, at TWINO you can use BuyBack and Payment Guarantee to protect you against this.
But as these guarantees are depending on the solvency of the group, the proper way to reduce this risk would be to use multiple of the best alternative investment platforms.
Financial turndown risk
As P2P investing is a newer thing in the investment world, it can be difficult to predict how a financial turndown would affect this form of investment. As a starting point, it is, therefore, a really bad idea to invest your entire investment portfolio in P2P investments.
Therefore, many investors also choose to diversify into more traditional forms of investment such as equities, bonds, and traditional real estate.
Since investing is an individual thing, we obviously do not know what will be best for you. But if you put together your investment portfolio, make sure that it reflects your knowledge of the investments in it, as well as your own risk appetite. If in doubt about how to do so, make sure to seek help from a professional investment planner.
Is TWINO safe?
As TWINO is a profitable company with a long track record, we believe that TWINO is a decent choice for P2P investing.
However, other factors such as lack of knowledge about how a financial turndown will affect the P2P lending industry are also risk factors that are worth considering.
Our experience with TWINO
We have only had good experiences with TWINO, and it is definitely a very good platform. If we were just starting out with P2P investing, we would definitely consider TWINO as they have a well-tested platform with a solid track record.
If you choose a younger platform, there is a great chance that you will run into some small issues that you won't find on TWINO due to the age of the platform.
The features we like the most are the app, the payment guarantee (as it differentiates TWINO from many competitors), and the auto-investor.
Deposits to and withdrawals from TWINO are usually very quick in a few business days.
TWINO reviews on Trustpilot
Trustpilot is a great place to learn what other people think of TWINO. We have collected some bad, some average, and some good TWINO reviews from Trustpilot for you to take a closer look at: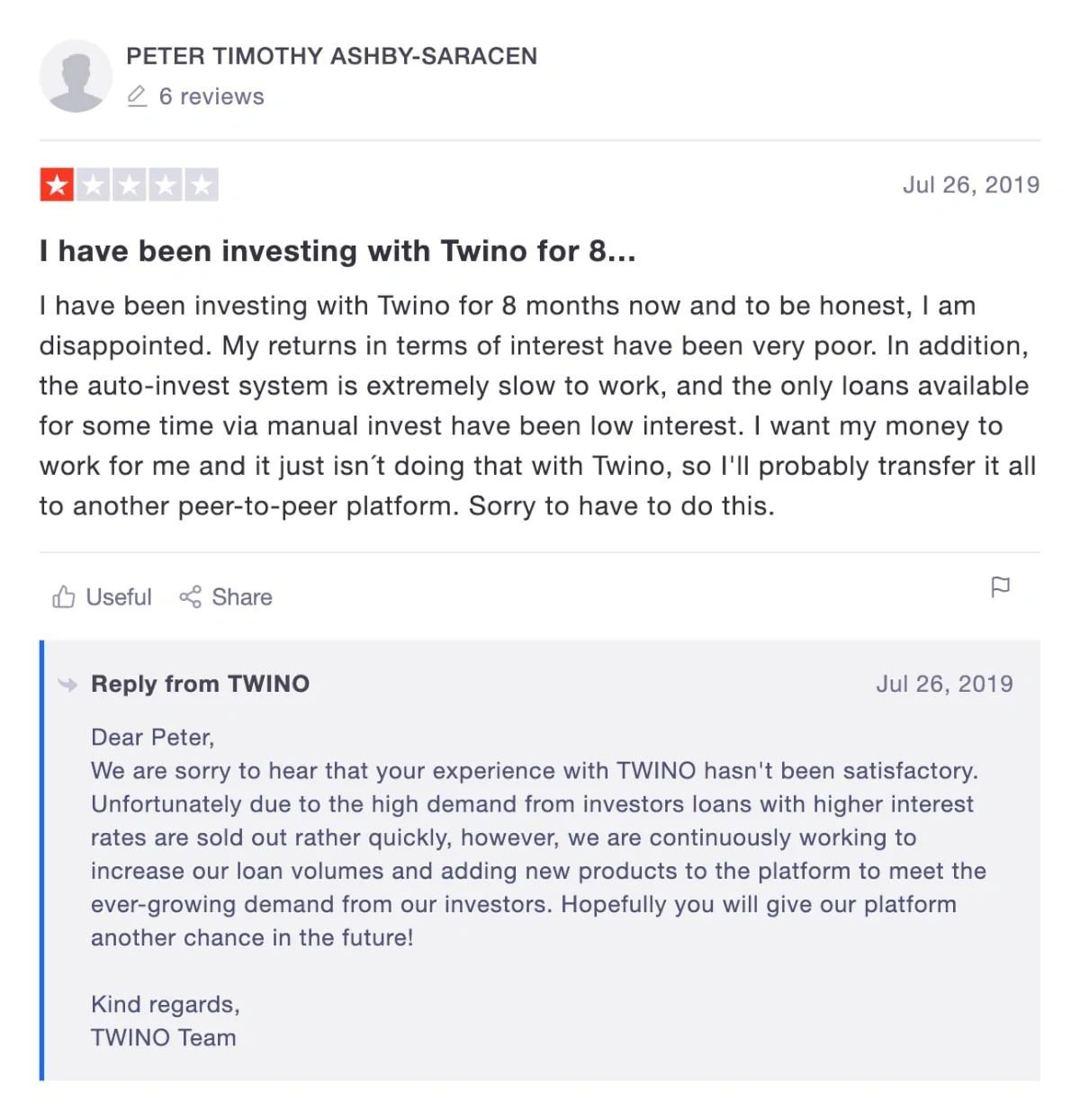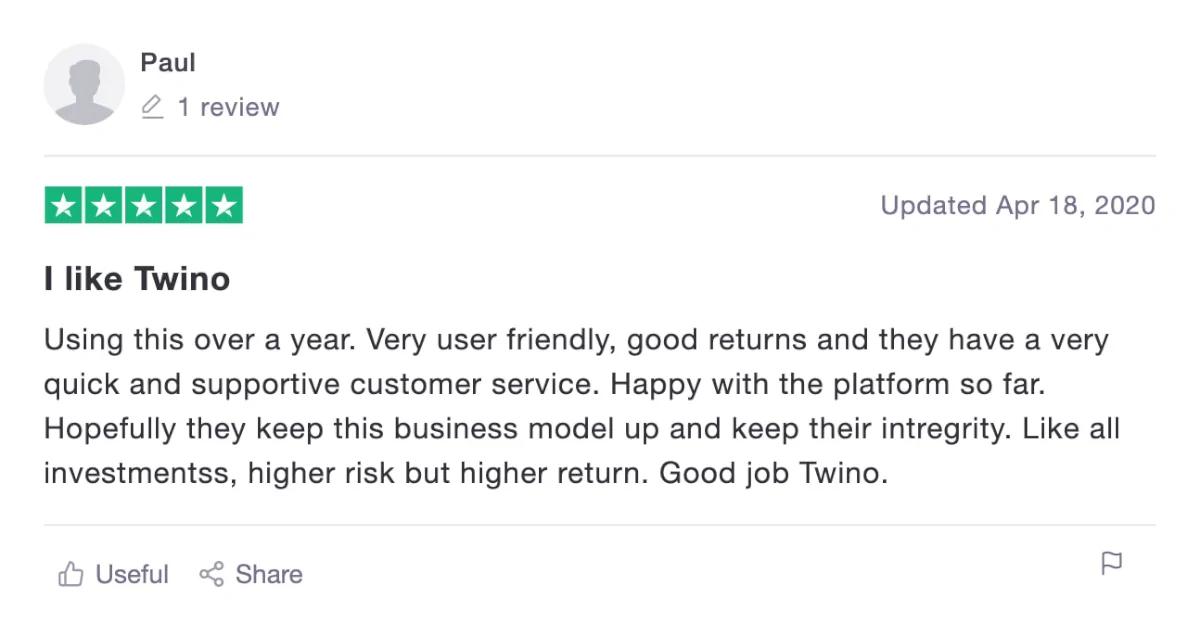 Not sure if TWINO is the right choice for you? Then there are also some good TWINO alternatives to consider. The following are some of our favorites:
Even if you use TWINO, it might actually be a good idea to take a closer look at some of the above platforms.
By using multiple crowdlending platforms, you can reduce your platform risk and diversify your portfolio further.
TWINO vs Mintos
A lot of investors have asked about TWINO vs Mintos when deciding which platform to choose. Which platform you should choose depends on your overall investment goals.
TWINO is more focused on both consumer loans as well as real estate and business with TWINO Ventures.
Mintos is mostly focused on the consumer part of the P2P lending market. But in terms of the number of investors Mintos is the most popular platform of the two.
TWINO is only available in Europe, whereas Mintos is available internationally.
Conclusion of our TWINO review
TWINO is a splendid choice when it comes to P2P investing. They have a profitable and time-proven platform that is very simple and easy to navigate.
The platform is well endorsed by other investors on blogs, forums, YouTube, and social media. The majority of opinions and news around TWINO are very positive.
Adding Ventures is an interesting move from TWINO, which could help them as a lot of investors are looking for great real estate investment options. We look forward to seeing how they develop in this area.
If you like to check your investments on the go, and maybe even make some new investments, you will definitely like the TWINO app – even though it's not as user-friendly as the website itself.
It's a shame that the platform is still only available to European investors.