10 Best European Crowdlending Platforms in 2023 🎖️
Want to invest in loans? Here are the best crowdlending platforms in Europe to invest with:




















At P2PPlatforms.com, we strive to list only the absolute best companies in the P2P industry. Where appropriate, we also feature our partners. This doesn't influence our evaluations. All opinions are our own.
Find the best crowdlending platform for investors
Are you looking for the best crowdlending platform to invest with? Then you have come to the right place. On this website, you will find a collection of the best European crowdlending platforms to invest with.
All the platforms are only available in Europe, while others are available worldwide. You can find our top picks on the list at the top of this page.
What is crowdlending?
Crowdlending, also known as Peer-to-Peer lending, is a form of crowdfunding, where individuals and companies can borrow money from a group of investors through an online crowdlending platform.
The crowdlending loans are typically split into smaller units. This allows several investors to finance a single loan.
The crowdlending business model is typically for the crowdlending platforms to match investors with borrowers on a marketplace with the help of fintech software. This form of social lending has been on the rise in the past years with hundreds of crowdlending sites joining the market.
What is the difference between crowdfunding and crowdlending?
Crowdlending is debt-based crowdfunding.
When talking about crowdfunding in terms of investing, there are basically two types of crowdfunding platforms:
Debt-based crowdfunding platforms: In this type of crowdfunding, investors are lending out money and earning interest from crowdlending loans. This is crowdlending.
Equity-based crowdfunding platforms: In this type of crowdlending, investors acquire stakes in companies or real estate projects to get a part of the future profit of the project. This is not crowdlending.
The fact that crowdlending is lending-based crowdfunding means that you will not get a stake in projects, but only lend your money to borrowers.
What are the 10 best crowdlending platforms in Europe?
The 10 best European crowdlending platforms are:
Hive5
Debitum
Esketit
Reinvest24
Lendermarket
EstateGuru
PeerBerry
Mintos
AxiaFunder
HeavyFinance
The rankings are based on various ratings, platform features, the longevity of the platform, average return, ownership, and many other factors.
Do your own research before investing via any of the best P2P lending platforms in Europe.
How to select the best crowdlending platform?
If you want to get started investing via crowdlending platforms, there are a lot of different criteria to consider.
Here is a checklist of significant decision criteria:
Expected return: As an investor, you will always want to know the expected return on a crowdlending platform. To decide the best crowdlending platform for your needs, you must consider whether or not the risk-adjusted return of a platform suits your goals.
Investor protection: You should always consider the investor protection of a platform. Is there a buyback guarantee or other protections on the loans? If so, who will have to pay you? And in what circumstances will they be unable to pay?
Transparency: It is very important that you investigate the transparency of the platform. A crowdlending platform that hides stuff is a huge red flag.
Track record: Simply put, a platform that has been around for a while and has received good feedback from investors is more reliable than one that just launched this year.
Loan types: Some crowdlending platforms only give you access to specific loan types, while other crowdlending sites make it possible to invest in multiple loan types. Each loan type comes with its own set of risks.
Availability of loans: There is nothing more frustrating than signing up on a platform only to find no loans to invest in. Make sure that there are plenty of investment opportunities on the platform by checking the website and customer reviews.
Secondary market: Most investors want the flexibility to leave a crowdlending platform if their investment goals change. Make sure to check if the platform has a secondary market
Customer support: The best crowdlending platforms have customer support to help you when you need it. Consider the ways of reaching them before you sign up.
Online reviews: Are there any legitimate reviews about the crowdlending platform? Review sites like TrustPilot allow you to read evaluations left by actual customers and observe how the site handles issues.
Auto-invest: We live increasingly busy lives. Therefore, an auto-invest tool can be very useful to automate your investments and earn more passive income.
Fees: The fee structure of crowdlending websites can vary greatly. Some platforms give a lower return, but don't charge fees for anything. Other platforms charge for nearly every interaction.
The list is not exhaustive. But it can be a starting point for your due diligence and assist you in selecting the best crowdlending platforms for your needs.
What are the top 10 biggest crowdlending platforms in Europe?
Measured by total funding volume, the top 10 biggest crowdlending platforms in Europe are:
Mintos
PeerBerry
Opyn
TWINO
EstateGuru
Robocash
Swaper
Lendermarket
Esketit
NEO Finance
While these large crowdlending platforms are those with the highest funding volume in Europe, they are not necessarily the best crowdlending platforms for investors. This is due to the fact that the biggest is not always the best.
If you are looking for a European crowdlending platform to invest with, it is of course a good idea to take into consideration how large the platform is.
A big crowdlending platform indicates a lot of activity, which typically comes with benefits for investors.
Just don't let yourself be blinded by the size of the company.
Which crowdlending companies have an app?
A lot of investors like to use an app to do crowdlending marketplace lending. This makes it easier to invest on the go.
Some of the best crowdlending apps are made by:
Whilst crowdlending apps are neat for investing on the go, it is not recommended that you choose your crowdlending platform based on whether or not the platform has an app. If you can find more secure crowdlending websites, you should go with these instead.
Is crowdlending a good investment?
If crowdlending is a good investment for you depends on your investment goals and risk appetite.
Crowdlending is a new form of investment compared to stocks, bonds, etc. This means that there is only performance data available for a short time period of history to assess whether or not crowdlending is a good investment.
During the last decade, it has not been uncommon for some of the best crowdlending platforms in Europe to yield a +10% annual return for investors.
But with high returns come high risks.
Some platforms have unfortunately failed, leaving investors with huge losses. Other European crowdlending platforms have consistently yielded +10% returns for longer periods of time. This means that it is very important to do proper research before you pick what you believe is a sustainable crowdlending platform in Europe.
How to start investing on a crowdlending platform?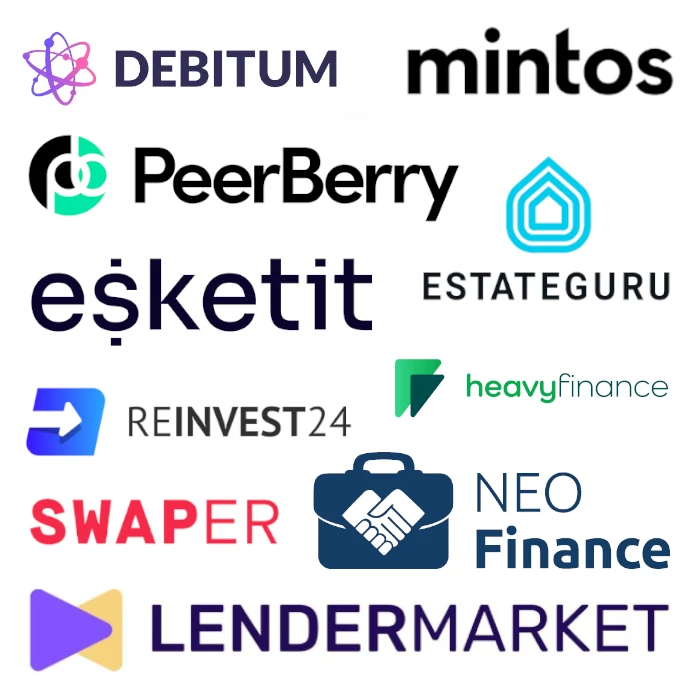 Most of the crowdlending platforms in Europe work in the same way. Here are the typical steps for signing up and using a crowdlending platform as an investor:
1. Find the best crowdlending platform
If you want to get started with crowdlending, you must find the best crowdlending platform for your needs.
This step is one of the most crucial when you want to get started investing in crowdlending loans, as the platform will affect both your return and risk.
You can use the overview on this page to find the best crowdlending platforms in Europe.
2. Create an account
When you have found the best crowdlending platform for your needs, you will have to create an account.
During registration, you will be required to enter information, including your name, email, and phone number.
If you run a company, it is possible to sign up with your business as well on most crowdlending websites.
3. Verify your identity
Due to legal requirements and KYC, the crowdlending platforms will have to verify your identity.
This typically requires you to submit photos of yourself and your passport.
Most crowdlending platforms have streamlined this process a lot. But it can take a few days to get completely verified and ready to invest.
4. Deposit money to invest
After verifying your identity, it is time to deposit money onto the crowdlending platform.
Before you do so, you must decide how much you want to invest.
A lot of investors start out small to test the platform. This is possible as the minimum investment on most crowdlending platforms is very low. Later you can then evaluate if you want to invest more.
Never deposit money to a platform if you expect to use it. And never invest your entire portfolio in crowdlending.
5. Start investing in projects
When you have deposited money on the crowdlending platform, it is now time to invest in different projects.
Before you invest in any projects and loans you need to be aware that the return on an investment opportunity reflects the risk you are running. It might be a better idea to look at the risk rating before you look at the return.
Most crowdlending platforms have an auto-invest tool that makes it possible to automate your investments and let the platform work for you. Consider using this to save a lot of time selecting loans.
When investing on crowdinvesting platforms, it's always a good idea to diversify your investments.
Do you have any crowdlending tips?
There are some crowdlending tips that can make your investment journey safer and more profitable. The following are some of the things that are recommended for all crowdlending investors:
Only invest funds you can afford to lose: As with any other form of investment, you should only invest with money you can afford to lose. Don't invest with money you need for rent and food. And definitely don't take loans to invest.
Invest via multiple crowdlending platforms: Since some European crowdlending platforms have failed in the past, it is a good idea to invest via multiple crowdlending websites instead of just going for one.
Diversify between more loans: Even if you find the best crowdlending platform in the world, it is a good idea to invest in a lot of different loans. You should do this to minimize the loan default risk.
Be aware of guarantees:

A lot of crowdlending platforms are offering a buyback guarantee on loans. This guarantee is typically issued by lending companies. It obligates the lending company to buy back the loan or claim right from the investor if the borrower defaults. But if the lending company goes bust the guarantee is typically useless.

Don't overinvest in crowdlending: While crowdlending promises high returns, it doesn't come without risk. Therefore you should never invest your whole portfolio into crowdlending. Common investment advice is to seek to diversify between different assets like stocks, bonds, and real estate. If you are in doubt, consult an investment advisor.
Keep the tips above in mind when investing on a crowdlending platform.