Bulkestate review 2023
Is Bulkestate a great platform for real estate crowdfunding? Find out in our Bulkestate review below:

Review summary:
Bulkestate is a small but great real estate crowdfunding platform. They have some great due diligence procedures set in place and offer group buying which is mostly aimed at larger investors. The downsides of the platform are that the auto-invest feature isn't that good and the fact that there is no secondary market available to make an early exit. But if that doesn't bother you, Bulkestate is an overall excellent platform with an experienced team behind it.
It's free to use the platform.
At P2PPlatforms.com, we strive to list only the absolute best companies in the P2P industry. Where appropriate, we also feature our partners. This doesn't influence our evaluations. All opinions are our own.
Introduction to our Bulkestate review
Are you considering investing via Bulkestate? Then read on. We've written this Bulkestate.com review to help investors determine if Bulkestate is the right choice for them.
Below you will find an overview of the things that we will discuss more in detail in this Bulkestate review. Simply click on the links to jump directly to the thing you want to know more about.
Learn about this in our Bulkestate review:
What is Bulkestate?
Bulkestate is an online P2P lending platform that allows investors to pool their money to buy property rentals. The company's mission is to make real estate investing more accessible and affordable for everyone.
Bulkestate offers a variety of investment products, including debt and equity-based investments. You can both do real estate crowdfunding for loans or group buying on the platform.
Some examples of the investment opportunities on Bulkestate are shown below: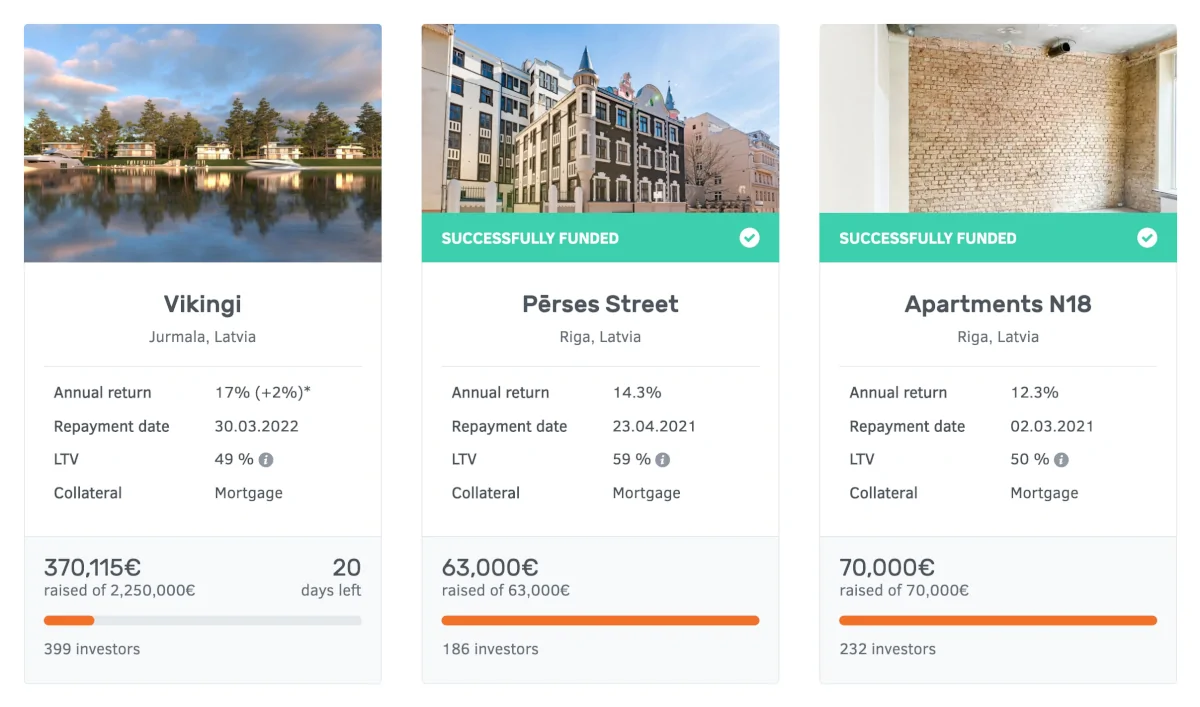 Bulkestate has a team of experienced professionals who handle all the due diligence and paperwork associated with each investment. This makes Bulkestate a great way to get started in real estate investing without having to put down a large amount of money upfront and without too much administration.
The company behind the platform, Bulkestate OÜ, is located in Tallinn, Estonia. It was founded and started its operations in December 2016.
Bulkestate is currently one of the largest real estate crowdfunding platforms in Europe. To date, the company has helped over 13,600 investors buy property rentals or invest in real estate loans. The average return on Bulkestate is 14.10%
It is possible for investors to start investing on the platform with as little as €50.
Bulkestate statistics:
| | |
| --- | --- |
| Founded: | 2016 |
| Loan Type: | Real Estate |
| Loan Period: | 12 – 24 Months |
| Loans Funded: | € 20.000.000 + |
| Bulkestate Users: | 13.000 + |
| Minimum Investment: | € 50 |
| Maximum Investment: | Unlimited |
| Bulkestate Interest Rate: | 14.10% |
| Loss of Investors' Money: | 0% |
How Bulkestate works:
Bulkestate has a two-sided business model. On one side, they are focused on attracting different real estate projects to their platform. On the other side, they must also make sure to have enough investors on the platform to make it attractive for new projects to be featured on the platform.
Bulkestate has two main ways of investing on its platform. The first method is normal real estate crowdfunding, which is also known from other similar platforms like Crowdestate. The second way of investing on the platform is by using Bulkestate group buying.
The real estate crowdfunding on the platform works in the way that real estate developers come to Bulkestate to seek funding for their real estate projects. On the website, they can make a loan application which will be reviewed within 1-2 business days. This makes it much faster to get funding than with traditional financial institutions. If the loan is approved, it will be put up for funding on the platform (see current projects). Here, you as an investor can earn money by funding the loan. The loans have an average LTV (loan-to-value) of around 50%.
If you prefer, you can also use the Bulkestate group buying option. This feature makes it possible for you to invest directly in real estate (see current deals). You can learn much more about the group buying feature later in our Bulkestate review.
Most small investors on the platform are exclusively using the normal real estate crowdfunding feature, whereas group buying is mostly for larger investors.
Bulkestate team
The Bulkestate team consists of seasoned real estate experts. The team has years and years of experience in the real estate industry and is fairly qualified to select the deals you can find on the Bulkestate P2P platform.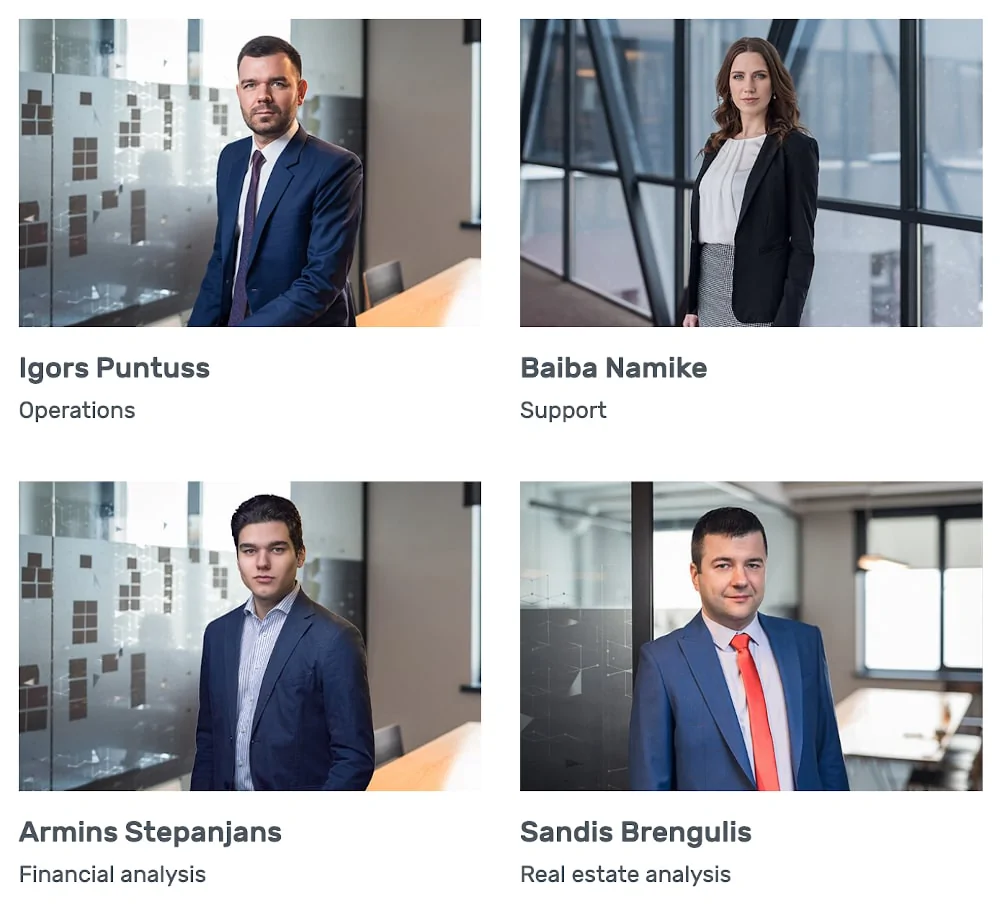 Even though the team is fairly small, it has in the last few years proved to be highly effective at finding great investment opportunities for the private and institutional investors on the platform.
Frequently asked questions:
Key features
We have already taken a look at some of the reasons why Bulkestate has become a popular choice among investors. In the following, we take a closer look at some of the key features that make it easy to invest via the platform:
1. Bulkestate auto-invest
Bulkestate has an auto-invest feature on its platform. This makes it possible to automatically invest in loans without constantly having to check for updates regarding new loans. You use the auto-invest feature based on a set of criteria you decide.
To use their auto-invest strategy, follow this process:
Log in to your account
Go to the auto-invest section
From here you can set up auto-invest criteria to make Bulkestate automatically invest in the types of loan which you desire: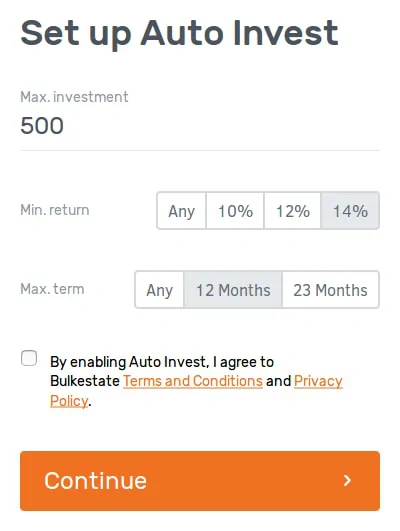 When using the auto-invest feature, you can set a maximum investment per loan, a minimum return, and a maximum term. The auto-invest tool is fairly basic compared to what you can find on other platforms.
If you want a better way to adjust the risk of your portfolio while using auto-investing, you might want to check out our EstateGuru review. On that real estate crowdfunding platform you can set up criteria for maximum LTV (loan-to-value) and much more.
2. Bulkestate group buying
The single feature that makes Bulkestate stand out from other real estate P2P platforms is the group buying feature. The feature is mostly targeted at investors with a larger investment portfolio due to the high prices to get into these group buying deals.
In a nutshell, this feature enables investors to buy a single apartment from a larger building. These buildings are oftentimes priced a lot cheaper than if you were just to go out and buy the apartment on its own. But due to the fact that Bulkestate structure deals where investors can reserve apartments to get a part of an entire building, it is possible to get these apartments at a discount. It's a bit like buying groceries at the wholesale price. However, a bulk deal can only take place, if all apartments get reserved.
On Bulkestate's website, you can see the current group buying projects – also known as bulk deals: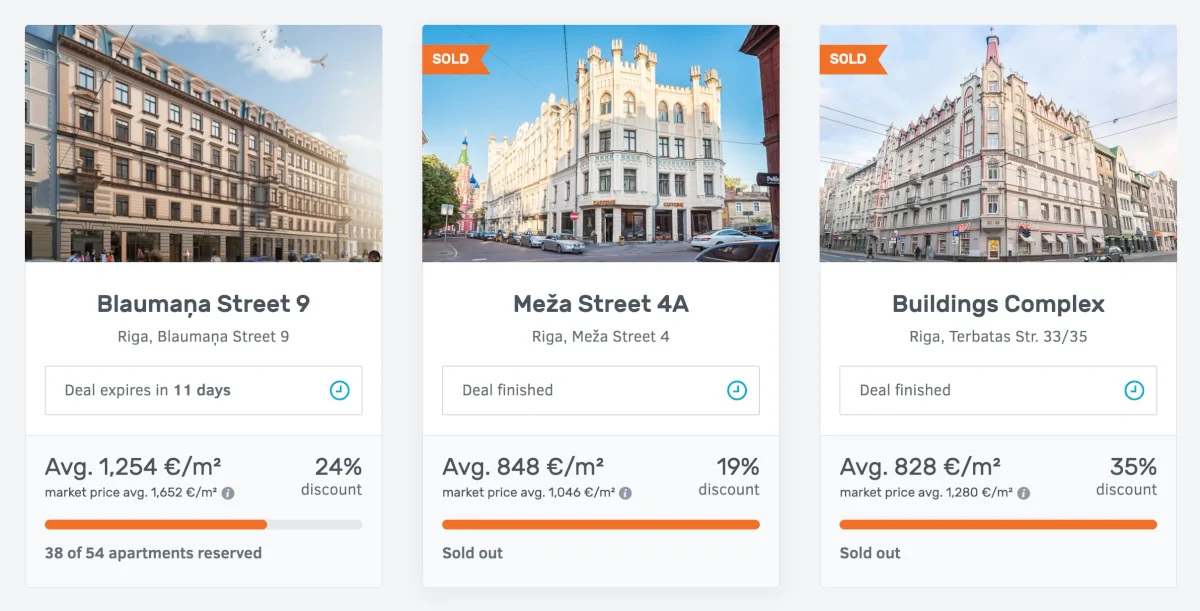 You can then click on an active project to read a detailed description of the investment opportunity. It is also possible to see which apartments are already reserved by other investors, and which apartments that are open for investment: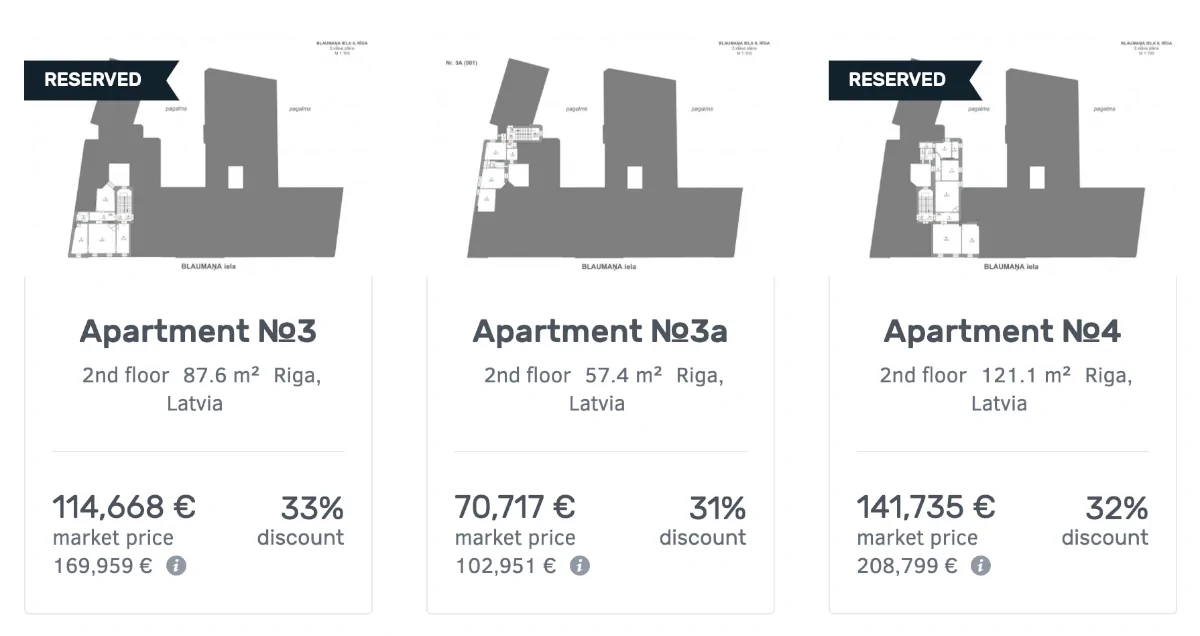 If you then click on a specific apartment that you might find interesting, it is possible for you to learn more about the potential yield if an apartment is rented out. You can also learn about different fee structures and more. Typically, there will also be contact information if you want to know more about an apartment.
Who can use Bulkestate?
Both individuals and organizations can invest via Bulkestate.
Individuals
If you want to invest as an individual, you must at least meet the following requirements:
Being at least 18 years old
Getting your identity verified by Bulkestate
If you live up to these requirements, then you can probably start investing via the platform.
Organizations
If you run a company, investing with Bulkestate is also a possibility. However, there might be some other procedures for creating an account for a business that is worth knowing about. Therefore, it might also be a good idea to contact Bulkestate to find out more about the options – they are usually really good at answering.
Available countries
It is possible to invest via Bulkestate in a broad range of countries. Among others, we know about investors from:
Poland, Turkey, Switzerland, Italy, Belgium, Maldives, Denmark, Portugal, Algeria, Croatia, Moldova, Slovenia, Latvia, Bulgaria, Netherlands, United Kingdom, United Arab Emirates, Germany, France, Hungary, Sweden, United States, Oman, Philippines, Colombia, Mozambique, and Kenya.
If you are from one of the above countries then you should be able to sign up and start investing via Bulkestate. Remember that this list is only of the countries in which we know that there are investors from on Bulkestate. If you are from another country, it is probably also possible for you to use the platform. If you are in doubt about if you can invest via the platform, you can always contact Bulkestate via the contact options on the website.
How safe is Bulkestate?
To determine if Bulkestate is safe, we have taken a look at some of the potential upsides and downsides of investing on the platform in the following part of our Bulkestate review.
1. Bulkestate OÜ profitability
We haven't been able to find out whether or not Bulkestate OÜ is a profitable company itself. This is due to the fact that they are not making their annual reports publicly available. And even though Bulkestate's solvency and financial health shouldn't affect your risk of losing investments, as you buy claims rights when making an investment on the platform, we would have preferred that Bulkestate were more transparent in this area. Therefore, we do hope that in the future they will make an English version of their annual reports available on their website.
2. Main risks
In the following, we go through some of the main risks of using Bulkestate that we have considered:
Bulkestate bankruptcy risk
Of course, there is a risk of Bulkestate going bankrupt. Like many other P2P investing platforms in Europe, Bulkestate has created a procedure for what should happen in this case:
In the case that Bulkestate declares bankruptcy, a liquidator or bankruptcy trustee will manage the investors' assets separately from those of Bulkestate. The company has also secured investors by keeping its funds separate from Bulkestate's own assets. This means that creditors shouldn't be able to get access to your funds.
Financial turndown risk
If you choose to invest in real estate via Bulkestate, then you also take on risks related to real estate.
Therefore, a financial turndown in real estate could affect the investments via Bulkestate due to the fact that a real estate crash could cause a decline in property values.
Is Bulkestate safe?
Investments at Bulkestate are secured by mortgages and have gone through a thorough due diligence process conducted by Bulkestate's Investment Committee. Among other things, they have also been able to detect and stop a fraud attempt with a real estate project: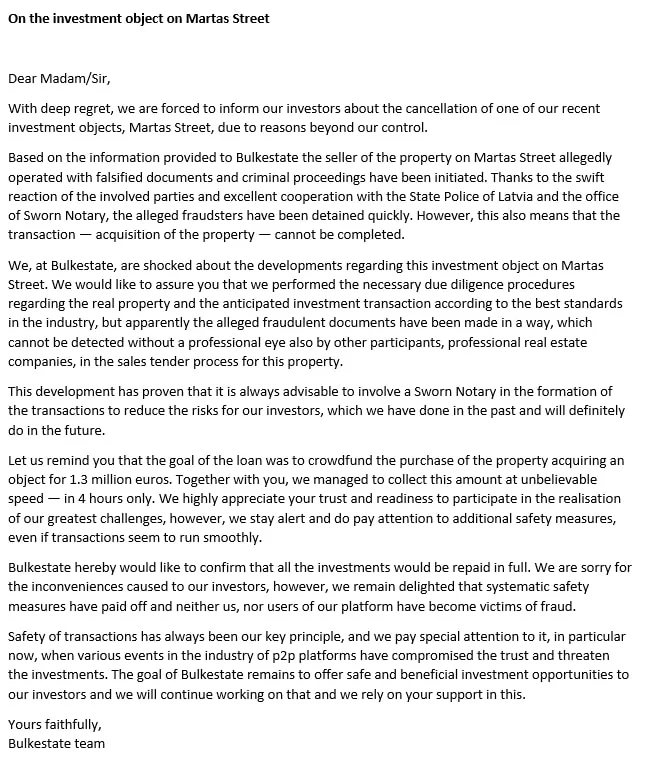 We believe that they handled this issue in a great manner.
If a borrower is late with a payment on Bulkestate, they will work on the best solution for investors with the help of the FORT – which is the same legal bureau used by Mintos. But with the mortgages in place, this shouldn't end up being a huge problem.
Our biggest fear with using the platform is how a downturn in real estate would affect the individual investment on the platform. Overall, we believe that Bulkestate is a good platform with serious projects and excellent management that is able to navigate such a situation.
Our experience with Bulkestate
Of the European real estate crowdfunding platforms we have tried and tested, Bulkestate really stands out with its group buying option.
Unfortunately, it does not take a long time on Bulkestate before you'll experience that the number of investment opportunities is a lot fewer than on competing platforms.
Most of the projects found on the platform are of really high quality and the average loan-to-value of around 50% on the platform is quite good in our opinion.
One of the features we didn't like that much is the auto-invest found on the platform. It is rather basic.
The Bulkestate P2P platform is in our opinion overall a decent choice for a real estate portfolio.
Bulkestate reviews on Trustpilot
Trustpilot is a great place to learn what other people think of Bulkestate. We have collected some good and bad Bulkestate reviews from Trustpilot for you to take a closer look at: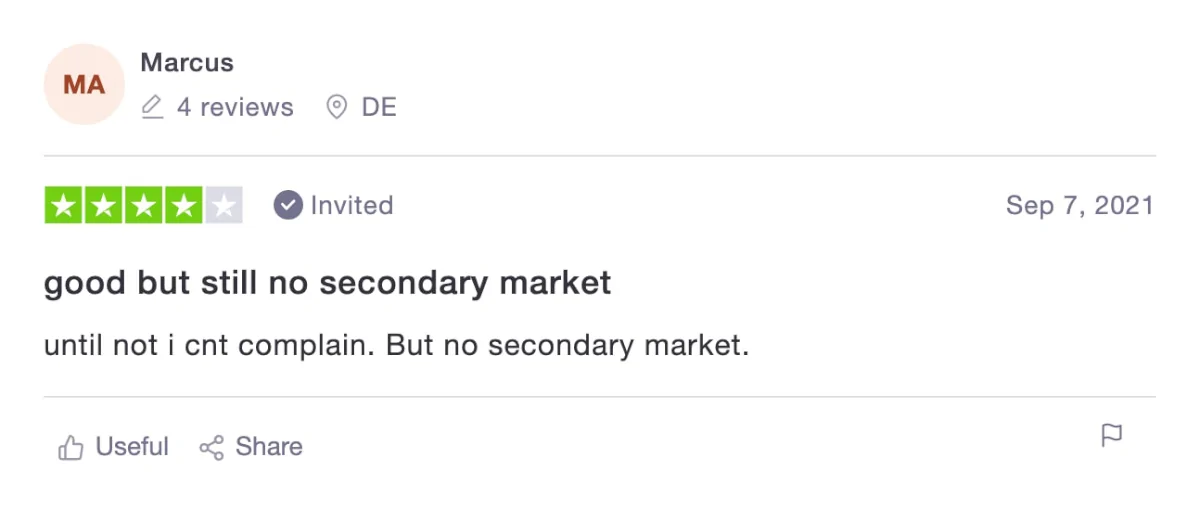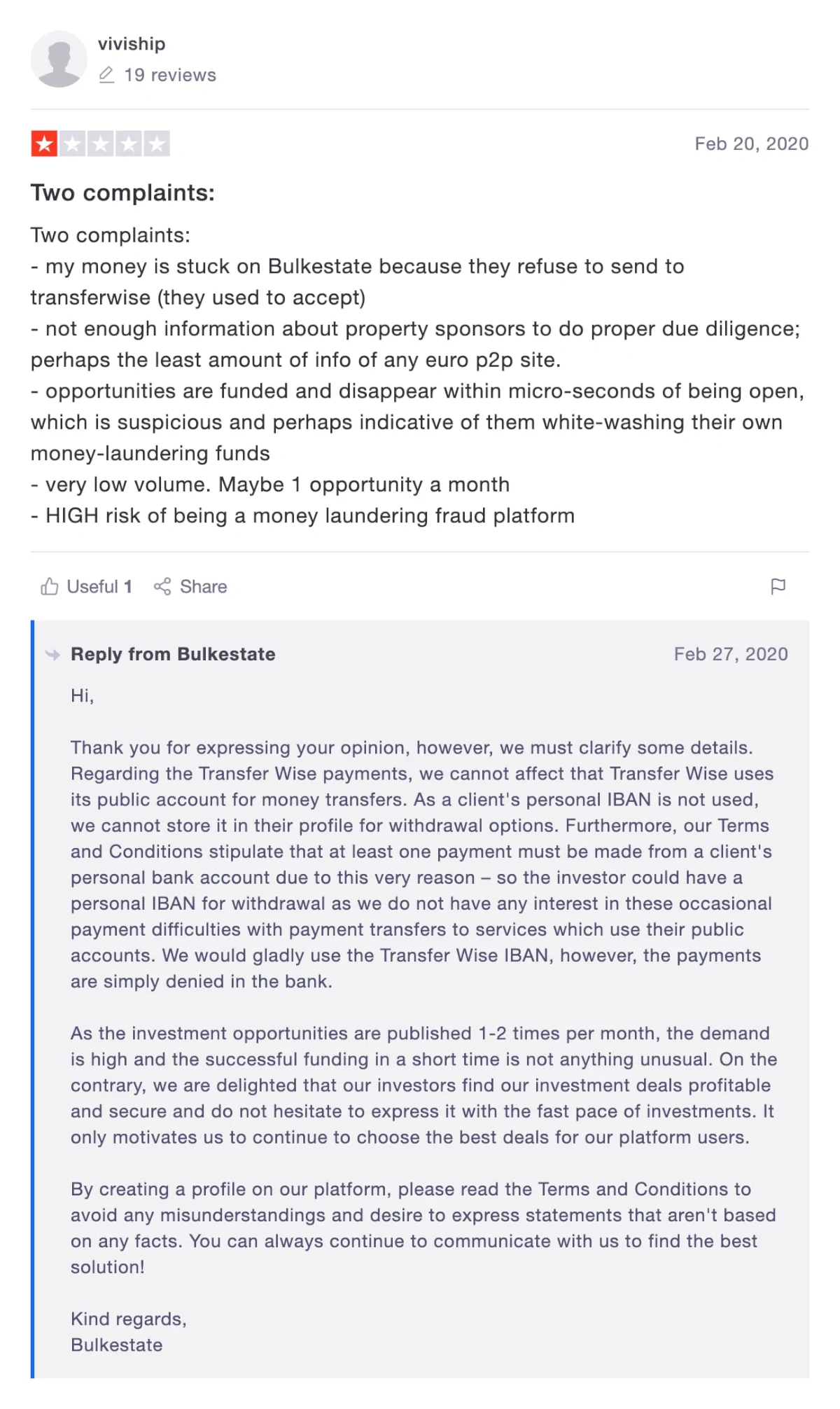 Best Bulkestate alternatives
Not sure Bulkestate is the right choice for you? Then there are also some good Bulkestate alternatives to consider. The following are some of our favorites:
Even if you choose to use Bulkestate, it may still be a good idea to take a closer look at some of the platforms above. By using multiple platforms you minimize your overall platform risk. At the same time, you will have the opportunity to diversify your portfolio further.
Conclusion of our Bulkestate review
Bulkestate is a small, but definitely interesting, real estate crowdfunding platform. They have a decent average LTV of around 50% measured against the high average annual return you will be able to get on the platform.
The auto-invest feature is not that good, so if you choose to use Bulkestate, it's probably best just to do manual investing.
If you are a large investor, the group buying feature on Bulkestate is definitely worth looking into, as it can enable you to get some quite decent real estate deals.
Due to the fact that Bulkestate doesn't have a secondary market, you must be prepared to hold your investments until they expire – if you decide to use the platform.