Mintos review 2023
Is Mintos a great platform for P2P lending? Find out in our Mintos review below:

Review summary:
Mintos is a great platform for both beginners and more experienced P2P investors. On the platform, you can find a wide range of loan types that makes it easy to diversify – something that separates Mintos from a number of other platforms. With Mintos investment strategies, getting started is also quick. But you will typically achieve a higher return by manually setting up auto-invest strategies. Compared to other platforms, the return on Mintos is fairly competitive.
It's free to use the platform.
At P2PPlatforms.com, we strive to list only the absolute best companies in the P2P industry. Where appropriate, we also feature our partners. This doesn't influence our evaluations. All opinions are our own.
Introduction to our Mintos review
Are you considering investing via Mintos? Then read on. We've written this Mintos.com review to help investors determine if Mintos is the right choice for them.
Below you will find an overview of the things that we will discuss more in detail in this Mintos review. Simply click on the links to jump directly to the thing you want to know more about.
Learn about this in our Mintos review:
What is Mintos?
Mintos is a global peer-to-peer lending platform located in Riga, Latvia. Since Mintos launched in 2015, the platform has since become one of the most popular P2P lending companies outside of the US. The company currently has jobs for around 140 employees.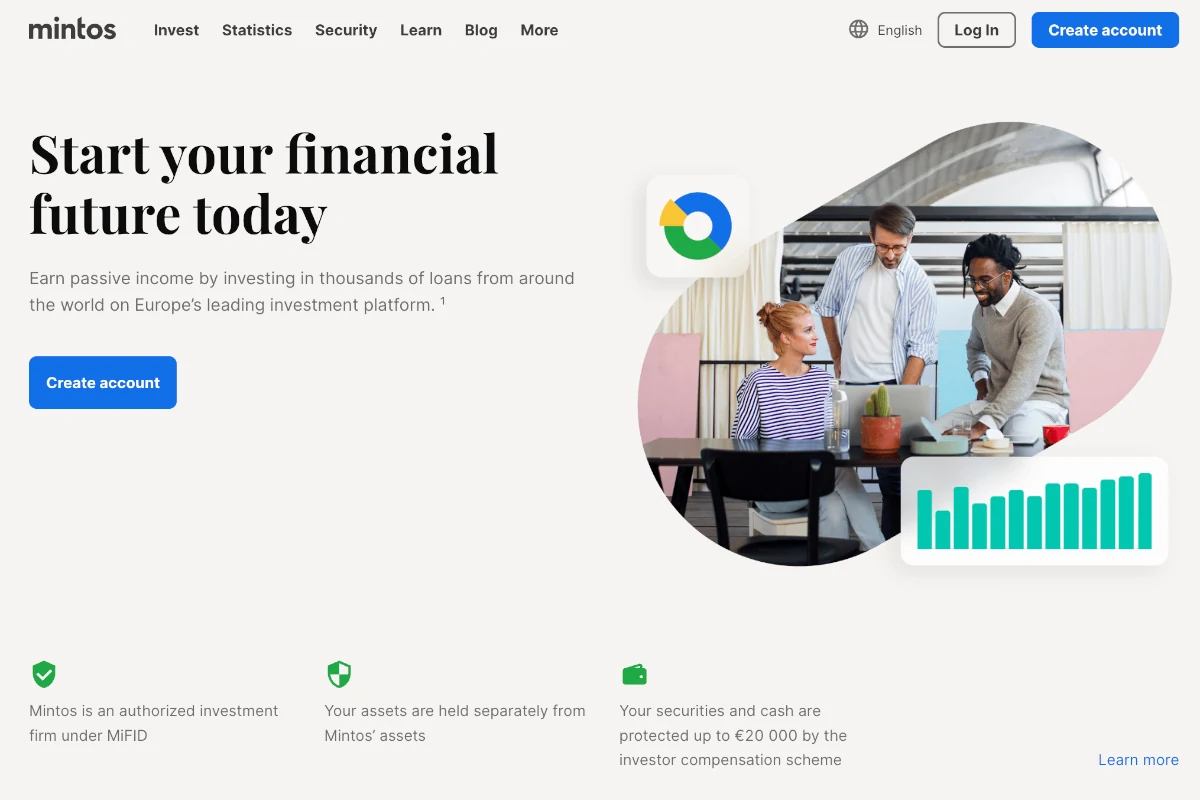 Today, more than 520,000 users are registered on the platform, and every day, even more, are coming to enjoy the platform's average return of 12.35%.
Mintos is an award-winning platform that, among other things, has won the People's Choice Award from AltFi – and for several years in a row.
In 2020, Mintos announced on its blog and newsletter that they were crowdfunding. This meant that investors could now become partial owners of Mintos.
The crowdfunding took place on Crowdcube, and the campaign became very successful and got overfunded by 655%. 2020 was also the year when Mintos applied for the Investment Firm license – which is a sort of banking license.
Mintos growth and success are due to several factors. Among other things, they have chosen not to offer loans to consumers themselves, but instead leave this to external lending companies like Capitalia, Placet Group, Mogo Finance, Creditstar, Wowwo, Nova Loans, etc.
In this way, Mintos manage to grow faster than most of its competitors – without compromising return for investors. So when Mintos needs more loan liquidity on its platform, they simply attract new lending companies.
In the future, Mintos plans to broaden its investment offerings by including more loans with low risk and return levels, new investment products like ETFs, and more. They also consider adding financial services such as a Mintos IBAN account and a Mintos payment card.
Mintos statistics:
| | |
| --- | --- |
| Founded: | 2015 |
| Loan Type: | Consumer |
| Loan Period: | 1 – 80 Months |
| Loans Funded: | € 9.200.000.000 + |
| Mintos Users: | 523.879 + |
| Minimum Investment: | € 10 |
| Maximum Investment: | Unlimited |
| Mintos Interest Rate: | 12.35% |
How Mintos works:
Mintos works by linking different lending companies to its marketplace. The loan originators have already issued some loans, which they then allow investors at Mintos to invest in. This process is illustrated below: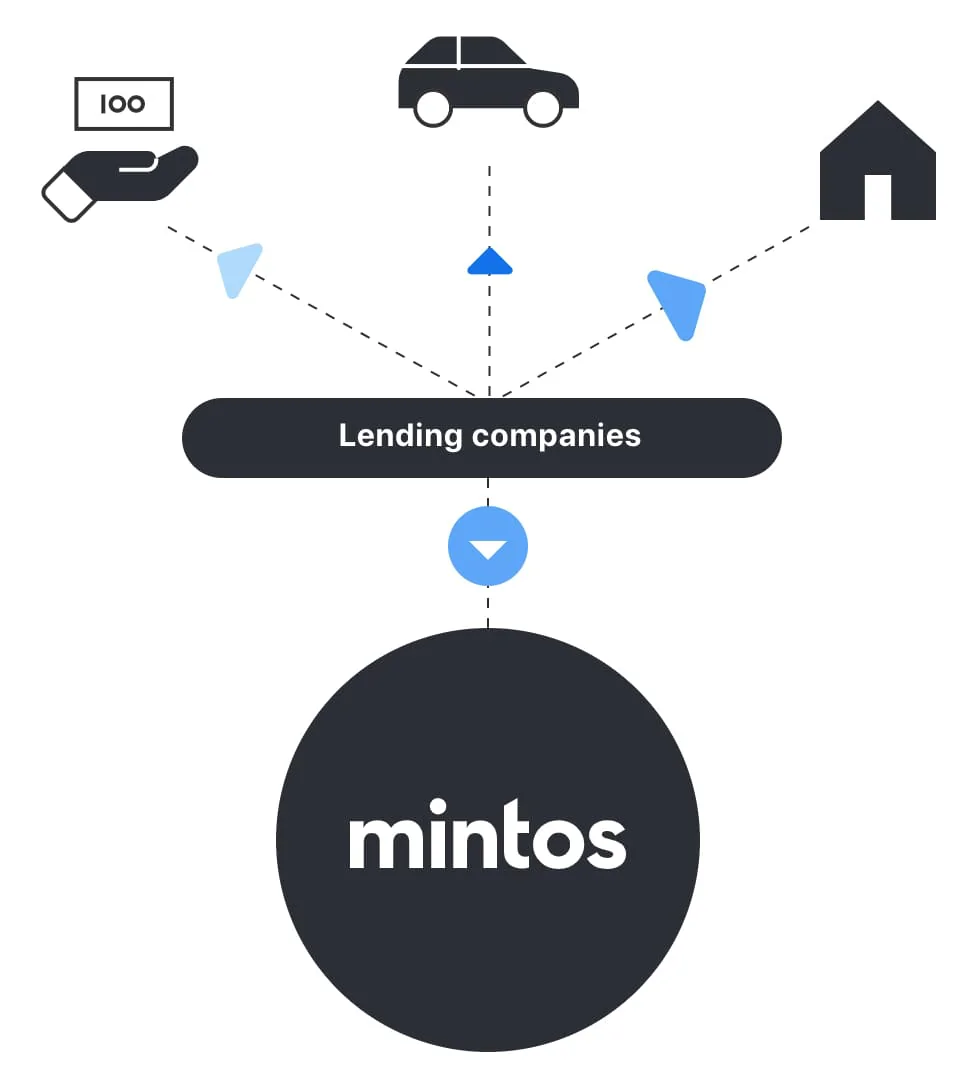 The loans are investable in the form of notes. This means that multiple loans are combined into one investable asset.
By letting retail investors invest in the loans, the lending companies release a lot of liquidity, which means the lending companies themselves get more money to issue more loans.
This creates a win-win situation for both the loan originators and investors at Mintos.
The Mintos loan originators make their money on the difference between the interest rate they lend money to and the interest rate they let investors invest in their loans for.
Mintos require that the loan originators on the marketplace retain a stake in the loans themselves. This is to ensure that the loan originators themselves have skin in the game and therefore also act on behalf of the investors.
For example, let's say a loan originator issues a loan of €1,000 and is forced to keep 10% skin in the game. This means that the loan originator must keep a €100 stake in the loan himself. This allows them to release a maximum of €900 for investment on the Mintos P2P marketplace.
As an investor in the Mintos marketplace, you have the opportunity to invest in many different loan types.
The loan types on Mintos include:
Mortgage loans
Short-term loans
Secured car loans
Business loans
Forward flow
Personal loans
Agricultural loans
Payday loans
Invoice financing
Later in this Mintos review, we will also dive into other different safety-related factors that are worth considering if you want to start investing in Mintos. But for now, let's look at what you can do on the Mintos marketplace and what features the platform has to offer.
Frequently asked questions:
Key features
We have already taken a look at some of the reasons why Mintos has become a popular choice among investors. In the following, we take a closer look at some of the key features that make it easy to invest via the platform:
1. Mintos buyback obligation
On the vast majority of loans, Mintos has a so-called buyback obligation (previously known as the Mintos buyback guarantee). In short, the buyback obligation helps to protect you against loan defaults. In case a loan is not repaid, then the loan originator must repurchase the loan from you as an investor.
However, it is important to remember that a buyback guarantee is only as secure as the ones behind them – which in Mintos' case would be the loan originators. So if you decide to invest via Mintos, then it is a good idea to diversify between several loan originators.
Also, keep in mind that a buyback obligation acts as a form of insurance. Therefore, loans with a buyback obligation typically have a lower return than loans without a buyback obligation.
Before the buyback guarantee is activated, the late payments will have to go through a grace period.
2. Mintos auto-invest
Another key feature we have to mention in this Mintos review is the auto-invest. Mintos has one of the best auto-invest features among P2P lending platforms. It is both more sophisticated and user-friendly than most other platforms.
To use a Mintos auto-invest strategy, follow this guide:
Log in to your account
Click "Invest"
Click "Add strategy"
Click "Create new Auto Invest strategy"
From here you can choose between 3 predefined Mintos Investment Strategies:
Diversified
Conservative
High-yield
These predefined investment strategies are best for quickly getting started with a reasonable risk/reward level. So for the brand new P2P investor, these can be a pretty solid choice.
If you would like full control over your investments, then you can also choose to create your very own Custom Strategy. This is initially a bit more difficult than simply choosing a Mintos Investment Strategy. But if you want to get the most out of your P2P investments, then we strongly recommend you spend your time learning how to set up a Custom Strategy.
A bit of good advice when choosing a Custom Strategy is to set the portfolio size low in the first place. That way you can see what loans it is investing in, without getting all your funds invested.
Another good piece of advice is to create several different strategies and then prioritize the order in which they are executed. For example, this may look like this:

Based on the first priority, called "Diversification Strategy", we only invest in loans with an interest rate of +12%. If all the money is not invested based on the diversification settings, then the second priority strategy becomes active instead and ensures that your money is invested. This strategy is named "Short-Term Strategy" in the picture.
This is a simple way to set up an auto-invest strategy if you are long-term looking to get as high a return on your money as possible, but in the event of temporary declines in interest rates, you still want to have all the money invested.
You can also create many more different layers, such as investing automatically in secondary markets, etc.
If you want to delete an auto-invest strategy, this is simply done by clicking the 3 dots on the right-hand side of your custom automated strategy and then clicking "delete".
3. Mintos secondary market
Mintos was one of the first Peer-to-Peer lending marketplaces to introduce a secondary market. This enabled investors to sell investments ahead of time.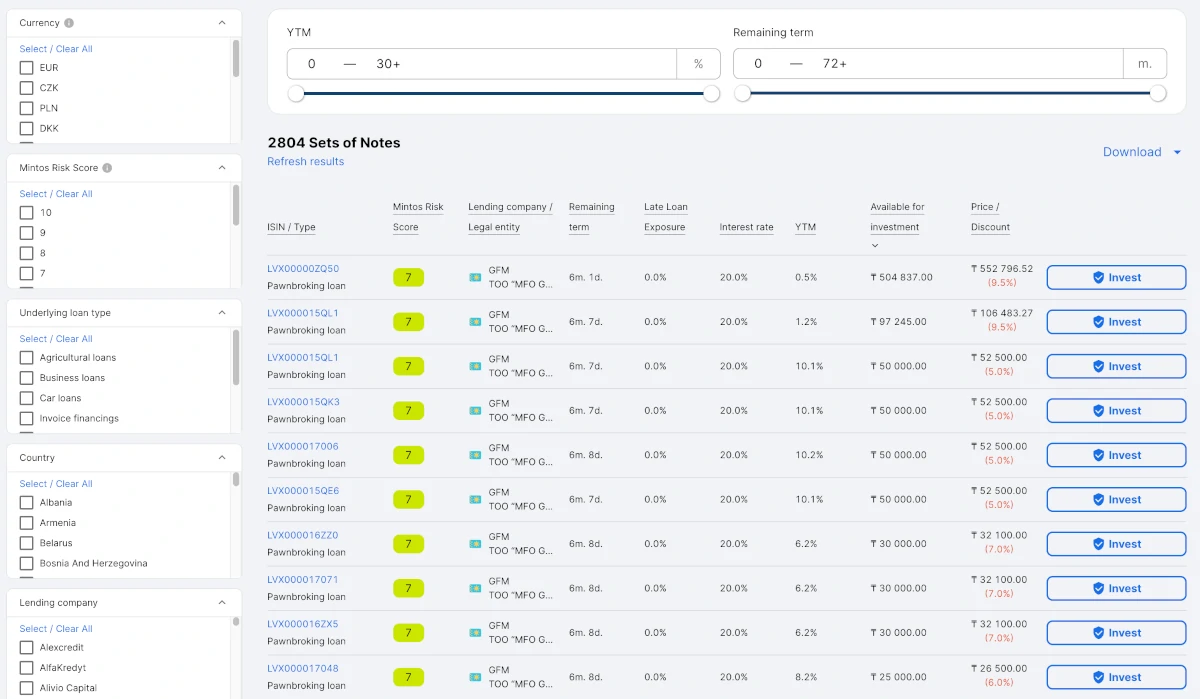 Selling loans on Mintos can be done with both a discount and a premium, which also opens up the possibility of making extra profit.
You can use the Mintos secondary marketplace to scoop up some discounted loans and thereby increase your return. This is made easy as you can sort the loans on factors such as YTM (Yield-To-Maturity), interest rate, loan term, loan status, Mintos Risk Score, and more.

You can also use the Mintos secondary market to sell your loans if you no longer want them. Of course, this is an advantage for you if you find better investment opportunities elsewhere or simply need cash.
However, in April 2020, a fee of 0.85% was introduced for selling loans on the Mintos secondary marketplace. Buying loans is still free of charge.
If you are wondering how to sell on Mintos, simply login to your account, go to your portfolio, and click sell on the loans you don't want anymore.
4. Mintos Risk Score
In late October 2020, the platform introduced a new rating called the Mintos Risk Score. This was a replacement for the previous Mintos ratings on the platform.
The risk score consists of the following 3 categories:
High-risk score (1-4)
Med-risk score (5-7)
Low-risk score (8-10)
Below you can see an overview of the new scoring model: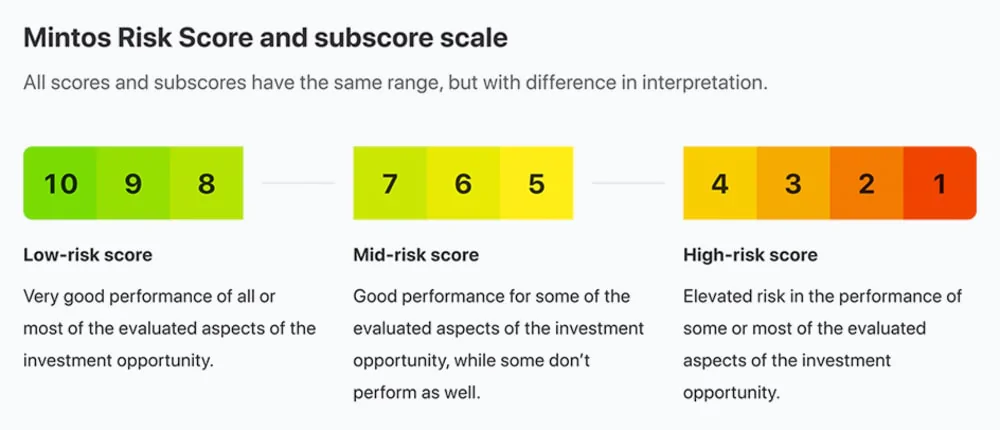 The Mintos Risk Score is calculated by weighting points from the following 4 subscores:
40% loan portfolio performance
25% loan servicer efficiency
25% buyback strength
10% cooperation structure
Just below you can see a visual representation of how this works where the combined Mintos Risk Score ended up as an 8:

The Mintos Risk Score is updated on a quarterly basis. Here the company takes a good hard look at financials, loan portfolio quality, the status of business environments, track records of the management, etc. Based on these factors, Mintos updates the Mintos Risk Score.
An upgrade in score can for example be based on:
The company improves its market position, product offering, and income diversification
The company significantly improves its debt collection or risk-based scoring
Improvement of the capital position of the company
Improvement of regulation of the company
A downgrade in the score can be based on:
A higher percentage of non-performing loans
Changes in regulation for the worse
The company defaults on a financial obligation
Forced restructuring of the company
5. Mintos mobile app
In December 2019, Mintos introduced a mobile app for iOS. Shortly after, in January 2020, the app was also released for Android. In months previous to that, a dedicated Mintos team had been working on making it easier for investors than ever to visit the lending marketplace.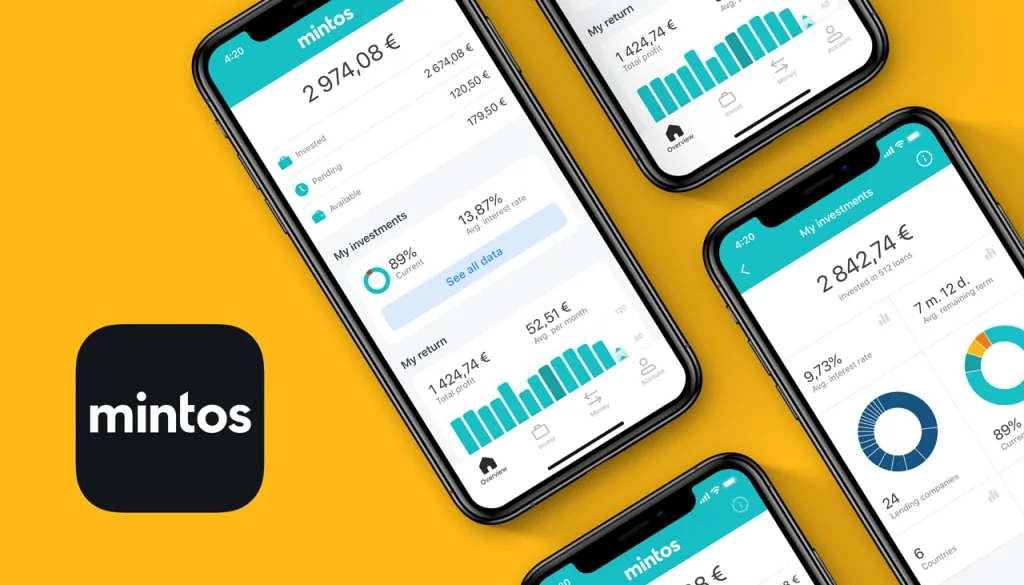 Since the release of the Mintos app, it has continuously been updated with more and more features from the Mintos website.
However, to this date, you won't be able to do all the things on the application that are possible on the web version of the investment platform. One example is that if you want to use the Mintos app, you must first sign up via the website.
The Mintos app is used by over 100,000 investors. The app has received many reviews on Google Play and the App Store. This led to a rating of 3.8/5, which is very high.
Some of the Mintos app's negative ratings and reviews are the result of investors encountering minor bugs. But to address bugs and enhance the user experience, the app is frequently updated.
As a result, some of these reviews of Mintos apps are no longer valid.
6. Large investor benefits
If you invest over €50,000 with your Mintos account, you will be considered a pro-investor. The feature was added in 2018 to make it more attractive for large investors to invest in loans on Mintos.
Pro-investors get perks like having a personal Investor Service Associate connected to their account. They can use this associate to discuss any Mintos platform-related questions over email or phone. Other benefits of being a large investor at Mintos are:
Early access to trying new features
Request custom-made investment rapports
A top priority at Mintos customer support
Discuss Mintos-related questions with a personal Investor Service Associate
If you want access to these large investor benefits, you'll have to deposit at least €50,000 to invest at Mintos after you open an account on the platform.
7. Mintos tax report
The platform makes it easy to handle your taxes based on the account statement of your Mintos account. In order to get the tax report, you must log in to your account. Here you can easily generate a tax report that makes it very easy to handle the tax.
The tax statement will be sent to your e-mail in a very short time after you generate it, and it is tailored to the legislation of the country you are a tax resident of.
8. Mintos investment strategies
In August 2020, Mintos introduced three easy-to-use auto-investment strategies as a sort of next generation of what was previously known as Mintos Invest & Access. The investment strategies are:
Diversified (which basically works like Mintos Invest & Access)
Conservative
High-yield
Below, you can see a comparison of the Mintos strategies and making your own custom auto-invest strategy: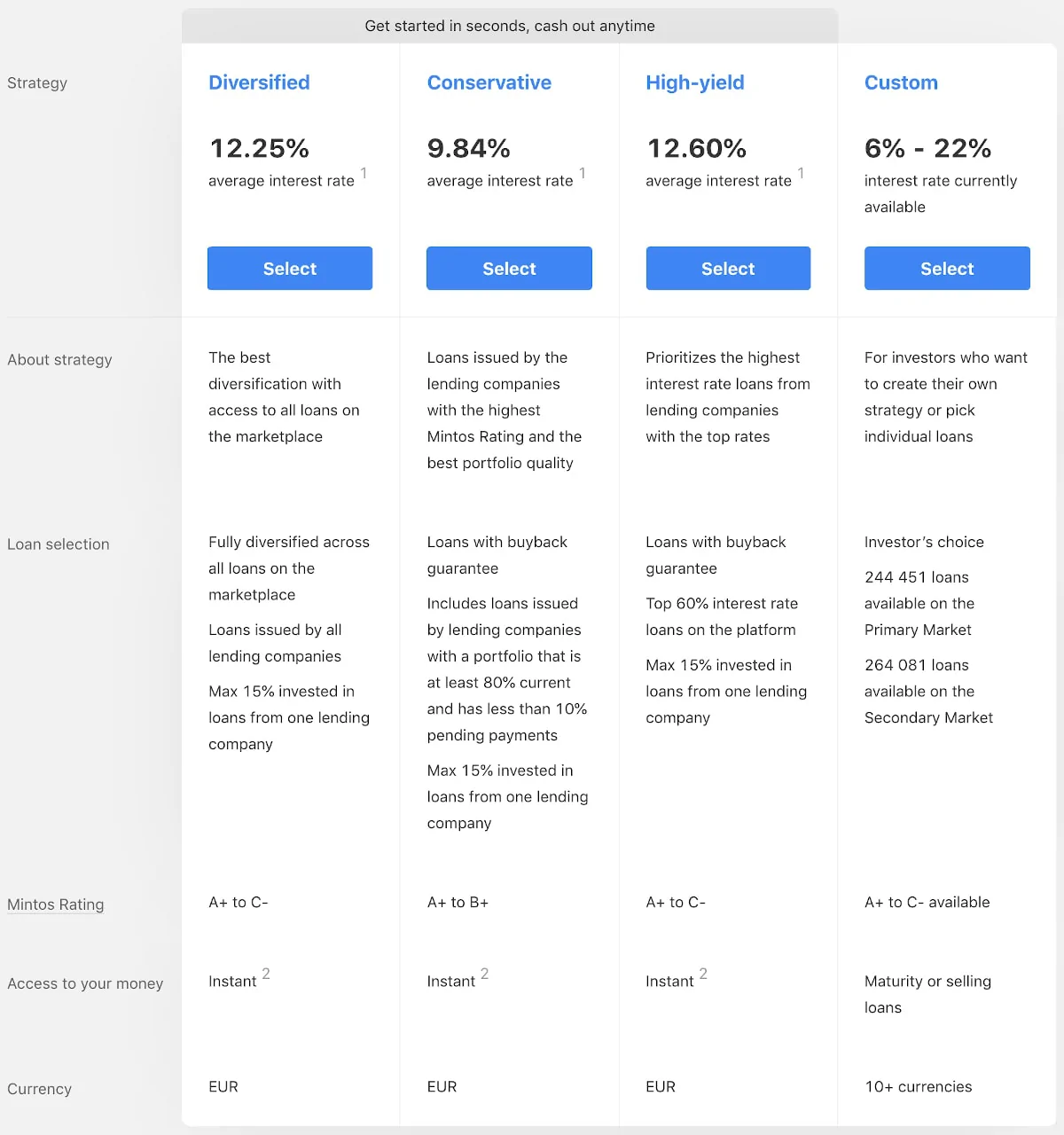 The Mintos investment strategies basically act as an auto-invest strategy but allow investors to spend even less time managing their portfolio. A clear benefit of auto-invest is that you won't have to continuously add new loan originators to your auto-invest strategy as they appear on the platform. By using one of the strategies, you will be diversified between most of the lending companies on Mintos. However, you won't be able to cherry-pick or get advanced with the preset strategies.
At the same time, the Mintos strategies have an advantage over auto-invest strategies when it comes to cashing out on investments. This has been made easier and faster than ever before. That is why the strategies are an obvious choice for new investors who do not yet know if they want to have the money tied up on the platform for a long time.
So if you have never invested in P2P lending before, and want to try it out for the first time, without having to consider too many options, the best way to go from reading this Mintos review to start investing on the platform is probably by using one of the three Mintos strategies.
Who can use Mintos?
Both individuals and organizations can invest via Mintos.
Individuals
If you want to invest as an individual, you must at least meet the following requirements:
Being at least 18 years old
Having a bank with AML/CFT equivalent to the EU
Getting your identity verified by Mintos
Accept the Mintos user agreement
If you live up to these requirements, then you can start investing via the platform.
Organizations
Whether you run a family trust, partnership, limited liability company, or another type of organization, investing via Mintos is also possible.
The requirement is here, as with individuals, that your organization has a bank account and is registered in the EU or other countries considered to have AML/CFT systems equivalent to the EU.
Available countries
Just below you can see an overview of which countries currently have investors on Mintos. So if you live in one of the countries marked with blue, then it should be possible for you to invest via Mintos.
If your country is not marked with blue, then it may still be possible for you to invest – and if so, you will be the first from your country on Mintos.
USA and UK investors might experience more difficulties in signing up as there is more regulation in these countries.
If in doubt about whether you can invest, please contact Mintos via their contact information through this link.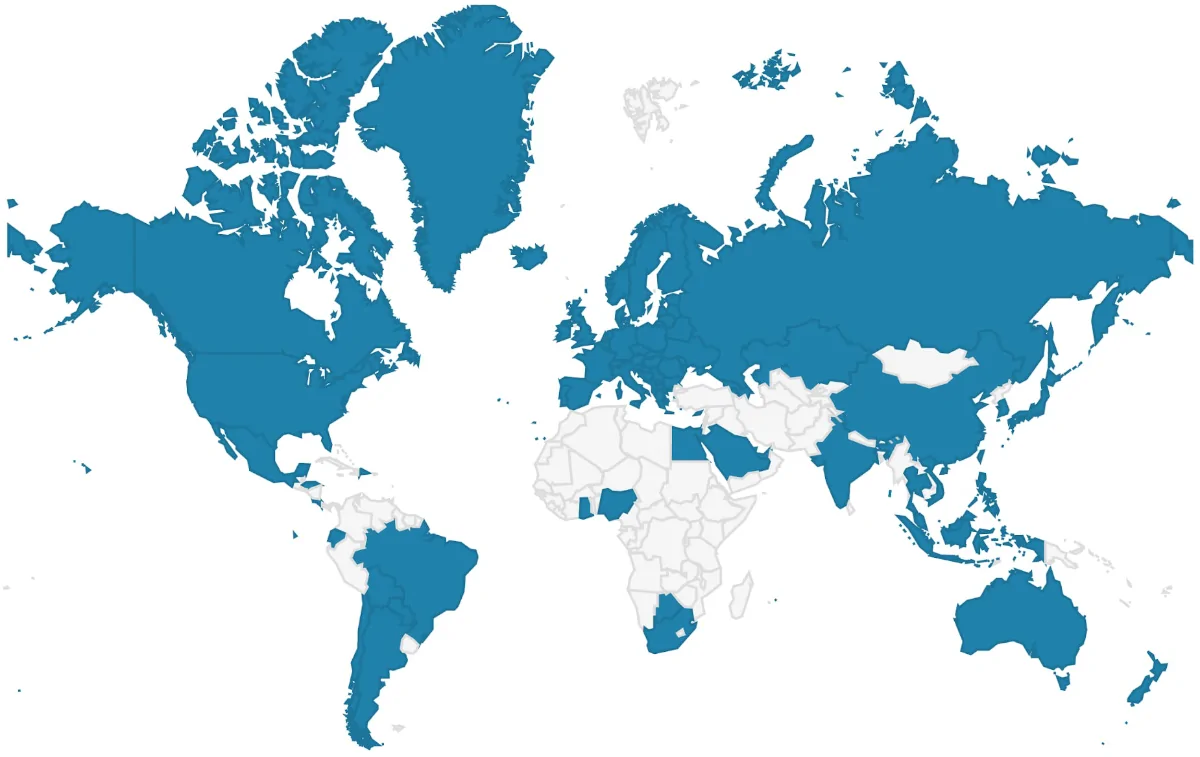 How safe is Mintos?
To determine if Mintos is safe, we have taken a look at some of the potential upsides and downsides of investing with Mintos. However, when you consider the safety of Mintos, we don't recommend that you rely solely on information found in our Mintos review as this is only based on our research. We always recommend that you also do your own research before investing any money.
1. Mintos profitability
Already after 3 years in the market, AS Mintos Marketplace turned into a profitable company with a net profit of €196,000 in 2017. Since then Mintos has continued its business growth, but in recent years the company reported a net loss in its annual report.
Keep in mind, however, that Mintos is a Fintech growth company that uses a lot of money marketing its business to achieve its astronomic growth. Therefore, it is not unusual for them to report a loss in their financial report while increasing the customer base.
2. Main risks
In the following part of our Mintos review, we go through some of the main risks of using Mintos that we have considered:
Loan default risk
When you invest in P2P loans, there is a risk that the borrower will not be able to repay his loan. In that case, your investment is usually lost.
However, most loans at Mintos have a buyback obligation that can secure you against this type of event.
The best way to hedge against loan default risk is to invest in many different loans. In addition, it may be a good idea to choose loans with a buyback obligation.
Loan originators risk
The Mintos loan originators also pose a risk to investors. If they are not in control of their finances, have poor management, or the like, then they run the risk of going bankrupt like any other business. This can result in you ending up with pending payments, money in recovery, or in the worst case the loss of your funds.
This is also one of the reasons why Mintos is conducting a due diligence check by the loan originators before being given the opportunity to put loans on the platform. Among other things, they review the management quality, underwriting policies, financial statements, loan default rate, and credit scoring. And even after being accepted on the platform, Mintos follows up with ongoing evaluations.
Although a thorough due diligence check and follow-up evaluation were conducted, the loan originator Eurocent ended in bankruptcy in 2017, as the first lending company on Mintos. During the history of the platform have been some problems with the following Mintos lenders:
Eurocent
Finko
Monego
Aforti Finance
Express Credit
Capital Service
GetBucks
This says something about the importance of diversifying between several loan originators. It is also a good idea to check out the Mintos lenders rating before you invest on the platform.
The Mintos loan originators' risk is especially important to consider for loans with an indirect investment structure. And as you are able to find loans with both a direct and indirect investment structure on Mintos it is something to pay attention to.
If you wonder what's the difference between direct and indirect investment structures, then see below:
Direct investment structure: With this structure, you are buying a loan with a claim directly against the borrower.
Indirect investment structure: With this structure, you are buying a loan with a claim against the loan originator.
Going for loans with a direct investment structure can be very useful if the Mintos loan originator rating is poor and you think the lending company is risky. If the lending company then defaults, you won't have a claim against the lending company. Instead, your claim will be handled directly by the borrower.
Mintos bankruptcy risk
Of course, there is also a risk of Mintos going bankrupt. Like many other P2P investing platforms, Mintos has also created a procedure for what should happen in this case:
If Mintos goes bankrupt, then a liquidator or administrator steps in to help manage the investments.
To make sure things are distributed fairly, transaction data from Mintos is shared with the legal firm FORT on a monthly basis. So should it happen that Mintos folds, this data can be used to ensure that the loans are managed properly.
Financial turndown risk
As P2P investing is a newer thing in the investment world, it can be difficult to predict how a financial turndown would affect this form of investment. As a starting point, it is, therefore, a really bad idea to invest your entire investment portfolio in P2P investments.
Therefore, many investors also choose to diversify into more traditional forms of investment such as equities, bonds, and traditional real estate.
Since investing is an individual thing, we obviously do not know what will be best for you. But if you put together your investment portfolio, make sure that it reflects your knowledge of the investments in it, as well as your own risk appetite. If in doubt about how to do so, make sure to seek help from a professional investment planner.
Is Mintos safe?
Mintos has a professional approach to selecting loan originators for the marketplace and has even made measures against its own bankruptcy. With these things in mind, we believe that Mintos is among the safer platforms on the market.
However, other factors such as a lack of knowledge about how a financial turndown will affect the P2P lending industry are also risk factors that are worth considering.
Our experience with Mintos
We have only had good experiences with Mintos. The entire sign-up process was pretty user-friendly and quick to get through, which is why we in a short time came to the point where we could start investing. This is among the reasons why we gave the platform a very good rating in this Mintos review.
Below you can see a screenshot taken from our account at Mintos:

As you can see we have achieved a Net Annual Return of 12.02%. This is a result that we find attractive based on our risk/reward assessment of the platform.
Learnings and notes from our Mintos test
We have tried to test both auto-invest and manual investing on Mintos. Not autoinvesting is definitely not recommended, as the auto-invest settings can get very specific and save you a ton of time.
Depositing money to Mintos is very easy and it's possible to transfer money with both Revolut, Transferwise, Trustly, and normal SEPA bank transfers. We recommend that you use a normal bank transfer for your first transaction as this is needed to verify your bank account for any future withdrawals.
It is only possible to withdraw money from Mintos to your own bank account. This means that it is not possible to withdraw to Revolut, Trustly, and Transferwise.
When we tried to withdraw some money from Mintos via Trustly the withdrawal got canceled. To fix this we simply transferred €1 from our own bank account to Mintos. We could withdraw our money to the bank account with no issues. The withdrawal time was 2 days and no withdrawal fee was applied by Mintos.
If you want a tip on how to deposit money into Mintos, you should do so in the currency you intend to use on the platform (often Euro). By doing so avoid the high exchange rate on the platform.
Mintos reviews on Trustpilot
Trustpilot is a great place to learn what other people think of Mintos crowdlending platform. We have collected some good, some average, and some bad Mintos reviews from Trustpilot for you to take a closer look at: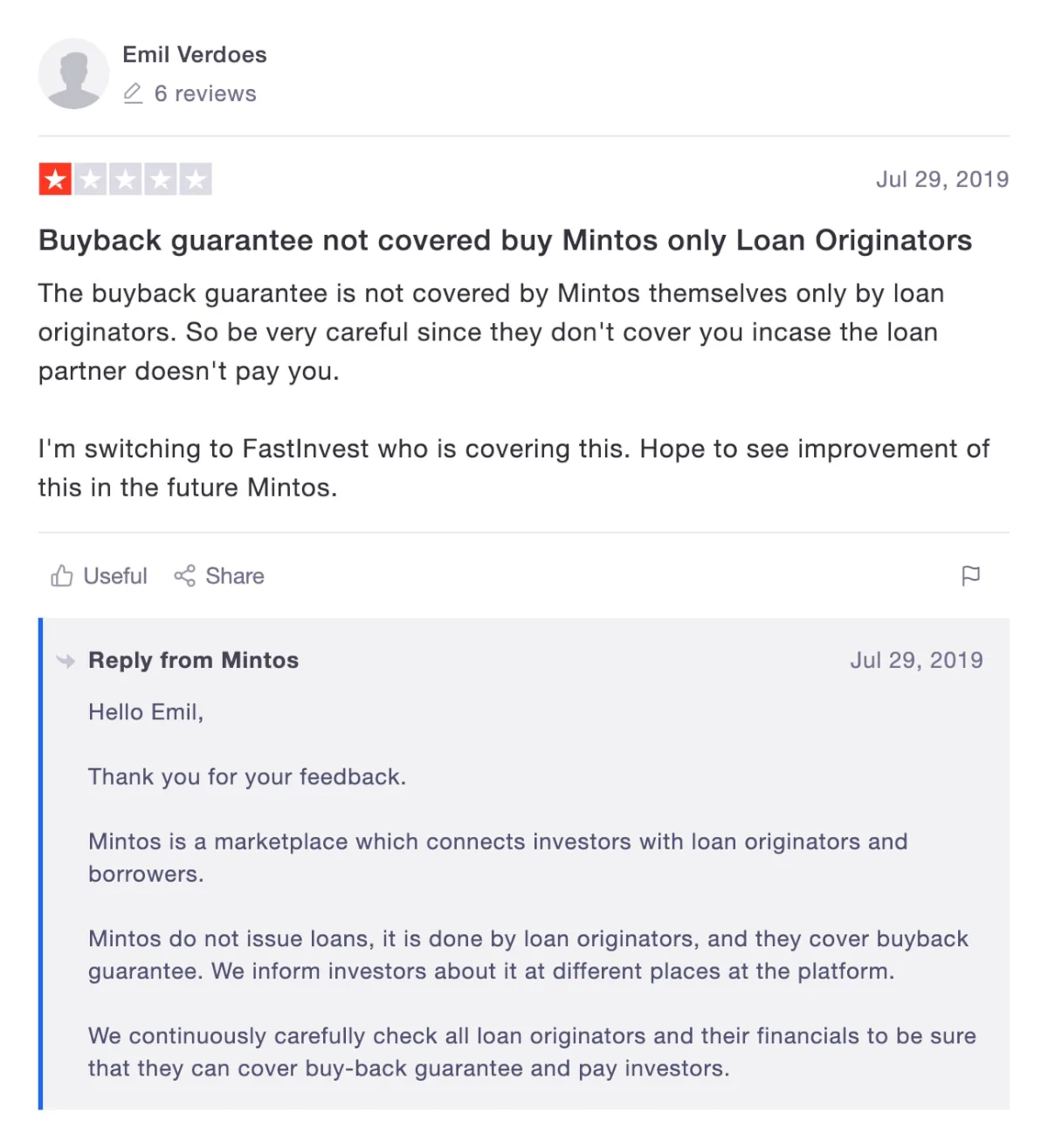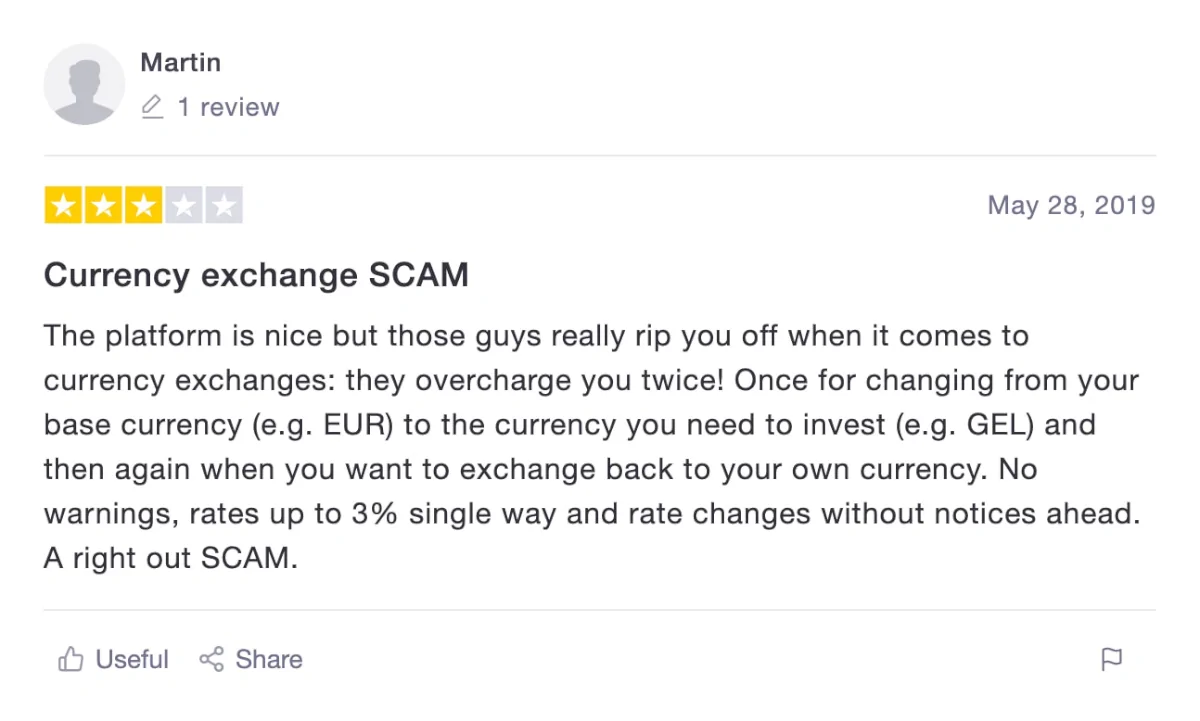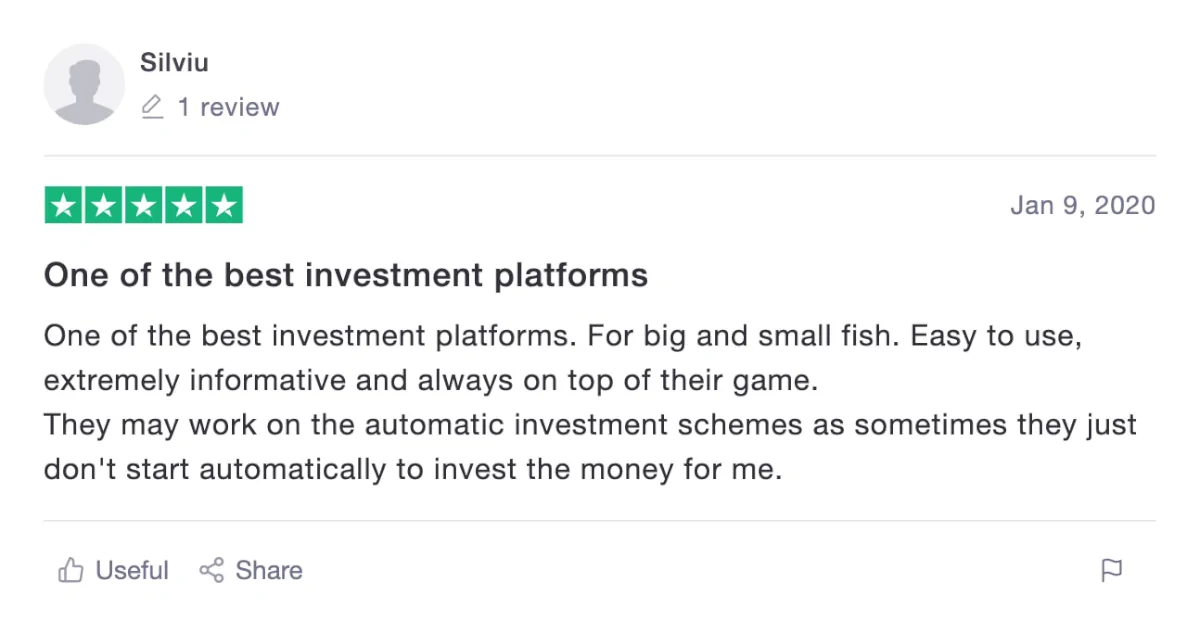 Not sure Mintos is the right choice for you after reading our Mintos review? Then there are also some good Mintos alternatives to consider. The following are some of our favorites:
Even if you use Mintos, it might actually be a good idea to take a closer look at some of the above platforms. By using multiple platforms, you can reduce your platform risk and diversify your portfolio further.
In the following, you can learn more about how Mintos compare to its nearest competitors that many investors ask about:
Mintos vs PeerBerry
Deciding between Mintos vs PeerBerry is difficult. They both offer some very great P2P investments.
The main force of Mintos is all the features and the diversification options. Meanwhile, PeerBerry is a great competitor that has gained a lot of traction in recent years.
And many investors on blogs, forums, etc. have even decided to change from Mintos to PeerBerry. But at the end of the day, PeerBerry doesn't have the same amount of great features as Mintos.
Mintos vs Bondora
Even though both are seasoned platforms with some somewhat similar features, we believe that Mintos is a slightly better choice than Bondora. So if you want to go with either Mintos or Bondora, Mintos would probably be the best platform.
Mintos vs EstateGuru
If you are deciding between Mintos and EstateGuru, you should primarily think about if you'd rather invest in consumer-based loans or real estate loans.
Some investors think that investing in payday loans, personal loans, car loans, etc. is unethical. If you think so, then go with EstateGuru. Otherwise, you should just think about what would suit your investment portfolio the best.
Mintos vs TWINO
Mintos and TWINO are both from 2015 and have for a long time been competing for the European P2P market.
Investors deciding between Mintos or TWINO should note that Mintos many times won the Altfi People's Choice award whereas TWINO has been the runner-up.
At the same time, Mintos offers a lot more investment opportunities than TWINO.
Mintos vs FAST INVEST
Deciding between Mintos vs FAST INVEST? For most investors, Mintos would probably be the best fit, as they historically have had more features, transparency, and loans on their platform.
The primary reason to choose FAST INVEST over Mintos would be that you easily get confused by many features – here FAST INVEST is just more simple and beginner-friendly.
Conclusion of our Mintos review
We have been investing via Mintos for a long time – and have never experienced any problems.
Compared to many other platforms we have reviewed, Mintos is one of the most innovative and fastest-growing platforms on the market.
Although they are experiencing tremendous growth, they have consistently managed to maintain a high return for their investors. That is despite the fact that many other platforms end up having to lower their returns as they grow. But the Mintos business model allows them to outgrow most of their competitors.
As a final note to this Mintos review, we would just say that if we had to choose only one P2P lending platform, then we would choose Mintos.