NEO Finance Review 2022
Is NEO Finance a great platform for P2P lending? Find out in our NEO Finance review below:

Review summary:
NEO Finance is a platform that offers higher transparency around its platform than most of its competitors. At the same time, it is a platform that has many advantages and only a few disadvantages. In fact, we are surprised by the fact only so few use NEO Finance at this point in time, as we believe it is one of the absolute best platforms on the market.
It's free to use the platform.
Last updated: April 21, 2022
At P2PPlatforms.com, we strive to list only the absolute best companies in the P2P industry. Where appropriate, we do also feature our partners. However, this doesn't influence our evaluations. All opinions are our own.
Introduction to our NEO Finance review
Are you considering investing via NEO Finance? Then read on. We've written this NEOFinance.com review to help investors determine if NEO Finance is the right choice for them.
Below you will find an overview of the things that we will discuss more in detail in this NEO Finance review. Simply click on the links to jump directly to the thing you want to know more about.
Learn about this in our NEO Finance review:
What is NEO Finance?
NEO Finance is the largest Peer-to-Peer lending platform in Lithuania. Since the platform was launched in 2015, NEO Finance has seen an increasing growth on the platform – both in loans granted and in the number of investors.
Today, there are just over 13,500 investors on NEO Finance's platform, who are benefiting from an annual return of around 12%. And on a daily basis, more new investors register on the platform, which accelerates NEO Finance's growth further.
NEO Finance AB, which owns the P2P platform itself, NEO Pay, and Paskolų klubas, held a successful IPO from May 15 to June 4, 2019. It sold 192.907 shares and raised EUR 605.728. The NEO Finance stock was first listed on Nasdaq Baltic First North and is available for public investing (see the latest share price and more).
NEO Finance statistics:
| | |
| --- | --- |
| Founded: | 2015 |
| Loan Type: | Consumer |
| Loan Period: | 1 – 120 Months |
| Loans Funded: | € 90.000.000 + |
| NEO Finance Users: | 13.500 + |
| Minimum Investment: | € 10 |
| Maximum Investment: | Unlimited |
| NEO Finance Interest Rate: | 12.00% |
How NEO Finance works:
The great growth that NEO Finance is experiencing is due to several things. One of those things is probably to be found in how the platform work. Because contrary to what you see on platforms like Mintos, PeerBerry, and FAST INVEST, NEO Finance is not a P2P marketplace but a loan originator itself. This means that the loans you find with NEO Finance are some that they have issued to consumers directly.
A major advantage of NEO Finance itself acting as a loan originator is that there are fewer intermediaries who want to have a slice of the cake. Therefore, theoretically, you should also get a higher return on a platform like NEO Finance than on platforms that simply act as middlemen.
Another advantage of NEO Finance being the loan originator is that they have the opportunity to give you more information about the borrowers. It actually allows you to become very specific with whom you want to borrow money on the platform.
Frequently asked questions:
Key features
We have already taken a look at some of the reasons why NEO Finance has become a popular choice among investors. In the following, we take a closer look at some of the key features that make it easy to invest via the platform:
1. NEO Finance buyback guarantee
The buyback guarantee at NEO Finance works a little differently from what you can find on other platforms where 100% of the investment is guaranteed.
At NEO Finance, only 50-80% of face value is covered, depending on the credit rating.
If you want full coverage in the event of a loan default, you can use the provision fund offered by NEO Finance instead.
2. NEO Finance provision fund
The NEO Finance provision fund is more similar to the buyback guarantee that you will often find on other platforms. However, the provision fund is voluntary and only costs per use. Thus, by using the provision fund, you get more or less insurance on your investment – but with a slight decrease in your overall return.
The provision fund is funded by NEO Finance, with its own assets as collateral. Therefore, as long as NEO Finance exists, there is no way around for them to have to pay for the loans covered by the provision fund.
The provision fund is kept in a separate bank account to the one of NEO Finance. Below, you can see the positive development in the provision fund account balance: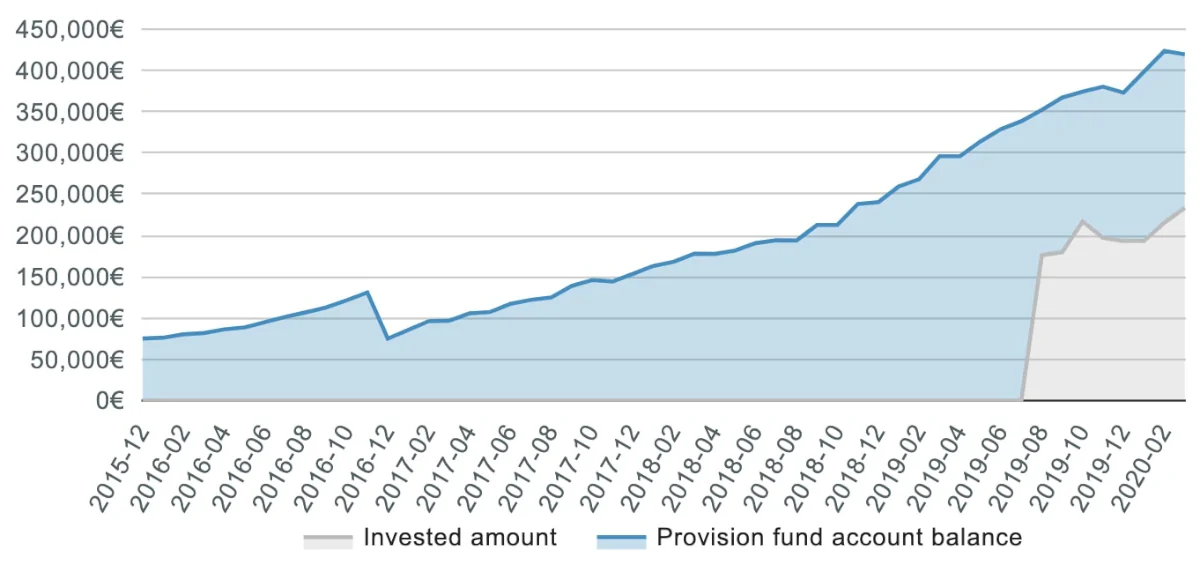 In 2018, the provisions were at only €159,115, while the NEO Finance had cash and equivalents of €2,642,060. Since the provisions are only a small part of the company's balance sheet, it should not be a problem for NEO Finance to pay them to their investors.
3. NEO Finance auto-invest
NEO Finance has one of the most comprehensive and detailed auto-invest features among P2P lending platforms. Yet, it is simple and easy to use.
To use the auto-invest tool, simply follow this process:
Log in to your account
Click "Create Auto Investment"
From here you can set the criteria to match your investment needs: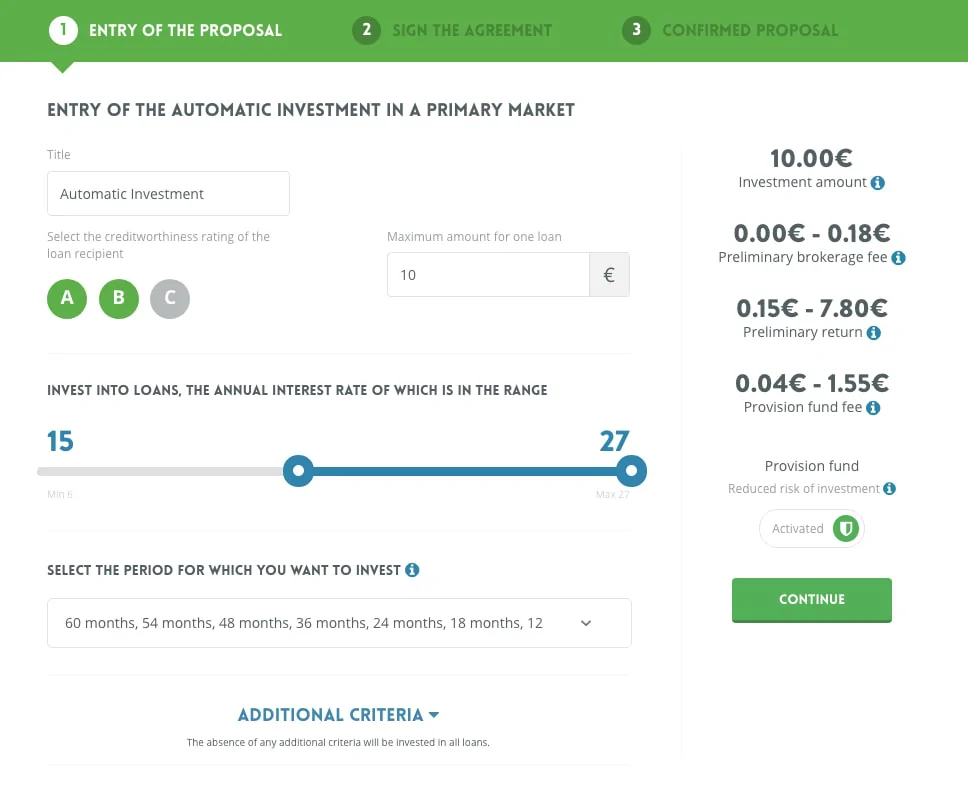 As you can see, NEO Finance auto-invest is very simple to set up. If you choose to press "additional criteria", you will, however, have a world of several options that you can choose to use or not. For most people, adding additional criteria is not necessary, but for the more sophisticated investor, it opens up even more opportunities.
When you make your auto-invest strategy you can also activate the NEO Finance provision fund on the right-hand side.
4. NEO Finance secondary market
At the NEO Finance secondary market, you can sell your investments ahead of time. You can do this with a discount or a premium, which opens up the possibility of extra profit.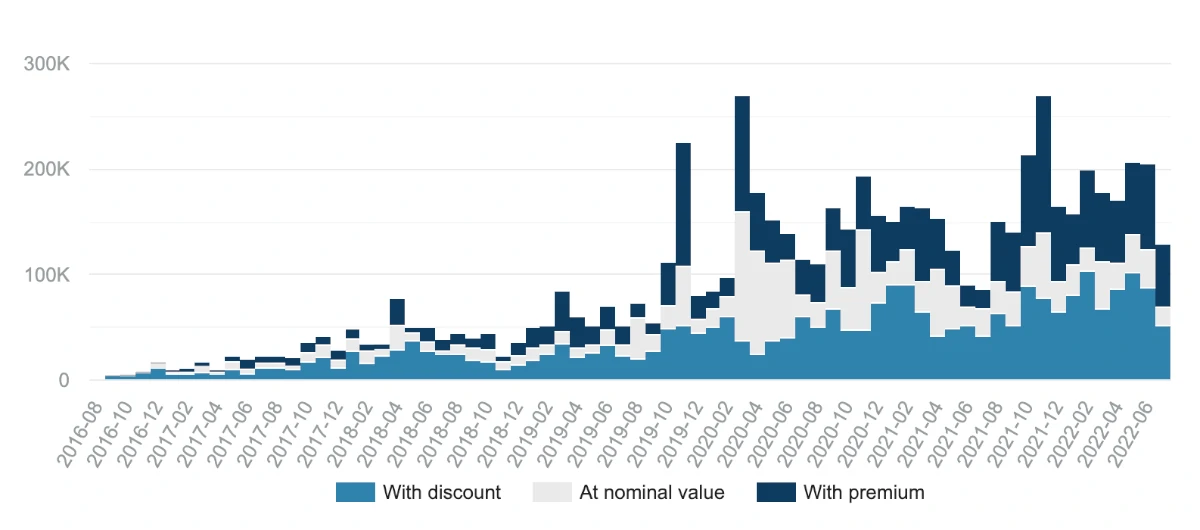 You can also make use of the secondary market to buy discounted loans and thereby increase your overall return.
If you are not satisfied with your investments in NEO Finance, then you can at any time get rid of the loans you have invested in. So in the case that you find better investment opportunities elsewhere, you can move your money there in no time.
5. NEO Finance bonus
NEO Finance offers a bonus of €25 when signing up with a referral link. Therefore, we have found and integrated such referral links in the green buttons on this page.
All you have to do to get the signup bonus is click the green button below (You won't need a NEO Finance referral code or promo code):
Who can use NEO Finance?
Both individuals and organizations can invest via NEO Finance.
Individuals
If you want to invest as an individual, you must at least meet the following requirements:
Being at least 18 years old (or have your parents invest on your behalf)
Having a valid passport or ID card
If you live up to these requirements, then you can start investing via the platform.
Organizations
If you would like to invest in NEO Finance via an organization then this is also possible. During the sign-up process, you simply choose to create an account as a legal entity.
Available countries
At this time, investing in NEO Finance is only possible if you are a citizen of the European Union. If you are not, then you can look into some of these alternatives.
How safe is NEO Finance?
To determine if NEO Finance is safe, we have taken a look at some of the potential upsides and downsides of investing with NEO Finance.
1. NEO Finance profitability
NEO Finance saw great growth from 2017 to 2018. However, the company was not yet profitable.
Below is the future earnings trend that NEO Finance expects: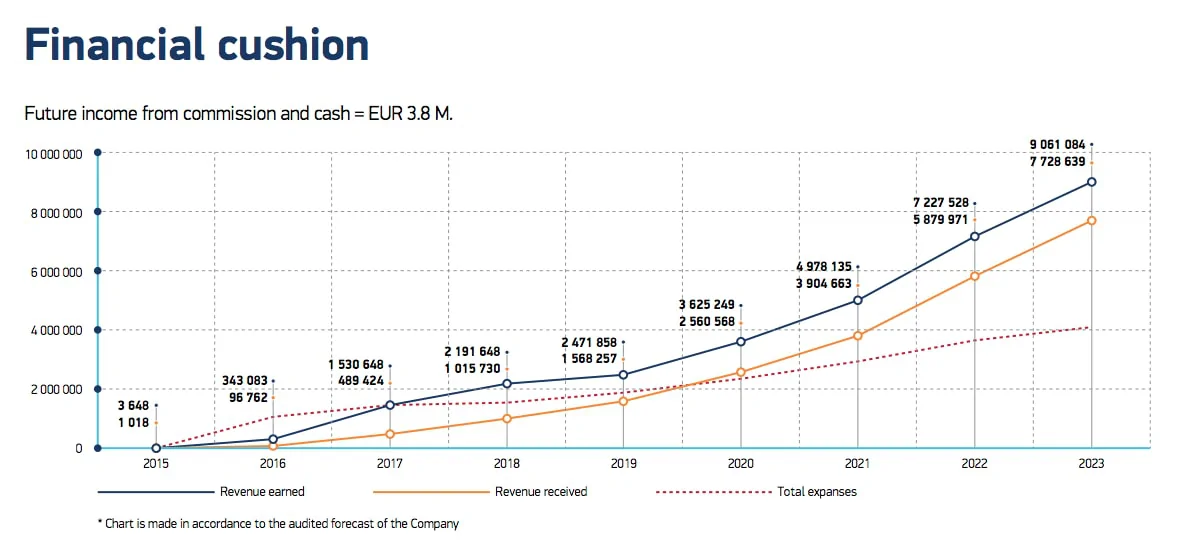 So if NEO Finance continues to develop positively, and according to the financial cushion, it should not be long before it is a profitable business.
2. Main risks
In the following, we go through some of the main risks of using NEO Finance that we have considered:
Loan default risk
When you invest in P2P loans, there is a risk that the borrower will not be able to repay his loan. In that case, your investment is usually lost.
However, the buyback guarantee at NEO Finance covers 50-80% of the face value of the loans your invest in upon defaulting.
If you want to hedge further against loan default risk, then you can also consider using the NEO Finance provision fund to maximize protection against loan default on the platform.
NEO Finance bankruptcy risk
Of course, there is also a risk of NEO Finance going bankrupt. Like many other P2P investing platforms, NEO Finance has also made measures against such an event:
If NEO Finance faces financial challenges, then the funds cannot be frozen by third parties such as creditors or bailiffs. This is due to the fact that both borrowers and investors at NEO Finance are assigned a personal IBAN account.
So every time there is a transaction on the platform, it actually happens via your personal account. In this way, NEO Finance separates its activities from both the borrowers and investors on the platform.
Financial turndown risk
As P2P investing is a newer thing in the investment world, it can be difficult to predict how a financial turndown would affect this form of investment. As a starting point, it is, therefore, a really bad idea to invest your entire investment portfolio in P2P investments.
Therefore, many investors also choose to diversify into more traditional forms of investment such as equities, bonds, and traditional real estate.
Since investing is an individual thing, we obviously do not know what will be best for you. But if you put together your investment portfolio, make sure that it reflects your knowledge of the investments in it, as well as your own risk appetite. If in doubt about how to do so, make sure to seek help from a professional investment planner.
Is NEO Finance safe?
Since NEO Finance is close to being a profitable company and is currently experiencing great growth, we do not consider NEO Finance to be a major risk in itself. However should NEO Finance experience financial difficulties, measures have been taken to protect you as an investor.
However, other factors such as lack of knowledge about how a financial turndown will affect the P2P lending industry are also risk factors that are worth considering.
Our experience with NEO Finance
After playing around on the NEO Finance platform for quite a while, we have to admit that we are actually quite fond of it. Especially the auto-invest feature appeals to us because of the fact that it enables us to make very precise settings.
The sign-up process itself was also easily done, which meant that we quickly got to the point where we could start investing via the platform.
NEO Finance reviews on Trustpilot
Trustpilot is a great place to learn what other people think of NEO Finance. We have collected some good, some average, and some bad NEO Finance reviews from Trustpilot for you to take a closer look at: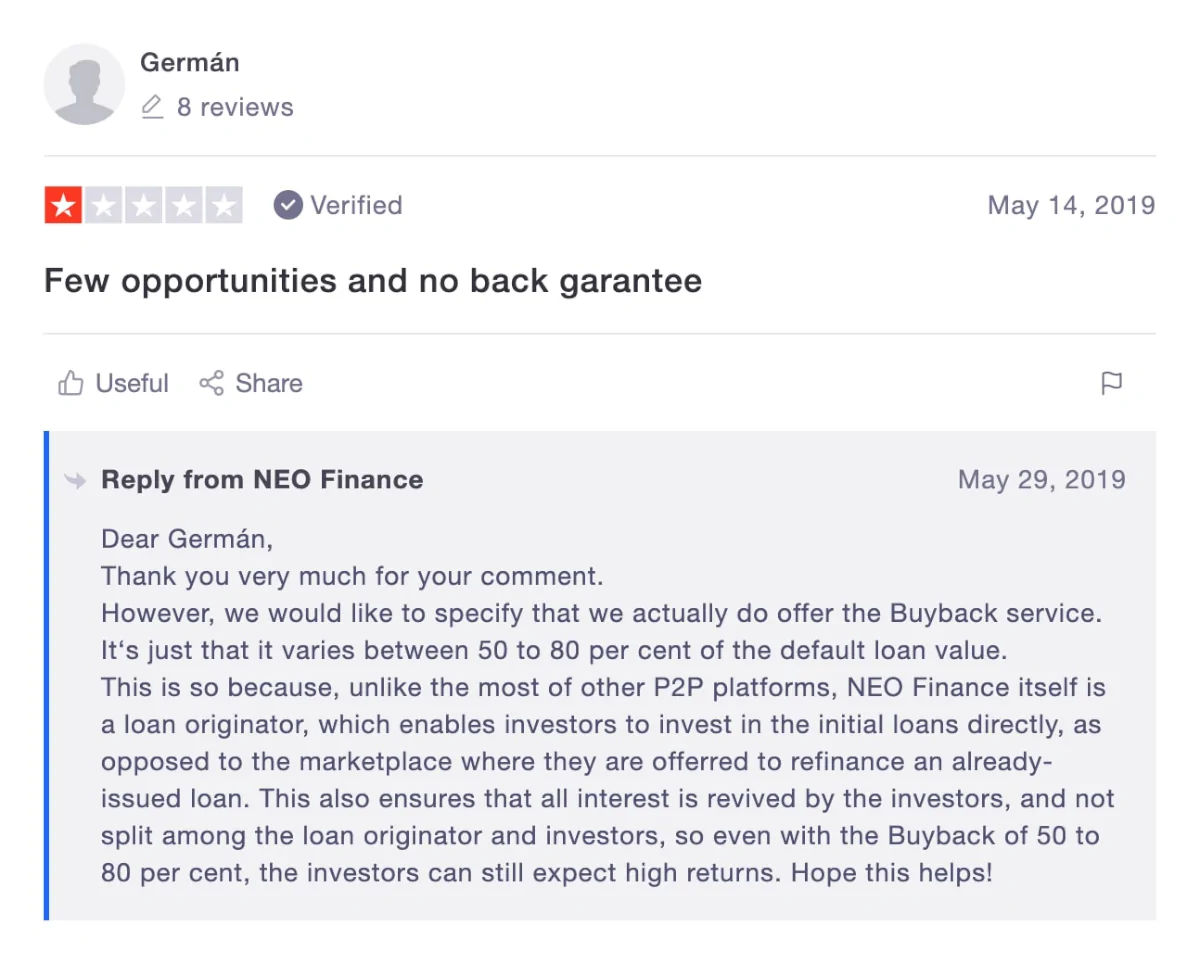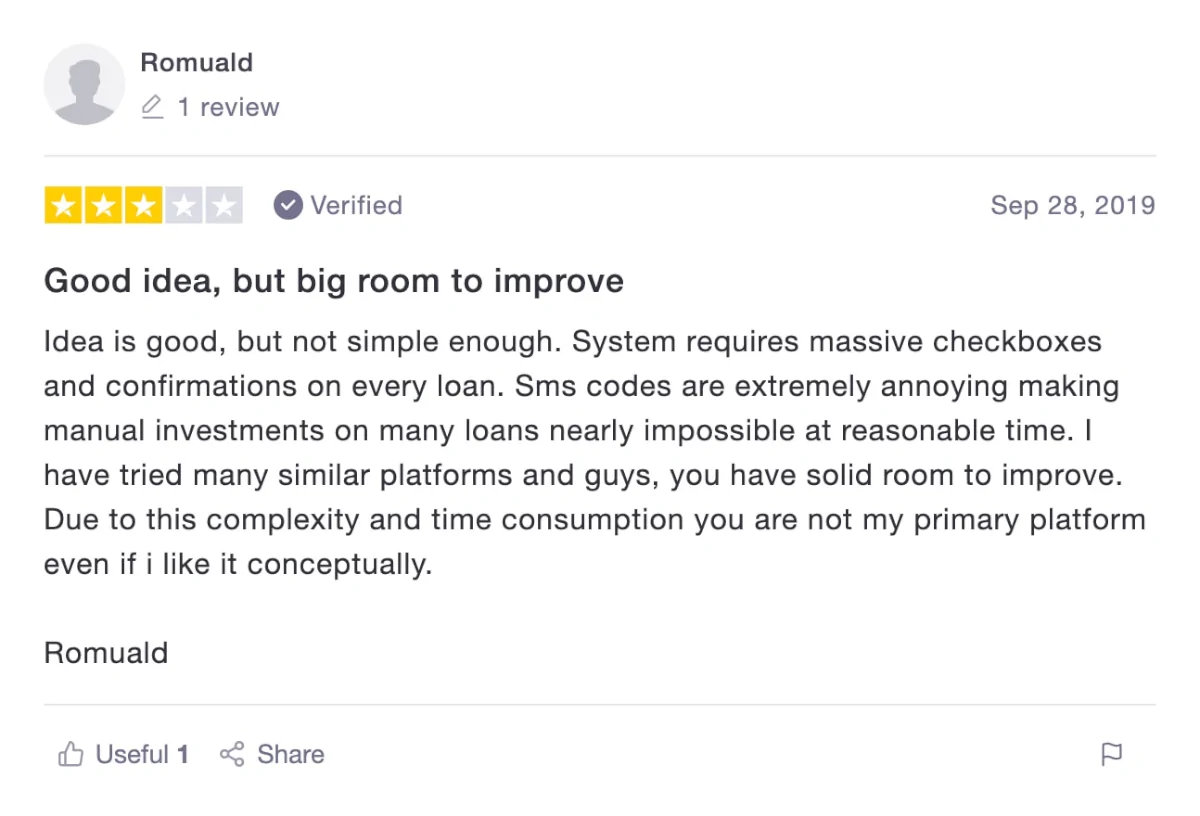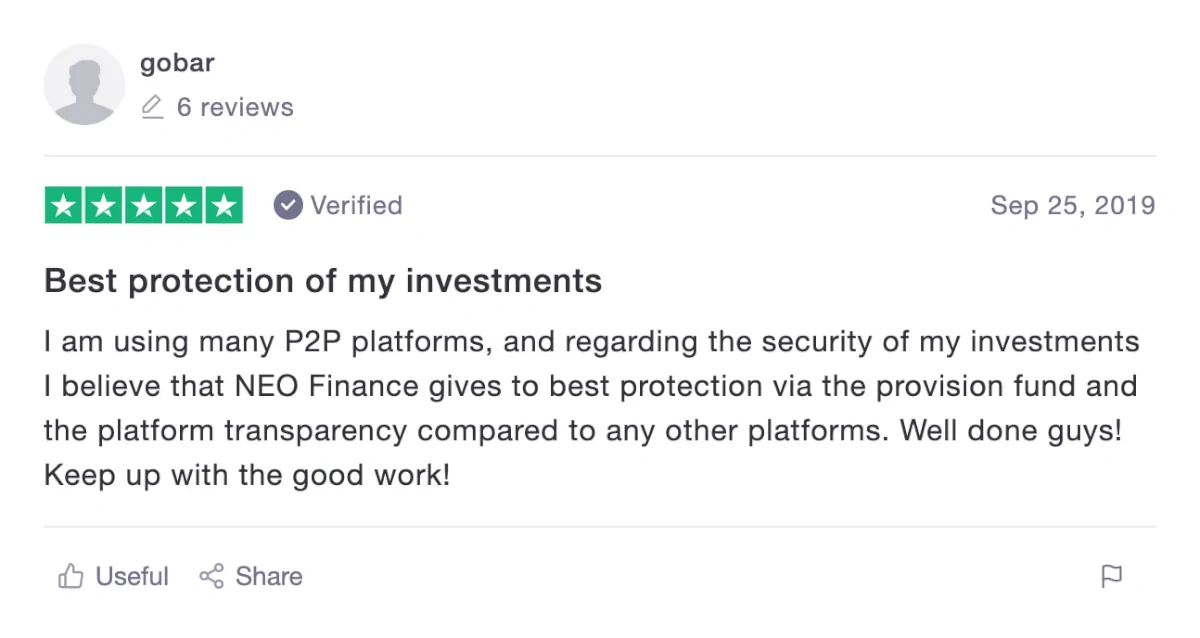 Best NEO Finance alternatives
Not sure NEO Finance is the right choice for you? Then there are also some good NEO Finance alternatives to consider. The following are some of our favorites:
Even if you use NEO Finance, it might actually be a good idea to take a closer look at some of the above platforms. By using multiple platforms, you can reduce your platform risk and diversify your portfolio further.
Conclusion of our NEO Finance review
NEO Finance stands out from a lot of P2P platforms by being a loan originator itself. This leads to a number of positive things, such as fewer middlemen wanting a piece of the cake – which in theory gives you a higher return. At the same time, you can also get more control over the platform.
Among the negative things about NEO Finance being a loan originator itself is that you only get access to their own loans. This makes it more difficult to achieve proper loan diversification.
At the moment, NEO Finance is experiencing great growth, which we look forward to following closely. Within a short time, we are convinced that NEO Finance will end up being a profitable platform.
If you look from the investor's point of view, you get a high return on NEO Finance – even if you see it in relation to the risk you run. It's probably also why a lot of investors on forums, Facebook, and other social media seem to like the platform.
In our opinion, the risk/reward level on NEO Finance is appealing.