FAST INVEST review 2023
Is FAST INVEST a great platform for P2P lending? Find out in our FAST INVEST review below:

Review summary:
For investors looking to dip their toes into P2P lending, FAST INVEST has been a good platform for a long time. The platform is easy to use and it is possible to try it with just €1. If you do not want to spend time manually picking loans you can make use of auto-invest – then you can automatically invest based on the criteria you choose. Should you regret your investments, you can get your money out of the investment by selling it to other investors on the FAST INVEST secondary market. But in the past few years, the platform has become very unreliable in terms of withdrawals, which has resulted in loads of negative reviews on Trustpilot. Due to this uncertainty, FAST INVEST is not a recommended platform at the time.
It's free to use the platform.
At P2PPlatforms.com, we strive to list only the absolute best companies in the P2P industry. Where appropriate, we also feature our partners. This doesn't influence our evaluations. All opinions are our own.
Introduction to our FAST INVEST review
Are you considering investing via FAST INVEST? Then read on. We've written this fastinvest.com review to help investors determine if FAST INVEST is the right choice for them.
Below you will find an overview of the things that we will discuss more in detail in this FAST INVEST review. Simply click on the links to jump directly to the thing you want to know more about.
Learn about this in our FAST INVEST review:
What is FAST INVEST?
FAST INVEST is an alternative investment platform that aims to give everyone the opportunity to invest. They do this by letting individuals invest in different types of consumer loans from different non-banking lending institutions.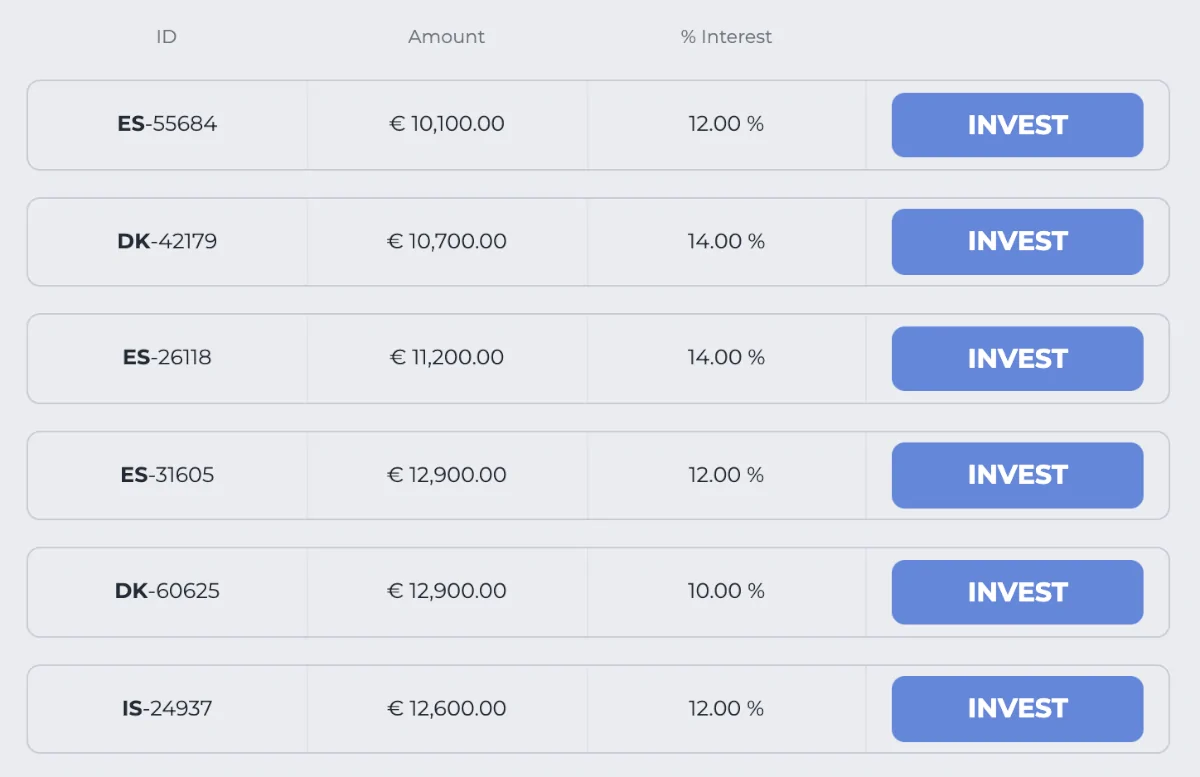 The company behind the crowdfunding platform is registered in the UK. It was founded in December 2012, and its platform was later launched in February 2015. Since then, the platform has been led by CEO Simona Vaitkune. You can learn more about her on LinkedIn.
The platform has become quite popular. Since its inception, over 41,000 investors from over 55 countries have joined FAST INVEST to enjoy the platform's average return of 13.98%.
FAST INVEST is one of the platforms where you can try your hand at P2P lending for the least money. On their website, you can start investing for just €1.
FAST INVEST statistics:
| | |
| --- | --- |
| Founded: | 2012 |
| Loan Type: | Consumer |
| Loan Period: | 1 – 18 Months |
| Loans Funded: | € 67.000.000 + |
| FAST INVEST Users: | 41.000 + |
| Minimum Investment: | € 1 |
| Maximum Investment: | Unlimited |
| FAST INVEST Interest Rate: | 13.98% |
How FAST INVEST works:
The process of how FAST INVEST works begins when a borrower applies for a loan from one of their partner lending institutions. Here, the lending institution reviews the applicant's documents, credit score and performs a risk evaluation. If the applicant meets certain standards, then the lending institution issues the loan.
Before the loan gets on the Loan List at FAST INVEST, the loan becomes triple-checked and certified for investment by a credit institution. At the same time, the creditor's conditions must also be approved by the FAST INVEST Compliance and Credit Risk department.
When a loan arrives on the Loan List at FAST INVEST, it becomes possible for investors like you can invest in it. Here, as an investor, you will typically invest small amounts in many different loans to minimize your overall risk.
When the borrower then starts repaying the loan according to the loan conditions, you will start to receive payments equivalent to your share in the loan. This money is automatically transferred to your account.
From here you can either choose to reinvest the money or simply withdraw it to your own bank account.
Frequently asked questions:
Key features
We have already taken a look at some of the reasons why FAST INVEST has become a popular choice among investors. In the following, we take a closer look at some of the key features that make it easy to invest via the platform:
1. FAST INVEST buyback guarantee
When you invest via FAST INVEST, your investments are secured with a buyback guarantee. This means that in case the borrower is overdue with repayment on their loan, FAST INVEST will make the payment to you instead.
The FAST INVEST buyback guarantee is activated if a loan is more than 3 days overdue. Here you get paid both the principal sum, as well as all interest earned in the investment period.
However, it is worth bearing in mind that a buyback guarantee is only as secure as the one issuing it. In this case, it is the company behind FAST INVEST itself which is issuing the guarantee. So at the end of the day, the buyback guarantee will only be truly valid as long as FAST INVEST is a sound company capable of covering the buyback guarantees. You can take a look at our safety assessment of the company here.
We also always think it's a good idea to invest via more than one P2P platform to minimize the overall platform risk.
2. FAST INVEST secondary market
In 2020, FAST INVEST introduced a secondary market on its platform. This feature makes it possible for investors to sell their loans to other investors on the platform. The feature is much in line with what you can find on other P2P lending platforms.
To sell your loans on the FAST INVEST secondary market, simply use this process:
Log into your account
Click on the Investments section
Select the loan you want to sell
Consider applying a discount
Click "sell"
Once another investor then buys the loan, you will then get the money on your account. Until the loan is sold, you will keep earning interest.
Before you use the FAST INVEST secondary market, you should be aware of the following:
FAST INVEST charges a 0,5% sales fee, which is deducted from the initial value of the loan
Once you add a loan to the secondary market, you are unable to cancel the sale
Prior to the secondary market, FAST INVEST had a moneyback guarantee, where you could sell your loans directly back to FAST INVEST within 24 hours. However, as the moneyback guarantee involved some risk to the platform, as FAST INVEST's financials could be influenced by it, the secondary market should be viewed as an overall improvement of the platform.
3. FAST INVEST auto-invest
At FAST INVEST you can choose to invest via auto-invest. By doing so, you do not have to manually select the loans yourself each time one of your investments is fully repaid.
To use their auto-invest strategy, follow this process:
Log in to your account
Click "Auto-Invest"
Click "Create a new portfolio"
From here you can create your own FAST INVEST auto-invest portfolio:

The FAST INVEST auto-invest strategy maker is, with its simple interface and few options, pretty much self-explanatory. You can define the requirements for your return and the duration of the loans. You can also set a limit on how much of your portfolio can be invested via auto-invest and how much per loan and much more.
Who can use FAST INVEST?
Both individuals and organizations can invest via FAST INVEST.
Individuals
If you want to invest as an individual, you must at least meet the following requirements:
Being at least 18 years old
Having a valid email address and mobile phone number
Having a bank account in the European Economic Area (EAA)
Being from one of the available countries stated further down
If you live up to these requirements, then you can probably start investing via the platform.
Organizations
If you want to invest via FAST INVEST through an organization, this is also an option. Here you should also expect to submit the following when registering:
Copy of registration certificate
Articles of association
Valid passport or ID for the representative of the organization
Document certifying on rights of the signature
Statement from the state register of legal entities
Available countries
It is possible to invest via FAST INVEST if you are from one of the following countries:
Andorra, Australia, Austria, Belgium, Brazil, Bosnia and Herzegovina, Bulgaria, Croatia, Cyprus, Czech Republic, Denmark, Estonia, Finland, France, Germany, Gibraltar, Greenland, Greece, Hong Kong, Hungary, India, Indonesia, Iceland, Ireland, Israel, Italy, Japan, Kuwait, Liechtenstein, Luxemburg, Malaysia, Malta, Monaco, Montenegro, Netherlands, New Zealand, Norway, Oman, Poland, Portugal, Qatar, Romania, San Marino, Saudi Arabia, Serbia, Singapore, Slovakia, Slovenia, South Africa, South Korea, Spain, Sweden, Switzerland, Turkey, United Arab Emirates, Vatican City.
If you are from one of the countries above, it's possible for you to register on the platform.
How safe is FAST INVEST?
To determine if FAST INVEST is safe, we have taken a look at some of the potential upsides and downsides of investing with FAST INVEST.
1. FAST INVEST profitability
According to FAST INVEST, they have been profitable for quite some time. But we have not been able to find publicly available documents that verify this. However, it is possible to check out the balance sheet of FAST INVEST and more in their filing history here.
Unlike FAST INVEST, other platforms like Mintos, Crowdestate, and NEO Finance have their income statement publicly available.
2. Main risks
In the following, we go through some of the main risks of using FAST INVEST that we have considered:
Loan default risk
When you invest in P2P loans, there is a risk that the borrower will not be able to repay his loan. In that case, your investment is usually lost.
However, currently, all loans at FAST INVEST are covered by a buyback guarantee that can secure you against this type of event.
But to secure yourself further, it is probably a good idea to invest a small amount of money per loan, as you will then be able to invest in more loans, and thereby minimizing your loan risk.
Loan originators risk
The loan originators also pose a risk to investors. If they are not in control of their finances, have poor management, or the like, then they run the risk of going bankrupt like any other business.
To minimize the loan originator risk, FAST INVEST's analyst team does a thorough due diligence check before the originator gets the opportunity to be connected to the platform at all.
Should a loan originator go bankrupt, the investments would not be affected. The loans would be transferred to FAST INVEST or a third party who will be responsible for keeping the borrower accountable to the loan agreement.
FAST INVEST bankruptcy risk
Of course, there is also a risk of FAST INVEST going bankrupt. In case this happens, the investment is still secured by the loan agreement between the investor and the loan originator. At the same time, FAST INVEST keeps their investors' assets separate from their own. This means that the company's creditors cannot go after investors' money in the event of a bankruptcy. Short-term confusion is most likely to occur if FAST INVEST folds, but at the end of the day, your investments should be safe.
Financial turndown risk
As P2P investing is a newer thing in the investment world, it can be difficult to predict how a financial turndown would affect this form of investment. As a starting point, it is, therefore, a really bad idea to invest your entire investment portfolio in P2P investments.
Therefore, many investors also choose to diversify into more traditional forms of investment such as equities, bonds, and traditional real estate.
Since investing is an individual thing, we obviously do not know what will be best for you. But if you put together your investment portfolio, make sure that it reflects your knowledge of the investments in it, as well as your own risk appetite. If in doubt about how to do so, make sure to seek help from a professional investment planner.
Is FAST INVEST safe?
On the surface, FAST INVEST seems like a really serious platform with great features for its investors. At the same time, it is super positive that they have made arrangements for what should happen in case the company behind the platform or one of the loan originators goes bankrupt.
Looking at the more negative aspects, their moneyback guarantees can potentially become a problem for themselves if many investors suddenly decide to leave the platform. What this will have of financial consequences, however, is difficult to fully understand, as only little financial information about the company is publicly available.
The fact that all financials are not publicly available also means that as an investor you may have difficulty assessing the platform risk properly.
Other factors such as lack of knowledge about how a financial turndown will affect the P2P lending industry are also risk factors that are worth considering when using FAST INVEST.
Our experience with FAST INVEST
Our overall experience with FAST INVEST is positive. When you compare their platform on metrics like usability and support, then they are among the better ones. At the same time, we believe that there is a fair balance between risk and reward on the platform.
Through our experience with FAST INVEST, we understand that tens of thousands of investors have decided to invest on the platform.
Our biggest concern is the fact that during corona, a lot of investors experienced delayed payouts from the platform.
FAST INVEST reviews on Trustpilot
Trustpilot is a great place to learn what other people think of FAST INVEST. We have collected some bad, some average, and some good FAST INVEST reviews from Trustpilot for you to take a closer look at: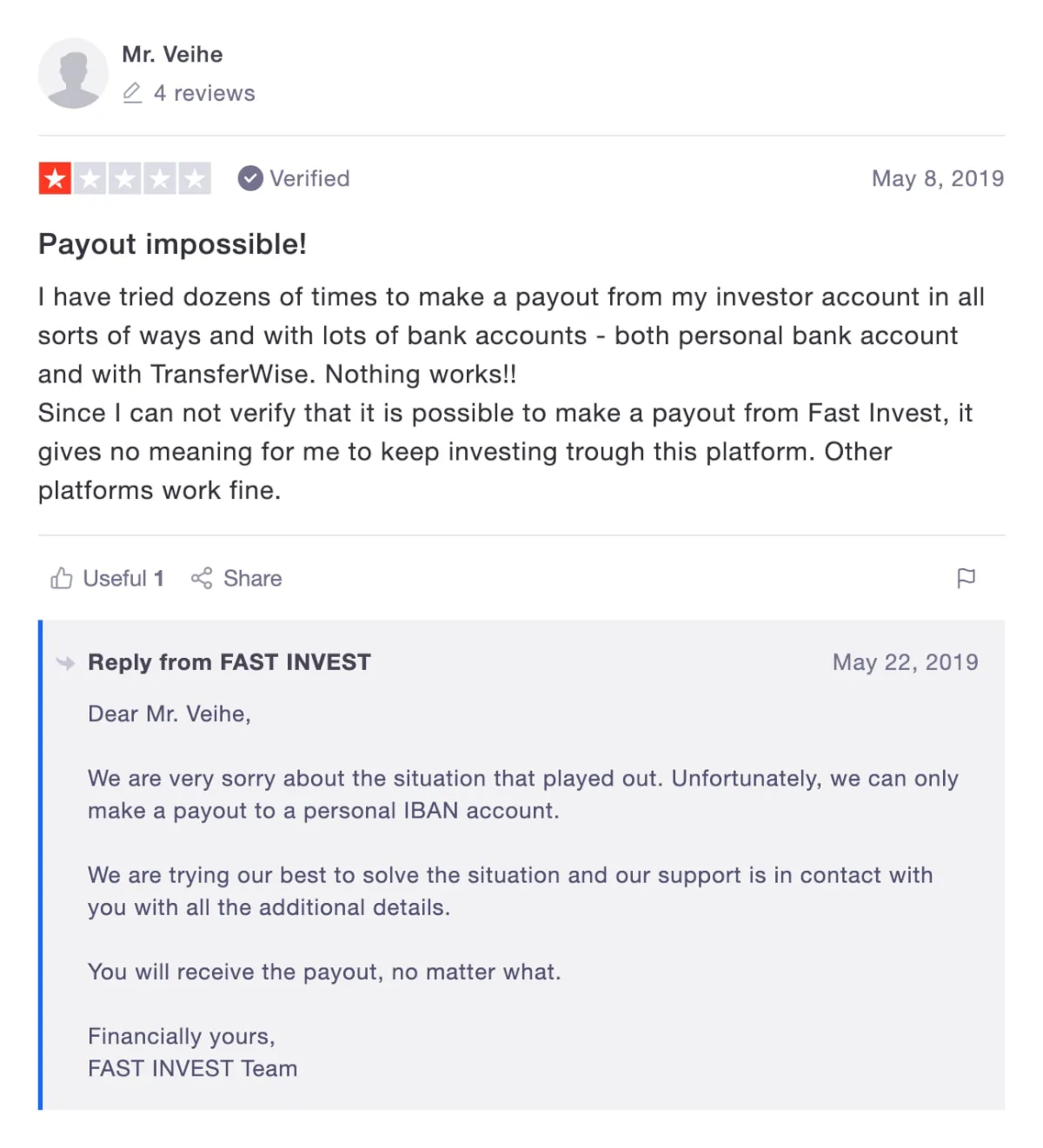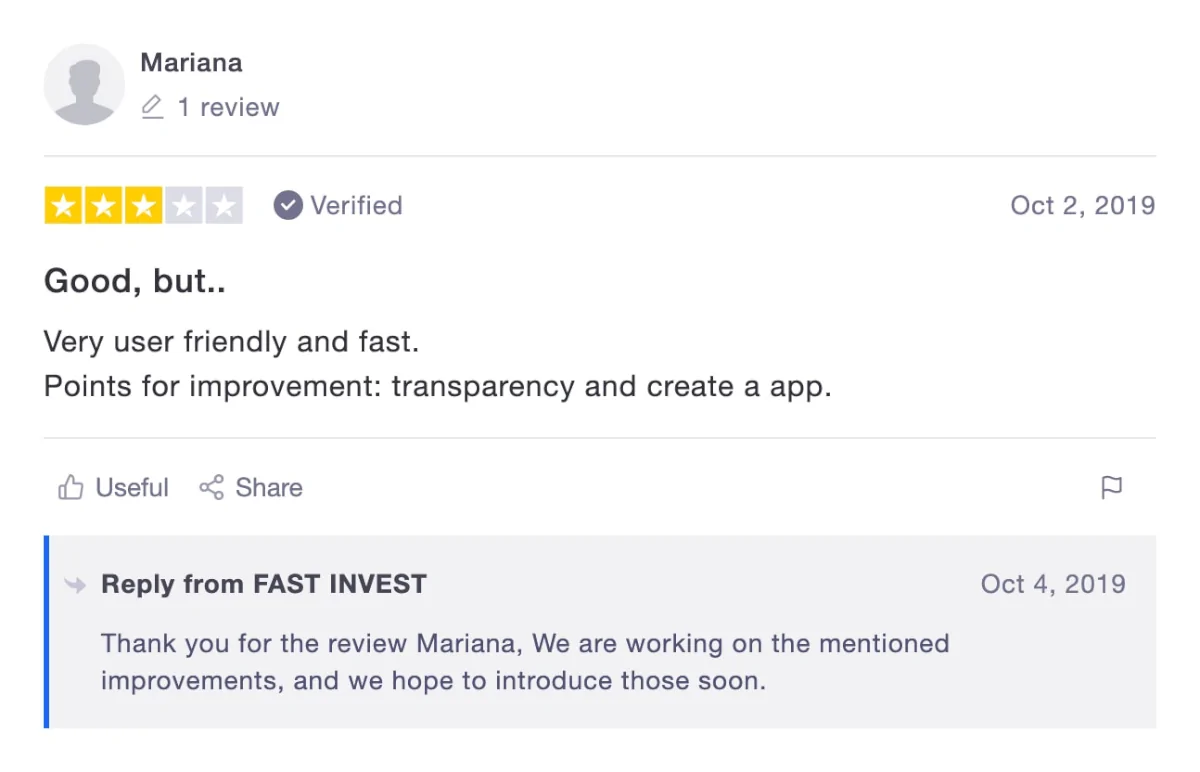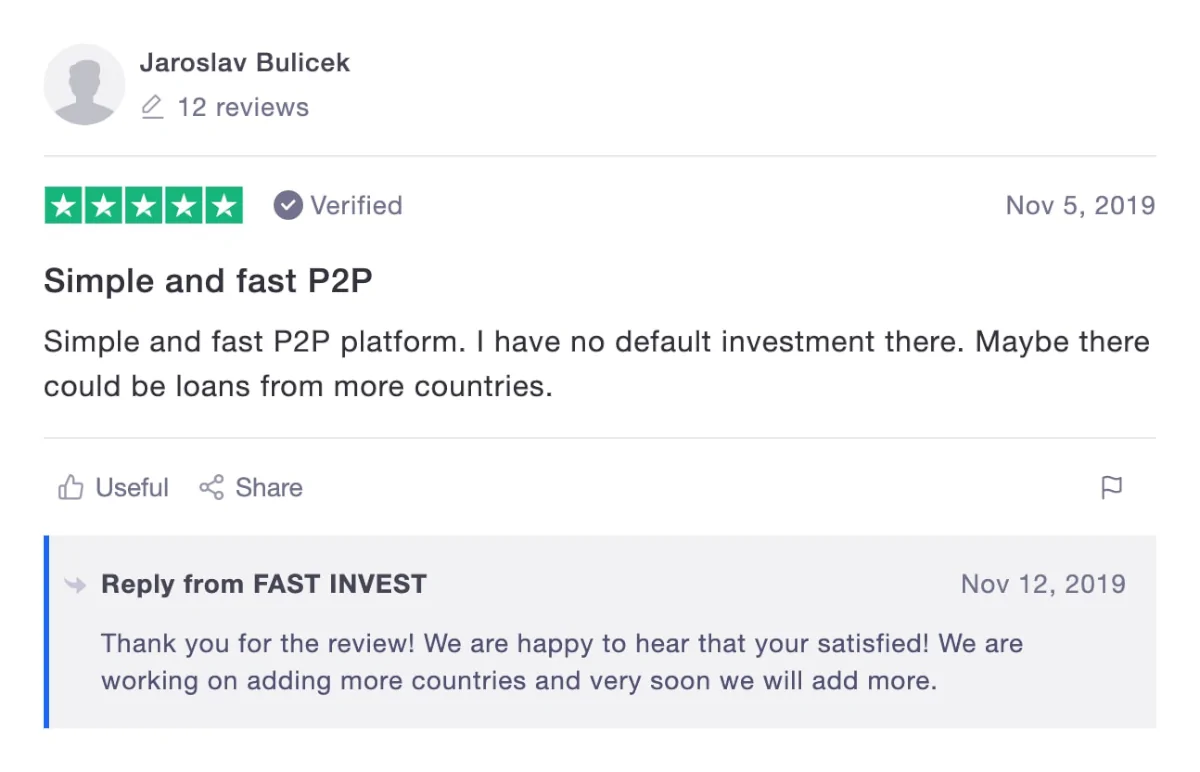 Best FAST INVEST alternatives
Not sure FAST INVEST is the right choice for you? Then there are also some good FAST INVEST alternatives to consider. The following are some of our favorites:
Even if you use FAST INVEST, it might actually be a good idea to take a closer look at some of the above platforms. By using more of the best crowdlending platforms in Europe, you can reduce your platform risk and diversify your portfolio further.
FAST INVEST vs Mintos
A lot of investors have asked if it's better to go with FAST INVEST vs Mintos (the largest P2P platform in Europe) as their first P2P platform. In the following, we briefly review the two options:
FAST INVEST has the lowest barrier to entry with a minimum investment of €1 vs €10 at Mintos. The platform is created to be very beginner-friendly.
Mintos excels in being slightly more transparent, having more investors, more investment opportunities, and being the most popular platform choice in Europe. But Mintos can be a bit intimidating for new investors as there is a lot of features compared to the more simple FAST INVEST.
Conclusion of our FAST INVEST review
It is very clear that FAST INVEST wants to make it as easy as possible to invest in P2P loans.
You can try investing on the platform with as little as €1. And if you want to withdraw the money from the investment, you can do so by selling it to other investors on the platform using the FAST INVEST secondary market.
Unfortunately, during Covid-19, the platform experienced some problems with the withdrawal of funds. This meant that it could take up to a month to actually withdraw and payout your money from the platform.
Another con about using FAST INVEST is the lag of transparency, and their financials are not fully publicly available. The sentiment around the company is also very mixed. Some investors on blogs and forums like Reddit, Telegram, Twitter, and Facebook really like FAST INVEST, while others don't think the company is trustworthy for a variety of reasons.
Due to the uncertainty with the platform, investors would probably be better off choosing another alternative investment platform.