Kviku review 2023
Is Kviku Finance a great platform for P2P lending? Find out in our Kviku review below:

Review summary:
Kviku Finance is one of the best P2P platforms for investing in loans from Europe and Asia. The platform is run by Kviku Group which is a profitable lending group. Kviku is quite safe as the loans on the platform are protected by a buyback and a group guarantee. One of the only disadvantages of the platform is the fact that you can't exit your investments ahead of schedule. If this doesn't bother you, the platform is great for both beginners and more experienced investors.
It's free to use the platform.
At P2PPlatforms.com, we strive to list only the absolute best companies in the P2P industry. Where appropriate, we also feature our partners. This doesn't influence our evaluations. All opinions are our own.
Introduction to our Kviku review
Are you considering investing via Kviku? Then read on. We've written this Kviku.finance review to help investors determine if Kviku is the right choice for them.
Below you will find an overview of the things that we will discuss more in detail in this Kviku review. Simply click on the links to jump directly to the thing you want to know more about.
Learn about this in our Kviku review:
What is Kviku Finance?
Kviku Finance is a P2P lending platform that allows investors to invest in pre-funded loans from the Kviku Group.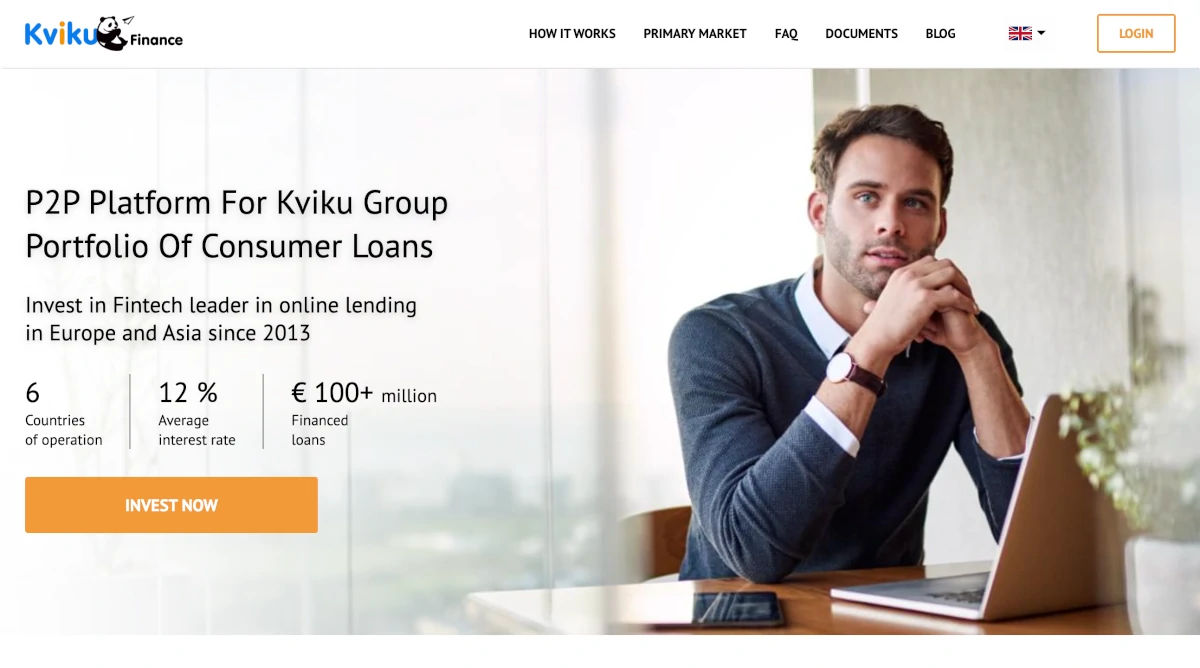 The loans originate from Spain, Poland, Russia, Kazakhstan, and the Philippines. In 2023, it is expected that Kviku Group will also cover Vietnam and Indonesia.
The loans are secured with a buyback and a group guarantee – two key features that will be explained later in this review.
Kviku Finance was launched in February 2020. Since its launch, Kviku has been growing rapidly. Today, you will find over 3,000 investors on the platform that earn an average annual return of 12.00%.
Loans from Kviku aren't exclusively available on kviku.finance. On another P2P lending marketplace called Iuvo Group, it is also possible to invest in loans from Kviku. Since 2018, the popular European P2P lending marketplace Mintos also featured Russian loans from Kviku, under the name LLMC AirLoans, but the loan originator has since been suspended on the platform.
With as little as €10, you can open an account and start investing at https://kviku.finance/.
Kviku Finance statistics:
| | |
| --- | --- |
| Founded: | 2020 |
| Loan Type: | Consumer |
| Loan Period: | 0 – 6 Months |
| Loans Funded: | € 100,000,000 + |
| Kviku Users: | 3,000 + |
| Minimum Investment: | € 5 |
| Maximum Investment: | Unlimited |
| Kviku Interest Rate: | 12.00% |
How Kviku works
Kviku Finance connects private European (and a few other nations) investors with lending companies in Europe and Asia.
On the platform, investors can invest in portions of loans provided by lending organizations.
Loan originators benefit from increased liquidity when Kviku customers invest in loans on the marketplace. This enables lending institutions to issue more loans and expand their operations.
The lending companies on Kviku are all part of the Kviku Group.
Frequently asked questions:
Key features
We have already taken a look at some of the reasons why Kviku has become a popular choice among investors. In the following, we take a closer look at some of the key features that make it easy to invest via the platform:
1. Kviku buyback guarantee
Kviku offers a 30-day buyback guarantee for most of its loans.
In the event the borrower is late for more than 30 days or defaults on the loan, the lending company is obligated to buy back the loan from the investor.
The buyback guarantee compensates investors both for the invested principal and accrued interest.
As the loans are covered by a buyback guarantee, the primary risk you should be looking at is the risk of a loan originator default.
2. Kviku group guarantee
Since there is the risk of loan originators going bust and not being able to fulfill the buyback guarantee, Kviku has implemented a group guarantee to protect investors further.
If a loan is covered by a group guarantee, and the loan originator is going bankrupt, other companies in the group basically have to step in and fulfill the buyback guarantee instead.
3. Kviku auto-invest
The Kviku auto-invest portfolio comes in handy for investors that prefer not to use time themselves on selecting loans.
To use the Kviku Finance auto-invest tool, do the following:
Sign up at https://kviku.finance/
Log in to your account
Use the sliders on the investment screen to determine the amount and term
Click "Create portfolio"
Name your portfolio
From here, you can click "more options" to further adjust specific loan selection criteria. The criteria you can adjust include:
Annual interest
Maximum investment in one loan
Loan term in days
Countries of the loan
Reinvesting or not
If the Kviku Finance auto-invest is not investing, it is probably due to a lag in available loans or that the auto-invest portfolio is deactivated. If you want Kviku to invest, you can fix this by either activating your portfolio or changing the criteria for loan selection.
The auto-invest portfolio can be deactivated at all times.
4. Kviku loyalty bonus
Kviku adds a loyalty bonus to investment accounts that are larger than €1,000. This is an incentive to invest more via the platform, which can increase your overall return.
The loyalty bonus consists of an additional +1% interest for new investments and is automatically applied to your account when you are eligible for it. You will receive an e-mail as a notification for this.
To get the Kviku loyalty bonus, you will first have to have a total account value of €1,000 for three consecutive months.
Who can use Kviku?
Both individuals and companies can invest via Kviku.
Individuals
Individuals wanting to invest via Kviku are required to:
Be at least 18 years old
Be from a country that has equivalent AML/CFT systems to the EU
Have a bank account in a country that has equivalent AML/CFT systems to the EU
If you can meet the requirements above, then you can probably start investing via the platform.
Companies
If you own a company, you can also use it to invest via Kviku Finance.
To comply with AML/TF requirements, Kviku can request additional information from companies. The documents include registration documents, information about ultimate beneficial owners, and identification of a company representative.
Available countries
Kviku is available to investors that live in the European Union.
But judged by the sign-up formula on the website, it is also possible to sign up from Australia, Brazil, Canada, Chile, China, Colombia, India, Indonesia, Israel, Japan, Kyrgystan, Mexico, North Macedonia, Kazakhstan, Singapore, Thailand, and the United Arab Emirates.
If you are looking for a similar platform that is more broadly available, you should check out Lendermarket or Bondster instead.
How safe is Kviku?
To determine if Kviku is safe, we have taken a look at some of the potential upsides and downsides of investing with Kviku.
1. Kviku profitability
Kviku Finance is a part of the Kviku Group.
Looking at the income statements of the group, Kviku has been increasingly profitable for a long time.
According to the annual report for 2021, the group made a net profit of USD 10,865,000.
Judging by the financials of Kviku Group, the company seems to be in a fairly good position.
2. Main risks
In the following, we go through some of the main risks of using Kviku that we have considered:
Loan default risk
When you invest in loans on crowdlending platforms, there is a risk that the borrower will not be able to repay his loan. In that case, your investment is usually lost.
Loans on the Kviku marketplace include a buyback guarantee, which protects you from this type of risk.
The easiest method to protect yourself against loan default risk is to invest in a variety of loans secured by the Kviku buyback guarantee.
Loan originators risk
The loan originators also pose a risk to investors. If they are not in control of their finances, have poor management, or the like, then they run the risk of going bankrupt like any other business. This can mean that they end up being unable to exercise the buyback guarantee.
In order to protect you against the loan originator risk, Kviku has created a group guarantee for most of its loans. If the lending company goes bankrupt, other companies in the group will step in instead of the distressed lending company.
Kviku bankruptcy risk
As with any business, there is a risk of Kviku Finance going bust. The platform follows the best practices in the P2P lending industry, which means that your investments should still be valid even if Kviku goes bankrupt.
Financial turndown risk
Because peer-to-peer investing is a newer phenomenon in the investment industry, it can be difficult to foresee how a financial downturn will influence this type of investment. As a starting point, investing your entire investment portfolio in P2P investments is a terrible idea.
Therefore, many investors also seek to diversify into more traditional investment vehicles such as shares, bonds, and conventional real estate.
Since investing is an individual thing, we obviously do not know what will be best for you. However, when putting together your investment portfolio, make sure that it reflects your understanding of the assets in it, as well as your individual risk tolerance. If you are unsure how to proceed, seek assistance from an investment planner.
Is Kviku safe?
Kviku has done a lot to make investors as safe as possible. They do this with both a buyback guarantee on loans and a group guarantee in case the loan originators fail to fulfill their buyback obligation.
Other factors, such as a lack of knowledge about how a financial turndown will affect the P2P lending industry, are also risk factors that are worth considering when considering investing via Kviku.
Our experience with Kviku
Kviku is a very user-friendly platform that is good for both beginners and more experienced investors.
The website is easy to navigate and there is really nothing that overcomplicates things on Kviku Finance, as you can only invest in loans with auto-invest. The fact that you can only invest in loans with auto-invest can be a dealbreaker for some investors.
We also like the fact that Kviku Finance is owned by a profitable lending group with around 10 years of experience in the industry.
Kviku reviews on Trustpilot
Trustpilot is a great place to learn what other people think of Kviku. We have collected some relevant Kviku reviews from Trustpilot for you to take a closer look at: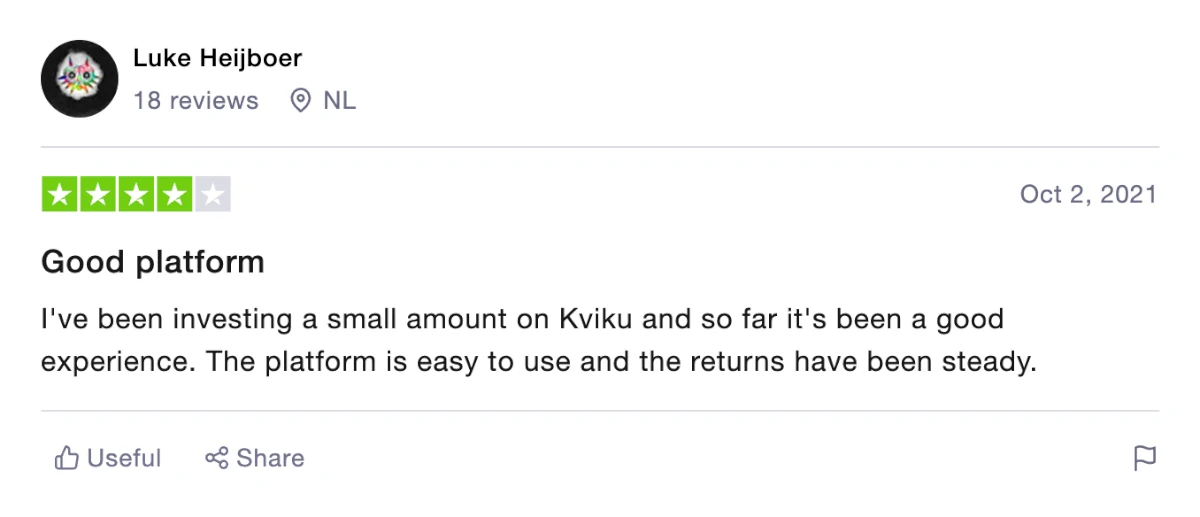 Best Kviku alternatives
Not sure Kviku is the right choice for you? Then there are also some good Kviku alternatives to consider. The following are some of our favorites:
Even if you use Kviku, it might actually be a good idea to take a closer look at some of the above platforms. By using multiple of the best P2P lending platforms in Europe, you can reduce your platform risk and diversify your portfolio further.
Conclusion of our Kviku review
Kviku Finance is currently one of the best P2P lending platforms in Europe for investing in consumer loans from Europe and Asia.
Kviku offers a safe investment experience as the business is a part of the profitable lending group Kviku Group which has had experience in the lending industry since 2013.
The platform is very user-friendly and has most of the necessary features, such as auto-invest for automating your investments and a buyback guarantee on loans.
Unfortunately, the platforms don't have any options for exiting your investments. This means that when you have reviewed and confirmed your investments, you can't cancel them. If you want to use a platform with early exit options, you should take a look at either Esketit or Robocash.
Apart from this, the loans are secured by both a buyback and a group guarantee. If your investments are delayed or defaulted, these two guarantees will protect you.
Overall, Kviku Finance is an excellent choice as a P2P lending platform for both beginners and more experienced P2P investors.