Iuvo Group review 2023
Is Iuvo Group a great platform for P2P lending? Find out in our Iuvo Group review below:

Review summary:
We believe that Iuvo Group has a lower risk than many of the competing platforms. Among other things, they require the lending companies on the platform to keep a 30% stake in the loans (usually 5-15% on other platforms). Furthermore, they are also part of a bigger finance group, which adds stability to the platform. The drawback of this is that the return is also a bit lower than at competitors. With that said, we like the risk/reward level on the platform.
It's free to use the platform.
At P2PPlatforms.com, we strive to list only the absolute best companies in the P2P industry. Where appropriate, we also feature our partners. This doesn't influence our evaluations. All opinions are our own.
Introduction to our Iuvo Group review
Are you considering investing via Iuvo Group? Then read on. We've written this Iuvo-Group.com review to help investors determine if Iuvo is the right choice for them.
Below you will find an overview of the things that we will discuss more in detail in this Iuvo Group review. Simply click on the links to jump directly to the thing you want to know more about.
Learn about this in our Iuvo Group review:
What is Iuvo Group?
Iuvo Group is a global P2P platform that makes it possible for investors to invest in loans from multiple lending companies including Adwisers and Easy Credit.
When you invest in loans via Iuvo, they are protected by a buyback guarantee. This will be explained later in this review.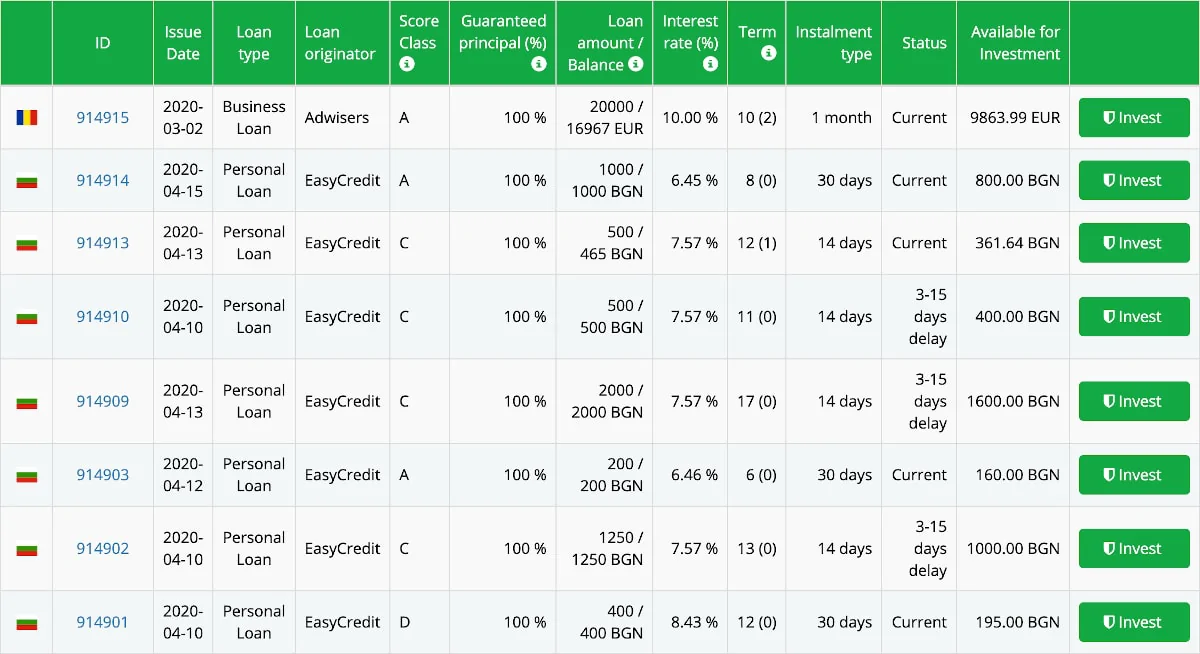 Iuvo Group is based in Tallinn, Estonia and the platform was launched in 2016. Since then the investments on the platform have just continued to grow:

Today, more than 34,000 investors from over 170 countries invest via the platform. They are, on average, earning a return of 9.20%.
With as little as the minimum investment of €10, you can try out the platform.
Iuvo Group statistics:
| | |
| --- | --- |
| Founded: | 2016 |
| Loan Type: | Consumer |
| Loan Period: | 1 – 60 Months |
| Loans Funded: | € 330.000.000 + |
| Iuvo Group Users: | 34.000 + |
| Minimum Investment: | € 10 |
| Maximum Investment: | Unlimited |
| Iuvo Group Interest Rate: | 9.20% |
How Iuvo Group works:
Basically, Iuvo Group is a crowdfunding marketplace for loans. They have different lending companies connected to the platform. When these loan originators then grant a loan, it is made available on Iuvo, where it is possible for investors to invest in the loans.
You might wonder what the lending companies get out of this, but there is actually a very good reason behind it.
Like most other businesses, lending companies seek growth. But in order to issue more loans, they will need liquidity. So when investors are taking over a part of the loans issued by the loan originator, the lending company itself will get some new liquidity. This allows them to issue new loans.
However, the lending companies would naturally still want to profit from their existing loans. This means that you are probably buying the loans from the company at a lower price than what the lending company is actually earning.
One of the things that make Iuvo Group stand out from a lot of other European P2P lending platforms is that they are requiring the lending companies to keep more "skin in the game" than other platforms. Where other platforms are usually requiring the lending companies to keep 5-15% of the loans to themselves, the loan originators on Iuvo are required to keep at least 30%. This is to ensure that the loan originators themselves have a stake in the loans and therefore also act on behalf of the investors.
For example, let's say a loan originator issues a loan of €1,000 and is forced to keep 30% skin in the game. This means that the loan originator must keep a €300 stake in the loan. This allows them to release a maximum of €700 for investment on the Iuvo marketplace.
Frequently asked questions:
Key features:
We have already taken a look at some of the reasons why Iuvo Group has become a popular choice among investors. In the following, we take a closer look at some of the key features that make it easy to invest via the platform:
1. Iuvo buyback guarantee
All loans on Iuvo Group are covered by a buyback guarantee. Basically, the Iuvo Group buyback guarantee is protecting you against loan defaults. So in case, a loan can't be repaid by the borrower, the lending company must repurchase the loan from the investor. This will happen if a loan is more than 60 overdue.
It is important that you note that the buyback guarantee is actually issued by the individual lending company and not Iuvo Group. Therefore, if the lending company goes bankrupt, the buyback guarantee is pretty much useless. The best way to protect yourself from this is by diversifying between multiple lending companies and researching the companies before you invest.
A good thing about the lending companies on Iuvo Group is that they have been profitable for multiple years, which could suggest that they are in good shape to fulfill their buyback obligations.
2. Iuvo Group secondary market
Another great feature we want to address in this Iuvo review is the secondary market. This feature makes it possible for investors to sell loans before they mature. Selling on the secondary market can be done with a discount or with a premium decided by the investor.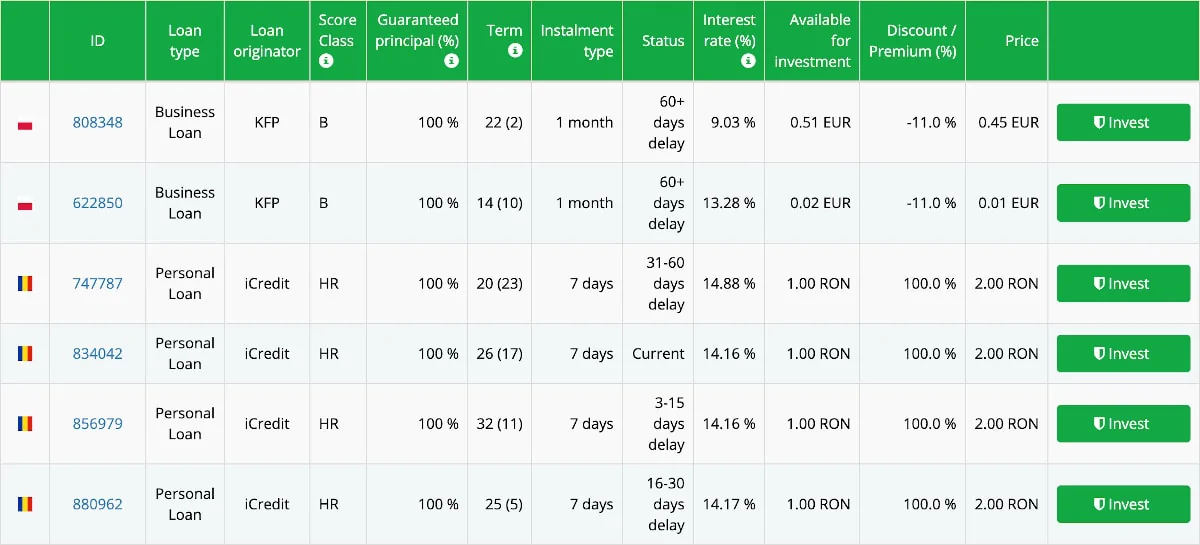 If you are just getting started on Iuvo, you can take advantage of people selling loans with a discount to improve your overall return (see current loans).
One thing you have to be aware of with the secondary market is that there is a 1% fee for selling loans. This fee does not apply if you want to buy on the secondary market.
3. Iuvo Group auto-invest
Like a lot of other platforms, Iuvo Group offers an auto-invest feature that makes it possible for you to put your loan investments on autopilot.
To use the auto-invest tool, follow this process:
Log in to your account
Click "Auto Invest"
Click "Create new Auto Invest portfolio"
From here, you can make auto-invest settings that suit your investment goals. You can make rules to this portfolio to make it invest just like you want it to.
The rules include setting and deciding what interest rate you expect from your investments, how much you want to invest per loan, and which lending companies you are interested in loans from.
If you want to know more about auto-investing, you can find more information on Iuvo's website here.
Who can use Iuvo Group?
Both individuals and organizations can invest via Iuvo Group.
Individuals
If you want to invest as an individual, you must at least meet the following requirements:
Being at least 18 years old
Have a valid bank account within the European Union or a third country with an equivalent AML/CFT system to the EU
If you live up to these requirements, then you can start investing via the platform.
Organizations
If you run a company, you can also invest at Iuvo Group. You will, however, be required to provide additional information. In order to get started, you must simply choose "company" instead of "individual" in the sign-up process.
If you are in doubt about anything with regard to registering as a company, you can just reach out to the support team. You can find the information here.
Available countries
Iuvo Group is one of the most widely available alternative investment platforms in the world. Currently, there are investors from over 170 countries on the platform. The countries marked with green in the image below have investors on the platform: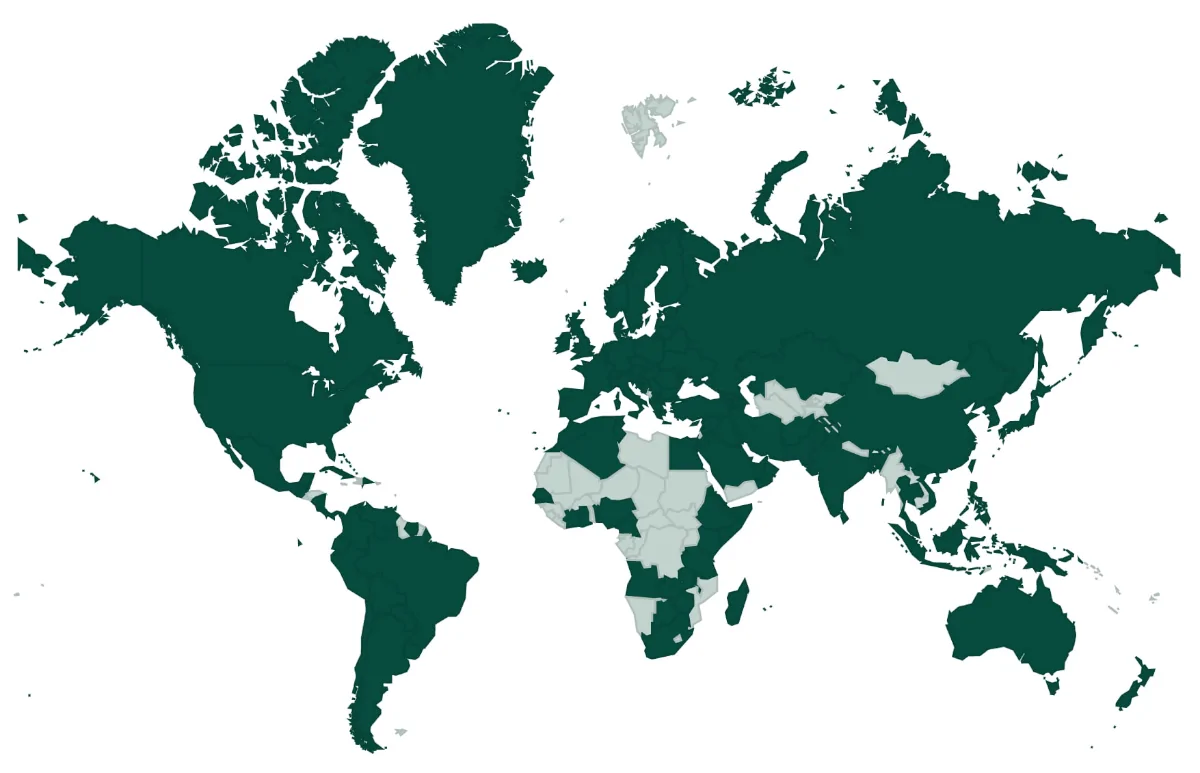 If you are not from one of the countries marked in green, it might be possible for you to invest via the platform anyways. You might benefit from reaching out to the support team for help.
How safe is Iuvo Group?
To determine if Iuvo is safe, we have taken a look at some of the potential upsides and downsides of investing via the platform.
1. Iuvo Group profitability
We haven't been able to find an annual report of the Iuvo Group to learn about the profitability of the company. However, Iuvo Group is a part of Management Financial Group – a large financial institution with over 8,000 employees. Due to that reason, we are fairly confident in the stability of the company. Still, we would have liked to find the financial results of Iuvo Group itself.
2. Main risks
In the following, we go through some of the main risks of using Iuvo Group that we have considered:
Loan default risk
When you invest in P2P loans, there is a risk that the borrower will not be able to repay his loan. In that case, your investment is usually lost.
However, all loans at Iuvo Group have a buyback guarantee that can secure you against this event.
But as the buyback guarantee is depending on the loan originators, the best way to hedge against loan default risk is to invest in many different loans.
Loan originators risk
The loan originators also pose a risk to investors. If they are not in control of their finances, have poor management, or the like, then they run the risk of going bankrupt like any other business.
Iuvo Group is very transparent about the loan originators, and you will actually be able to find the most relevant information about each originator on the website. This includes information about the business itself, financial reports, and more.
By taking a look at the loan originators, most had been profitable for many years in a row. We see this as a very good thing.
A thing you must know about the loan originators is that some of them are also owned by the company behind Iuvo Group. These loan originators are Easy Credit, Viva Credit, and iCredit Romania.
Financial turndown risk
As P2P investing is a newer thing in the investment world, it can be difficult to predict how a financial turndown would affect this form of investment. As a starting point, it is, therefore, a really bad idea to invest your entire investment portfolio in P2P investments.
Therefore, many investors also choose to diversify into more traditional forms of investment such as equities, bonds, and traditional real estate.
Since investing is an individual thing, we obviously do not know what will be best for you. But if you put together your investment portfolio, make sure that it reflects your knowledge of the investments in it, as well as your own risk appetite. If in doubt about how to do so, make sure to seek help from a professional investment planner.
Is Iuvo Group safe?
As Iuvo Group is a part of a huge finance group, that requires above-average skin in the game by lending companies, and all the lending companies on the platform are profitable, we believe that Iuvo Group is a fairly safe choice for P2P investing.
However, other factors such as lack of knowledge about how a financial turndown will affect the P2P lending industry are also risk factors that are worth considering.
Our experience with Iuvo Group
We have only had good experiences with Iuvo Group, and it is definitely one of our favorite platforms. The clear benefits are definitely in the 30% skin in the game requirement to loan originators and the fact that the lending companies have been profitable for a long period.
Of the negatives, we would have liked currency conversions on the platform itself to be able to easier be able to go from investing in one currency to another on the platform. The entire platform is also user-friendly, but not the best of the best.
Iuvo Group reviews on Trustpilot
Trustpilot is a great place to learn what other people think of Iuvo Group. We have collected some bad and some good Iuvo reviews from Trustpilot for you to take a closer look at: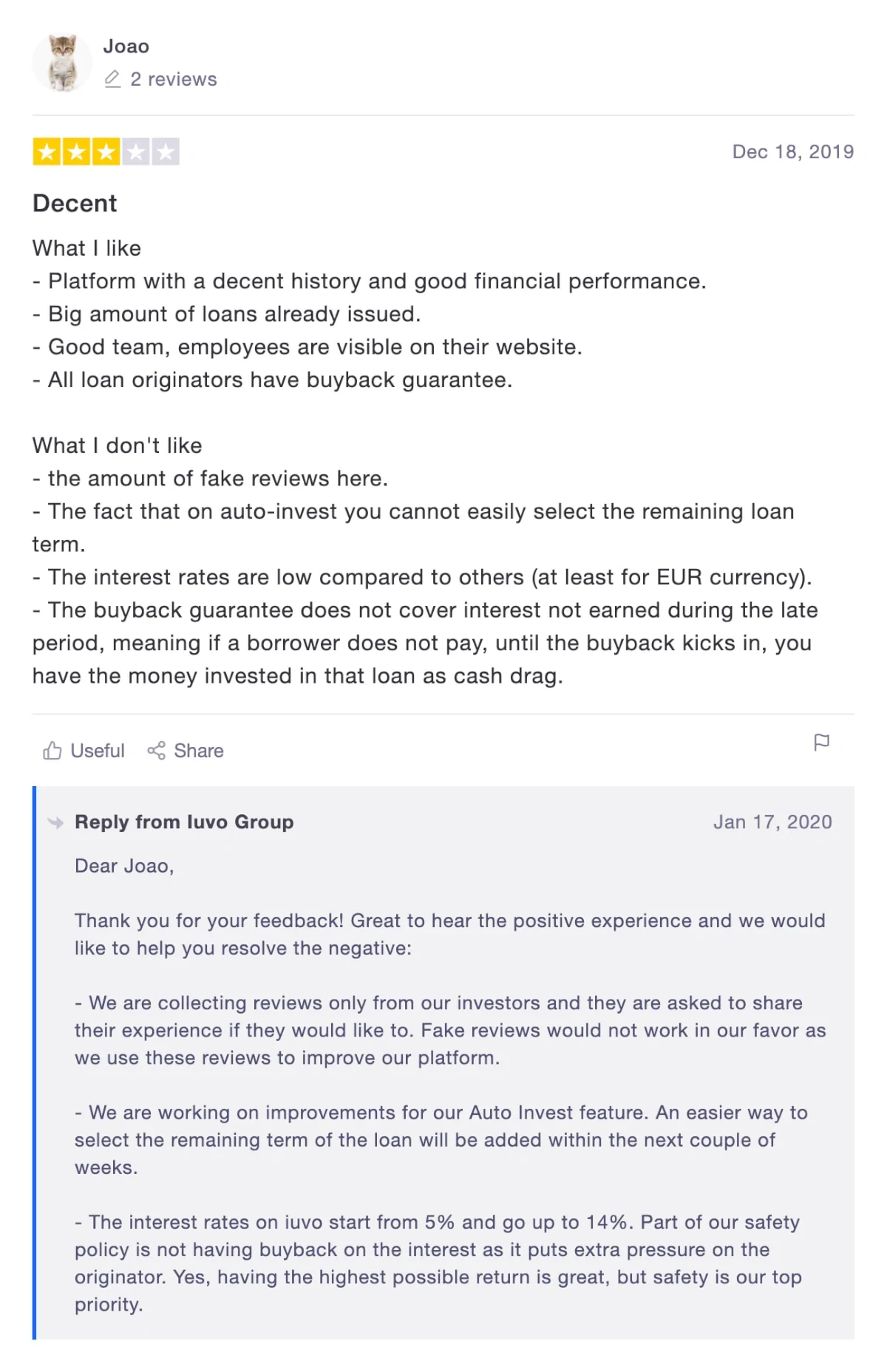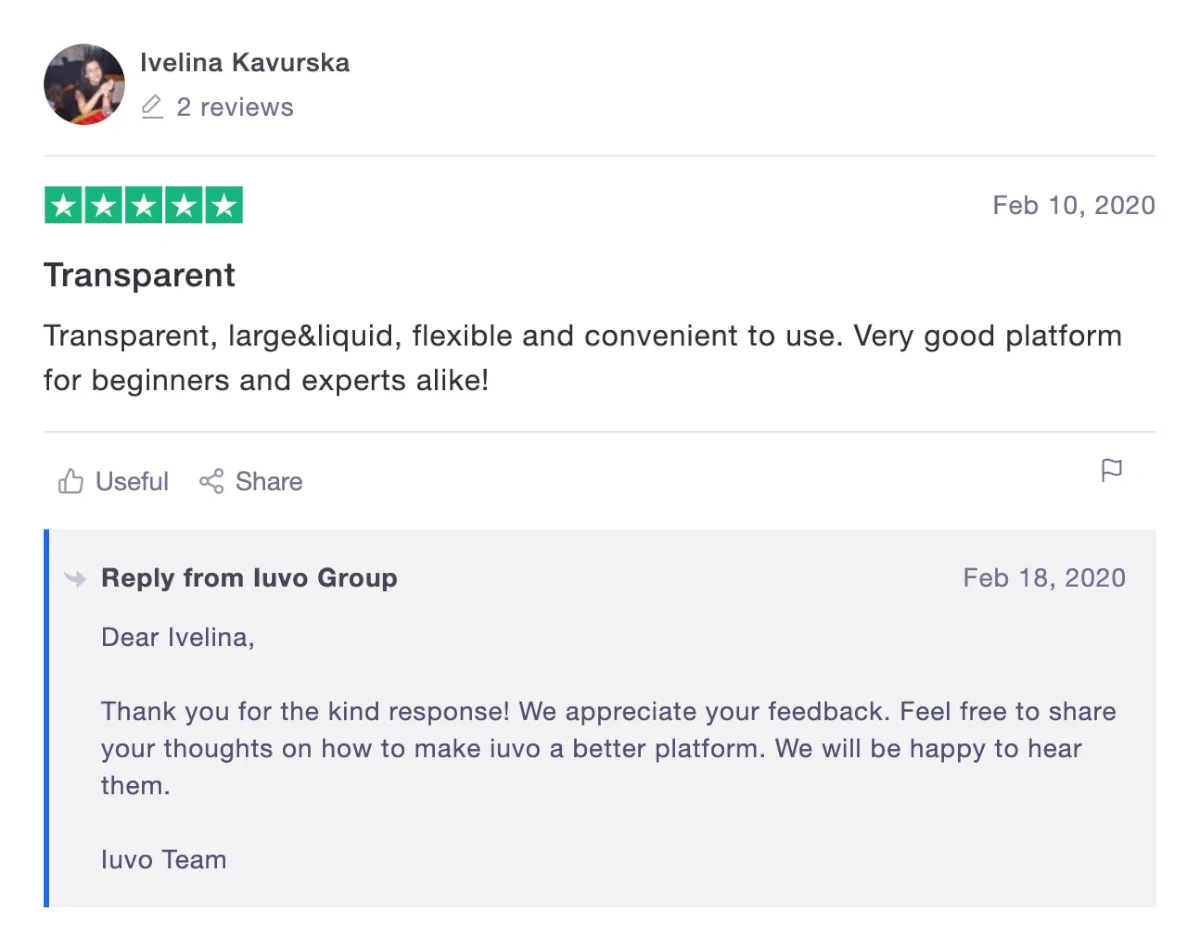 Best Iuvo Group alternatives
Not sure Iuvo Group is the right choice for you? Then there are also some good Iuvo Group alternatives to consider. The following are some of our favorites:
Even if you use Iuvo Group, it might actually be a good idea to take a closer look at some of the above platforms. By using multiple platforms, you can reduce your platform risk and diversify your portfolio further.
Iuvo vs Mintos
Compared to Mintos, Iuvo Group offers a smaller P2P lending platform. However, the platform is still of very high quality.
With that said, we still favor Mintos over Iuvo, as Mintos offers a lot more great investment features, has a much larger market share, and has won the Altfi People Choice Award numerous times.
Conclusion of our Iuvo Group review
Iuvo Group is one of our top picks when it comes to investing in P2P loans. The fact that they are regulated and are also approaching risk more conservatively than competitors is a good thing in our opinion. However, compared to many other crowdlending platforms we have reviewed, Iuvo Group does also provide a lower return on investment.
It is also good to see that it is possible to use features such as auto-invest and a secondary market. This makes investing more pleasant, as it is both easy to invest and get divested. However, as previously mentioned in this Iuvo review, you must be aware that there is a 1% selling fee on the secondary market.