Debitum review 2023
Is Debitum a great platform for P2B lending? Find out in our Debitum review below:

Review summary:
Debitum is probably the single best P2B lending platform for small business financing. On the platform, you can invest in pools of business loans that yield an average return of around 11.23% annually. The loans on the platform are protected with a buyback obligation, which means that your loans will be bought back by the broker in case the borrower can't repay. Debitum is one of the most highly rated platforms on Trustpilot in the whole industry.
It's free to use the platform.
At P2PPlatforms.com, we strive to list only the absolute best companies in the P2P industry. Where appropriate, we also feature our partners. This doesn't influence our evaluations. All opinions are our own.
Introduction to our Debitum review
Are you considering investing via the Debitum platform? Then read on. We've written this debitum.network review to help investors determine if Debitum is the right choice for them.
Below you will find an overview of the things that we will discuss more in detail in this Debitum review. Simply click on the links to jump directly to the thing you want to know more about.
Learn about this in our Debitum review:
What is Debitum?
Debitum is a Peer-to-Business (P2B) lending platform focused on small business financing.
You can use it to invest in pools of business loans from several business loan originators (brokers) from the UK, Estonia, and Latvia.
The loans are secured by the Debitum buyback guarantee – a key platform feature that will be explained later in this review.
Check out this short explainer video from Debitum:
Debitum was launched in September 2018 by Martins Liberts, and the P2B platform has continued to grow ever since.
Currently, there are over 10,548 registered investors who have trusted the platform with over €71,640,000 in combined money deposits. The average return is around 11.23% annually.
With as little as €10, you can open an account and start investing at https://debitum.network/.
Debitum statistics:
| | |
| --- | --- |
| Founded: | 2018 |
| Loan Type: | Business |
| Loan Period: | 3 – 48 Months |
| Loans Funded: | € 71.640.000 + |
| Debitum Users: | 10.548 + |
| Minimum Investment: | € 10 |
| Maximum Investment: | Unlimited |
| Debitum Interest Rate: | 11.23% |
How Debitum works:
Debitum has a two-sided business model. On the one hand, they have investors (you). And on the other hand, they have a range of loan originators (brokers) that are seeking funds for their borrowers.
Of course, you won't get the full profit as the loan is not listed at the rate that the loan originator provides them. But you can still make a fair return from the investments.
When you have invested in a loan, the broker now has more liquidity to issue more loans.
The process is:
A business goes to a broker to get a loan
If the loan is accepted, the business gets the loan
A number of loans are converted into pools which are called asset-backed securities
The asset-backed securities are now made available for investment on Debitum
You can now invest in the loan and earn a profit
This is illustrated below: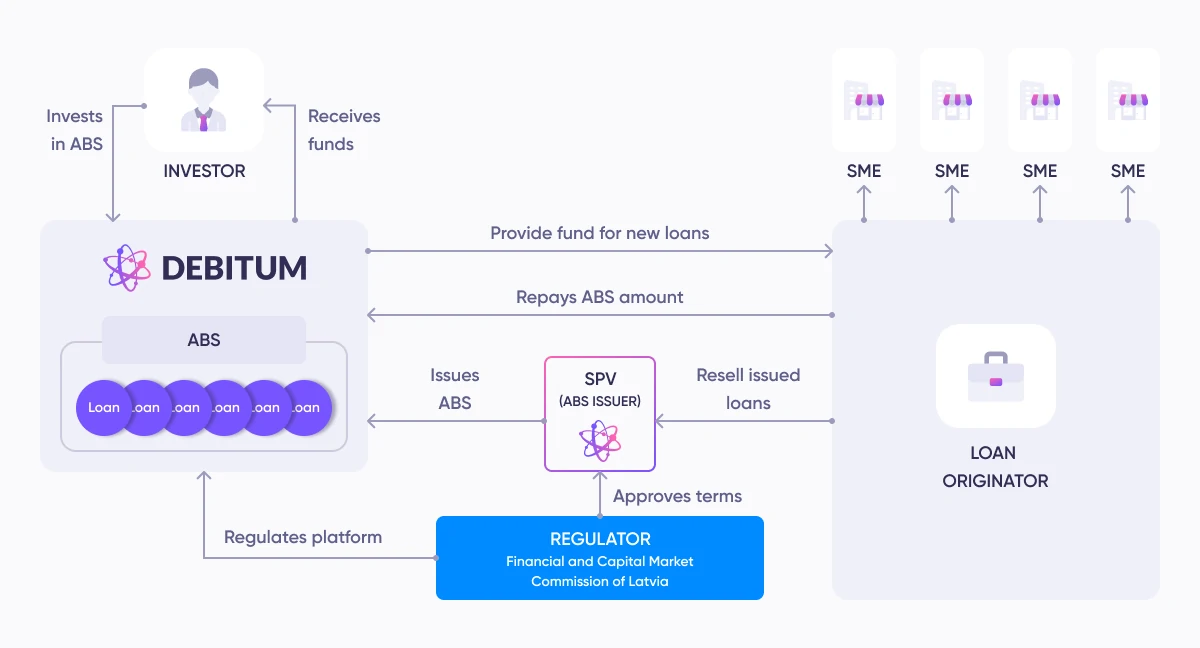 ABS (Asset-Backed Securities) are basically pools of many loans. Below you can see how ABS compare to claim rights that many other platforms offer their users to invest in.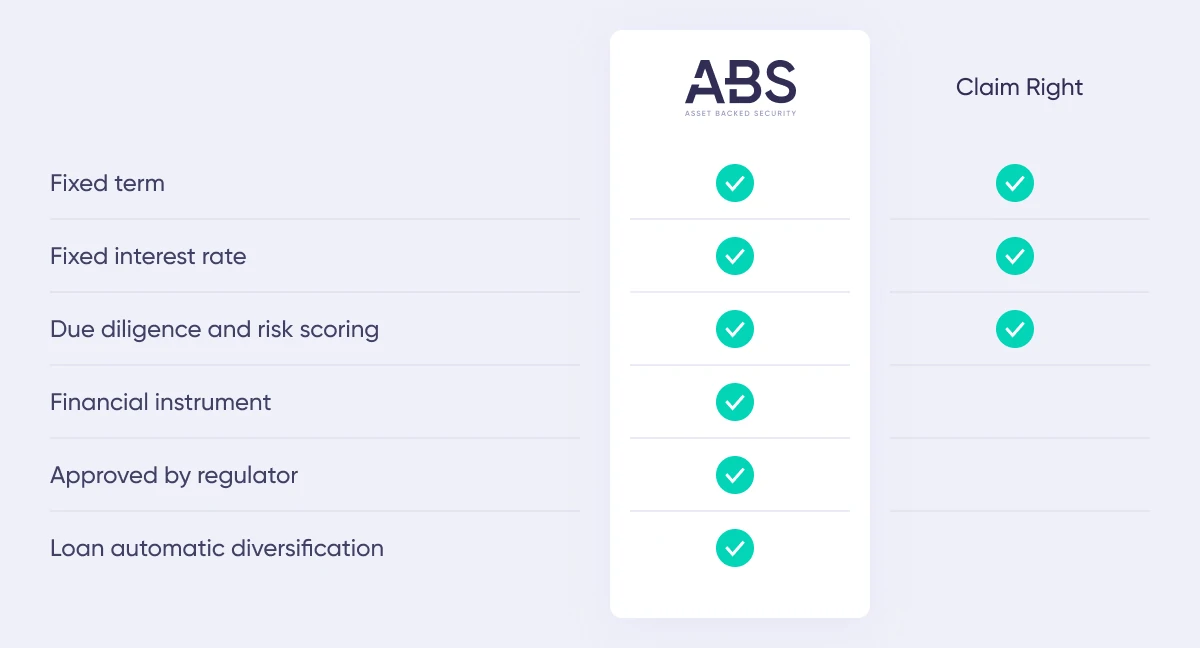 Frequently asked questions:
Key features
We have already taken a look at some of the reasons why Debitum has become a popular choice among investors. In the following, we take a closer look at some of the key features that make it easy to invest via the platform:
1. Debitum buyback obligation
Debitum has a buyback obligation on its loans.
In short, the Debitum buyback obligation helps to protect you against loan defaults. In case a loan is not repaid, then the broker must repurchase the loan from you as an investor.
However, it is important to remember that a buyback guarantee is only as secure as the ones behind them – which in Debitum's case would be the loan brokers. So if you decide to invest via Debitum, it's a good idea to diversify between loans from several loan brokers.
You should also keep in mind that a buyback obligation acts as a form of insurance. Therefore, loans with a buyback obligation typically have a lower return than loans without a buyback obligation.
The buyback obligation has only been triggered on 1-2% of the loans on Debitum which is very low compared to other P2P lending platforms. The default rate remains at 0%.
2. Debitum auto-invest (currently not available)
Another key feature that must be mentioned in this Debitum review is the auto-invest feature. This feature allows investors to automatically invest in loans that fit certain criteria, which makes the investment experience a lot more pleasant. The Debitum auto-invest feature can do all you'd expect it to do.
To use a Debitum auto-invest plan, follow this guide:
Log in to your account
Click "auto-invest" in the navigation
Create a new auto-invest plan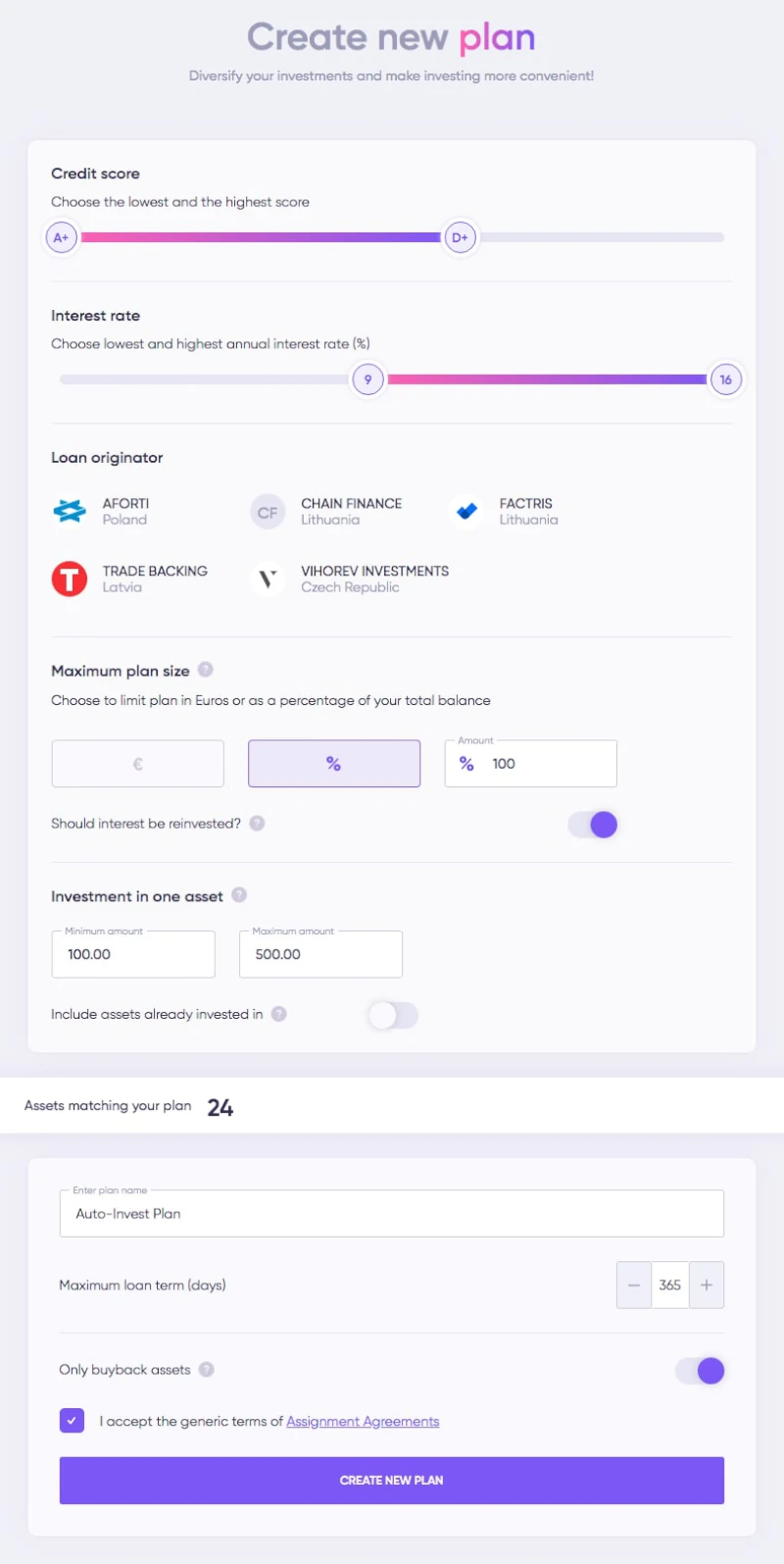 3. Debitum sign-up bonus
Debitum is offering a cashback bonus of 1% for new investors that sign up from affiliates. If you decide to invest via the debitum.network, you can click the button below to get the + 1% sign-up bonus:
Who can use Debitum?
Both individuals and companies can invest via Debitum.
Individuals
If you want to invest as an individual, you must at least meet the following requirements:
Being at least 18 years old
Having a bank with AML/CFT equivalent to the EU
Getting your identity verified by Debitum
Getting your address verified by Debitum
If you live up to these requirements, then you can start investing via the platform.
Companies
Whether you run a company, investing via Debitum is also possible.
There are some further information and details that you will have to provide Debitum if you want to use the platform as a company. You can learn about these on the website.
Available countries
Debitum is a globally available P2B lending platform. However, some countries might be restricted due to special financial regulations.
Sign up tutorial
In the following tutorial, you can learn how to sign up and use the P2B lending platform over at https://debitum.network/.
How safe is Debitum?
To determine if Debitum is safe, we have taken a look at some of the potential upsides and downsides of investing with Debitum.
When you consider the safety of Debitum, we don't recommend that you rely solely on information found in our Debitum review as this is only based on our research. We always recommend that you also do your own research before investing any money.
1. Debitum profitability
SIA DN Operater, the company behind Debitum, made a small loss, as stated in its annual report for 2021.
Keep in mind that newer companies like Debitum typically use a lot of capital in the beginning on expenses that can make the company grow. Therefore, it is not necessarily a bad thing that the company is not yet profitable.
2. Main risks
In the following part of our Debitum review, we go through some of the main risks of using Debitum:
Loan default risk
When you invest in P2B loans, there is a risk that the borrower will not be able to repay the loan. In that case, your investment is usually lost.
However, most loans at Debitum have a buyback obligation that can secure you against this type of event.
In general, the best way to hedge against loan default risk is to invest in many different loans. This is done automatically on Debitum, as you are investing in asset-backed securities.
Loan originators risk
The loan originators (brokers) on the P2B platform also pose a risk to investors. If they are not in control of their finances, have poor management, or the like, then they run the risk of going bankrupt like any other business.
Debitum's loan originators include Trible Dragon, FLEXIDEA, Evergreen Capital, Chain finance, and Sandbox Funding.
Debitum bankruptcy risk
Of course, there is also a risk of Debitum going bankrupt. Like many other P2B platforms, Debitum has also created a procedure for what should happen in this case:
If Debitum goes bankrupt, the investors can according to the loan agreements approach loan originators directly and they would provide all owed funds directly to the investor.
Financial turndown risk
As P2P investing is a newer thing in the investment world, it can be difficult to predict how a financial turndown would affect this form of investment. As a starting point, it is, therefore, a really bad idea to invest your entire investment portfolio in P2P investments.
Therefore, many investors also diversify into more traditional forms of investment such as equities, bonds, and real estate.
Since investing is an individual thing, we obviously do not know what will be best for you. But if you put together your investment portfolio, make sure that it reflects your knowledge of the investments in it, as well as your own risk appetite. If in doubt about how to do so, make sure to seek help from a professional investment planner.
Is Debitum safe?
So far, Debitum has proved to be a more safe alternative to other P2P lending platforms.
The platform has a 0% default rate and only a very little amount of loans are bought from investors with the buyback guarantee.
At the same time, Debitum was one of the platforms that kept doing good during the Covid-19 shock, while other platforms struggled a bit.
This indicates that the Debitum is doing a good job at picking loan originators and loans for the marketplace.
At the same, Debitum has also made measures against its own bankruptcy. With these things in mind, we believe that Debitum is among the safer platforms on the market.
However, other factors, such as a lack of knowledge about how a financial turndown will affect the P2P lending industry, are also risk factors worth considering.
Our experience with Debitum
We have only had good experiences with Debitum.
Both the sign-up process and the overall platform are very user-friendly and intuitive.
Furthermore, this platform didn't experience some of the negative impacts that happened to investors' returns on competing platforms during Covid-19.
This is among the reasons why we gave the platform a very good rating in this Debitum review.
Below you can see a screenshot taken from our account at Debitum: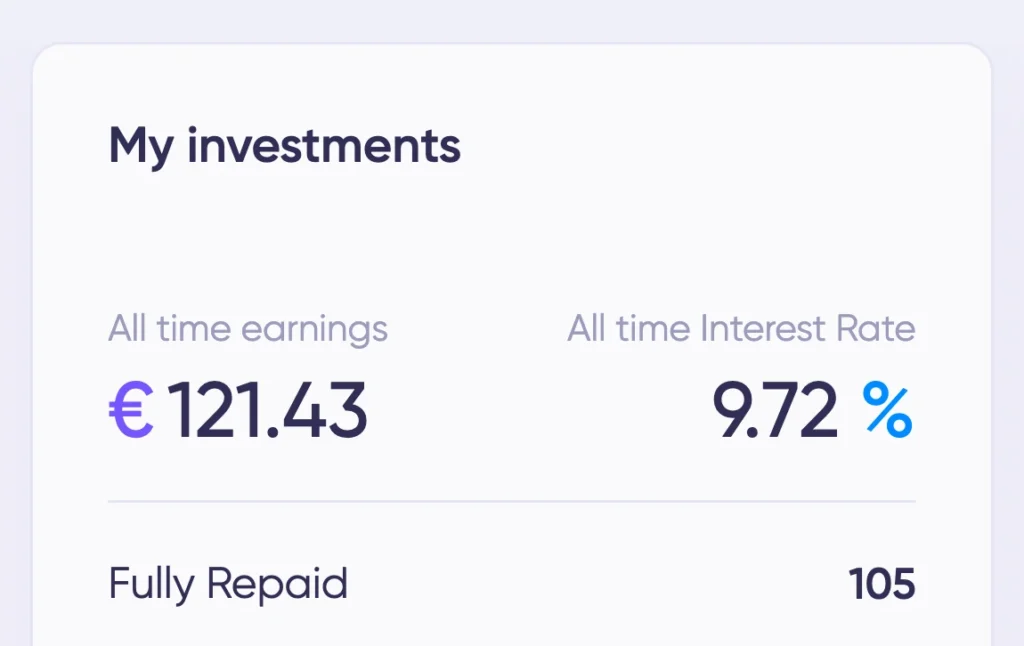 As you can see we have achieved an all-time interest rate of 9.72%. This is a result that we find attractive due to the fact that there are only a few loans going bad on the platform compared to some of the competitors.
Debitum reviews on Trustpilot
Trustpilot is a great place to learn what other people think of Debitum. We have collected some relevant debitum.network reviews from Trustpilot for you to take a closer look at: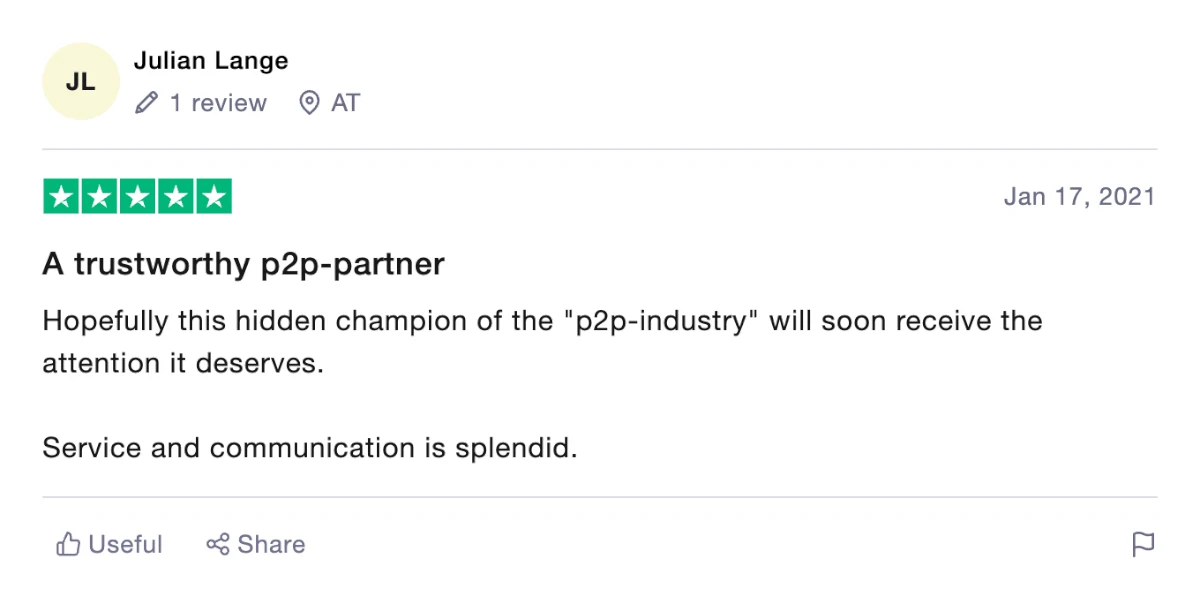 Best Debitum alternatives
Not sure Debitum is the right choice for you after reading our Debitum review? Then there are also some good Debitum alternatives to consider. The following are some of our favorites:
PeerBerry

(highly rated consumer lending platform)

ReInvest24 (highly rated real estate crowdfunding platform)
Mintos (largest P2P lending platform in Europe)
Even if you use the Debitum P2P lending platform, it might actually be a good idea to take a closer look at some of the above platforms. By using multiple platforms, you can reduce your platform risk and diversify your portfolio further.
In the following, you can learn more about how Debitum compares to near competitors that many investors ask about:
Mintos vs Debitum
The most frequently asked-about comparison is Mintos vs Debitum. The main difference between the two platforms is their focus.
Mintos is a P2P lending platform that makes it easy for investors to diversify between a lot of different loan types including payday loans, agricultural loans, business loans, car loans, and more.
Debitum is a platform that focuses only on small business financing. The platform has a focus on making the experience very safe with thorough due diligence and buyback obligation on investments.
Conclusion of our Debitum review
Debitum is probably the single best P2B lending platform right now.
The platform currently has a default rate of 0% and only 1,42% of loans have triggered the buyback obligation of the platform. This indicates that Debitum has a good due diligence process and that the risk compared to other platforms is fairly low.
The return on the platform is also very good at around 11,23%. This is a bit lower than on other platforms. But since the security seems a lot better on Debitum, investors are probably better off settling for the slightly lower return that you will find on Debitum.
Debitum is also highly rated on Trustpilot, where most reviews are positive. Debitum's Trustscore is much higher than most other P2P lending platforms.