InRento review 2023
Is InRento a great platform for real estate crowdfunding? Find out in our InRento review below:

Review summary:
InRento is probably the single best buy-to-let platform on the market right now. On the platform, you can invest in projects backed with a first-rank mortgage. The projects yield around a 13% annual return. To this date, there has been no loss of investor funds on the platform. InRento is also a very highly rated platform on Trustpilot.
It's free to use the platform.
At P2PPlatforms.com, we strive to list only the absolute best companies in the P2P industry. Where appropriate, we also feature our partners. This doesn't influence our evaluations. All opinions are our own.
Introduction to our InRento review
Are you considering investing via InRento? Then read on. We've written this InRento.com review to help investors determine if InRento is the right choice for them.
Below you will find an overview of the things that we will discuss more in detail in this InRento review. Simply click on the links to jump directly to the thing you want to know more about.
Learn about this in our InRento review:
What is InRento?
InRento is the first licensed buy-to-let investment platform in Europe that allows users to invest in rental properties in the fast-growing parts of the European property market.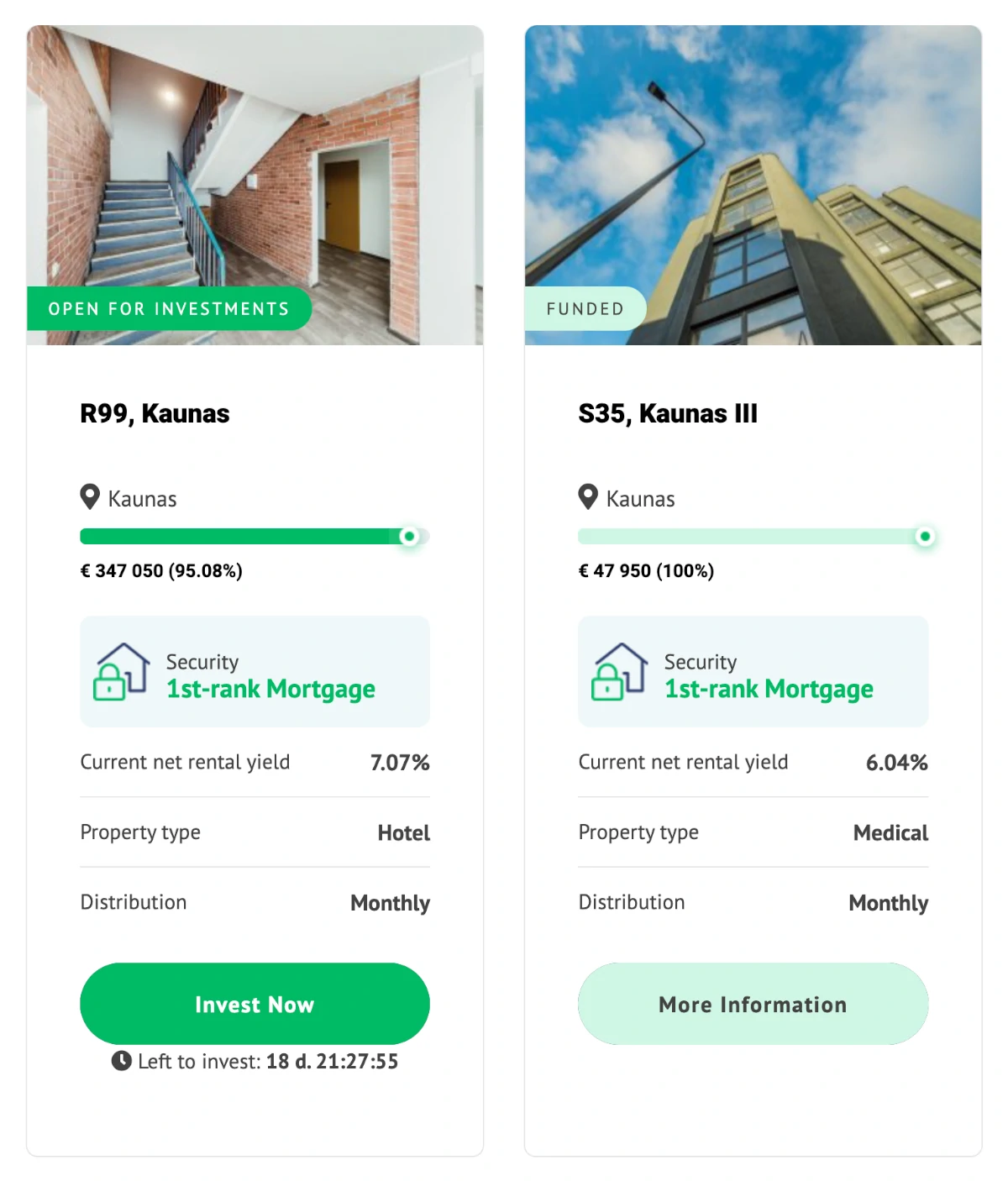 InRento is founded by Gustas Germanavičius – a serial crowdfunding platform maker with loads of experience in the P2P industry.
Since its launch, the platform has experienced tremendous growth. Currently, there are over 3,700 active investors who have trusted the platform with over €2.5 million in combined money deposits. The average investment portfolio on the platform is €7,349.
In November 2021 InRento acquired the crowdlending platform BitOfProperty. And in March 2022 announced that it was merging with EvoEstate under the InRento brand.
InRento is regulated by the Bank of Lithuania and offers an attractive average annual return of 13.84%.
With as little as €500, you can open an account and start investing at https://inrento.com/.
InRento statistics:
| | |
| --- | --- |
| Founded: | 2020 |
| Loan Type: | Real Estate |
| Loan Period: | 11 – 120 Months |
| Loans Funded: | € 2.500.000 + |
| InRento Users: | 4.700 + |
| Minimum Investment: | € 500 |
| Maximum Investment: | Unlimited |
| InRento Interest Rate: | 13.84% |
| Loss of Investors' Money: | 0% |
How InRento works:
InRento has a two-sided business model like most other real estate crowdfunding platforms. On one side they have to attract investors and on the other side, they have to attract properties for these investors.
How InRento works is described in the following illustration: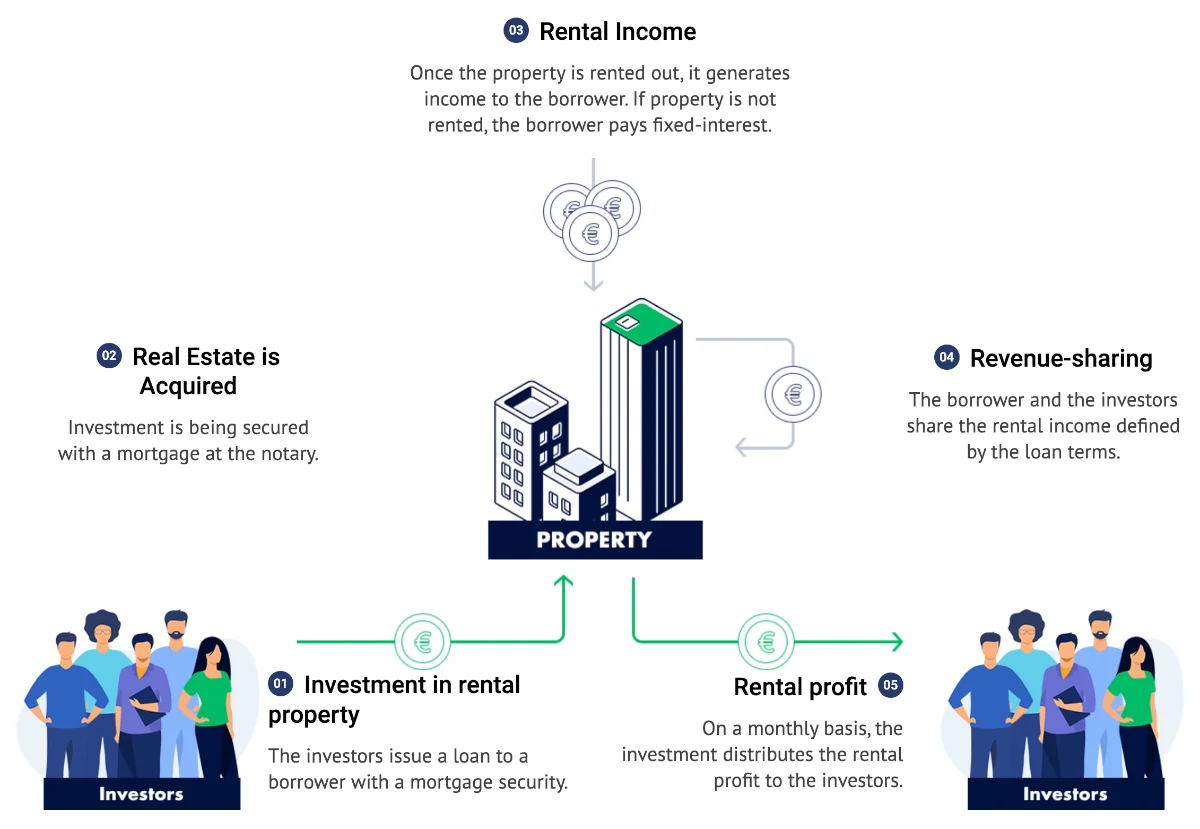 Getting the investment principal back can happen in two ways on InRento:
Frequently asked questions:
Key features
We have already taken a look at some of the reasons why InRento has become a popular choice among both project originators and investors.
In the following part of our InRento review, we take a closer look at some of the key features that make it easy to invest via the platform:
1. InRento secondary market
InRento offers a secondary market. Here you can sell your investments before maturity.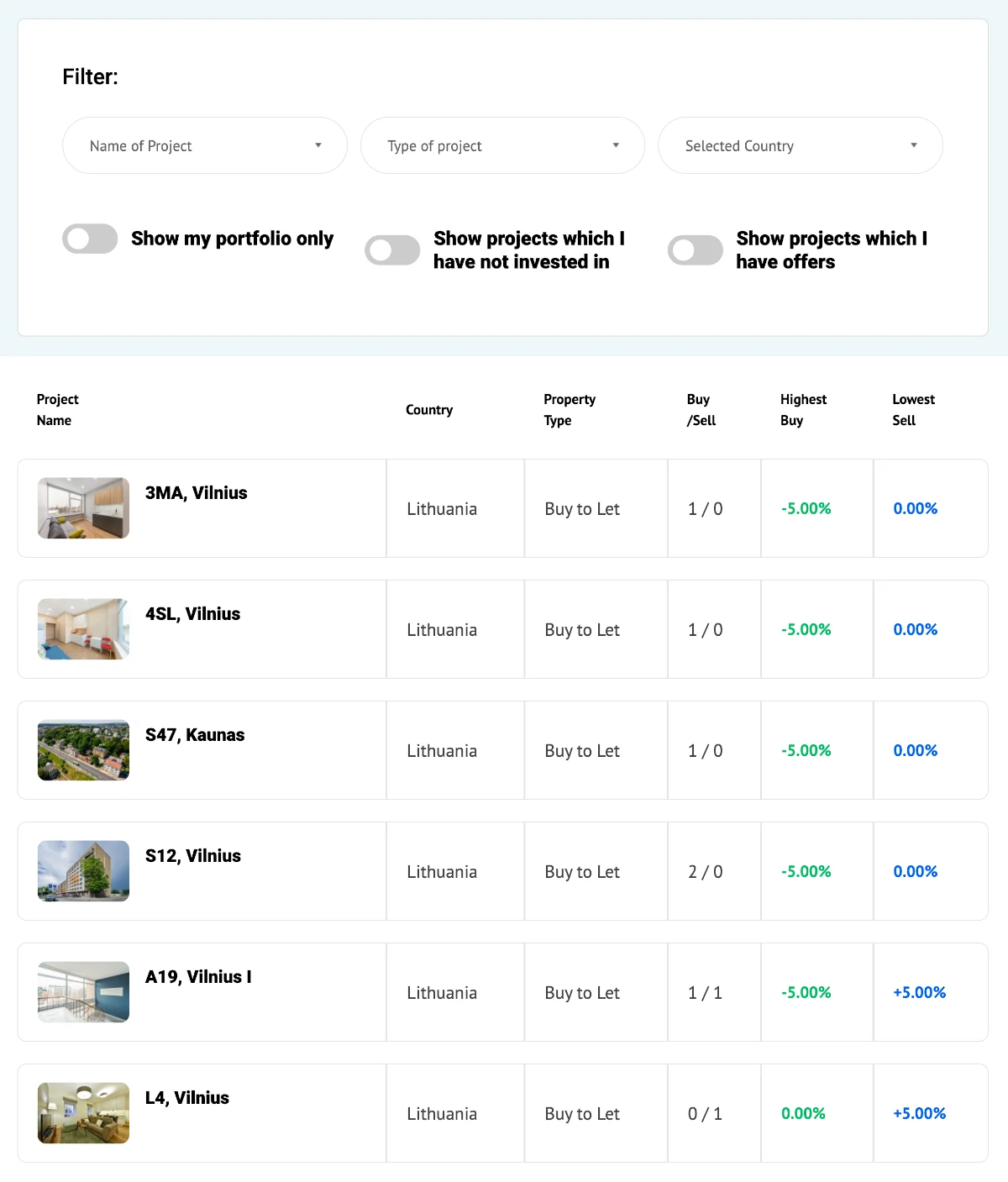 Investors can choose whether they want to sell investments with a discount or premium.
Currently, the fee for selling investments on the InRento secondary market is 2% of the principal value. There is no fee for buying.
2. InRento referral bonus
InRento offers a €20 referral bonus.
To get the InRento signup bonus, all you have to do is click the green button below (no promo code needed):
Who can use InRento?
Both individuals and companies can invest via InRento.
Individuals
If you want to invest as an individual, you must at least meet the following requirements:
Be at least 18 years old
Live outside of the United States
Comply with KYC
If you live up to these requirements, then you can probably start investing via the platform.
Companies
If you run a company, it is also possible to invest via InRento. In the registration process, simply select "Company" instead of "Private person" to make a business account.
If you want to have a company account on InRento, you will have to provide the following:
Company registration proof
Company articles of association
Available countries
As to our knowledge, it is possible to invest in InRento projects from all countries in the world except the United States and a few other countries like North Korea.
How safe is InRento?
To determine if InRento is safe, we have taken a look at some of the potential upsides and downsides of investing via the platform in the following part of our InRento review.
1. InRento profitability
We haven't been able to find a financial report to verify whether or not InRento is profitable as UAB Inrento is still a young company without much financial history. We hope to see some publicly available annual reports as the company matures.
2. Main risks
In the following, we go through some of the main risks of using InRento that we have considered:
InRento bankruptcy risk
Because InRento is regulated by the Bank of Lithuania, it is required to have a certain amount of capital to be able to appoint a contractual entity to service the claim between the lenders and borrowers in the event that InRento goes bankrupt.
This means that your investments would still be serviced in the event that InRento goes into bankruptcy.
Financial turndown risk
If you choose to invest in real estate via InRento, you also take on risks related to real estate.
Therefore, a financial turndown in real estate could affect the investments on InRento due to the fact that a real estate crash could cause a decline in property values.
Is InRento safe?
InRento seems fairly safe as they are a regulated platform.
But the platform is also very young with a short track record. This means that is very hard to get a full picture of the safety of the platform over a longer time period.
Since the investments are backed by a first-rank mortgage and the team behind the platform is very experienced, InRento is a platform that is expected to thrive in the coming years.
Our experience with InRento
Our overall experience with InRento is very positive. When you compare the platform to others on metrics like team experience, user-friendliness and support, then they are among the better ones. At the same time, we believe that there is a fair balance between risk and reward on the InRento.
There is nothing at the moment that is concerning about the alternative investment platform.
InRento reviews on Trustpilot
Trustpilot is a great place to learn what other investors think about InRento. We have collected some relevant InRento reviews from Trustpilot for you to take a closer look at: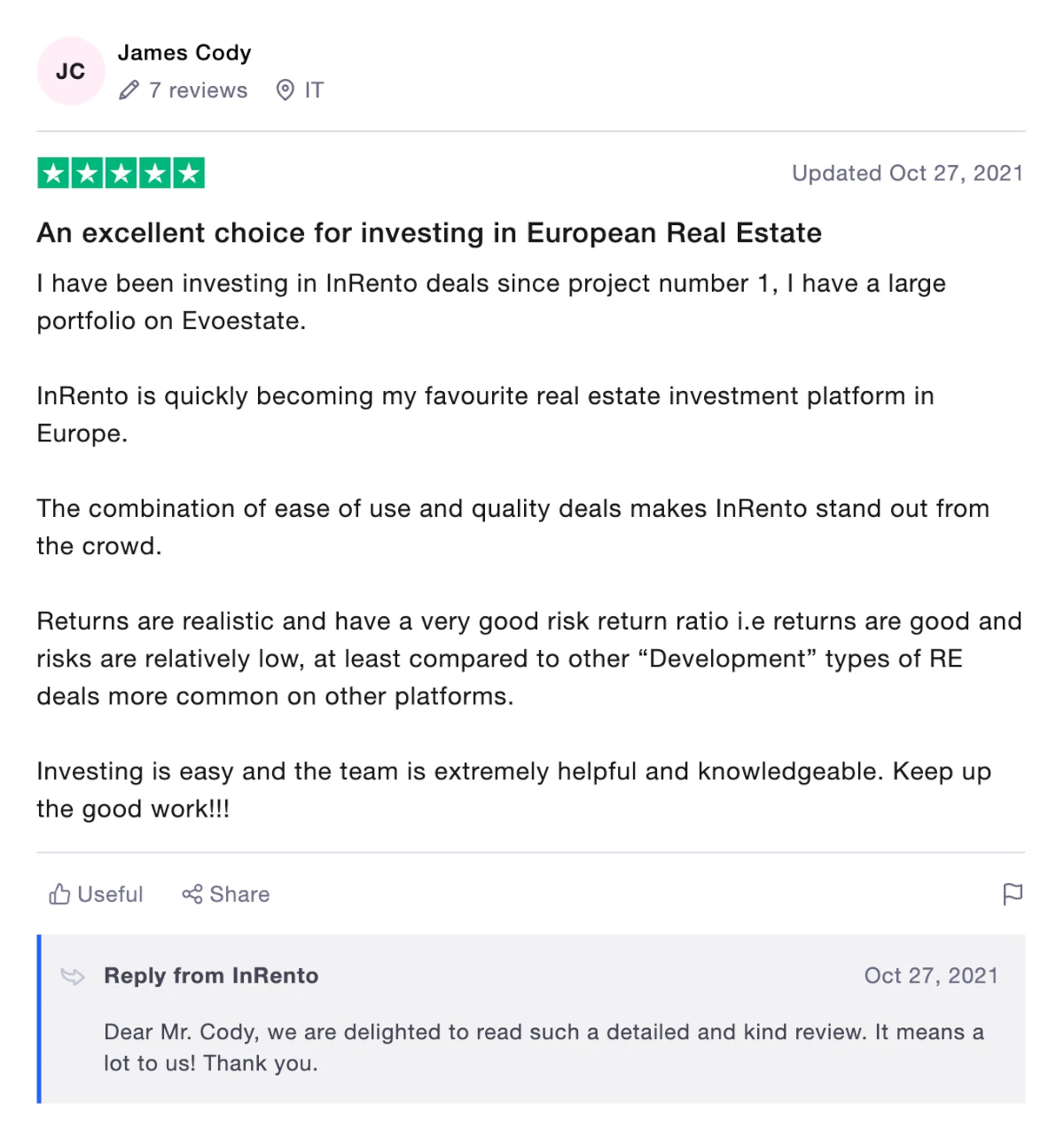 Best InRento alternatives
Not sure InRento is the right choice for you? Then there are also some good InRento alternatives to consider. The following are some of our favorites:
Even if you use InRento, it might actually be a good idea to take a closer look at some of the above platforms. By using multiple P2P lending platforms, you can reduce your platform risk and diversify your portfolio further.
Conclusion of our InRento review
InRento is probably the single best buy-to-let P2P platform on the market right now.
All the loans are secured by first-rank mortgages, and the platform is regulated by the Bank of Lithuania.
The team behind the platform has loads of experience in the P2P industry, which gives an excellent outlook for the platform.
To this date, investors have had no capital losses on the platform, and there have been no late loans. This witness of a quite safe platform.
The annual return on the platform is on par with other crowdlending platforms at around 13%.