Ekassa review 2023
Is Ekassa a great platform for P2P lending? Find out in our Ekassa review below:

Review summary:
Ekassa is a newer but very simple and user-friendly P2P lending platform. By investing in loans on the platform, you can achieve a high return, which Ekassa guarantees through their Guaranteed product. So if you want to get started with P2P lending in an easy way, then Ekassa is a decent choice.
It's free to use the platform.
At P2PPlatforms.com, we strive to list only the absolute best companies in the P2P industry. Where appropriate, we also feature our partners. This doesn't influence our evaluations. All opinions are our own.
Introduction to our Ekassa review
Are you considering investing via Ekassa? Then read on. We've written this Ekassa.eu review to help investors determine if Ekassa is the right choice for them.
Below you will find an overview of the things that we will discuss more in detail in this Ekassa review. Simply click on the links to jump directly to the thing you want to know more about.
Learn about this in our Ekassa review:
What is Ekassa?
Ekassa is a Peer-to-Peer lending platform from Tallinn, Estonia. The platform focuses on consumer finance loans. Ekassa was released in 2018 but is part of a larger international finance group, which started back in 2012.
One of the places where Ekassa stands out from the many other European P2P lending platforms is through the simplicity of its platform. If you go to the front page of Ekassa.eu, you will be met with this very simple investment plan: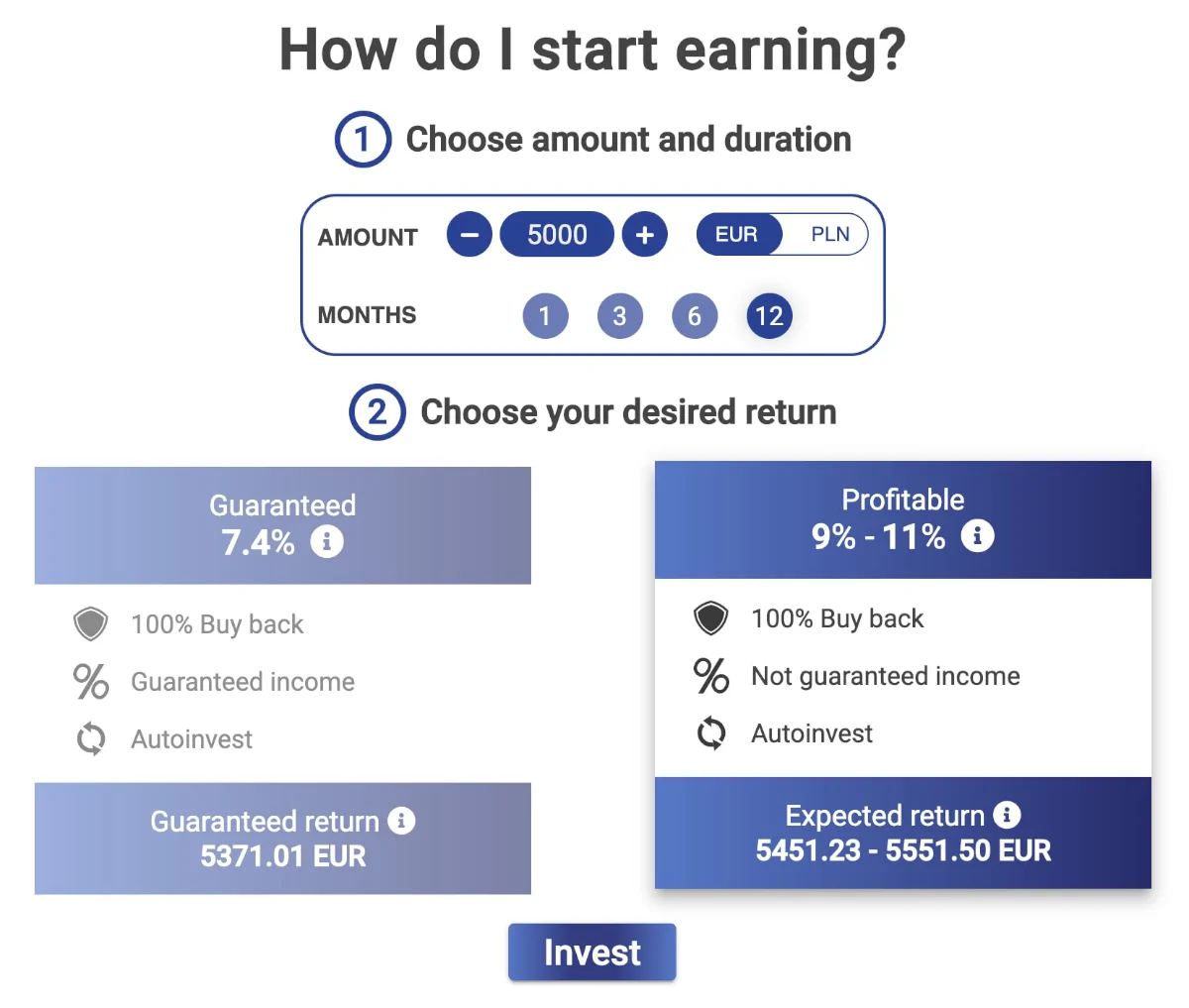 The investment plan only takes a moment to complete. Once you have done that, you can simply tap "Invest" to create an account on the platform.
At Ekassa, you can start investing with just €10. Both the simple investment process and the low minimum investment make Ekassa a popular choice among investors.
Ekassa statistics:
| | |
| --- | --- |
| Founded: | 2018 |
| Loan Type: | Consumer |
| Loan Period: | 1 Month |
| Loans Funded: | € 40.000.000 + |
| Ekassa Users: | 1.000 + |
| Minimum Investment: | € 10 |
| Maximum Investment: | Unlimited |
| Ekassa Interest Rate: | 8.37% |
How Ekassa works:
Ekassa has a two-sided business model. On the one hand, they have a panel of partner lenders who issue consumer loans, and on the other hand, the investors.
The whole process starts with a consumer taking a loan via one of the partner lenders. Here, a thorough check is made of the borrower's financial situation, history, and creditworthiness.
To be able to issue more loans, the partner lenders want others to take over the loans for more liquidity. In practice, this is done by the loans being listed on Ekassa, where investors can invest in the loans at a lower interest rate than what the partner lenders lent the money to.
Before a loan is listed on Ekassa it is double-checked to ensure that the loan is of high quality.
Once the loan has been listed on Ekassa, it is now possible for investors like you to invest in the loan. You can do this via the Ekassa investment packages found on their website.
Frequently asked questions:
Key features
We have already taken a look at some of the reasons why Ekassa has become a popular choice among investors. In the following, we take a closer look at some of the key features that make it easy to invest via the platform:
1. Ekassa buyback guarantee
Ekassa guarantees that you will always at least get back the money you invest initially. This applies to both their guaranteed product and their profitable product.
If you choose to invest via the guaranteed product, Ekassa also guarantees that you will receive the promised return from the product.
On the other hand, if you choose to invest via the profitable product, Ekassa does not guarantee the return. However, the estimated return is higher on this product.
However, it is important to remember that a buyback guarantee is only as secure as the ones behind them – which in Ekassa's case would be the partner lenders and Ekassa themself.
Also, keep in mind that a buyback guarantee acts as a form of insurance. This is also why the estimated return for the guaranteed product is lower than the profitable guarantee on Ekassa.
2. Ekassa auto-invest
One of the things that makes Ekassa really easy to use is its auto-invest function. However, this feature is mandatory and you cannot invest via Ekassa without using their auto-invest.
To get started with Ekassa auto-invest, follow this process:
Add funds to your account (EUR or PLN)
Choose your auto-invest package
3. Ekassa pre-term return
At Ekassa, you can choose to sell your investments ahead of time. Of course, this is an advantage for you if you regret your investments at Ekassa, or simply have found better investment opportunities elsewhere.
The fee for making a pre-term investment return at Ekassa is 1% of the amount you withdraw. Please note that you can only withdraw money from loans that have no delinquency.
How to sell loans at Ekassa:
Go to the Portfolio section of your account
Select your current investment package
Click the "Pre-term return" button
If you just want to withdraw a small portion of your total investments with Ekassa, this can also be done. Here, you simply specify how much you want to withdraw, and then it will be paid out to your bank account. Here, the 1% pre-term investment return fee still applies.
Who can use Ekassa?
Only individuals can invest via Ekassa.
Individuals
If you want to invest as an individual, you must at least meet the following requirements:
Being at least 18 years old
Passing the identity verification process
Having a bank account
If you live up to these requirements, then you can start investing via the platform.
Organizations
At the time of writing, it is not possible for legal entities to sign up on the platform. However, this is something that Ekassa is working to make possible.
Available countries
At present, it is only possible to register on the platform if you are an EU resident. If you live outside Europe, you can take a closer look at these alternatives.
How safe is Ekassa?
To determine if Ekassa is safe, we have taken a look at some of the potential upsides and downsides of investing with Ekassa.
1. Ekassa profitability
Since Ekassa is owned by iaPlatform OÜ, which was registered in 2018, there is not yet much publicly available information to gather about the profitability of Ekassa. However, you can check for updates regarding their profitability here.
2. Main risks
In the following, we go through some of the main risks of using Ekassa that we have considered:
Loan default risk
When you invest in P2P loans, there is a risk that the borrower will not be able to repay his loan. In that case, your investment is usually lost.
However, the loans at Ekassa have a buyback guarantee that can secure you against this type of event.
At Ekassa, the best way to hedge against the loan default risk is by choosing to invest via the Ekassa guaranteed product.
Partner lenders risk
The partner lenders also pose a risk to investors. If they are not in control of their finances, have poor management, or the like, then they run the risk of going bankrupt like any other business.
Ekassa's partners include ProstyKredyt Sp. z o.o., PayDayLend Sp. z o.o. and Ekassa Sp. z o.o. – all which lend out money in PLN.
Ekassa bankruptcy risk
Based on the information we have been able to get our hands on, we know very little about what really happens in the event that Ekassa goes bankrupt. Not much information is available about what happens in the event of such an event on their website.
Financial turndown risk
As P2P investing is a newer thing in the investment world, it can be difficult to predict how a financial turndown would affect this form of investment. As a starting point, it is, therefore, a really bad idea to invest your entire investment portfolio in P2P investments.
Therefore, many investors also choose to diversify into more traditional forms of investment such as equities, bonds, and traditional real estate.
Since investing is an individual thing, we obviously do not know what will be best for you. But if you put together your investment portfolio, make sure that it reflects your knowledge of the investments in it, as well as your own risk appetite. If in doubt about how to do so, make sure to seek help from a professional investment planner.
Is Ekassa safe?
At the time of writing, there is not much information about the profitability of Ekassa. At the same time, there is also no publicly available information about what happens in the event of Ekassa going bankrupt. This is a red flag to us, as many competing platforms, such as Mintos and NEO Finance, have such information available. Due to the lack of information, it is also difficult to assess how secure Ekassa really is.
Other factors such as lack of knowledge about how a financial turndown will affect the P2P lending industry are also risk factors that are worth considering.
Our experience with Ekassa
We have had a very good experience with Ekassa. Their entire sign-up process was very straightforward and easy to go through, which is why we in nearly no time came to the point where we could start investing.
The thing we enjoyed most about Ekassa was the very simple offer on their platform. This led to very few confusions on our part – which we have had many of, at some other alternative investing platforms.
Ekassa reviews on Trustpilot
Trustpilot is a great place to learn what other people think of Ekassa. We have collected some relevant Ekassa reviews from Trustpilot for you to take a closer look at: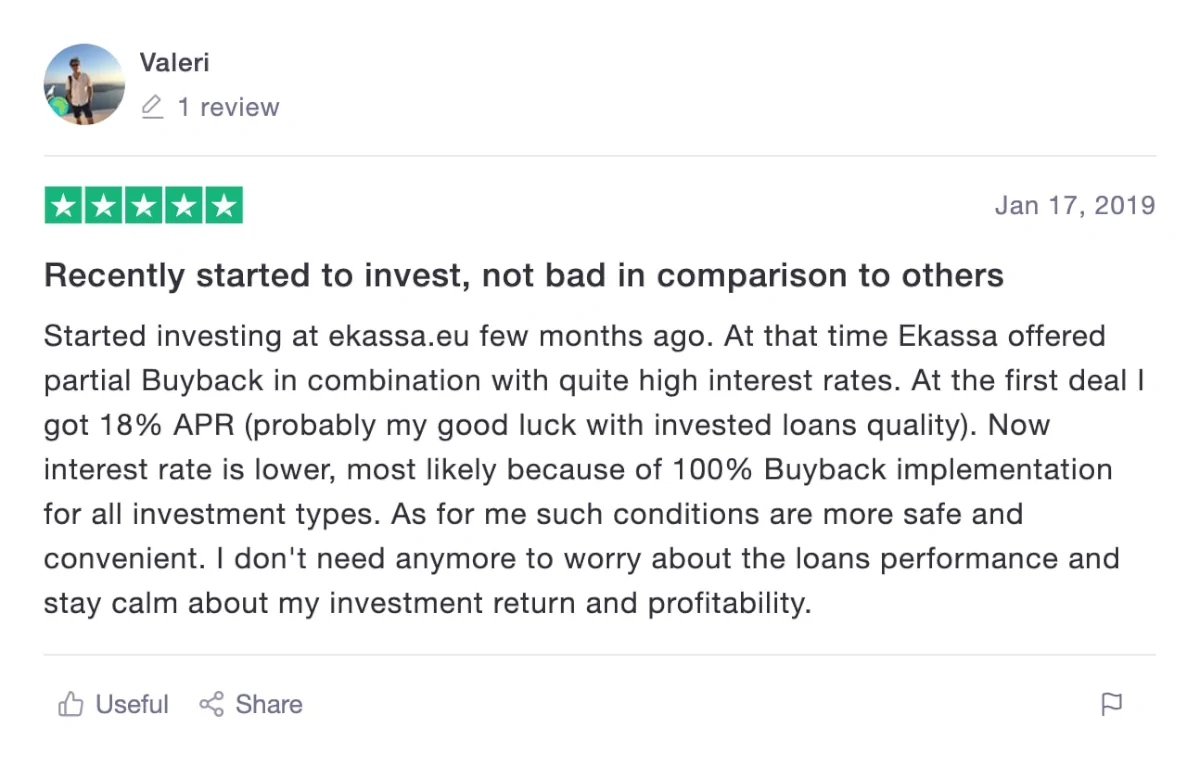 Best Ekassa alternatives
Not sure Ekassa is the right choice for you? Then there are also some good Ekassa alternatives to consider. The following are some of our favorites:
Mintos (available in more places)
PeerBerry (up and coming platform)
ReInvest24 (real estate focus)
Robocash (consumer loans)
Even if you use Ekassa, it might actually be a good idea to take a closer look at some of the above platforms. By using multiple platforms, you can reduce your platform risk and diversify your portfolio further.
Conclusion of our Ekassa review
Compared to many other crowdlending platforms we have reviewed, the investment process is much easier at Ekassa.
However, Ekassa is a newer platform without particularly many publicly available financial reports, which can be a disadvantage as it makes it difficult to assess the safety of using the platform.
However, a high return and good buyback guarantees are both two big pluses for the platform. So if you are looking for a high return on a simple and user-friendly platform, Ekassa is a fairly good option.