Moncera review 2023
Is Moncera a great platform for P2P lending? Find out in our Moncera review below:

Review summary:
Moncera is an excellent P2P lending platform for investing in consumer loans. On the platform, you can invest in loans with a high average interest rate. 100% of the loans on Moncera are covered by a 30-day buyback guarantee that secures you against loan defaults. Moncera has a one-click exit option that allows you to sell investments instantly. The platform is trusted by over 3,500 investors.
It's free to use the platform.
At P2PPlatforms.com, we strive to list only the absolute best companies in the P2P industry. Where appropriate, we also feature our partners. This doesn't influence our evaluations. All opinions are our own.
Introduction to our Moncera review
Are you considering investing via Moncera? Then read on. We've written this Moncera.com review to help investors determine if Moncera is the right choice for them.
Below you will find an overview of the things that we will discuss more in detail in this Moncera review. Simply click on the links to jump directly to the thing you want to know more about.
Learn about this in our Moncera review:
What is Moncera?
Moncera is a Peer-to-Peer lending platform that enables investors from Europe to invest in consumer loans from Placet Group.
Placet Group has over 15 years of experience in the financial sector and operates in 3 markets under 7 brands. You will primarily find loans from Estonia on Moncera.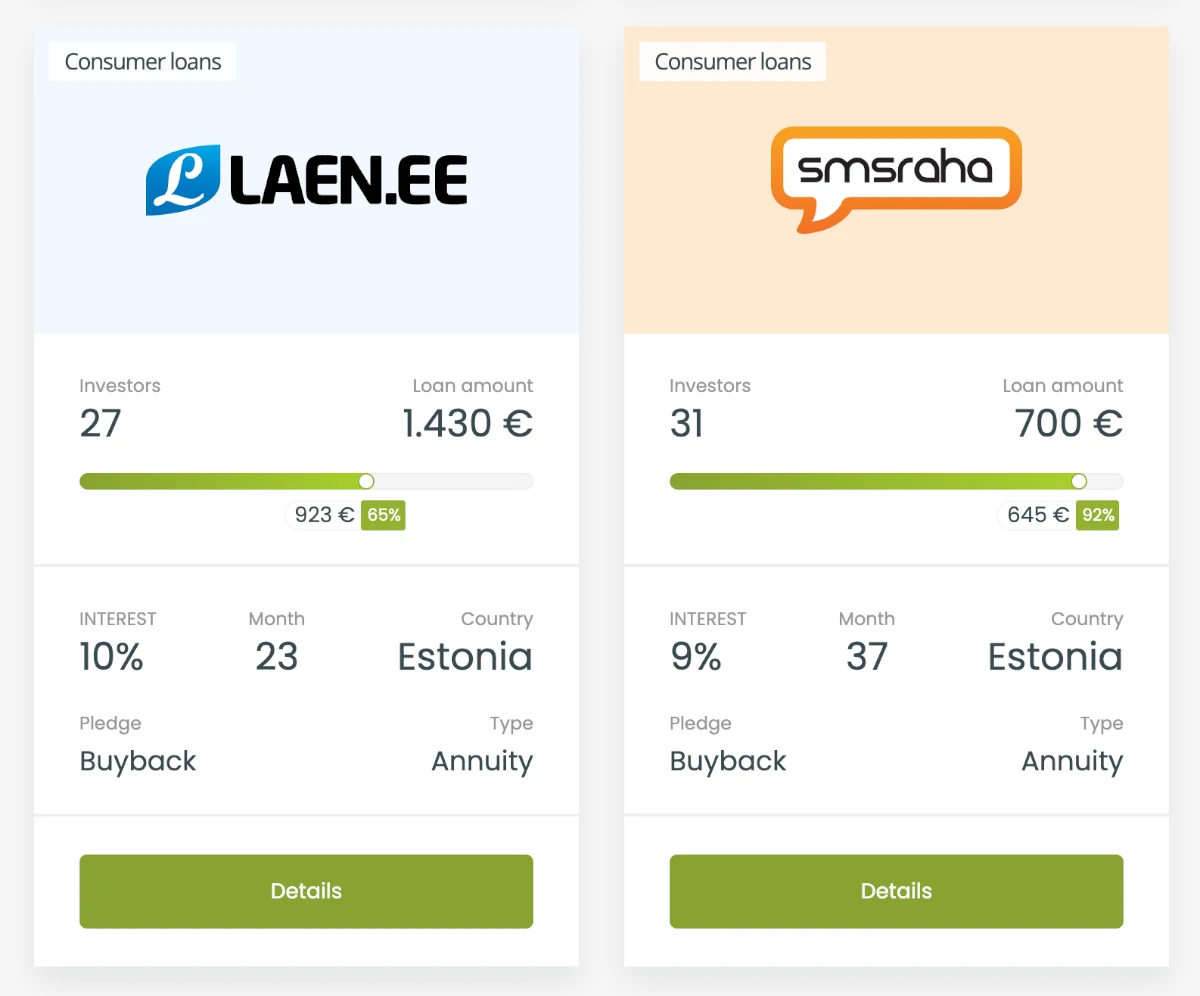 100% of the loans on Moncera are secured with a 30-day buyback guarantee – a feature that will be explained later in this review.
Moncera launched in 2020 in Tallinn, Estonia. Since then a decent amount of investors have joined the platform to earn a return of 7-12%.
With as little as €10, you can open an account and start investing at https://moncera.com/.
Moncera statistics:
| | |
| --- | --- |
| Founded: | 2019 |
| Loan Type: | Consumer |
| Loan Period: | 1 – 79 Months |
| Loans Funded: | € 43.000.000 + |
| Moncera Users: | 3.500 + |
| Minimum Investment: | € 10 |
| Maximum Investment: | Unlimited |
| Moncera Interest Rate: | 10.40% |
How Moncera works
The Moncera P2P lending platform works by being the middleman between loan originators and investors wanting to invest in loans.
Loan originators can make the loans they have issued to borrowers available for investment on Moncera.
Users can then invest in these loans and earn interest.
The loan originator benefits from this as they gain liquidity for issuing more loans and can grow their business faster.
This creates a win-win situation between you and the lending companies. And whilst you probably don't get the loans at the interest rate the loan originator issued it for, the returns are quite attractive.
Frequently asked questions:
Key features
We have already taken a look at some of the reasons why Moncera has become a popular choice among investors. In the following, we take a closer look at some of the key features that make it easy to invest via the P2P lending platform:
1. Moncera auto-invest
If you want to avoid manually selecting loans, you can use the Moncera auto-invest feature to set your investments on autopilot.
To use the Moncera auto-invest tool, do the following:
Sign up at https://moncera.com/
Log in to your account
Click "Invest" and select "Auto-invest" in the sidebar
Create a new auto-invest strategy
2. Moncera buyback guarantee
100% of the loans on Moncera are covered by a 30-day buyback guarantee.
The buyback guarantee means that in case the borrower is more than 30 days delayed on the payment schedule, the loan originator is obligated to immediately buy back the loan.
The loan originator will have to pay for both the invested principal and the accrued interest from the period the loan was held by the investor.
It is worth noting that a buyback guarantee is only as safe as the one behind it. In this case the loan originators.
So if the loan originator defaults, the buyback obligation could end up being useless. But the main loan originator on the platform, Placet Group, has solid financials at the time of writing this review.
4. Moncera one-click exit
Moncera allows investors to sell their loans before they mature with a feature called "one-click exit".
The one-click exit is an alternative to a secondary market which you will find on most other P2P lending platforms. The main difference is that with the one-click exit you trade with the loan originator instead of other investors on the secondary market.
This has the benefit that you don't have to wait for other investors to buy your investments. The main drawback is that you rely more on the loan originator to buy the loan from you.
In order to use the Moncera one-click exit, do the following:
Go to https://moncera.com/
Login to your account
Go to the Portfolio section
Click "SELL" to sell your investments
Money will instantly appear on your account
Who can use Moncera?
Both individuals and companies can invest via Moncera.
Individuals
Individuals wanting to invest via Moncera are required to:
Be at least 18 years old
Have residency in a country in the European Economic Area (EAA)
Have a bank account in the EAA
If you live up to these requirements, then you can probably start investing via the platform.
Companies
If you own a company, you can also use it to invest via Moncera. Here you will simply have to select "Company" when you register on the website.
Available countries
Moncera is only available in the European Economic Area (European Union, Iceland, Liechtenstein, and Norway).
If you are looking for similar platforms that are more widely available, you should take a look at either Bondster or Lendermarket.
How safe is Moncera?
To determine if Moncera is safe, we have taken a look at some of the potential upsides and downsides of investing with Moncera.
1. Moncera profitability
Moncera OÜ was founded in December 2019 and has been profitable ever since. In the recent 2020 annual report, the company came out with a profit before tax of €1,538. While this seems like a small number, it witnesses a company that invests most of its profits in growth.
The main loan originator on the platform, Placet Group, is a very profitable company. You can find the reports for 2022 here.
2. Main risks
In the following, we go through some of the main risks of using Moncera that we have considered:
Loan default risk
When you invest in P2P loans, there is a risk that the borrower will not be able to repay the loan. In that case, your investment is usually lost.
But all loans on Moncera have a 30-day buyback guarantee that can secure you against this type of event.
The buyback guarantee is provided by the loan originators on the platform.
Loan originators risk
The loan originators also pose a risk to investors. If they are not in control of their finances, have poor management, or the like, then they run the risk of going bankrupt like any other business. This can mean that they end up being unable to exercise their buyback guarantee.
The main loan originator on the platform, Placet Group, has for a long period been a very profitable company, which lowers this risk.
Moncera bankruptcy risk
As with any business, there is a risk of Moncera going bankrupt. But this seems very unlikely currently, as the company behind the platform, Moncera OÜ is profitable.
Financial turndown risk
As P2P investing is a newer thing in the investment world, it can be difficult to predict how a financial turndown would affect this form of investment. As a starting point, it is, therefore, a really bad idea to invest your entire investment portfolio in P2P investments.
Therefore, many investors also choose to diversify into more traditional forms of investment such as equities, bonds, and traditional real estate.
Since investing is an individual thing, we obviously do not know what will be best for you. But if you put together your investment portfolio, make sure that it reflects your knowledge of the investments in it, as well as your own risk appetite. If in doubt about how to do so, make sure to seek help from a professional investment planner.
Is Moncera safe?
Moncera seems quite safe with solid financials of both the platform itself and the loan originators on it. Furthermore, Moncera has also implemented a 30-day buyback guarantee that can protect investors against loan defaults.
But other factors such as lack of knowledge about how a financial turndown will affect the P2P lending industry are also risk factors that are worth considering before investing.
Our experience with Moncera
In our experience, Moncera is both a very user-friendly and trustworthy platform. On the website, you can find the latest annual report of both Moncera OÜ and Placet Group which makes Moncera a very transparent platform.
Due to this transparency and no identified red flags, we feel quite confident with Moncera.
Moncera mainly differentiates itself from other crowdlending platforms with its one-click exit feature that allows you to instantly sell your loans. This feature is very nice as it can take out a lot of the waiting time you will find on platforms with a normal secondary market.
Moncera reviews on Trustpilot
Trustpilot is a great place to learn what other people think of Moncera. We have collected some relevant Moncera reviews from Trustpilot for you to take a closer look at: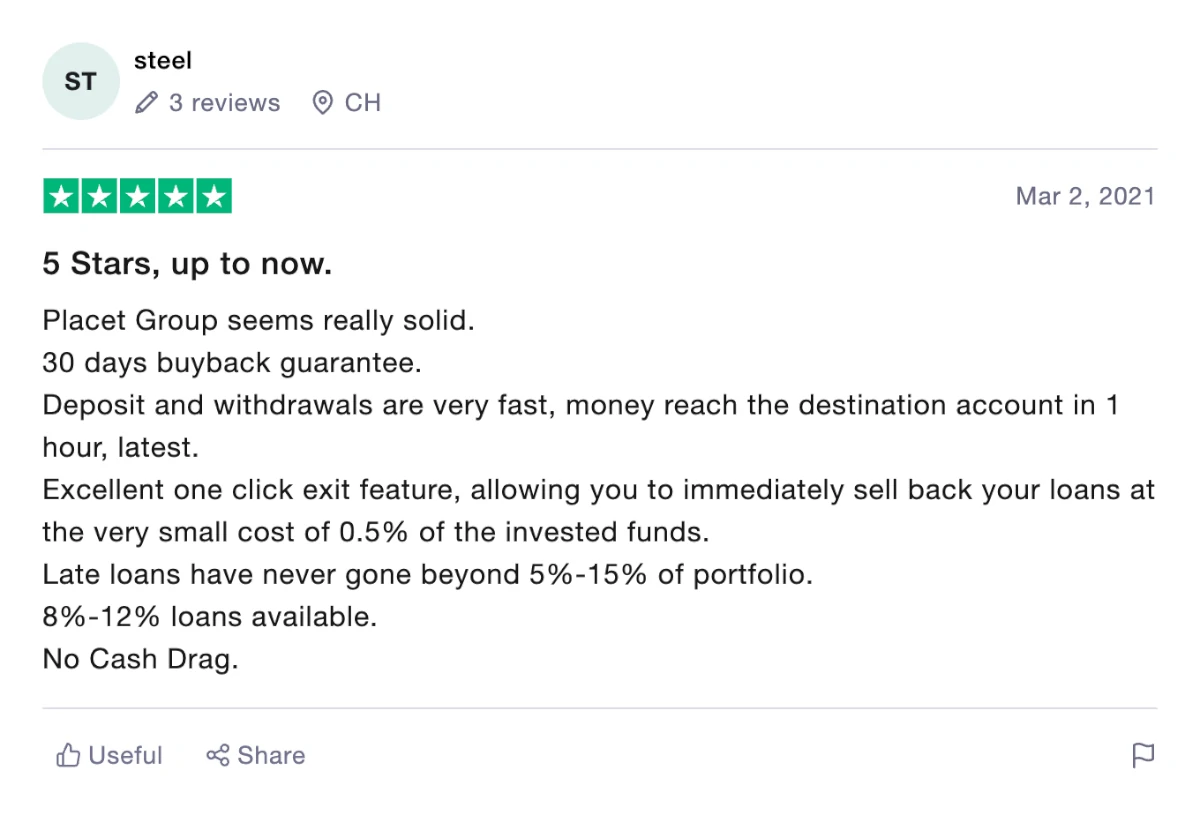 Best Moncera alternatives
Not sure Moncera is the right choice for you? Then there are also some good Moncera alternatives to consider. The following are some of our favorites:
Even if you use Moncera, it might actually be a good idea to take a closer look at some of the above platforms. By using multiple platforms, you can reduce your platform risk and diversify your portfolio further.
Conclusion of our Moncera review
Moncera is an excellent P2P lending platform for consumer lending in eastern Europe. The platform is very user-friendly and has all the features you would expect it to have.
100% of the loans on the platform are secured with a 30-day buyback guarantee which protects you against loan defaults. Since both Placet Group and Moncera are profitable, it is very likely that the buyback guarantee will be honored in the immediate future.
If you regret investing on the platform you can instantly sell your investments with the Moncera one-click exit feature.
Moncera has mainly received positive reviews and ratings from investors that have experienced the P2P lending platform. Moncera is trusted by 1,000's investors.