Top 10 Biggest P2P Lending Platforms in Europe
Are you looking for the largest P2P lending platform in 2023? Here are the top 10 biggest P2P lending platforms based on total loan volume:
1. Mintos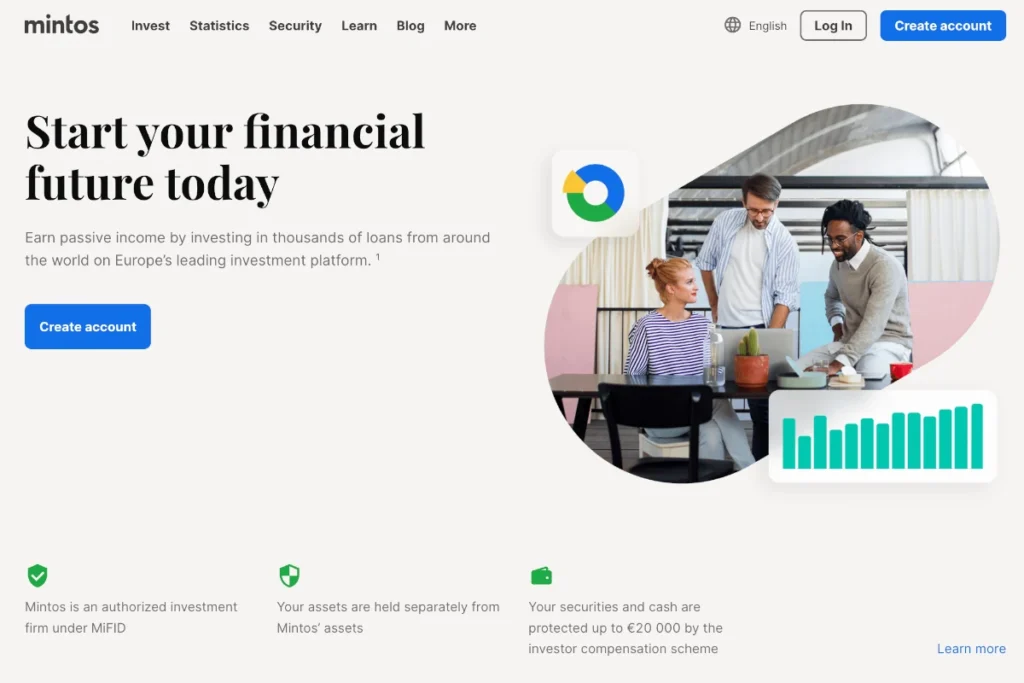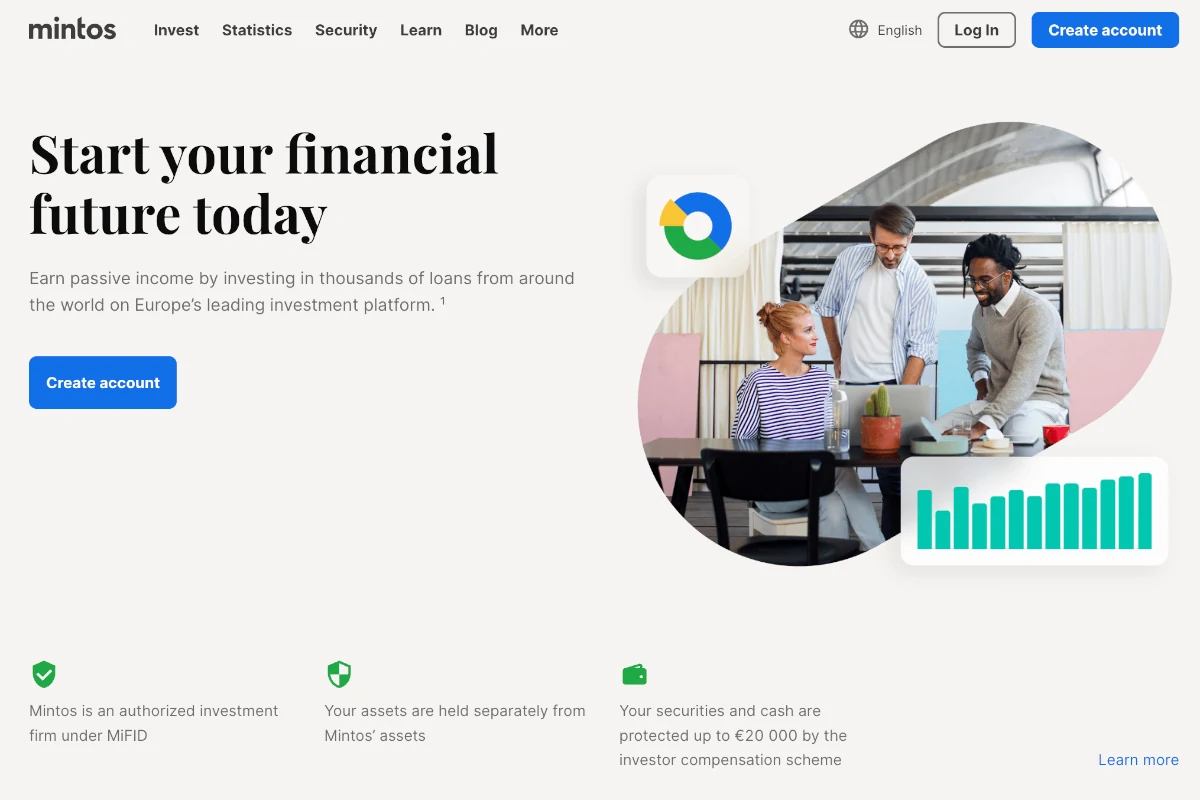 Mintos is the largest P2P lending platform in Europe and has facilitated the funding of more than €9.24 billion in loans. The platform was founded in Latvia in 2015 and has quickly become a major player in the P2P lending industry in Europe. Today Mintos has more than 530,000 registered users on its platform.
Mintos enables individuals to invest in loans from various lending companies across Europe. The platform's success largely stems from being an innovative first mover in the European P2P lending industry.
The platform quickly set itself apart from other platforms by offering loans from many different loan originators, making loan diversification easier for aspiring P2P investors. As one of the pioneers in the market, Mintos also introduced many innovative features like the secondary market for loans, which further contributed to its market share.
Continuously growing, Mintos continues to attract investors and loan originators from all over Europe, further expanding its reach and influence in the lending industry.
2. PeerBerry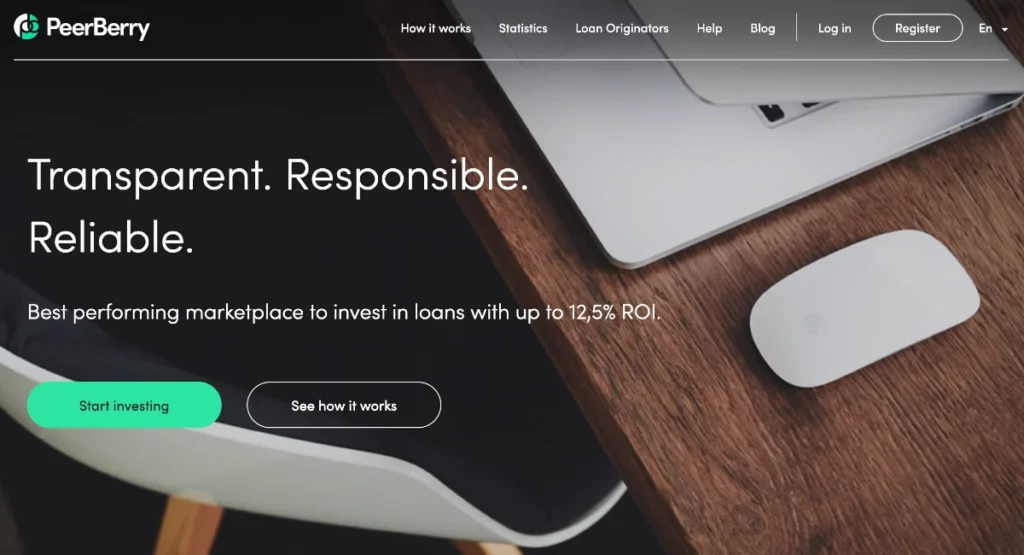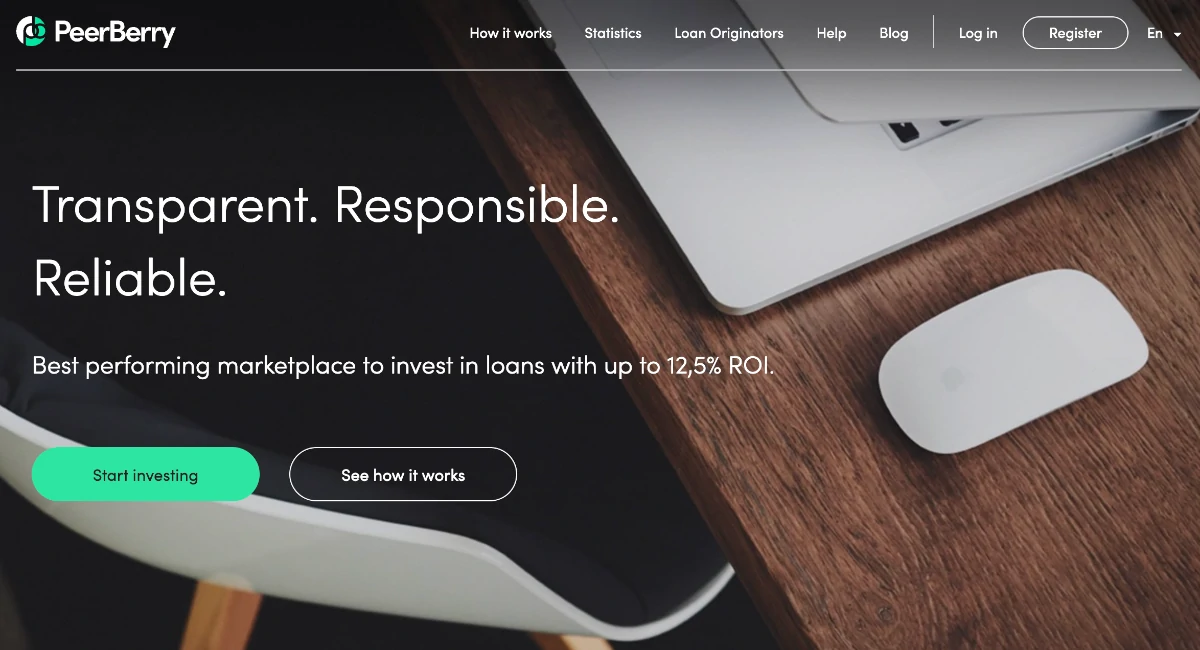 PeerBerry is the second biggest P2P lending platform in Europe with a total funding of more than €2.08 billion. Founded in 2017 in Croatia, PeerBerry already boasts an impressive number of 74,000 investors, establishing itself as a significant force in Europe's P2P lending market.
The high level of transparency and reputation for reliability in the PeerBerry business model has contributed substantially to its rapid growth and popularity among investors. The platform provides clear and straightforward access to financial information, mitigating investment risks.
PeerBerry has a proven track record of delivering consistently strong returns to its investors. This solid performance, coupled with its commitment to transparency and reliability, has helped distinguish PeerBerry as a trustworthy P2P lending platform in a competitive market.
The platform continues to grow and attract new investors at a fast pace, further solidifying its position as one of the leading European P2P lending platforms.
3. CG24 Group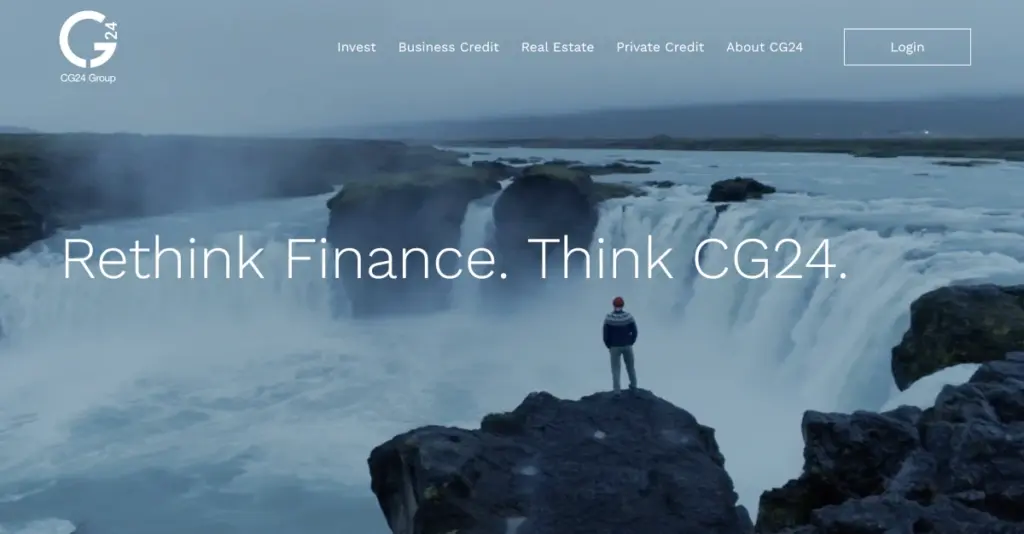 CG24 Group is the third largest P2P lending platform in Europe and has successfully facilitated a total loan volume of €1.13 billion since it was launched in 2015 in Switzerland.
As one of the first P2P lending platforms to emerge, CG24 Group capitalized on its first-mover advantage by quickly attracting a substantial user base and establishing a solid reputation within the industry.
The platform is known for offering moderate risk and return on investments, appealing to investors who prefer steady returns over high-risk investment options. This balanced approach to risk and return has been pivotal to CG24's success as it caters to a broad spectrum of investor risk profiles.
Being regulated lends further credibility to the platform and reassures potential investors about the security of their investments. The regulatory oversight ensures that CG24 operates within legal boundaries while upholding high standards of transparency and accountability.
CG24 is not only open to borrowers but also investors, which increases its accessibility and reach significantly. By providing an easy-to-use platform where anyone can invest or borrow money easily, CG24 continues to attract more users.
CG24 has cemented its position as one of Europe's leading platforms due largely to its balanced investment approach, regulatory compliance, and accessibility for both borrowers and investors alike.
4. TWINO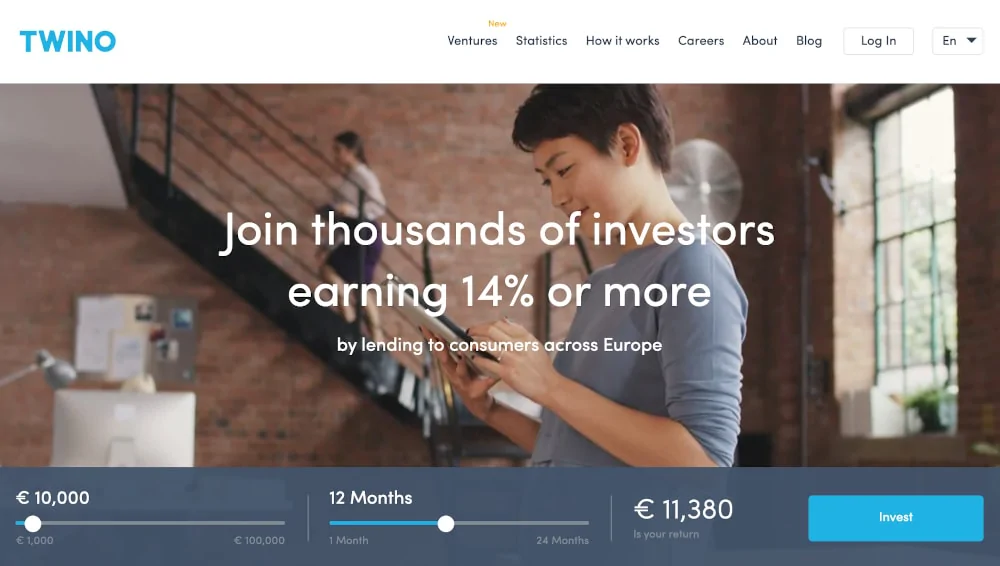 TWINO, based in Latvia and founded in 2015, is one of the pioneers in the P2P lending industry in Europe. It has processed loans amounting to more than €1.06 billion and has over 58,000 registered investors, making it the fourth biggest P2P lending platform in Europe.
As one of the first platforms of its kind in Europe, TWINO quickly gained traction among investors and borrowers alike. Its early entry into the market allowed it to rapidly gain market share and build a solid reputation.
The success of TWINO can be attributed to its pioneering status, robust platform, and wide variety of investment opportunities. It offers investors the option to invest in both consumer loans and real estate loans, all of which contribute to their investment portfolio's diversification.
TWINO continues to be a strong participant in the P2P lending industry and is dedicated to providing a safe, reliable, and efficient platform for both investors and borrowers.
5. October
October, based in France and launched in 2014, has made significant strides in the P2P lending industry. With a total loan volume of €1.02 billion, it stands as one of the largest P2P lending platforms in Europe.
One of the early entrants on the scene, October benefitted from its first-mover advantage. Its early establishment allowed it to gain traction quickly and build a significant user base that continues to grow.
The platform has built its reputation on quality projects. It offers investors access to carefully selected small business loans with moderate returns – an attractive proposition for those seeking steady income with managed risk levels.
Another crucial aspect contributing to October's success is its focus on small business debt. By enabling individuals to invest in loans issued by small businesses, it offers investors a unique opportunity to diversify their portfolios while supporting local economies.
As October continues to evolve and expand its presence across Europe, it maintains its commitment to providing quality investment opportunities and nurturing growth among small businesses.
6. Bondora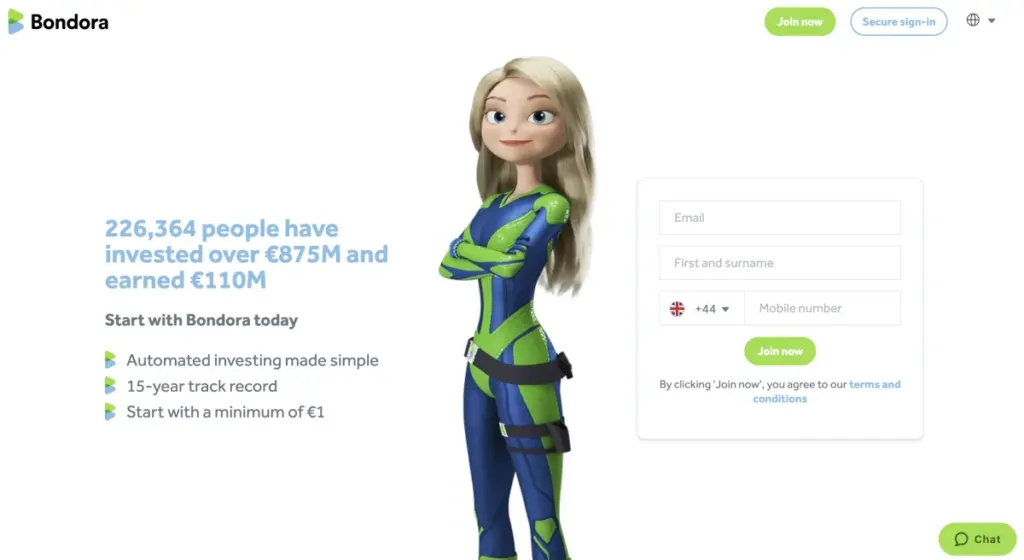 Founded in 2008 in Estonia, Bondora is one of the earliest players in the European P2P lending market. Over its history, it has facilitated over €875 million in consumer loans.
Bondora's early entry into the market worked to its advantage. It helped establish its presence and gain investor trust before the P2P lending industry became more competitive.
Bondora's regulated status is another factor that sets it apart from many other platforms and boosts its credibility with investors. It was one of the first European platforms to be fully regulated by a financial supervisory authority.
The platform also stands out for its very low minimum investment amount of €1, making it accessible to virtually anyone interested in P2P lending.
In terms of features, Bondora offers an auto-invest option and a secondary market where investors can trade their loans – although it does not provide a BuyBack guarantee, which could be seen as a downside by some investors.
Despite having an impressive track record in terms of volume, Bondora's performance has not been as stellar as many other large platforms on this list, but it remains a significant player due to its influence and wide reach within the industry.
7. EstateGuru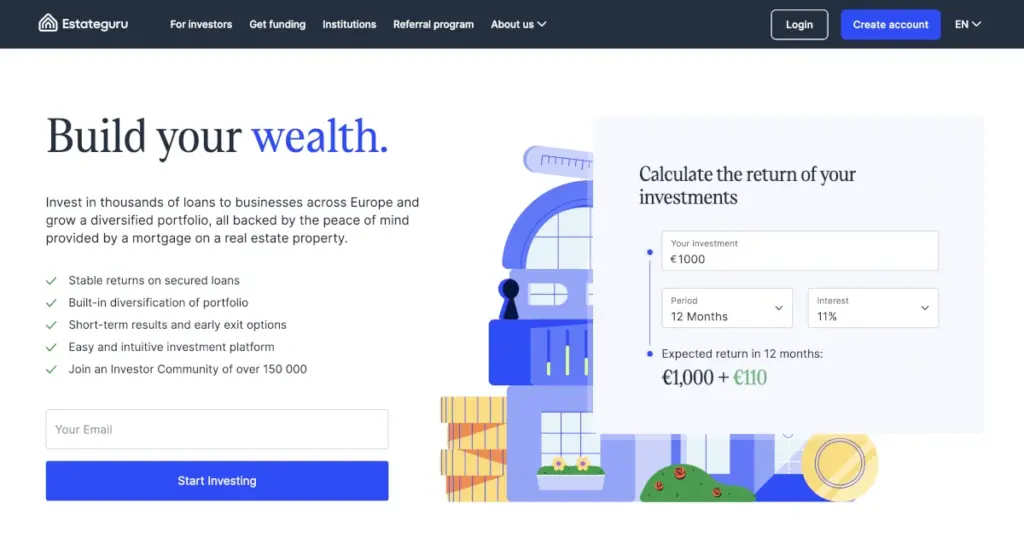 EstateGuru, based in Estonia and founded in 2013, has made a remarkable impact on the real estate crowdfunding landscape. As one of the first loan-based real estate crowdfunding platforms in Europe, it has facilitated over €751 million in loans and attracted investments from over 150,000 investors.
The platform offers a unique spin on the P2P lending model by focusing exclusively on property loans. EstateGuru's first-mover advantage coupled with a decent long-lasting track record has allowed it to secure a substantial market share and build an excellent brand reputation.
Transparency plays a crucial role in EstateGuru's success. The company practices high transparency through clear terms and conditions, comprehensive information about each investment opportunity, as well as regular updates about ongoing projects. They even have live statistics on the website.
Another factor contributing to EstateGuru's achievement is its user-friendly nature for both investors and borrowers. The platform presents an accessible gateway for individuals to invest in real estate which was traditionally perceived as only accessible to institutional investors or wealthy individuals.
As the fifth biggest P2P lending platform in Europe, EstateGuru continues to grow rapidly while maintaining its commitment to providing lucrative investment opportunities with high levels of security and transparency.
8. Robocash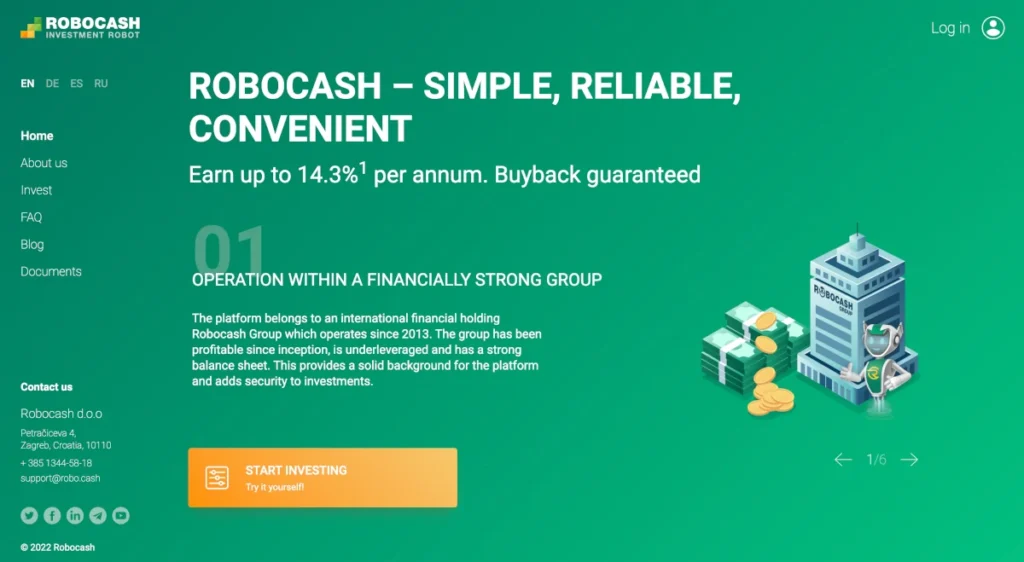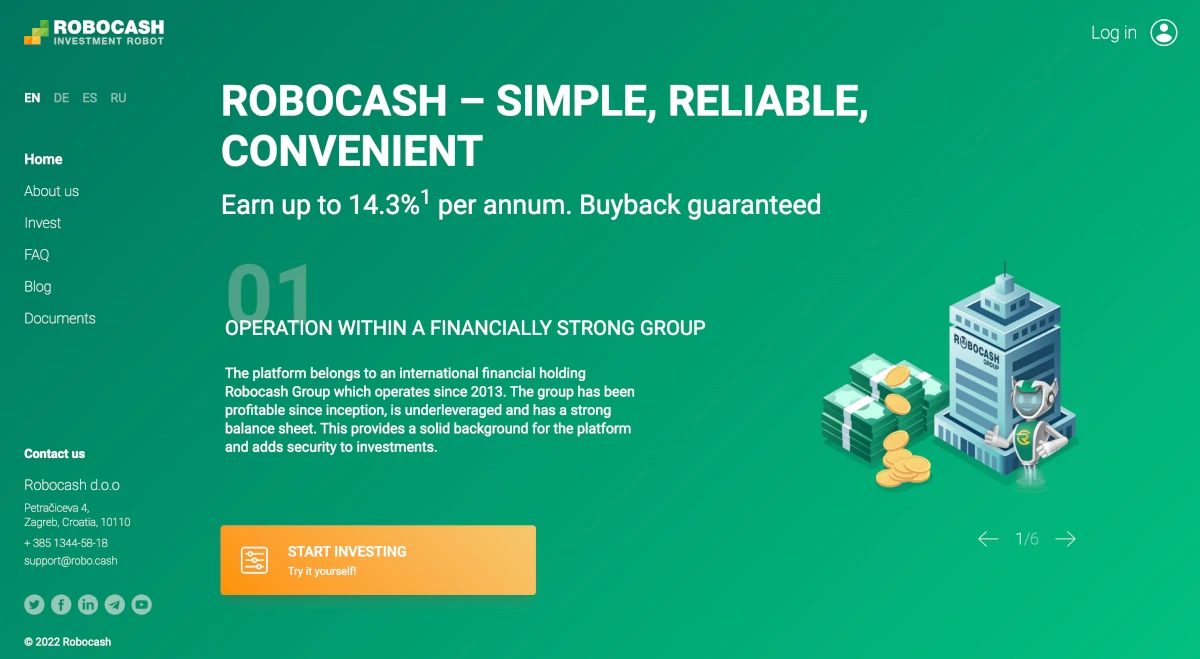 Robocash, a Croatian-based P2P platform established in 2017, has quickly become one of the largest P2P lending platforms in Europe with a total loan volume of €714 million. With over 28,000 investors to date, it stands out for its successful growth strategy and impressive performance.
A key to Robocash's success is its affiliation with Una Financial — an established international financial group. This association lends credibility to the platform and provides it with a wealth of experience and resources.
Ease of use is another factor that has contributed greatly to Robocash's rapid ascent. The platform offers an intuitive interface that makes investing straightforward even for those new to P2P lending.
One notable aspect of Robocash is its strong performance over recent years. The platform has consistently delivered solid returns for investors while maintaining low default rates, making it one of the best-performing platforms in recent years.
Furthermore, the company offers a reliable buyback guarantee which significantly reduces investment risks as it promises to repurchase loans that are overdue.
As a type of P2P lending platform where investments are made in loan originator debt, Robocash continues to attract growing numbers of investors seeking diversified and robust investment opportunities.
9. Swaper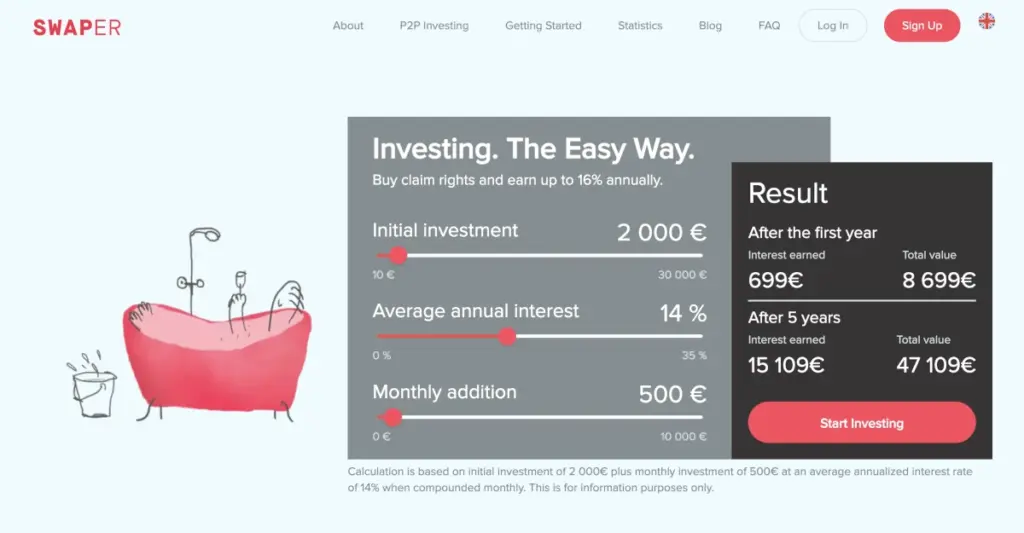 Swaper is a rising star in the European P2P lending industry. The platform has facilitated €454 million worth of loans and has attracted over 5,000 investors since its launch in Estonia in 2016.
Swaper's success is strongly tied to its affiliation with the Wandoo Finance Group. All loans available on Swaper originate from this group, which increases investor confidence due to its well-established track record of Wandoo.
The platform offers very attractive returns for its investors, often exceeding average market rates. This high yield combined with a strong performance history and low loss of investor funds makes Swaper an appealing choice for those looking to maximize their investment profits.
With its user-friendly interface, Swaper makes investing accessible for both experienced investors and novices alike. The easy-to-use platform allows users to navigate through various investment options smoothly and manage their investments effectively.
As a type of P2P lending platform that focuses on consumer loans, Swaper continues to grow by consistently delivering attractive returns and maintaining a high level of transparency.
10. Lendermarket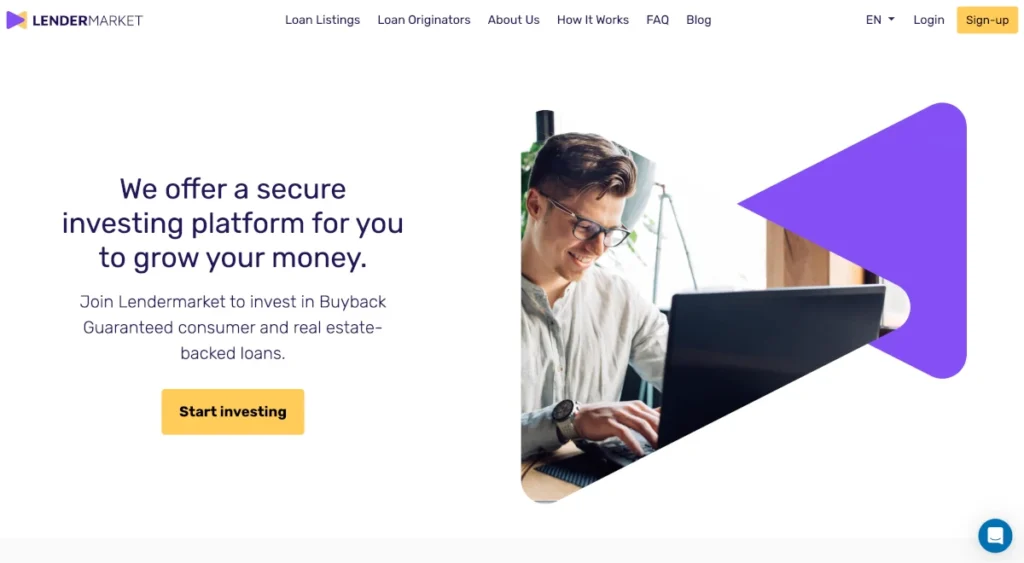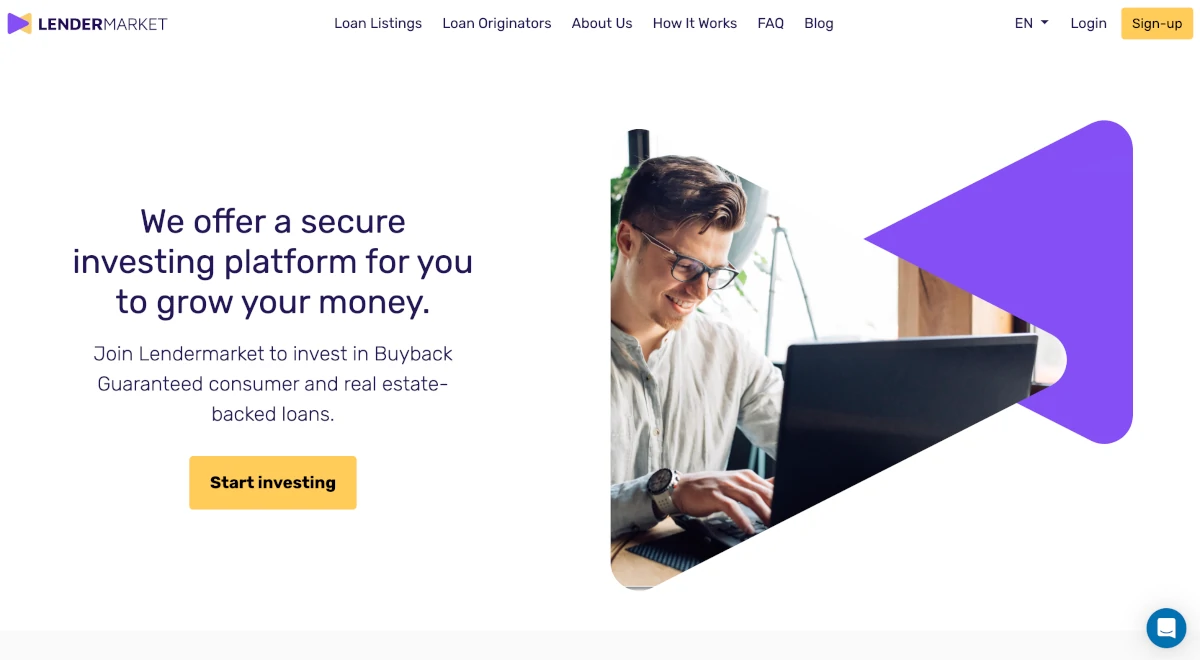 Lendermarket, launched in 2019 in Ireland, is a relative newcomer to the P2P lending space but it has already funded €365 million worth of loans and won over 16,000 investors.
The platform was created by Creditstar Group, a recognized name in the industry that had some of the most popular loans on Mintos during its early days. Lendermarket was set up as a sister company to make Creditstar more independent from Mintos and to provide direct access for investors to Creditstar's loan portfolio.
One key factor driving Lendermarket's success is its high returns which often surpass those offered by competitors. This, coupled with frequent cashback offers on loans, makes it an attractive platform for prospective investors seeking high yields.
Despite being a relatively new platform, it has quickly expanded its user base, becoming one of the fastest-growing platforms in recent years.
In early 2022 Lendermarket also became a multilender – introducing an option for their investors to put money into loans from different loan originators – not just Creditstar Group as before.
As a P2P lending platform focused on short-term consumer loans, Lendermarket continues to attract more investors with its high return rates and strategic growth initiatives.
Runner-up: Esketit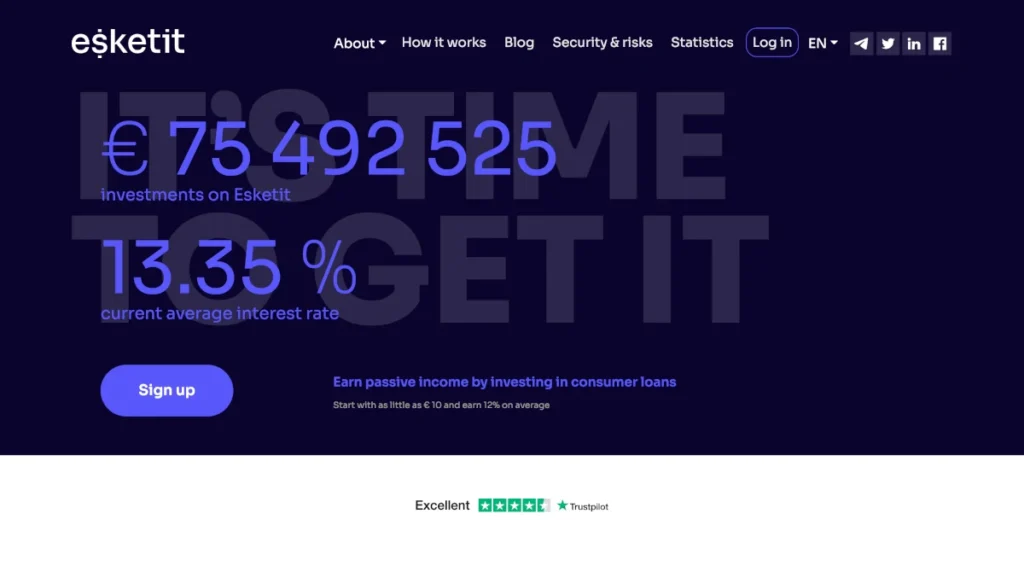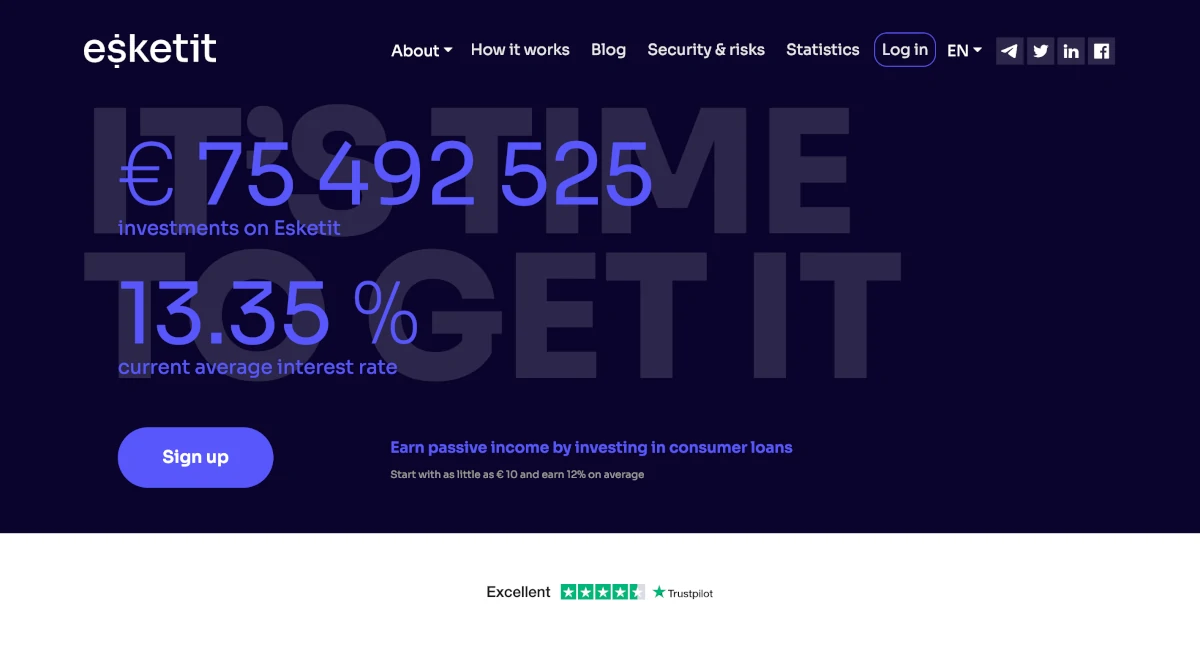 Esketit is a P2P lending platform based in Ireland that was launched in 2021. Despite its recent debut, Esketit has shown remarkable growth with €336 million in total loan volume and around 15,000 investors already registered on their platform.
One of the keys to Esketit's success is its affiliation with the lending group Creamfinance, an experienced player with over a decade in the industry. Esketit is considered one of the fastest-growing P2P lending platforms in recent years. This expansion is driven by positive user experiences and high ratings on Trustpilot.
The platform offers all expected features including a BuyBack guarantee which obligates the loan originator to repurchase non-performing loans, an automated investment tool, and a secondary market where investors can trade their investments.
Another appealing attribute of Esketit is its lack of fees for investors – allowing them to maximize their returns without any reductions. Besides this, it offers excellent geographical diversification of loans across multiple countries.
Investors are also drawn to Esketit for its high returns which are often well above market averages. This makes it a very attractive option for people seeking high-yield investment opportunities.
As a P2P lending platform focused on short-term consumer loans, Esketit continues to attract more and more investors due to its impressive performance and potential for high returns.
What is the largest P2P lending platform?
The largest P2P lending platform is Mintos. The platform is based in Latvia and operates as an online marketplace connecting borrowers from multiple European countries with various lenders. Mintos offers a wide range of loan types, including personal loans, business loans, car loans, and more. The peer-to-peer lending platform has facilitated loans worth billions of euros and has a significant market share in the European P2P lending industry.
Which P2P lending platform is best?
What's the best P2P lending platform for you largely depends on what you value most in a P2P lending platform – factors such as interest rates, credit requirements, loan amounts, and user-friendliness can all be important. However, some popular and highly-rated P2P lending platforms are:
PeerBerry: PeerBerry is a European P2P lending platform that offers good interest rates and an easy-to-use platform. It's also known for its high-quality customer service.
Esketit: Esketit is a newer platform on the market but it has gained popularity because of its high interest rates and a wide variety of loans available.
Lendermarket: Lendermarket is known for its high-return investment opportunities. It also has a user-friendly interface and offers a BuyBack Guarantee, which provides a level of security for investors.
Remember to consider the fees, interest rates, and terms of different platforms before deciding which is the best fit for you. It is also important to consider the reputation and customer reviews of the platform.
How many European P2P platforms are there?
The number of P2P platforms in Europe is constantly changing due to the emerging and disappearing companies. Currently, there are around 200 active P2P lending platforms in Europe. Please note that this is an estimate and the exact number may vary due to emerging and disappearances of smaller P2P lending platforms.
How big is the P2P lending market in Europe?
The P2P lending market in Europe was valued at USD 13,671.38 million in 2020 and is projected to reach USD 78,115.56 million by 2028, growing at a CAGR of 25.27 % from 2021 to 2028 (source).